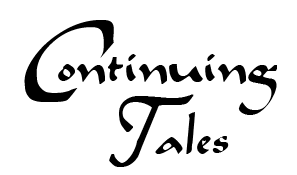 The spotlights were hot on the stage, beating down on the single woman that stood in the center of it, gowned in a long, flowing dress of rose silk. The woman was beautiful, tall and graceful and slender. Her alabaster skin glowed, as did her chocolate hair, which was arranged in elegant curls on top of her head. Her dark eyes, the color of a shadowed forest, seemed to shine with excitement as she recited her lines.
Nobody seemed to realize or care that her pale skin glowed from the sheen of sweat that covered it, and her brilliant eyes were glazed from fever, not excitement. She was so thin because of the meals she wasn't able to eat, from lack of time, or appetite. As she spoke, her voice seemed to grow fainter and fainter, and she began to sway, but that was okay. It was all part of the act. That was what her adoring fans had come to see, after all, the Tragic Death of the Heroine. When she swooned, it was sooner than expected. She didn't even finish her lines. But her coworkers, the well-trained actors that they were, took it all in stride as they rushed to complete the play, carrying the fallen form of the heroine off the stage with properly mournful expressions.
The lights dimmed, went dark. The heavy, wine-red, velvet curtains descended. The audience swarmed to their feet, cheering and clapping and cheering some more, shouting their praises.
"How marvelous! Such an exquisite actress!"
"Her best performance ever! Such grace! One would think she was really dying!"
"Who was she? Laura?"
"No, Sarah. Sarah Williams."
"Oh, she's even better than her mother!"
"Bravo! Bravo!"
And so it went, on and on, as behind the curtain the stage hands waited in concern for the arrival of the ambulance. Yes, it was most certainly Sarah William's most successful show to date.
It was a shame that she wasn't acting…
Second Chances
A Labyrinth Story
by Stormlight
Part 1 of 18
Home
Next >>