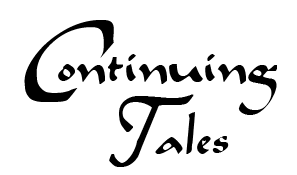 Sarah yawned and stretched as she opened her eyes. The clock on her night stand read eleven o'clock. She normally didn't sleep in so late, but with all that running she'd been doing, she must have worn herself out. Stretching until her back cracked, she climbed out of bed and padded down to the kitchen. It was empty, and she looked around with a frown, rubbing sleep from her eyes. The whole house was empty, she suddenly realized. Where was everybody?
A slip of paper taped to the refrigerator caught her eye, and she looked closer. It was a note from Pixie, saying that since the road was clear she had taken Toby into town with her to pick up more supplies, since they were running low due to the late winter, and that she'd also taken Sarah's leather coat to be dry-cleaned. That last statement sent a flush of heat to her cheeks, reminding her *why* it had to be cleaned, and she sincerely hoped that Jareth had gone with them. It didn't *say* he had, but that didn't mean anything, and there was no sign of him, anyway.
Sarah was greatly relieved. She didn't fancy the thought of being alone with Jareth for the whole day. Not after that little stunt he'd pulled last night. What had come over him, anyway? It had to have been some sort of trick. He'd done stuff like that to her before, when she'd traveled the Labyrinth, to slow her down and make her lose her focus, but there was no need for anything like that now. Still, Jareth was cruel like that by nature, so she wouldn't put it past him to do something like that again, just to torment her. She'd just as soon not get caught alone with him anymore.
With a sigh, she crumpled the note, wishing that she could have gone along with Pixie into the city. She was beginning to feel restless, and an excursion into town would have been good for her. She couldn't drive herself down there; the note had said that Pixie's ancient truck was acting up, so she had taken Sarah's truck, instead. Sarah didn't mind, but she wished she had a way to follow them. Oh well, maybe another day. For now, she supposed that since she was stuck here she may as well make herself useful and do some cleaning, starting with her room.
* * * * *
Wooden floors were very hard to clean, Sarah was fast discovering. She had "borrowed" a pair of Jareth's jeans for this job, since they were all old and somewhat worn. Jareth wouldn't care, she told herself smugly. Especially since he'd never know. She had belted them tightly around the waist so they wouldn't fall off, and rolled them up to her knees, which she could not do with the tight, form-fitting designer jeans she usually favored. Besides, she wasn't willing to put those expensive brands through the kind of abuse these were receiving.
Blowing an errant strand of hair from her eyes, she dipped the brush into the bucket of water, poured a little more oil soap onto the floor, and began scrubbing yet another section of the wood. Her work was paying off, she could tell. The area's she'd cleaned and polished were shining in the sunlight, a very pleasing sight. She smiled proudly and set back to work. Only a little way to go yet, and then she would take a break for lunch.
Then she realized something disturbing. She had ended up backing herself into a corner. "Whoops," she muttered. "Guess I didn't do that right." She frowned, surveying the room. The door was on the other side. She guessed maybe she should have started on this side and worked her way over to the door, not the other way around. What an embarrassing mistake! Well, at least nobody was around to laugh at her about it. She would just wait for the floor to dry, and then turn around and finish the little space she sat in. Sighing, she settled back against the wall beside her closet to wait, and it was then that she noticed several boxes sitting in the back of it. She had seen them before, but had never paid much attention, but now she could clearly see a marking on the side of the closest box. It read, "Sarah's stuff".
Her curiosity piqued, she tossed her scrub brush back into the pail and reached into the closet to pull out the first box. "Wonder what it is," she said to herself, and pulled open the lid. Then she grinned. These were the things she'd had shipped to Pixie after her parents had died. She had forgotten all about them until now, but she was gratified that Pixie had kept them for her all these years. She reached in and felt around, until her hand fell on a piece of cloth. Curious, she lifted it out, and realized that she held a book in her hand, halfway covered by a length of black cotton. The corner of the book was visible; a red leather bound novel, and even before she removed the cloth she knew what it was.
Mixed emotions passed through her as Sarah stared at the Labyrinth novel in her hand, remembering the hours she'd spent practicing those lines over and over in her mirror or at the park, with the long-dead Merlin as her only audience. Remembering the stormy night twelve years ago when she'd lost her temper and called upon the Goblin King to steal her brother, and everything that had happened afterwards.
She slowly opened the worn cover, noticing the condition of the pages, dog-eared and wrinkled. Saints, she had loved that book! She had put it away though, after her journey through the Labyrinth, convinced that it had nearly caused her to lose her mind, but now she knew it had all been real. She flipped through the pages, silently reading certain lines she had loved, feeling as though she were visiting an old friend. Then she came to a page whose corners had been folded over many times for lack of a better marker. She paused and scanned the paper, and her eyes fell upon a familiar phrase. Without thinking, she quoted softly, "Through dangers untold and hardships unnumbered, I have fought my way here to the castle beyond the Goblin City, to take back the child that you have stolen. For my will is as strong as yours, and my kingdom as great…"
"*Stop*!"
The hissed word, spoken so suddenly in the silent room, caused Sarah to yell in surprise and drop the book. She looked up with wide eyes to the door, where a very shaken Jareth stood, staring at her through dark, haunted eyes, his face white as snow. "Oh, Saints," Sarah breathed, leaping to her feet, unmindful of her rather dirty appearance. It looked for all the world like Jareth was going to drop dead at her feet. "Jareth, don't look at me like that," she pleaded. "I was just reading…I didn't mean…I…"
Jareth abruptly turned on his heel and strode away, his face as cold and unmoving as an ice sculpture. "Oh, great! Way to go, moron! You really put your foot in it that time!" Sarah snarled to herself, and moved to follow him, not caring about footprints left on the half-dry floor. She made it halfway across the room before she hit a particularly wet spot and slipped, landing on her backside, hard. "Owww!" she moaned, getting painfully to her feet. She winced and rubbed her sore rump, but kept on going, reaching the bottom of the stairs in time to hear the back door slam. She raced to the door and flung it open, just in time to see Jareth striding across the field, toward the forest.
"Jareth, stop!" she hollered. "I'm sorry! I didn't mean for you to hear that! I thought everyone was gone! I was just reading, I didn't mean anything! Come back!"
She gave up finally and turned to go back into the house. Guilt and anger warred within her. Guilt, that she had unknowingly caused him such pain. She could only imagine what he must have felt like, hearing her speak those words that had destroyed his kingdom. But she was angry at the fact that he was blaming *her* for what happened! How was she supposed to have known he was there? *He* was the one who was spying on *her*, after all! He deserved whatever he got!
Slamming her fist against the door, she let loose a string of curses for her carelessness. She should have checked the barn to see if Jareth was there. He probably had been, the whole time. What happened was nobody's fault, she told herself. He should not have gone sneaking around, and she should have been more sensitive. Even though she *had* thought she was alone, she added sulkily. Well, no help for it now. All she could do was wait 'till Jareth cooled off enough to come back, and then she could apologize to him properly.
If he came back…
Sarah frowned. **Of course he'll come back,** she thought. **It would be stupid of him to leave over something so dumb.** Still, she knew how much pride Jareth had. He just might take off on them, especially if he felt he had been mortally insulted. Never mind that he had no place else to go, unless he went back to the Underground, but she doubted he'd be willing to return there quite yet. She bit her lip, surprised at how upset the thought of him leaving made her feel. Probably because she'd feel guilty knowing she was the one that made him leave, and Pixie and Toby would be upset about it. Shaking her head, Sarah turned to trudge back up the stairs and finish her job.