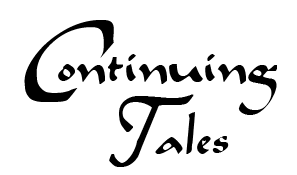 She didn't know how kissing her burnt finger tips had turned into this, but then she didn't have her wits about her to think properly.
The world consisted of no more than his green eyes locked with her blue ones in a never-ending dance of soul searching, his hands roaming over her body and hers shedding him of his bothersome suit in an attempt to make up for lost time. Their last lovemaking had been tender and slow.
This one was not. The kitchen floor was cold, but had she been able to articulate the thought, she would have said that she quite liked the contrast of the icy marble and his heated flesh. It reminded her of stolen moments in a palace's darkened hallways that had been the light at the end of the gloomy tunnel that had been her life.
Luckily, things were different now. Entwining her hands in the silver curtain of his hair, she brought her hips up to meet his. He replied fervently, holding her more tightly and thus pressing the locket that rested between her breasts into his own skin, where it began to leave a purple mark, one he would carry with pride.
When the movement of her hips turned frantic and his breathing more ragged, they lived more in the present than they ever had before.
"You know that I'm not going to let you pick out a single piece of furniture, right?"
He snorted and pulled her closer. They still lay on the cool kitchen floor, hair fanned out beneath them. Fighting hard not to break into a huge smile, she continued in a mock-serious voice while revelling in the feeling of his skin under her fingers.
"And we're taking my couch. Yours is too small, and I hate that when it's hot, your skin sticks to the leather and when you get up, it makes this horrible smacking sound."
She felt it before she heard it. Rumbling deep inside him, his roaring laugh broke free. Beaming, Minako propped herself up on her elbows and watched him laugh unguardedly for the first time in this life. It was a wonderful sight to behold and just as it had in the Silver Millennium, it made her fall for him even harder.
The flames leapt up and almost touched the high wooden ceiling. They were throwing shadows on the walls that flickered just as much as their fiery counterparts. Past, present and future were playing out in the blazing light and the priestess kneeling in front of it felt her soul ache as she watched the countless possibilities of what might have been. Eventually, everything blended into one image. The fire was trying to tell her something and the priestess already knew what it was. It was the choice she had made, the choice she should have made and the one she would make in the future unless she suddenly found a way to cheat destiny.
The room became unbearably hot and for the first time, she had to leave the holy place in order to breathe again. Her refuge had become her prison.
"Must you always get into a huff? Come on, show me that charming smile of yours. You know you want to."
Umino bit down on his toothbrush. Hard.
He had escaped to the bathroom once he had seen his lost flatmate in the kitchen, lest he should strangle him for waking him in such a crude fashion. He just hadn't expected Ando to actually have the nerve to follow him.
"And by the way, our flat is a pig sty! I thought you were quite the good little housekeeper. I have to say I'm very disappointed. If I had known what to expect back here, I think I would have stayed in New York a while longer. Do you even have any clean clothes left? Because if you don't, it means that I have to do my own laundry, which I most certainly hadn't planned on. "
Taking the toothbrush from his mouth, Umino wondered if he could use it to knock Ando unconscious, but decided that he needed something with more weight and force. Like a baseball bat. Or a very heavy golf club. Or Hiromasa. Hiromasa... Inspiration apparent in his puffy eyes, he dropped the toothbrush in the sink, brushed past the sneering journalist and began to search for the phone under a stack of two months old newspapers that had never been read.
Like a painter, he enjoyed working when the light was best, which was between seven and eleven o'clock, so Hiromasa was already busily chopping away at a block of old English oak, forming it into a leg for a commissioned dining table. He and Makoto had gotten up together, sharing a shower that had turned into something else altogether as soon as he had seen the water trickling down her full breasts. It had cut the time for breakfast short, but it had been worth it. Oh, it had been worth it.
Hearing his phone ring, he checked his watch. Ten past eight, not quite opening hours. He nevertheless made his way to the front of his workspace and answered the call, thoughts still with the way she had arched against him.
Under the desk, the still nameless puppy dreamt of lush green meadows and cheeky rabbits, kicking and growling in his sleep.
Clearing his throat and trying to focus, he picked up the receiver.
"Obuchi Furniture, what can I do for you?"
"You can come by and kill Ando for me."
The image of his agile fiancée was replaced by that of a smirking blond man.
Not bothering to reply, he slammed the receiver down and scooped the tiny dog out of its sleep and up in his arms. The table was forgotten as he stormed out of the building, nearly neglecting to lock up behind him.
"So you're back."
"You do realise that you have a an alien with ridiculously long ears attached to your arm, right? And it's licking your hand. My, that is disgusting."
Umino appeared behind Ando's sneering form and took the puppy from Hiromasa's arms, giving him a look that clearly said: Your turn, buddy. Meeting Ando's eyes, he took another moment to glare at him before disappearing in the living room and leaving the two older men in the hall.
A puppy was the most he could handle before ten o'clock, and until an apocalypse knocked on his door, this wasn't going to change, shitennou or not.
"Not a word from you from. Not one. If it hadn't been for Minako's infuriating postcards, we wouldn't have even known you were alive. Seriously, Ando, running away to New York? That was your answer?" the furniture designer asked heatedly as soon as Umino had retreated, his volatile temper already dangerously close to flaring.
"Did you have a better one?"
Ando lit another cigarette the second he had tossed the burnt down stump into Umino's used coffee cup from god knows when. The place really was a mess. There was dirty crockery everywhere, even in their hall. The chaos Minako had created in the hotel room using countless shopping bags and shoes suddenly seemed not so much as even worth mentioning in comparison.
"How about not taking your friend's girlfriend to another country, leaving your own behind and generally fucking it all up?"
Ando flinched.
"Mine? I don't have a girl."
Frowning, Hiromasa stepped into the living room, Ando tagging behind him seemingly unfazed, but in fact not fooling anyone, least of all himself. He didn't have a girl, he wouldn't ever have a girl because the only one he cared about in that way had made herself completely unattainable. And since he loved her more than life itself, Ando would rather wipe himself off the face of the earth than cause her any further pain by making foolish attempts to win her affection again. No, that ship had sailed.
The puppy rested comfortably on Umino's stomach and both dog and man were snoring lightly while being sprawled out on the couch. Running a hand through his chestnut curls, Hiromasa wondered how it was humanly possible to fall asleep so quickly, but Ando's voice cut through his thoughts.
"Does the alien have a name already? I'd suggest Alf. Gonzo, Guerin or Zaphod Beeblebrox might work as well. Or Spock."
Hiromasa sat down on the armchair after shoving some dirty shirts off it and Ando leaned himself against the wall. Hiromasa briefly wondered if he could convince Makoto to name their pet after a stoic Vulcan and came to the conclusion that it wasn't very likely. Still, he would try.
Ando laughed softly as he followed his friend's thinking, but fell silent once Hiromasa turned to look at him, face full of disappointment.
"You really shouldn't have gone."
Laughing meant normalcy and that had yet to arrive in this tangled web they called life.
"Are you better?"
This time Hiromasa's deep baritone spoke of worry and care, but when no witty reply came forth, the answer was painfully clear to both of them.
The snoring had stopped, but Umino's eyes remained closed. Feigning sleep, the philosopher still felt that a good punch would help to knock some sense and perspective into Ando, but unfortunately, Hiromasa didn't seem to share the sentiment.
So three men and one puppy sat in a messy living room, in a dead silence that should have no place between them.
They had been driving a little over twenty minutes and both of them were getting more nervous by each kilometre they left behind. It was rather fascinating, Minako mused. Takeshi's anxiety was very well contained and she wondered if she would be able to tell what he was feeling if she didn't have memories of a different life to fall back on. Only the way he gripped the steering wheel a little too hard gave him away. Her own agitation was written on her face, visible in the drumming of her fingers against the window pane, her unusual quietness and the way she tensed and flexed her legs every other minute.
When they finally arrived at the construction site, Minako breathed in deeply before jumping out of the car and walking over to what would soon be her new home. Takeshi trailed her, hands hidden in the pockets of his trousers. Standing right behind her, he followed her eyes. It wasn't much yet, but the basic outline was visible. The building labourers (who were woefully absent) had begun to erect the front wall, but other than that it was clay, bricks and dirt only. He almost rested his chin on the top of her head, but decided against it and waited for her reaction with a patience he didn't really possess.
Birds flew past in the sky above them, merrily chirping, courting each other and completely unaware of what transpired beneath them. It was one of spring's most brilliant days.
When she finally turned around, Takeshi held his breath, unsure of what he would see in her eyes. In his pockets, his hands clenched into fists. Her face was serious, very much so and while it was not the first time he had seen her like this, he didn't particularly care to remember the last. It was when she had implored him to tell her to stay and he had all but sent her away. One of the birds sat down on the lonely wall, observing the humans in the vain hope of some breadcrumbs.
"It's brilliant."
His shoulders sagged a little in relief, a movement not missed by the senshi. Her hands reached up and cupped his face.
"To think that you did this for us..." Her breath caught in her throat and she immediately cast her eyes on the muddy ground beneath them. "And I left the country, I left you behind."
Taking her hands from his face and into his larger ones, he shook his head.
"You asked me, Minako. And we both know that I never told you to stay."
Her smile was feeble.
"Still."
Looking at the future he never so much as dared to dream about, he placed a kiss on her temple.
"We're fine."
He would make sure that the house would be ready come autumn. They had wasted enough time. Starting tomorrow, this construction site would burst with diligent labourers. He would take care of the woman who loved him despite his sins. He would give her everything.
Makoto was busy doing the till as she heard the tinkling of the silver bell. Apparently, the big sign in the window with the opening hours spelled out on it had been missed by that particular customer. Sighing, she called out without lifting her eyes from the bundle of cash in her hand. It was an added benefit of being a senshi, not needing to worry about common criminals. She could count her money out on the streets if she wanted to and anyone who desired to do her harm would find himself shocked into next week. Literally.
"I'm sorry, I'm just about to close!"
"What a pity. I was hoping for some cake, because they don't make it this good in New York."
"Minako!"
The blonde grinned briefly and made her way over to the counter and thus to the chef behind it, her steps bouncy. Just when she outstretched her arms to envelop Makoto into a long overdue hug, she felt herself being pushed away. Her friend's expression was thunderous; there was just no other word for it.
"WHAT WERE YOU THINKING? STAYING FOR NEARLY THREE MONTHS? YOU WERE SUPPOSED TO RETURN AFTER TWO WEEKS! TWO WEEKS!"
Blinking, Minako looked at the irate brunette. Makoto's cheeks were flushed, her eyes were blazing and she was shouting at her. Unbelievable! Putting her hands on her hip, the blonde retorted quickly.
"Why are you so angry? I'm back, aren't I?"
"I'm ANGRY because Takeshi was missing you so dreadfully that even I could read it on his face and you know that he doesn't wear his emotions on his sleeve! He worked seven days a week just to keep himself busy and what are you doing? Sending postcards, buying shoes and flying to fucking Disney Land! Really, Minako, you should be ashamed of yourself!"
"Someone had to take care of Ando!"
"But not you! I told you not to go!"
"Takeshi didn't!"
Momentarily stumped, Makoto forgot that she was supposed to shout at her friend in order to punish her for the prolonged disappearance.
"What do you mean he didn't?"
"I told him that if he wanted me to stay, I would. But he didn't. Not that it matters now, because he and I, we're good, we really are."
Snorting in disbelief, the brunette fumbled with the money on the counter, shoving it back into the till without counting it first. She had never been able to focus on numbers when she was angry, which explained a terrifyingly bad exam result after a boyfriend had broken up with her over the phone.
"Mako, I send him a letter. He knows how I feel about him. We're moving in together before Christmas. He's building us a house."
"He's not."
You had to give it to Minako, when she smiled, she smiled. Everything about and around her lit up and while people unaware of her magical nature would have just shoved it deep in their sub-conscience and filed her away as an unusually pretty girl and left it at that, Makoto knew that this was a sign of true happiness breaking to the surface. She herself had taken on a soft glow during moments of complete contentment, however those moments tended to be of an utterly private nature. But then, Minako had always been more outright about her feelings.
"He is."
She reached for her wallet and took a carefully folded piece of paper out, handing it to Makoto. She could tell by the many creases and wrinkles that it had been looked at very often and judging by the way some of the lines were smudged, they had been traced by loving fingers more than once.
The rest of her rage ebbed away.
Looking down on the drawing, she smiled. Standing in front of her was no longer the source of Takeshi's distress, but her dear friend with whom she wanted to share the news that were already burning on the tip of her tongue.
"I'm engaged."
Minako's shouts of joy could he heard two streets away.
The party had been Usagi's idea and she had been insistent. Makoto had tried to tell her that the brunch had been celebration enough, but the delighted blonde wasn't having it. So she had coerced her parents into letting her use their garden for a barbecue, invited Hiromasa's family, all of Makoto's friends from university and naturally the rest of their own tight-knit group. The whole week was spent in preparation for the happy event, but one minor detail had evaded her.
Minako, Mamoru and Umino, who had all been putting up balloons, were fully aware of said detail, but each for their own reasons was not too keen to bring the subject up.
Finally, Mamoru shot Minako an authoritative look, prompting her to speak. But since the future king and the head of his wife's guard had barely exchanged ten words all afternoon long, she wasn't inclined to follow his orders as of now. He had been less than cordial about her return, still resenting that she felt the need to leave with Ando in the first place. And since he couldn't be angry with a broken man, he directed his disapproval at the woman he had left with. Minako threw her long mane over her shoulder and fixed him with a stubborn glare. Realising that the bubbly blonde was too hard a nut to crack, he silently implored his shitennou.
Rolling his eyes and shaking his head, Umino passed up on the mission as well. He had a constantly drunk Ando at home, that was punishment enough. It had been a little more than a week since he had been woken by the banging of pots, pans and misery and he had yet to see Ando without a cigarette or a bottle of rum.
The balloon Mamoru clutched in hands exploded.
His wife turned to look at him, face full of playful teasing.
"Mamoru, you're supposed to put the balloons up, not play with them! The party is tomorrow, Dr. Chiba, so you need to focus." Giggling to herself, Usagi leafed through a box of party paraphernalia.
Suppressing a groan, Mamoru spoke up. He felt the most prominent to desire to strangle Minako and Umino both, but figured that it wouldn't make things any easier for himself.
"What about Ando and Rei? They can't come both, can they?"
He hated how Usagi's face fell. Suddenly, the party planning was no longer a matter of light-hearted fun and genuine joy and the woman's face reflected this abrupt realisation. Her eyes immediately darted over to Minako, who just shrugged her shoulders, an indecisive expression on her tanned face.
Umino stopped before turning the key in the lock.
"Just so you know, it's not really tidy inside."
"You've been to my flat, so what makes you think that I care about laundry or unwashed dishes?"
"It's a bit more than that."
They found Ando sitting on the couch, reading in a heavy book.
"That better not be my mine," Umino snapped immediately.
"Don't get your knickers in a twist, I'm being very careful with it. But if you insist, I'll put on gloves while reading."
Not looking up, he turned the page in an exaggerated manner.
Minako chuckled, thus alerting Ando to her presence.
"Hey you. Shouldn't you distract our senior citizen from work?"
"If I tell Takeshi you called him senior citizen, you'll find yourself without fingers to turn the page, so I'd watch my tongue if I were you."
Stepping over several empty pizza boxes, she walked over to the couch and plonked herself down beside him. Minako wrinkled her small nose in disgust as she spotted that the plate on the coffee table was covered with something green and fluffy that looked as if it might come alive any minute now. Umino followed suit and seated himself to the journalist's left side, and Ando wasn't sure whether he liked to be in the middle or not.
"Okay, what's going on?"
It was the shitennou and not the senshi that spoke.
"Usagi is throwing an engagement party for Hiromasa and Makoto. You've been invited, but I doubt you're read your invitation since it's still lying on the kitchen counter unopened."
The book fell to the floor as Ando put his head into his hands. His voice was dull when he spoke.
"And she will be there as well."
Nodding, Umino handed Ando the bottle of rum he had bought on the way to their flat, while Minako went to the kitchen to fruitlessly search for some clean glasses.
A very reluctant Umino had been coerced into playing messenger for Usagi and Ando both. He had hoped to have fulfilled his duty by blowing up balloons and bringing booze, but Minako had made it quite clear that this was not the case.
Endowed with two letters (one of which he would have loved to read) he made his way to the temple for the second time in his life. While the girl looked infinitely better groomed than the last time he had seen her, something about her was so off-key that it made his heart contract painfully in his chest. So this was why Ami had taken to studying at the temple rather than in Makoto's café.
Pushing the pain aside and locking it into a hidden corner of his soul, he approached her.
"I've been asked to give these to you. One is an invitation for an engagement party Usagi is throwing in Hiromasa's and Makoto's honour tomorrow. I think she has called you about it already, but here's the invitation."
By not saying who wrote the second letter, Rei knew that it had been Jadeite. She accepted the envelopes from Zoisite's pale, outstretched hand. The shrine was buzzing with people, but the miko was completely disconnected from her surroundings. It was what insomnia did to people.
"Thank you."
He nodded and gave her that half-smile of his again, before retreating and leaving the ghostly woman in her kingdom of unwanted memories behind.
Go to the party and don't worry, I'll stay away. If you want me to go back to New York, I will do so immediately.
Ando
The day of the party had arrived and Minako once again found herself on Ando's couch.
"Ando?"
"Hmm?"
"You smell."
"What?"
"It's the cigarettes, the coffee and the booze. They make you reek."
"You're insane. It's some Venusian thing, like the affinity to wearing very short skirts. No normal nose would find my odour offensive."
"Go shower, you pig."
"I'd rather not."
"Do you want me to stay?"
"No. Go to the party, tell some of the dirty jokes I taught you and make Takeshi blush. Hmm, actually I don't think it's physically possible for him to do so, but maybe you can get him to lift both corners of his mouth. Anyway, go to the party. Nick me some cake and bring it by tomorrow, but for all intents and purposes, go. I'll be fine. Fine-ish. I'll be okay."
She arched her eyebrows in a sceptically and plucked the recently lit cigarette from his fingers, stubbing it out so viciously that not even the filter remained. She wished that Umino were still here, but he had already left to pick up Ami.
"Really Mummy, Kevin is old enough to stay at home alone and I believe that you still need to go home and change into some skimpy party dress."
She pinched him rather violently and got up, stumbling over a stack of magazines and sent them scattering on the floor as she went.
"I can't believe you called me mummy. You hate your mother!" she grumbled as she made her way to the door.
"I was thinking I could get you a poodle for Christmas!" he called after her, a fond smile on his face. She turned to give him her best I'm-a-naturally-born-leader-with-very-efficient-weapons-look before slipping through the door.
As soon as she stepped into the hallway, it fell away and was replaced by a thoughtful expression. Gripping her purse a little tighter, Minako Aino hurried home to her boyfriend.
Just before they stepped through the gate, hands entwined, he bent down. The air was filled with the sweet smell of Ikuko Tsukino's prized roses, but the scent of Ami's subtle perfume was nevertheless more prominent and intoxicating to him. He revelled in it.
"You look very pretty tonight."
The whispered words blew a light smile and the hint of a blush on her face.
"Thank you, Umino."
Smoothing her white dress, Ami wondered where this night full of unspoken promises would lead and hoped that it wouldn't end too soon. Already, she was addicted to him and the addiction demanded to be fed. Holding his hand had been a gateway drug.
Upon seeing the couple, Mamoru laughed and Hiromasa handed over a note.
"I was so sure that Takeshi would get here first."
"Not with Minako in tow. She just as bad as Usagi when it comes to time management, so I wouldn't expect them for at least another hour. I told that you wouldn't win this bet."
The two men stepped forward to greet their friends, more than prepared for a fun evening.
Being lonely stung, even if it was his choice to find himself isolated tonight. Checking the kitchen clock that was ticking particularly loudly tonight, he realised that she had only been gone for an hour. Ando missed Minako's constant company dreadfully and only now did he realise how much she had done to lighten his mood. But her place was at Takeshi's side now and he couldn't bear the thought of making her unhappy just to avoid being alone with these thoughts once more.
Imagining the happy crowd in a garden decorated with balloons and candles, he poured himself another glass of rum, only to down it in one go and forsake filling it again for taking a deep slug from the bottle itself instead.
Hell, even Umino's sour presence would have cheered him up, but the philosopher had not offered to stay and Ando didn't feel like asking. Even though he knew that Umino would have cancelled and allowed him to hurl offences at him had he just said the word. But very much like Takeshi weeks earlier, he couldn't do it and retreated into silence, knowing full well what it was he was sacrificing.
A murderer didn't deserve to find solace and if the dreams he had every night were any indication, that's exactly what he was. Sometimes he could still smell the blood he had shed, feel it under his nails and see it coating the soles of his shoes. There were moments when he resented walking because his every step was accompanied by the sound of bones crunching under his feet.
At least he had never killed her. It had become his mantra. He had never killed her. Never. Crushed her, but not killed her. It was this thought alone that kept him from jumping off a bridge in an attempt to drown the guilt.
Chinese lanterns dangling from the branches, fairy lights slung around the trunks and candles lining the garden path, the Tsukinos' garden had been transformed into something far more serene and beautiful than it had been before.
The many chatting people filling it were the icing on the cake.
It seemed that everyone had followed Usagi's invitation but one, and he was missed by few. Only the shitennou, Mamoru and Minako wished he were here, but all of them agreed that his decision to stay away had been for the best.
A group of people with wavy brown hair surrounded Makoto, but it was a small woman with white locks that took her hand and welcomed her to the family.
"My dear, I'm so happy to see this ring on your finger. You're are very nice girl and I'm delighted that you and Hiromasa found each other."
Grinning, her grandson hugged both women.
"Actually, I found her, Nana. See, the stars led me right to her front porch."
Laughter followed his bold statement and he recounted a (mildly censored) version of how he had seen her in her shop months ago and decided in that moment that she was the one he would marry. The wise eyes of his grandmother shone with pride and knowledge and Makoto wondered if the family Hiromasa had been born into was more special than met the eye. Perhaps her fiance was not the only Obuchi with whom the stars conversed.
Sitting on a bench nearby, Mamoru observed the merry exchange. To think that he had forsaken his friends this happiness a lifetime ago was a thought that didn't sit well with him. Things might have ended differently had he made the right decisions then. They might not have fallen, they might not have succumbed to the darkness that still haunted them today if they had their counterparts to hold onto. Ando might not have to be alone tonight.
It didn't surprise him that it was the leader of his yet inactive guard that interrupted his pensiveness.
"Don't go down the path of what might have been tonight. Just look at them, they are so happy."
Pinching the bridge of his nose, Mamoru couldn't believe the ridiculousness of the situation.
"Are you -you- seriously telling me not to brood?"
Smirking, Takeshi took a sip of wine.
"Yes."
"Hell has just frozen over."
"I have better things to do than worry on a night like this and so do you."
Remembering that the last time he had tried to get the architect to open up and talk about his feelings had failed spectacularly, Mamoru shoved his hands into his pockets and watched the guests strolling around in his in-laws garden.
"Are things good with you and her?"
"Will a positive answer make you treat her more politely?"
Hating how astute Takeshi's observation skills still were, Mamoru shrugged.
"She shouldn't have gone."
"That's between her and I."
Sensing that Takeshi would rather cut off three to four of his fingers before volunteering to talk about the more or less disastrous relationship he and Minako were entertaining, Mamoru changed the topic ever so slightly.
"From what Hiromasa told me, their little trip did nothing to help Ando."
"I will visit him tomorrow, you are more than welcome to join me."
With that, Takeshi got up. Mamoru noticed that he was the only man wearing a suit.
"Zoisite, Ami told me that you are a philosopher."
Before the blond man had an opportunity to respond, Usagi flashed him a wide smile and tugged Rei away. "Sorry to interrupt, but I need to borrow her for a minute." The two women walked down the path and as soon as they were out of earshot, the future queen spoke, her voice as hard and strong as the holy blade that Sailor Venus carried in battle.
"Rei, this is quite enough. Use their modern names, or don't use any at all, but leave the ghosts in the past were they belong."
It was an order, the first one she had ever given and she would make sure that it would be followed.
Colour rising in her cheeks, the senshi of fire fell into an embarrassed silence. Blue eyes bore into her, touching her very core and finally, she yielded. She wouldn't have backed down for anyone but her princess, but Usagi had played her cards well.
"What do you think about Spock?"
"Tell me that I'm not engaged to a trekkie."
"No. Yes. A bit. But I meant it as a name for the pup."
"I thought we could name him Toby. Like Sherlock Holmes' dog? It was Minako's suggestion and I quite like it."
"Toby? Absolutely not, I hate it. That's such a plain name." Makoto decided not to point out that Toby actually sounded quite similar to Henry, which was what Hiromasa had called his first basset hound. The resentment had a different origin: it was because it had been Minako's idea and Hiromasa was still upset with her. Leaning her head on his shoulder, she sighed.
"If we christen him Spock, all the other dogs on the playground will tease him."
After placing a soft kiss on her temple, he watched the puppy run around from one caressing hand to the next, more often than not being rewarded for simply being itself by a slice of grilled meat. His belly would match his ears in terms of size before the night was over. The fond smile on Makoto's face gave him hope and so Hiromasa (sensing victory was now on the cards) proceeded.
"How about a deal? I get to name the dog, you get to name our first child."
"Our first? How many children do you want?"
"I was thinking four. Or five. As many as you want, but more than one."
Looking over to the puppy that was currently being petted by a delighted Ami, Makoto hid her blush in the night.
"Spock it is."
Climbing up a chair, Usagi looked over the crowd. The night had been a success, she couldn't remember when she had last seen Makoto so happy. Hoping that she wouldn't topple and fall, she waved her arms in a bid for attention.
"May I have your attention please?"
The conversations died away and all eyes focused on the blonde that would one day stand on a balcony overlooking a city made out of crystal and glass and charm the whole world into trusting her.
"I would like to propose a toast."
Scanning the crowd until she had found the two people in whose honour this party was held, she cleared her throat. The lovers were sitting on the small bench under the cherry tree, his arm casually slung around her. For the first time, Usagi could imagine Crystal Tokyo as the fairy tale ending it was hailed to be.
"My dearest Makoto, there are no words to express how happy I am that you have found Hiromasa, the man who can give you everything you ever dreamt of and more. You are one of the bravest people I know and I am so proud to be your friend, and you deserve this. Hiromasa, I'm sure you two will be very happy together, you are a good man. To Makoto and Hiromasa!"
The Chinese lanterns' light reflected in the many upheld glasses and bottles, and to hear those they loved and cared about repeat the toast brought tears to Makoto's and a goofy smile to Hiromasa's face. Knowing that it was ungrateful and foolish, Hiromasa still wished that Ando had been there as well, at least because his friend would have been ecstatic to hear that the puppy had actually been named after his favourite character from Star Trek. Imaging Ando's gleeful face, Hiromasa pulled his fiancée closer and emptied his beer.
Checking her watch, Minako admired her friend's self-restraint. The party had started almost four hours ago and only now did Rei approach her with silent questions written all over her face. They had met two days after her return, but Rei had not been enquired after Ando, so Minako had kept her mouth firmly shut on the whole subject. But now that he had sent her a letter and stayed at home so that she could celebrate with her friends, things were different. Feeling that this conversation was not intended for everyone to listen to (especially not to Mamoru and Hiromasa who still took turns glaring at her), she flashed Usagi her trademark grin.
"Look Usa, we've run out of champagne. Why don't I fly to the supermarket very quickly and get some more?" Usagi, who had been talking to her father, looked at the dwindling stock of bottles.
"Could you? That would be really nice, you're a doll, thanks!" Kenji frowned, not quite sure whether he liked that his daughter's friends drank so much. But Minako was a very responsible girl and he still remembered the time when his daughter had barely left her room, upset over some boy and the other blonde had appeared daily to cheer her up. How good it was that Mamoru had eventually come along. The proud father couldn't imagine a better match for his only daughter. If only Usagi's other friend would find the same happiness one day. Kenji thought that the priestess looked quite forlorn.
"Hey Rei, want to come with? I could use a hand."
The woman nodded and grabbed her purse. The girls made their way to the gate, almost having reached it before Minako turned around, jogged down the garden path back to Takeshi who was talking to Umino and Ami and placed a kiss on his unsuspecting cheek.
"Rei and I are going to get some more champagne, we'll be back in a bit."
Umino beamed, Ami giggled and Takeshi smiled. Telling him where she went to was only a little gesture, a simple act of consideration, but they all knew it meant the world to these two who had just gotten their act together. It was a sign of how far they had come.
Grinning, Minako sprinted away.
He had fallen asleep on the living-room floor, not even bothering to get up and heave himself on the couch. The number of empty bottles next to him would have made his father proud.
The first knock went by unnoticed, the second one raised him from the dead, the third caused him to sit up and rub his eyes, the fourth prompted him to get up and stumble towards the door and the fifth one was followed by the now familiar assault of images flooding and invading his mind. They were the same ones that haunted him in his fitful sleep; the ones that had made him flee the temple's holy ground and empty his stomach near the bus stop. It were these images that had convinced him to leave the country. These images that made sleeping pills his friends.
Ando didn't know whether he wanted to rip the door open or whether he wanted to enforce it with a thick layer of heavy bricks, barricading himself inside without hope for escape. But when had he ever been able to resist her?
Only when the knocking stopped did he open it for an inch to meet a pair of eyes like no other. Deep violet, so dark that they almost seemed black, but he knew better. Silence reigned.
Slowly, he pulled the door one further inch open to, bringing her almost translucent white face into full view. She had never looked more like a child of the Moon than now, but it was an observation he would never share. But he wouldn't forget it either. Her hands held a bottle of champagne that was neither intended for this occasion nor for this flat.
The motion was almost imperceptible and no other man would have caught it, but she nodded her head in mute acknowledgement of his return before turning and walking away. She nodded to encourage him to live.
When he saw her disappearing around the hall's corner, the urge to do something overwhelmed him, fuelled by loneliness, alcohol and sheer desperation.
"I don't know how to live without you!" he shouted after her, his voice raw.
It echoed in the empty space.
Ando was broken beyond repair, and both of them knew that he had been for longer than humanity could even remember existing. The hallway finally swallowed his words and spit silence towards him. Alone with his misery, he closed the door.
Slumped against the wall behind the corner, tears spilled from her eyes, dangling on her charcoal lashes, dropping on the floor, seeping into the carpet.
She cried for the man that had condemned himself to loneliness so that she wouldn't have to. She cried for the man that couldn't stand silence and yet chose it so that she could hear her friend's voices.
She cried for herself, because everything was going to change and all along, she had been powerless to stop it. In the face of destiny, one couldn't make choices. After a few minutes, she left, not bothering to wipe the tears from her face.
Minako waited for her outside, arms full of green bottles with golden labels. Together, they returned to a party that had lost its appeal for both of them.
Morning was only a few hours away, but it mattered little to the woman saying her farewell to the past that had dominated her life for far too long.
The fire licked and clawed at the parchment, curling it and smouldering it quickly. It greedily ate it up until Ando's letter was nothing more but black ashes to be remembered in the darkness. The brief message wasn't all that would burn tonight. The flames were further fuelled by a red skirt and a white blouse, the uniform of a miko.
Tomorrow was a new day and Rei decided that she didn't want to know what it would bring. Burning both her love and her vocation was her final attempt to tip the scales.