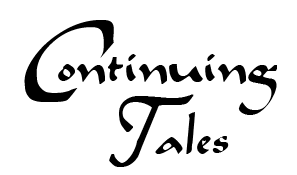 The phone had been ringing time and again, but Minako simply pulled the blankets over her head and pretended that the world didn't exist. Artemis had stopped by her flat yesterday, bearer of both food and news. He told the depressed blonde that Makoto had dropped out of university in order to open her own shop (so that's what that call was about), Usagi had a cold, Rei was angry at her for disappearing of the face of the earth (surprise surprise) and Ami was writing a term paper with Nobel prize qualities that confined her to the library just as the thought of Kunzite out and about in the streets of Tokyo confined Minako to her bed.
Finally, the answering machine picked up. It was Makoto. Again.
"I know you're at home, Minako." An accusatory pause filled the stifled air of the no longer tidy flat. "Minako? Minako! You have to come visit me at the shop. It's almost open for business, it looks really nice and there will be some fresh muffins waiting for you." Trying to muffle the sound of her friends worried and pleading voice by pulling a pillow over her head, Minako grumbled. "Go away. 'M not leaving home."
But apparently Makoto had just about enough and brought out the heavy machinery. "You're my friend. You owe me a visit, it would mean so much to me. Mina, please!" And with that, the message ended.
The room lapsed into silence again
'"Fuck it." Swearing, Minako got out of her bed-turned-sanctuary, and made her way into the bathroom. The floor was covered with dirty laundry, used towels and self-help books. Looking at her face in the mirror for the first time in six days, she wrinkled her small nose in disgust. Her long tresses of hair were greasy and stood up in strange places, thus giving her the look of an uncared for cockatoo. Her bright pink nail polish was chipped, and her lips looked unhealthily dry. Ladies and gentlemen, I present you the senshi of love and beauty. Shedding out of her carelessly picked pyjamas, she got under the shower.
Three hours later, she left her home for the first time in days. She had almost forgotten that it was still cold, that the first month of the new year had not yet passed just because she longed for hot summer days that burned away her inaptitude of dealing with this brave new world. Despite the sun hiding behind the clouds that were dotted all over the grey sky, she put on a pair of huge sunglasses. She might have been hiding in bed, but she had slept little and the bags under her eyes bore silent testimony to that.
Artemis had left her a small note with the address of Makoto's new shop. If she were to take a cab, she'd be there in ten minutes. Nevertheless, she opted to take a walk. Snuggling into the yellow scarf that Makoto had made for her birthday several years ago, she set out on her small journey that felt so much bigger. Not looking to the right or to the left, she walked on and on. If she didn't look for him, she couldn't see him. As if I'd just bump into him. Tokyo is a huge city. And even if I do, who says that he remembers me? Reincarnation is a tricky thing. Clenching and unclenching her fists, she paused in her steps and looked around for the first time. What would I do if we met again and he didn't remember me? If I am nothing but a stranger to him?
Either way, this couldn't end well. Not that I will allow it begin. If he didn't remember, she was nothing to him. If he did, he would also remember that she killed him twice, and he would see that she was no longer the brilliant and beautiful princess of Venus, but only Minako Aino, who hadn't even been brave enough to step onto the streets for almost a week. Great.
Arriving at the shop, she inhaled the crisp air, put a smile on her face that she sincerely hoped looked genuine and entered her friend's new place of business. A small bell announced her arrival, but no one came to greet her. Curiously, Minako began to take in her surroundings, pushing her sunglasses on the top of her head. What she saw took her breath away. It looked just like a French patisserie. Lovely antique white tables with elegant little chairs, a counter filled to the brim with cakes, cookies, muffins and chocolates. Lots and lots of flowers and beautiful mint-coloured walls with pictures of lush green landscapes gave it a welcoming atmosphere. How did she do all this in such a short time? In the faraway corner of the room was a white door, that presumably led to the kitchens. Two laughing voices sounded through the shop, one of them was Makoto's, but whose was the other one? It was male, that was for sure. Peeking through the slightly ajar door, she looked in. Who is that man? It couldn't be... Oh holy moon, this isn't... The man laughed at something her friend said, and then bent to plant a kiss on her lips.
"I don't know whether I am supposed to transform or whether I'm supposed to say hello.", she finally managed to get out and then proceeded to step in the pristine kitchen. Makoto and Hiromasa whipped around.
"Minako! You're finally here!", Makoto quipped and hugged her friend. A moment of uncomfortable silence settled between the three, as Minako and Hiromasa wordlessly stared at one another. He looked just as she had remembered him. Tall, brown hair, brown eyes. But the expression he wore now couldn't be more different than the one he had worn on their last encounter. It was open, almost unguarded and there was no hate in his eyes.
Suddenly, a cold panic gripped Minako and she took a step away from the quiet young man and closer to the door. "Is he here as well? I saw him a couple of days ago, but... Tell me he's not here." A look of heart-felt betrayal flitted over her face as her widened eyes inquiringly implored Makoto.
Not waiting for an answer, she spun around on her heels, but the taller girl grabbed her hand and soothingly whispered "He's not here. Hiromasa... Nephrite is the only one that I've met. Please stay." A clock somewhere in the room counted the seconds that felt like hours. Pushing her hair up into a bun, which was a mannerism she always displayed when feeling nervous or insecure, Minako turned around again, a blush creeping on her face. Don't be so foolish.
"I'm sorry." She walked over to him and extended her hand, offering him more than just a greeting. He took it, and the awkwardness began to subside. "So your name is Hiromasa now? I am Minako."