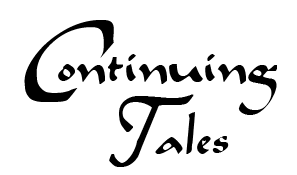 The weeks and years melted into each other silently; we two were so lost in our mutual ecstacy and adoration that we never noticed. The once abysmal house on the lake was now filled with the intoxicating atmosphere that only love can bring. We were the prince and princess of the old fairy tales, living happily ever after.
I thought rarely of Raoul in those days, except to pity him. He thought he loved me so deeply, but in my life with Erik I soon discovered that the love Raoul had offered me was false, only a shadow of the true emotion. I recalled his words as he persuaded me to take part in the plot to capture Erik: "Every hope and prayer rests on you now . . . " He had meant his every hope had rested on separating me from my dark angel forever.
He had sought to hold me to him because he thought me beautiful. I fit so well into his lush life, for I could perch daintily on his arm and be his soft, silent, constant companion; he could dote on me and spoil me with his wealth. Although Erik did indulge me and give me all I desired, there was more to our love than could ever have been between the vicomte and I. The depth of understanding that we possessed and expressed in every action, every look, every touch, would have been incomprehensible to Raoul. Poor, superficial Raoul! He could never have fathomed the lack of need for words; it would have escaped him, the meaning of the countless hours on the underground lake, when Erik and I would sing our souls into the darkness until we collapsed into each other's arms, feeling our hearts would burst . . . Only then were our souls one, in a way that the young foolish vicomte could never have understood.
I wondered at times, after Erik's love had enveloped me completely, how Raoul could have tried so to tear me from my angel, my protector. Not wanting to think him capable of jealous possessiveness, I told myself that he had honestly believed I had been in danger. Unable to understand the love Erik offered me, he had sought to save me from it, not realizing it was all I had ever dreamed of. Raoul's earnestness had aroused my own apprehension, caused me to doubt- and he had almost persuaded me from my beloved's arms. Still, in my heart I always kept a faint childish affection for him, and hoped he had forgotten me quickly. I never wanted to break his heart, but I knew that the choice I had made was the right one. I belonged to Erik, and he to me- and in his arms and his heart, I was where I was meant to be.
Al Fin con Amore
A Phantom of the Opera Story
by Heather Sullivan
Part 3 of 3
<< Previous
Home