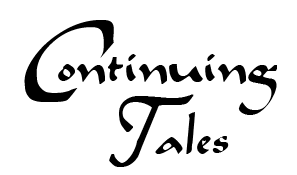 Sylia studied her guests as the ending theme of Bishoujo Senshi Sailor Moon episode 1 played. The couple who'd identified themselves as Azurite and Pyrite stared at the screen in glassy eyed shock. The girl (who'd said her name was Titanite rather than Titania) was watching avidly. She was sitting next to Nene who was humming along to the theme. She noticed Sylia watching her and flushed, "Well it is a very cute show."
The girl nodded, "Absolutely. How about running another episode?"
Sylia ignored her and blanked the screen. Her gaze turned to the man beside her. His expression was still carefully neutral. He took a sip of his coffee then turned to face her. "Well this certainly raises a few interesting questions about the nature of reality."
Sylia had to admit that her own sense of reality was taking a beating. After the fight at the hotel Mackie and Doc Raven had arrived in a company van. Doc had come along at her request to drive Priss and the unmarked van back. Mackie stayed at the wheel of the other truck and Sylia had piled in along with the strangers. The girl had slid into the cab to join Mackie and kept a running barrage of questions and comments all the way back to base. Mackie had managed to avoid answering ... in many cases because he was too astonished by her knowledge to form a coherent reply. It had succeeded in distracting him from the outfit the bluehaired woman wore. Sylia had stayed in the back with the other four. The unconscious one had commanded most of her attention. She seemed to be a literal catwoman. There were no signs of grafting. There were also nothing to indicate how she'd appeared human just a few minutes earlier. Someone had splinted her arm though she'd seen no signs of first aid equipment with them. The man who'd called himself Calvin was holding her cradled in his arms. He winced slightly as the wheels struck a bump. As Sylia watched a cut on his face began closing. The blue blood had already stopped flowing. His gaze raised from the figure in his arms to meet hers. He slid an arm free and dabbed at his cheek. "I imagine it's a little late to convince you I'm human?" Something seemed to flicker in his eyes.
"I already knew that. I got a sample of your blood last night. By the way weren't you blond when we met?"
Calcite grimaced. His glamour had collapsed during the beating he'd taken. "Actually this is its natural color. But it's a little too distinctive."
"Cal!" That came from the woman in the strange costume, Azure DeWitt in the hotel register. She'd been keeping a close eye on Sylia while she watched the other two.
"Easy Azure. Our cover is blown and right now I can't do a lot about it. So we might as well see what it's all about. Your mentioning the leader of the Senshi was a surprise Ms. Stingray."
"Sylia is fine."
"Well I might as well do the introductions. My real name's Calcite ..."
"And I'm Titanite." The girl must have been listening to them despite her own stream of words. "Better known as ..."
"Ti, enough." The girl hesitated then withdrew into the cab. He continued, "This is Azurite." The blue haired woman nodded and tapped a bracelet. Her clothing shifted and reformed into a red pantsuit. She'd had red hair in the computer's picture of her. While Sylia was absorbing this Calcite indicated the other man. "My cousin Pyrite." He nodded aimiably and his features changed slightly. His eyes shifted from brown to yellow and his fingernails became a deep black. Now that she thought of it both Calcite and Titanite had green nails. Perhaps it wasn't decoration. "And this is Margrave." He indicated the unconscious woman. Sylia's gaze shifted back to Pyrite. He was suddenly looking satisfied.
Pyrite looked friendly enough but she'd seen him appear out of nowhere. He was an unknown and uncalculatable factor. For that matter she knew both Calcite and Azurite could destroy Boomers with their bare hands. Even the girl had demonstrated unknown powers. Sylia was beginning to wonder if bringing them to her homebase was a wise move. Though the girl might already have known where it was, she seemed to know everything else about the Knight Sabers.
As if on cue Titanite asked Mackie, "So how far is it to Raven's garage?"
"Uhmmm ..." Mackie caught Sylia's eye in the mirror. She nodded fractionally. "Another five minutes."
Pyrite finished the thing he'd been fiddling with and held it up. As soon as they'd entered the van he'd opened his case and reached inside it. The lid had blocked a clear view of what his hands were doing. Now he was holding up a silver circlet. He pushed the case to one side and knelt beside Margrave. "Right, this'll keep her asleep until we know what to do about her." Calcite nodded and Pyrite fitted the band around Margrave's forehead. He tightened it a little to avoid slippage. "Ok all done."
"One less worry." Azurite was looking concerned. "Cal I hate to bring this up but you-know-who told you to stay at the hotel. Maybe Pyrite's blocking will keep him from finding us but if he starts to search it's going to get ugly."
"Is you-know-who Jadeite?" From their reactions her guess was right. Not the most difficult leap she'd ever made. Jason Deite resembled the cartoon character Jadeite. That combined with their own names made it an obvious deduction. Well not obvious as this whole thing didn't make any sense. Was this some long term project somehow inspired by that anime?
The car pulled into the garage and the door opened. She was glad she'd told the others not to suit up. From the look of Calcite and Azurite that would have been regarded as an ambush. Both relaxed a little and Calcite stepped out holding the catwoman gently. Nene and Linna were staring at his burden with amazement. Sylia took charge. "Alright we'll head upstairs to the apartment. You can drop her in the spare bedroom. Then I'll show you what I know about Sailor Moon.
They headed for the concealed staircase from her apartment to the underground Knight Saber base. Titanite was gushing over Nene and Linna, neither of them seemed to know how to react to her. Priss had already unsuited and headed upstairs.
Sylia thoughts returned to the present. She met Calcite's gaze. "What is the connection between this cartoon and Jason Deite?"
"A better question would be what is the connection between this show and Jadeite. That is his real name."
"What exactly are you saying?"
"That what we just saw was a reasonably accurate depiction of General Jadeite's first attempt to gain human energy. I can't comment on the validity of the other sequences not having observed them."
"Are you trying to claim that was somehow real?"
"Yes. Though not in this dimension."
"What?"
"Given an infinite number of dimensions everything has to happen somewhere, right." This was addressed to Pyrite. "Hmm ... uh yeah. There's this Heinlein book which had the premise that everything fictional would be real in some alternate universe. Number of the Beast or something like that."
"What kind of bull is this!" Priss didn't by this for a second. "You expect us to believe that you're anime characters who somehow walked into the real world?" Calcite didn't reply directly. Instead he said something in an unknown language to Titanite. She nodded and opened her pack. She looked at Nene and asked, "So did Dr. Miriam try to take over the ADPolice building yet?"
"That happened a few weeks ago. It made all the news shows." And I didn't get any credit, Nene added silently.
Titanite nodded, all the Crisis OAVs had happened. Cal's instructions were clear. Show them the discs that have happened. She'd told him that Bubblegum Crash didn't happen until next year. She removed the 8 discs from her pack and passed them to her brother. He handed them to Sylia. "You might want to have a look at these."
Again Sylia felt her sense of reality slip. The pictures on the jackets were clearly recognisable cartoon versions of the Knight Sabers, masked and unmasked. "When were these made Ti?"
"1987. It was originally supposed to be a 13 part series but ..." The girl's voice rolled on but Sylia wasn't really listening. Mackie, Priss, Linna and Nene gathered round to stare at the disks. They looked a lot like Azurite and Pyrite had done a few minutes earlier.
Sylia managed to regain her composure. "Mackie do we have anything capable of playing these?"
"Huh ... uh I don't think so. This format's been obsolete for years." He started thinking about the challenge. "I suppose I could modify the Maxsung decypter to handle something this size. Then if we run the signal through ..."
"Get on with it!" She turned to face Calcite. "Assuming for the moment that this is true, that we are somehow animated characters in another universe ..." Just saying that was an effort. "... why are you here?"
"We came because someone sent Boomers throught the dimensional gateway to our Tokyo. For our own reasons it seemed advisable to deal with the youma responsible. We just learned it's Jadeite, or Jason Deite as he's known here."
"Your names suggest a connection with him."
"It was traditional to give humanics ... that is youma who looked human names ending in ite. We're just looking to live out our lives quietly free of the Dark Kingdom. Jadeite has other plans. I don't know exactly what he's planning but it's nothing pleasant. He was responsible for the destruction of that tunnel last night."
Sylia looked grim. "Over 100 died in that explosion."
"They were all dead before the blast."
"What?"
"Jadeite had sent in some sort of modified Boomer. It looked almost lionlike ..."
Linna looked up from studying "Double Vision". "That sounds like the Boomer that beat the hell out of us."
Sylia nodded. "Go on."
"As you saw in the video he can drain human lifeforce. He's now got a faster and far more lethal technique. The explosion was set to cover the fact everyone in that tunnel had been sucked dry. The heat could be blamed for the desiccated condition of the bodies."
"If we accept this as true then why is he doing it? Is it connected to the Boomer he sent against us."
"Possibly. If it was somehow powered by human energy ... I don't know."
"Would Margrave know?"
The question surprised Calcite. "I don't know. Jadeite must have known she was in the city. Though how much contact there was between them ..."
Pyrite chipped in. "We saw her leaving Jadeite's building."
"As Catherine Margrave she is Jadeite's second in command." Sylia's answer startled Calcite.
"Catherine ... probably nicknamed Cat. Jadeite's number two ... that probably indicates no more powerful youmas in town or she wouldn't hold the position. I still wonder how she got here?"
Sylia couldn't answer that. One thing she did know, this Margrave might be the key to everything. "Maybe she can answer a few questions." She started for the bedroom where they'd dumped the cat woman. Everyone else followed.
They all trooped into the room making it rather crowded. Margrave was stretched out on the bed in REM sleep. Her breathing deep and even she seemed relaxed. "Hey, she's cute!" That was from Nene. Even Azurite had to concede that much. "Appearances deceive."
Calcite nodded. "The only time she ever completely lets her guard down is when she's asleep. Most of the time she looks like she'd as soon rip your heart out as say hello."
"Most of the time she would as soon rip your heart out as say hello."
Before Calcite could refute this (if he could) Linna asked, "Just what the hell happened at that hotel this morning?"
Calcite sighed. "I guess you could say it was a bit of a spat with an old girlfriend."
"Old girlfriend?"
"If you want me to be a bit more specific we used to be lovers back in my Dark Kingdom days."
"Lovers?" Linna studied the body before. She could glimpse the fangs behind the lips, saw the claws slid half out of the fingertips in response to a dream. Not to mention the fur that covered the body. "That's disgusting! She's obviously not human!"
Calcite raised his right arm. The sleeve had been slashed open and his arm badly gashed when he'd gone through the window. The wound had healed but the blue bloodstain remained. "I'm as nonhuman as her. Unlike her I look human on the outside." Linna shut up. Calcite added, "Besides there's nothing wrong with furry bodies. They're a lot easier to handle than scales or spines. Claws can be a problem but I've got very tough bones and heal rapidly." He realized Titanite was looking at him. "Well anyway ..."
During this Azurite had noticed Nene staring into her eyes. "What are you doing?"
"Sorry, I was just admiring your contacts. They're much better than Priss's. She uses those tinted contacts so she can claim it's just for her stage act."
Priss growled, "How many times do I have to tell you. I'm not nearsighted!"
"I've seen your medical records!"
"WHAT! You little ..."
"Just kidding. Anyway the red color's so much better in your eyes."
"I'm not wearing contacts."
"Oh." She paused then indicated the yellow eyed Pyrite. "Uh is he ...?"
"No. What you see is you get."
"Ah." Nene's gaze swung back to Margrave. At least she really looked like she wasn't human. Something struck Nene. "Say is she the Werewolf Vigilante?" Nene was a big fan of trash media.
"Who?" She realized she had everyone's attention.
"Well the past few weeks someone's been running around the slums hacking up muggers and rapists. There's a witness who claimed the killer was white and furry with really sharp claws."
Azurite nodded. She felt vindicated. "There! You heard that Cal. She's a killer! Now do you understand."
"We're all killers Azure."
"Only when we have to be. We don't go out hunting for people to kill. When will you accept that the world would be a better place without her! You should have taken her out back at the hotel but you've got the crazy idea that she's somehow redeemable. She's a menace. She came damned close to killing you. I ... we could have lost you because you didn't want to hurt her!"
"ENOUGH!" Pyrite's outburst silence everyone. Titanite had never heard him shout like that before. His voice went cold. "Azurite if anyone's responsible for that mess this morning it's you. If you'd told us months ago that Margrave was there when we jumped we'd have known she could have survived." His tone became bitter. "But you couldn't, could you? Because if Calcite knew that Margrave might be alive somewhere he'd never have given up hoping to see her again. Which would have meant you'd have lost any chance of making him yours."
Calcite and Titanite stared at their cousin. Azurite turned almost as white as Margrave. "You ... but how ... when ...?"
"When did I figure out I was the number two man in your life? Quite a while ago. I'm the observer of this group. I notice things. It wasn't hard. Anyone except Calcite would have." He was silent for a moment. "I kept quiet because I hoped that one day you'd give up ... I really thought you might choose me. But now Margrave's back and it'll be the same mess as before. You'll stay with me but you'll be envying her and watching Calcite for your chance. I just can't take it anymore." He sounded defeated. "So now there's no more secrets. Congratulations Cal. I always knew I couldn't compete with you. I ... I hope you'll be happy." He stalked out of the room. His mind whirling Calcite looked to Azurite. She seemed paralysed, unable to say anything coherent. He sensed teleport energy build and followed his cousin.
"Pyrite wait!" He didn't know what to say. "I ... I didn't know anything about this."
Pyrite's smile was bittersweet. "I believe you. In many ways you're a very smart guy. But when it comes to women you're the dumbest guy on Earth and the Kingdom." Light flared and he was gone. Azurite stumbled into the corridor. She froze and stared at the empty air. She began to reach out to Calcite. Then froze again. Suddenly she stepped forward into the space Pyrite had occupied. Power built and her expression changed from lost to resolved. She vanished.
While the other Knight Sabers gaped at the spot she'd been standing Sylia strode there. She waved an arm through the space and remarked, "That's rather disconcerting."
"Really?" Titanite sounded surprised. "I though you were unflappable."
"Young lady, no one is as cool as I act. Unless they're already dead."
"Oh." She felt a little disappointed. Then looked to her brother. He had his head bowed and held a hands across his eyes. "Uh Cal, are you ok?"
"This day just gets better and better." She'd never heard him sound so weary before. After a few moments more he straightened up and looked at her. "Did you know anything about this?"
"Well ... no. She never said anything to me. I guess ... I guess Azure's always been a big sister figure to me so I never thought that there was anything romantic between you. I just had you figured as good friends."
"Me too." He sighed. "Which appears to have been part of the problem."
"Are you going to go after them?"
"I don't have the power to spare. Besides Pyr might have jumped again when Azure followed."
"Well I could ..."
"You're still getting warp sickness. Until we've got you past that your teleporting is limited. Besides I think they need to sort things out on their own." Gradually the reality of their situation penetrated. "Meanwhile we just lost half our group and our blocking shield. On top of everything else Jadeite is still out there somewhere planning god knows what. He can't detect Pyrite but he could spot Azure's jumps. Ti ..."
"I'm already shielding my aura."
"Good girl." He made a decision. "Right now I'm not totally useless. I might be able to find out what Margrave knows." Everyone followed him back inside.
Nene looked a little squeamish. "Uhh ... what are you planning to do to her?"
"Nothing physically damaging. I'm going to try and take a look inside her mind."
"You can read minds?" That was from Linna.
"Not exactly. In the case of people I have a long time rapport with I can get limited access to their minds. Assuming they aren't fighting me. We have a long time intimacy which should provide the connection I need. Also in this dreamstate her psi defenses should be down."
"I thought you said mindsurfing shouldn't be used without consent."
"I am afraid sister that every rule has its exceptions. This is one of them." And it's the least painful way to learn what we need.
"Oh. Should I come along?"
"No. Stay out here and keep an eye on things. If anything seems to be going wrong then break contact." I hope this isn't an error. Ti seems to think these people are trustworthy and her information appears to be accurate. Something struck him. "But first bring that pack of yours here." She disappeared into the main room and returning with the pack and three remaining laserdiscs. Calcite reached inside and generated a psychoplam band around them. That would make them unplayable until the band was removed. If those discs actually foretold the future of this world they could be a powerful bargaining chip.
He pulled a chair up to the bed and leaned over Margrave. His fingertips lightly touched her temples and he felt contact establish. So far so good. Here we go. He shifted his point of view forward and experienced the familiar sensation of rushing down a tunnel of blurred light.
Priss waved a hand in front of his eyes. He gave no indication of noticing. Sylia observed more carefully. Respiration appeared to have slowed along with blinking rate. He appeared to be in a trance state. At least a human displaying those symptoms might be. There was no saying if the same applied to youma. She felt the strangest sensation. Almost as if there was an almost inaudiable conversation she could just detect. She took a step towards Calcite.
Surrounded by a whirling storm of shifting form Calcite decided to impose some order. Somewhere familiar to her. Around him a gray barren landscape began to spread. Mainly stone with crystalline outcropping, sparse vegetation consisting mostly of fungi and lichen. With a few scraggly trees that whipped their branches to repel herbivores. A dun colored beetle the size of a great dane scrabbled past. Overhead the sky was a solid black lit only by lightning flashes and glowing clouds. It almost made him homesick. Almost. Until he remembered how much he'd hated this place.
Now to give his psi form a shape. He molded a copy of his body then covered it with his old Dark Kingdom uniform. Grey with a red stripe running from shoulder to hip. Why Magnesite had liked this design remained a mystery. No sign of serious resistance so far. Now if he could access her memories ... something wrong! Psi defense? No, it was coming from outside. There was an incoming presence. Ti must have decided to follow him. What was she playing at this time?
He "saw" a sphere of light appear and form itself into a female shape. Ti must have decided to give herself a fully adult body as it was much better developed than her own. The facial features formed and he recognised Sylia Stingray.
She seemed a little disorientated by her arrival. "I was unaware you were a telepath Sylia."
She seemed puzzled. "I'm not. At least not exactly. I couldn't have got here myself but somehow I was able to ... to ride the channel you opened." She looked around. "This is what the inside of a mind looks like?"
"Not exactly. This is a pseudo environment I've created to enable me to move around. Same as the body you "see". With my limited psi powers I find it helps to create a visual analog. It's a natural instinct for visually orientated creatures like humans and youma. Which is why you created a psi duplicate of your own body as a reference point. By the way please don't feel you have to be naked on my account."
Sylia looked down and realized this form had no clothing. The lack of physical stimuli had kept her from noticing. She blushed momentarily then met Calcite's gaze. "Why do you have clothes and I don't?"
"I created these. They're conducive to the environment. Try imagining yourself wearing an outfit." Quickly. "Not that armour. Look too militant and we could trigger psi defenses." She nodded and concentrated. Light flowed over her body and limbs then shifted to become cloth. She was wearing a copy of Jadeite's outfit from the anime.
"I assume this is appropriate for the environment?"
"Zoisite's might have been better but that's fine. Well let's see what we can find." He imagined a path leading to a storage vault. Over there. "This way."
On the outside Nene was watching Sylia worriedly. Her hands rested on Calcite's shoulders and she seemed to be as oblivious as him. "Is she all right?"
Titanite shrugged. "I think she followed big brother somehow. I didn't know she could do that."
"Neither did we."
"Well he's fine so I guess she's fine." Ti glanced around at Nene, Priss and Linna. While they were all waiting here would be the perfect time to ask her questions. Except that it was a lot more intimidating to ask living, breathing women about their personal lives than to speculate about drawings on animation cels. Maybe if she started off with the milder questions.
Mackie entered. "Ok I've got that first disc rolling and it's viewable ... What's wrong with Sis?"
"Far as we can tell they're both in the pussycat's head."
"Radical!"
Inside Margave's mind two figure were walking through a valley. "Pretty barren environment."
"That's plenty of life if you know where to look. Though of necessity most of our food was fungi and insect based."
"What does it look like in daylight?"
"This is our equivalent of day. Notice the phosporescent clouds? They fade during the night."
"Lovely."
"I admit it wouldn't make many travel agent's lists. But it's totally unspoiled by tourists."
"So the real Kingdom exists next in another continuum? Next to another Earth?"
"It did." He was silent for a moment. "This looks promising." "This" was a cloud of black spheres ranging in size from ballbearings to beachballs.
"What is this."
"I think these are memories."
"You think?"
"These places don't come with manuals."
Sylia studied the hovering spheres. "So which one do we need?"
"Good question."
"Well what sort of sequence are they in? If we proceed chronologically ..."
"Unfortunately memories don't seem to be linearly stored. At least not for telepathic access." Before she could comment he continued, "However size probably indicates it's importance to her. How often she thinks about a particular moment." He reached a arm towards the nearest giant sphere. "Take my free hand." Sylia did and Calcite pushed his fingers into the sphere's surface. The black surface rippled like water. He pushed deeper inside and felt something resist him. He exerted more force and suddenly they were elsewhere.
All around the landscape writhed but the quakes didn't touch them. They were phantoms in the cavern. Ahead of them Margrave stumbled towards the four figures standing untouched by the chaos. Calcite recognised himself and the others. "The last day!" The sides of the caverns were lined with niches. In several sat large crystals with humanoid figures sealed within. The crystals were tumbling from their perches to the rocky floor. They were undamaged by the impacts. Margrave stumbled to a halt and hung onto a pillar as walking became impossible. Azurite's gaze locked with hers briefly then dropped. Margrave screamed at Calcite's back but the words were lost in the chaos. The four vanished and Margrave gave a scream that was also swallowed by the roar. Above her the crystal holding a blond man tipped. He was the only recognisably human one of those imprisoned. "Jason Deite."
"Jadeite." The crystal struck Margrave and flung her forward. Entangled with the crystal she rolled into the energy field and vanished.
They were back before the cloud of spheres. Sylia felt a bit shaken by what she'd witnessed. "What ... what was that?"
"Judgement Day. At least for the Dark Kingdom." He was silent for a moment. "Well now we know how they got to MegaTokyo."
"Wait! If that was her memory ...?"
"...Why did we see her? The simple answer is our minds interpret it to fit our own preconceptions. We're all the centre of our own little universes. Seeing it from another's viewpoint would jeopardise that."
"So we can't truly understand one another even with telepathy?"
"I can't. But I'm far from the best telepath. You noticed all we got was visual and audio sensory data? We don't know what she was thinking at that moment. We didn't feel her emotions. A more powerful telepath could have got some of that. A very strong telepath would have got it all. A supreme telepath would have supressed their self and experienced the memory as she lived it."
"Interesting but it doesn't help us."
"True. Let's try this one." Again everything around them changed. Sylia saw Margrave racing up a hillside. She looked smaller and less developed. More of a kitten than a cat. She held her left arm steady with the right. It seemed to be broken. She was panting from the exertion of the chase. Behind her the three pursuers advanced. All were large and appeared male. While humanoid it would take a lot for any to pass as a man. The leader was a blue minotaur, the second resembled a combination of crab and panther. Clawed feet tore up the ground and lethal looking pinchers clicked. Beside him strode what appeared to be a werewolf made of metal. Margrave gave a hiss of frustration and stopped. She spun to face them letting her broken limb hang free. She raised her good arm and extended her claws.
The trio slowed and the steel wolf walked to the front. "Stupid little bitch. Trying for the empty spot in Jadeite's Legion without seeing who's got it reserved. We had plans for that space. Soon as you're gone we'll be bringing in our choice."
"Take another step forward and there's another space to fill."
The wolf creature laughed. His subordinates echoed him. "Breaking one limb trying to cut my armour wasn't enough for you? Fine, I'll break the rest then we'll have a little fun before you die."
"Leave her one boss. It's no fun when they don't struggle."
The wolf took another step forward and Margrave's face twisted in fear and frustration. Then a new voice cut in. "She must be really tough if it takes three of you to beat her. I like that." All eyes turned to the top of the hill and the figure sitting there. Calcite looked a lot younger, Sylia would say he was about 13. He was wearing a blue tunic and pants and held a halfeaten oval fruit with yellow juice. He regarded them with an expression of cold malevolence. He dropped the fruit and stood up. "I could use a good workout so how about you leave her here to spar with me."
"You get once chance to walk away brat ..." The wolf noticed his men backing away. "WHAT ARE YOU TWO DOING!"
"Boss, a green haired humanic! He's got to be Calcite!"
The minotaur nodded in agreement, "We heard what he did to Vekris and his gang!"
"Vekris was a fool!" Secure in his armoured shell the wolf strode forward. "But people think you're hot. Taking you down will boost my standing." He smiled. "Take your best sho..." He keeled over and hit the ground with a loud thud. His armoured skull had failed to bounced the knife which protuded between his eyes.
Calcite held two more knives waiting. "Like to give it a try?" Both made hasty denials then turned and fled. Calcite advanced and Margrave's expression changed to resignation.
"So I'm yours now?"
He didn't answer just studied her broken limb. Then touched it gently. A cast formed around. He concentrated then nodded. "That should last until tomorrow. If you can't speed heal then you'd better splint the arm when it fades." He turned his back and walked uphill.
"Wait!"
He looked back the cold expression in place again. "What?"
"Well ... don't you want me? Isn't that why you saved me?"
"I have no use for damaged women." He resumed his walk. Margrave looked confused.
"But ... but then why bother rescuing me?"
He stopped but didn't turn. "I don't know." Then kept going. Margrave watched him vanish over the brow of the hill.
Reality flickered and they were back. "Our first meeting. Back when I had a reputation to maintain."
"Seems to have been important to her."
"Survival generally is."
"Why did you help her?"
"I was young and stupid. The smart thing to do would have been not to get involved. I still had a few delusions of heroism back then."
"So you wouldn't do it again?"
"Right."
"That splint on her arm back in the real world ...?"
"I created that."
"Why? She'd just tried to kill you."
"Impulse. Look let's move along."
"First I'd like to know what happened next."
"Why the ... Ok briefly she showed up at my place a two weeks later."
"And?"
"Well loosely translated she said her arm had healed then asked if I wanted to have sex with her. I said sure. That's basically how it started."
"Very romantic."
"For the Dark Kingdom that's as romantic as it gets."
"How old were you?"
"13 going on 14."
"Isn't that a little young?"
"You grow up fast in the Dark Kingdom, both physically and mentally. Given the average lifespan you have to. The average youma loses ... lost his, her or its viginity between 10 and 11. I waited until I was 12 out of fear of making some blunder that would mark me as a Renegade. When I was sure I could look like a mean bastard at all times I was ready."
"This place sounds less and less attractive all the time."
"You don't get to choose your birthplace. Anyway enough of the 'my life was hard' routine. Lots of people have difficult childhoods. Was yours easy?"
"No. No it wasn't." What would she have been like if she hadn't grown up determined to avenge her father? Perhaps a much happier person.
"Let's get on with this."
Another memory. A hospital and a dead woman on a morgue table. Margrave staring at the body as the detective by her side explains how she died. Her face twists briefly with rage then resumes a cold expression.
"What was that all about?"
"I have no idea." A friend's death? Couldn't be, youma don't have friends. Unless Pyrite was right and being in this world changes you. Though why be molded to gain a friend only to lose her to violence? How would that synch you into this world?
The next memory seemed related. A woman stalked through a slum nervously eyeing the shadows. Then there was a scream from ahead of her. She hesitated then rushed forward her glamour fading. Sylia and Calcite found themselves flying alongside to keep up with her. Her speed and grace amazed Sylia. The screaming emerged from an alley. Inside a girl was pinned to the ground by a man holding her shoulders against the concrete. A second held her flailing legs and grinned down at her. He never saw what hit him.
Margrave's claws cut deeply through his neck. His head almost severed the would be rapist began dropping. Margrave surged past the body her other arm arcing downwards. The girl had her eyes shut. The man pinning her had time for a moment of shock before his throat exploded. He fell backwards drenching her with blood. The spray snapped her eyes open. She screamed and pulled free of the corpses. A streetlight illuminated Margrave. The girl cowered before the appariton. Margrave looked at her for a moment then snarled "GO!" and pointed a claw to the alleys mouth. The girl bolted. Margrave licked the blood off claws. There wasn't much on her fur as she'd been able to dodge most of the spray. "Shit, shouldn't have let her walk. When she describes me Jadeite's gonna be unhappy." She stopped muttering recreated her glamour and slid away into the darkness.
"So she is the Werewolf Vigilante."
"And Jadeite didn't approve. So why did she do it?"
"Was she avenging the dead woman we saw?"
"I ... I don't know."
"In any case it's not what we were looking for. Mind if I pick the sphere this time?"
"Go ahead Sylia. I'm not having much luck."
It was another three spheres before they found what they were looking for. Several of the Spheres seemed to have fused together. This one seemed to jump around.
The memory started with Jadeite and Margrave walking through one of the seedy neighbourhoods. Calcite recognised it as the place the gate was located. It was probably also the site of their original entrypoint. Four thugs made the biggest (and last) mistake of their lives as they slid out of the shadows to surround the pair. Jadeite smiled and formed an sphere of white light that floated over his upraised palm. Energy flowed from the humans to the sphere. While probably invisible to humans Margrave's youma eyes saw the whole thing. They aged, crumpled and fell. Jadeite looked at the sphere in surprise. "Five minutes for total drain. Remarkably quick."
"Your powers continue to grow, my lord."
"Perhaps. Or perhaps they are just more efficent in this world. No matter. Now we can begin the test."
The scene jumped to a Boomer plant. Jadeite stood before a C-55 Boomer. Nearby a guard stood following the Jadeite's commands to ignore anything he saw. In one hand Jadeite held the sphere of human energy. With the other he reached towards his own chest. His hand glowed white then passed through his ribcage as if it didn't exist. He withdrew his hand, there was no sign of damage to his chest. Between his fingers he held a golden glowing mote. He drew a breath then plunged the mote into the sphere. It changed from white to pale yellow. Jadeite nodded and pushed the sphere through the Boomer's chest wall. It passed through the metal without damaging it. Jadeite appeared slightly dizzy. Margrave took a step towards him and he waved her back in irritation. He straightened up and concentrated. The Boomer's form shifted becoming the lion headed shape both Calcite and Sylia recognised.
There was another shift. Jadeite and Margrave watched a screen. The graphics at the edges suggested this was coming from Brazil. On the screen they were seeing from the point of view of something that was tearing apart ragged armed men. From the flashes of blue it seemed to be a Boomer. From the claws it was on of Jadeite's Hyper Boomers. Jadeite spoke to the executives and generals surrounding him. "Now ladies and gentlemen unit Y0MA will demonstrate its' entropic disruptor weaponary on the surviving elements of the Brazilian People's Independance Army." On screen men and women began collapsing. The Boomer swept its gaze around. Everywhere it showed the survivors were aging rapidly. Jadeite continued, "The true advantage of this weapon is that it causes no harm to either equipment or the economically viable rainforest. The energy is absorbed by the youma and converted to power for its own use. Thus as long as it doesn't run out of advesaries it will not require refueling. This will cut maintainance a minimum of 40% and increase the unit's capability of conducting field operations between 35 and 60%." There was polite but enthusiastic applause as the people on the screen withered and died.
The scene jumped again. Now Jadeite and Margrave were alone. Jadeite was speaking. "You have been wondering for some time just what I am planning haven't you."
"It's ... not my place to question you Lord Jadeite."
"Of course not. But you've been curious haven't you? It's only youman."
"Yes my Lord."
"After yesterday's test everything is ready. The humans think I have given them a military product worth several fortunes. What I have truly done is demonstrate my ability to have my creations drain life force outside the zone that surrounds this city. While we may be unable to leave the zone around this place they have no such restrictions." He smiled and waited for her to ask.
"My Lord. That still doesn't explain your true intentions."
"It's quite simple." A hologram of the world lit up. "Now watch this. Here's a project of how successful the Hyper Boomers will be." Year 1 flickered above the world. Red dots appeared over Japan and other GENOM's client third world countries. Year 2. The dots had spread to the Russian Federation and China. There were sporadic dots throughout India. Year 3. The dots were worldwide. Jadeite grinned. "Three years and they'll be worldwide. And that is when the feeding will begin."
"The feeding?"
Jadeite tapped a key on his console. The dots expanded and the world's landmasses turned a solid red. "When they are spread far enough the day will come that I command them all to feed simultaneously. Every one of my children will begin consuming all the human energy surrounding them. As they feed they will use the power they collect to expand their draining fields. It will take several weeks but at the end of it the human race will be extinct."
Margrave looked shocked. "All of them?!"
"The entire species. Possibly all the other primates as well. I haven't got all the bugs out of the feeding sequence yet."
Margrave was silent. After a few moments she commented. "It'll be quiet with just the two of us left."
Jadeite's smile wasn't pleasant. "We aren't staying. Once I've killed all the humans here we will be departing for my homeworld. What will Sailor Moon do when 100,000 Boomers pour though the dimensional gateway? All of them with power to spare after draining this planet."
"A uh ... a most ingenious plan my lord. But ... uh ..."
"But what?"
"Each of the Hyper Boomers requires a portion of your soul fused to human energy to make it operational. Can you divide your own life that much?"
"I am Jadeite. Nothing is beyond me."
Margrave immediately flung herself down and grovelled at Jadeite's feet. "I abase myself before your magnificence. You have conceived a plan even Queen Beryl would not dare."
"That old hag is history. You know in some ways I'll miss this world. Ever since we arrived things have been so much clearer. I was so limited before. Now there are no limits and I will triumph!"
The memory ended. Sylia and Calcite looked at each other.
"Well now we know."
"Can he really do that?"
"Can we ... can you take the chance?"
"No." Sylia looked at Calcite. "You have the full assistance of my organization to eliminate Jadeite."
"I'll need everything I can get. I wonder how long before it occurs to Jadeite he won't need to send a boomer army through. There'll be a whole world to loot once he's done. All he need do is pick up a few A-bombs and push them through the gate. Then wait a few days and go through to pick up the pieces."
"I thought I tended to look on the dark side of things." She shook her head. "Well? How do we get back?"
"Just a moment." Calcite focused on remembering a certain day. A grey sphere formed between his hands.
"What is that?"
"Something I'm leaving behind." Sylia looked at the sphere for a moment then plunged both hands into it. "WAIT!" Too late. Her perspective shifted.
S/He was standing in the only calm spot amidst chaos. All around the shielded area came the crash of falling rock as the cavern tore itself apart. Eternal Sleep Crystals toppled from their niches and joined the debris on the floor. Power flicked around them. Titanite held his right arm. She was fighting to stay upright. The bruises that covered her face were healing. Pyrite held his left arm. His cousin shouted something but it was lost in the noise of the quake. He didn't need to here, he could feel the link between them. Facing him stood Azurite. She held Ti and Pyr's other arms to complete the circle. He was concentrating on the viewing crystal behind her rather than his friend. On it the Moon Princess and the thing that had been Queen Beryl continued their final struggle. The energy both discharged was tearing apart the Kingdom. They'd be deaf soon at this rate and the shield wouldn't last forever. But they couldn't jump until they knew who had won. Suddenly Beryl was engulfed by a sphere of light. Her body crumbled and the energy of Metallia discharged wildly. The psionic scream echoed through the Kingdom. The sphere continued expanding. Energizing gate ... Now! Then they were elsewhere, their senses were going mad and everything hurt. Things shifted again and he was sprawled on top of snow covered grass. The others were scattered around him. They'd made it."
Sylia blinked back to the Margrave's mind. "Very ... intense. I think I got more than sight and sound."
"Really? Odd. Maybe it's because of my telepathic abilities."
Sylia considered. "You're leaving her that memory so she'll know you didn't abandon her?"
"I did abandon her. The others convinced me if I told her we were building an escape gate she'd betray us." He sighed. "They were right, she would have. I was planning to bring her in just before the end but things moved faster than I anticipated. Also after Ti was nearly killed by Magnesite I didn't have time to seek her out."
"But if you'd known she was there?"
"I'd probably have tried to drag her along with us. Before you ask, yes that would have been stupid. Azurite was smart not to draw my attention to her. But she should have told me afterwards."
"Except she had her own reasons to keep quiet."
"I guess. What a mess. I really thought Azure and Pyr were solid. Perhaps they still are. She went after him immediately."
"Unless that was to justify choosing you over him. To try and minimize bad feelings."
He sighed again. "This has to be the worst possible time for this to blow up."
"That seems to be the way life works. In the meantime we have to deal with this Jadeite situation. How do we get back to tell the others?"
"Something like this." They began to levitate. Below them the landscape began blurring into a kalidescope of constantly shifting form. Then was the sensation of motion and bodilessness. Sylia found herself back in the room, her hands still resting on Calcite. She pulled them away and Calcite removed his own hands from Margrave then stretched. This sudden return of mobility startled both Titanite and Mackie.
The two teenagers had been sitting next to each other. There was no sign of the others. "Mackie, where is everyone?"
"Oh, I got the discs working a while back so they all went to watch them. I stayed here to make sure you were all right."
"I've described the stories so he hasn't missed anything."
Calcite looked at his sister. "Ti, why are you wearing your Sailor Polaris costume?"
"Oh Mackie said the suits recordings of last night got messed up so he didn't get to see it." Sylia looked at her brother. He tried to look innocent. "Anyway it's coming up on lunchtime so we were going to go for a burger soon as you came back."
Calcite shrugged. "Fine. But ditch the costume first." Ti nodded and morphed back to her regular clothing.
"Mackie!"
"Yes Sis."
"Remember to treat our guest with respect. Otherwise ..."
"Got it. Let's go Ti-chan."
Calcite shook his head as they left. "Younger siblings can be a pain."
"I would have to agree. Just how old is your sister?"
"Almost 15."
"Mackie's 16. Which is turning out to be the age his hormones overwhelm his brain. I'm hardly giving him a normal upbringing so I have to wonder how he's going to turn out."
"I am the last person to ask about that. My own teenage experiences are hopefully completely irrelevant to my sister. Besides she need to integrate with humans. I can't teach her that as I'm still working on it myself. Still she's probably adapting better than any of us. Since we're no longer in an environment where making mistakes will inevitably get you killed I've decided to try letting her learn from her mistakes. She's well equipped to take care of any non paranormal threats. The average teenage girl can't demolish a tank singlehanded. To date it seems to be working. So I should mention that if your brother tries anything she really doesn't like she is quite capable of breaking every bone in his body."
"Is that likely?"
"Ti's very good natured. First time she'd probably just ask him to stop then stuff him in a trash can."
"Sounds reasonable." Sylia heard music from the other room. "The soundtrack from those discs?"
"Could be. I've never watched them."
They joined the others who were criticising their voice actresses and claiming that incidents had been slanted to make them look bad. They'd wait for Ti and Mackie to return before explaining things.
The teenagers took over an hour to return. Once they were back the two leaders gathered everyone around a table. Calcite had begun reviewing who and what Jadeite was when he felt the warp form. He swore and summoned all the power he could. Sylia didn't know what was happening but she caught Calcite's vibes. She slid a gun from a drawer and flicked off the safety.
Pyrite and Azurite materialized. Each had an arm round the other. Calcite relaxed from battle stance. "Welcome back."
Pyrite coughed, "Uhm look I'm sorry about running off in the middle of a crisis but ..."
"But it was all my fault anyway", Azurite finished. "Besides it finally got me to make a decision I should have made years ago. I ... I've had a major crush on you since we were teenagers. But I realized if I was truly serious I wouldn't have let Margrave get in the way. She was just an excuse for not doing anything about it. Besides ... while I do love you I think we'd probably wind up at each other's throats if we were more than friends."
Calcite nodded. "A wise decision. If I was too dumb to notice you all these years then I'd be a really lousy choice." Funny with all the mind surfing he hadn't had time to think about this. What would he have done if Azurite returned saying it was over between her and Pyrite?
"Of course I still think that Margrave is bad news. The first thing you should do ..." She subsided at Pyrite's look.
"Glad you're both back. It's time to tell everyone what Jadeite's planning."
After the explanation everyone looked stunned. Priss shook her head, "This guy sounds worse than Largo."
"Who."
Titanite answered, "He was the superboomer who seized control of laser satellites. He may or may not have been Brian Mason reborn. Anyway everyone thought he was dead after he fell off the GENOM tower but ..." She remembered her brother's injunction about discussing the future and went silent.
"Thought he was dead?", Sylia wondered. She filled that away for later. One crisis at a time. "Given Jadeite's powers, which you say dwarf yours, how do we beat him?"
"There may be a way." Calcite sounded hesitant. Azurite frowned.
"Cal you aren't having second thoughts because of your possible relationship?"
He shook his head. "That's never been a consideration. It wouldn't slow him down, I can't afford to let it affect me."
Titanite spoke up. "Excuse me. What relationship?" Should he tell her? She did have a right to know.
"Ti there is a possibility that Jadeite is our father."
She looked surprised. "I thought you said Nephrite ...?"
"He was one of the possibilities, Jadeite is the other. As Nephrite was slightly less loathsome I picked him."
"I see." She was silent for a moment. "Still we ... well we might not have the same father, right." She caught the look that passed between the other Renegades. "What is it?"
"Ti I ask you to accept that we share the same father ..."
"Why? What's going on. What are you hiding from me?"
Things were approaching a crisis point. It might be the last chance to tell her. "Ti have you ever wondered why I'm so sure you potentially have the same powers I do? Why we look so similar given the radical varaitions in appearance between youma siblings?"
"Well ... no." She was beginning to wonder if she did want to hear this. "Go on."
"The reason is simple. We are ... That is we were ... Well still are I suppose ... we are twins."
She just looked at him for a minute. "Cal you're eight years older than me. How can we been twins?"
"I was the first born, you arrived a few minutes later. What you have to understand is raising a single child was regarded as a necessary evil by youma mothers. It's a distraction form gaining power and status. Two at once just wasn't an option. So Mom followed Dark Kingdom tradition ..." Well one of them, but he decided not to mention infanticide, "and raised the firstborn putting the secondborn into biostasis." It had been strange growing up knowing that the unchanging infant in the crystal tube was his sister. "When I was eight I could look after myself and help look after you so Mom took you out of stasis."
"Mom froze me!"
"To her it was the best solution."
"This is kinda weird. I mean ... we're actually the same age?"
"Don't even think it sister. You're still a minor." She glowered and stuck her tongue out. "Chronologically only doesn't count."
"So if the parentage wasn't bothering you then what ..."
"As I said I have a plan. Jadeite has certain fears. If we exploit them we'll gain the opening we need to finish him." At least I hope so. "Glamour won't work, he'd see right through the illusion. But a disguise might succeed. The problem is there's only one person here who can play the part." He looked at his sister, his expression dead serious. "Ti, this is going to be risky. Jadeite's was always far more dangerous than Magnesite and he's become even more twisted during his time in this world. Doing this will endanger your life and I can't guarantee your safety."
She swallowed. "But the plan won't work without me and if we don't stop him everyone in this world dies?"
"That could happen."
"Then there's no real choice is there?" Ti looked scared but determined. "It's time I pulled my weight in this family."
She was serious. "Very well. Thank you." To Sylia he said, "We'll need a few props. To start with a blond wig ..."