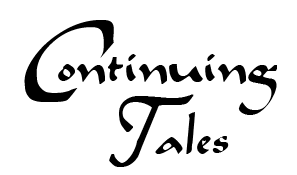 Erik silently congratulated himself on keeping his cool. When he spoke, Christine looked up with a startled smile. She'd clearly been expecting a different reaction - anger perhaps. Normally, that would have been an accurate expectation. Erik did feel a little perturbed, but his anger was cooled by her abashed expression.
"What about all the rest?" It felt as though a stranger had taken over her mouth and was asking these things.
Erik paused before answering. His mind, like his apartment door, had been closed to outsiders for years. There Christine sat, knocking, and he did want to let her in - only the place was a mess. She had asked seven questions. That gave him an idea. He could buy time and let her know a few important things before he answered that last question. Erik dared to hope he knew why she'd asked it, but by the time he'd answered the rest, she might not be interested in the answer to the last.
"For months you are content to know nothing, and now you've suddenly decided to become Pandora. Why have you decided to open the box now?"
"Pandora's box was full of nothing but trouble. You seem to forget that I heard you play last night. There's got to be more to you than trouble..." Christine was struggling not to look over to Meg. She was cursing her tongue for beginning this conversation. Meg comes over to 'screen' the guy and he starts comparing himself to Pandora's box. Wonderful.
"You think so. We'll see. I've answered one question, and that's all I'm going to answer today." His tone was teasing; Christine and Meg could hear a little smile in his voice. "Maybe tomorrow I'll answer another. You asked seven questions. How about this: I will answer one of these questions per day after your voice lesson, if you do well? It'll give you something to work for, you curious, prying thing."
"Or you could just answer now and stop teasing me!" The reproach in Christine's voice was mostly put-on.
"No. My mind is made up. Good evening ..."
"Wait! Don't go yet. I want to ask one more thing." Christine originally planned to ask this the moment they logged on, but had forgotten.
"You want to add another day?"
"No. This is a request...I've sung for you, and I can't even sing. Will you sing something for me?"
This was a safe request. Erik was confident in his voice; it would be good to leave her with a song. But what? Her choice of songs the night before had been entirely innocent. He was too aware to choose so casually.
"What would you like to hear?" He hoped she'd make the difficult choice for him.
"Hmmmm..." Christine looked up to the ceiling, thinking of all the possibilities. "I don't know. How about something by Simon and Garfunkel?"
"Alright. Since you made such a good choice, I'll give you two. But please wait while I go get my guitar. Folk music just isn't right without an acoustic guitar accompaniment."
They heard him get up and walk away from the computer. Christine noted the sound of his shoes on the hardwood floor. A door opened, and there was silence. Moments later, the firm footsteps returned, and she could hear him sit down and strum the strings. He took a moment to tune the guitar to the right key, cleared his throat and began. He started with "A Most Peculiar Man", and headed straight into "Sound of Silence" without bothering to pause and adjust his tunings.
If his performance the day before had moved Christine, his singing this day left her stunned and silent. She and Meg sat perfectly still, staring at the speakers, not believing what they had just heard. Erik smiled a soft smile and touched Christine's face on his computer screen. He imagined that this was how she must look when she was deep in a sweet daydream. He decided to leave her like that, to leave the spell intact. He turned off Voicechat and logged off, still smiling. If she was still speaking to him after he answered all her questions, he would setup a web camera of his own. If she proved herself trustworthy, he would let her see him.
Christine and Meg sat stock still for several minutes after Trillian announced that he was gone. In the same voice she might have used in a church or a graveyard, Meg whispered, "My God, Chrissie. Who is he?"
Christine could only shake her head slowly. In the same reverent tones, she replied, "He is Erik." Moving as in a dream, she logged out and turned to Meg, who muttered, "I'll never listen to Simon and Garfunkel the same way again." Christine continued to shake her head slowly, the motion almost undetectable.
She stood up and helped Meg to her feet. Under the spell of Erik's voice, Meg had not noticed her right leg falling completely numb. She limped around, wincing and slapping at her leg. The sight brought Christine back to her senses.
"I think you forgot the popcorn and chick flicks. I think we're going to need them tonight." She sighed. Erik's voice was still with her, singing songs in her head. She looked over to Meg, grinning. "OK. You've screened him. Can I have this one?"
Meg stopped stomping and walked over to face her friend. "Hun, I doubt anything I'd say could dissuade you, even if I wanted to. But, yes, you can have this one..." she paused significantly. During her eavesdropping session, Meg had figured out a thing or two about Erik that Christine had not yet begun to see. "That is... if you can catch and hold him."