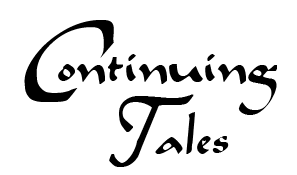 Meg watched Christine thrust the overfilled mug of hot chocolate at an annoyed customer.
"Miss, I said I wanted whipped cream on that."
Christine gave the woman a blank stare. Listlessly, she picked up the can of whipped cream, pressed the nozzle, and heaped the mug to overflowing with mounds of the fluffy white stuff.
"Cinnamon? Nutmeg?" she asked, brandishing the spice-shakers like weapons.
After the startled customer had backed away, Meg grabbed Christine by the upper arm and dragged her away for a 'kitchen chat'.
"You are going to get fired if you keep that up." Meg stepped back and critically examined her friend. "Is it possible that you got even less sleep last night? And you're about ready to put cyanide in the sugar shaker. What's wrong, Miss Chris?"
"Nothing, Meg. Really. It's stupid." She sighed. There was a customer at the counter. While Meg took the man's order, Christine tried to put her thoughts together. Her sleep had been thin and restless. She was in a dreadful mood; she'd even considered calling in sick to avoid having to deal with customers today. Meg came back, leaning against the wall expectantly.
"It's just that..." Christine chewed her lower lips a little bit. She was in for an 'I told you so' of gigantic proportions. "You know how you suggested I get a webcam and microphone?"
"Uh-huh..."
"Well, I did. But when I suggested it to the guy, he totally freaked out on me. He said he thought I wasn't like the other camwhores, and then he just logged out." Christine shrugged. "It shouldn't even matter. He's just a guy on the 'net, right?"
"Uh-huh..."
"But it's really bugging me. He seemed so genuine!" And...I miss talking to him. I've only missed one, single conversation with him, and just look at me - I'm a mess. I guess I'm just lonely for masculine company." Christine pushed her hands into the pocket on her apron. "Go ahead, Meg. Say it."
"It's ok, sweetie. Just don't let Bess see you threatening the customers with the cinnamon. She'd have you out of here so fast your head would spin." Truthfully, Meg wanted to grab and shake her gullible friend. The girl lived in a fantasy world of music and fairy-tales. But Christine looked so bummed, she didn't have the heart to scold her.
"Thanks, Meg. Really. I swear that when I go home today I am not even turning the computer on. I am going to practice my flute until my lips cramp, and then I am going to sleep for a million years."
"Good girl. Now go churn out some high-quality Jamaican brew!"
Feeling somewhat cheered by Meg's unusual forbearance, Christine finished the day without anymore serious incidents. There was a used CD store on her walk home. To complete her personal feel-better routine, Christine stopped and browsed through some of the newer material. She was feeling dark and angry - but it had to be cello music. Half an hour later she left the shop with an Apocalyptica CD shoved deep into her oversized purse.
Once home, she locked the door behind her and picked up the flute. She spun it in her fingers like a baton before putting it to her lips. In her tiny apartment, the only place for her music rack was the living room, right next to the computer desk. Repeatedly, she started to play, trying to make Stravinsky's music flow appropriately smooth and sensual. Repeatedly, she trailed off, staring at her reflection in the black screen. The flute sparkled mockingly at her. Absently, she wondered what AngelofMusic thought of Stravinsky's Nightingale.
Fine, she grumbled to herself. I'll just log in for a moment. Just one minute - no more - and see if he has responded.
Trillian was slow loading; Christine tapped her nails loudly on the particle board of her cheap computer desk. AngelofMusic was not signed in. Damn! Then she noticed that the Offline Messages window had popped up. Christine clicked on it eagerly.
AngelofMusic: There is something I would like to share with you, Little Latte. I won't use a
webcam, but my microphone should arrive in two days. I assume you will be on
at your usual time. Oh, and please have something ready to "share", if that is
truly your motivation.
The message was curt, and his last line was nothing less than acerbic. There was no apology or explanation for his outlandish behavior the day before. She had to admit that her own message to him had been a bit challenging as well. He'd answered the challenge, and now she was ruefully considering her options. This would be the first time he heard her voice, her music. What would she say? What could she possibly play that would make a good impression and represent her as a whole person?
When they first met, he'd been defending Matt Haimovitz's work. She'd gone on to fall in love with the cellist's adaptation of The Immigrant Song. She practiced it endlessly, until she tore the calluses from her fingers and built new ones. That would be her performance piece. Several weeks had passed since last she played it; she would have to brush up on it quickly. Before there was time to think rationally about what she was doing, the phone was in her hands and she heard her voice pitch itself low and scratchy.
"Uh..cough, cough Bess? I feel awful. cough, cough I don't think I can make it in tomorrow..."