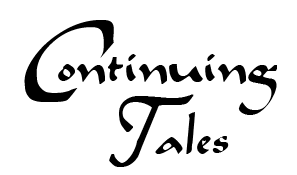 Christine should have known that things were going too well. She and Erik were blissfully happy. Because they were living together and time with Erik was no longer a rare commodity, she was able to spend more time with Meg. The two women had missed each other terribly - catching up on one another's gossip required several 'girls' nights out'.
Meg even began visiting Christine at home. Slowly, grudgingly, she and Erik came to respect, and then to appreciate, each other. They had one much-loved interest in common - Christine. Erik learned to like Meg's brazen personality, while Meg soon found that Erik had a rapier wit.
The Saturday park performances continued, drawing more spectators at each show. With an infinitely varied repertoire ranging from classical to folk rock and a mysterious image, Strange Noise became a sensation in Seattle and parts beyond. Thanks to the modern marvel of cellular phones, people were able to stake out the parks and call their friends when they found the one where the performance was being held. It was not unusual to draw a crowd numbering in the thousands.
Among the audience there were almost always a couple of reporters from various newspapers, circulars, monthlies and magazines. More than once, Erik had smirked as he edited an article praising the unknown artists of "Strange Noise." Since the unpleasant experience with Ms Bertrand, they declined interviews; the reporters had to be satisfied with reporting the crowd size and setlist. Most were, considering the phenomenal music. Some, however, were unwilling to respect the anonymity of the performers.
Meg realized she'd made a mistake the moment his name left her lips. She was so proud of her friends' success, it never occurred to her that the friendly, persuasive reporter on the phone might have less-than-honorable intentions. But the woman's smug, "Thank you very much Megan, you are always such a pleasure to talk to," followed by a click, woke her suspicions.
Briefly, Meg considered calling Christine to tell her the mistake she'd made, but then thought better of it. She and Christine had only just begun to feel like old friends again and Meg really didn't think this little slip was worth getting Christine red-faced and angry over.
Not three days before they were set to leave for Christine's performance, she came home to a house that felt...wrong...the moment she walked in the door. That it should be quiet was not unusual, but this quiet had an uncomfortable edge to it. Though it was summer and the air-conditioning was off, the apartment felt cold.
"Erik? Sweetheart? Are you here?" She closed the door quietly behind her.
She'd barely taken two steps when Erik appeared in the hallway leading to their bedroom. His violin case was clutched in one hand, a stuffed duffel bag hung from his shoulder. He wore his black hoodie, pulled tightly over his head and mask, but she didn't need to see his face to know that he was in a righteous fury. His eyes were overbright, his breath came in heavy puffs. His movements were so tense as to be jerky. The total effect was frightening.
When he saw her, he strode over to her dropped everything he held, and grabbed her upper arms. From the way his eyes flashed, Christine flinched, thinking he would hit her. When he spoke, his voice hissed between his tightly clenched teeth.
"You...you traitor. Betrayer." He was pushing her towards the sofa as he spoke. "To think I trusted you. Loved you. Let you into my home - you WERE my home!" His voice had risen to a shout.
Christine was too stunned to resist. She couldn't have if she'd tried. His fingers locked around her arms, bruising the delicate flesh there.
"You're hurting me." It was all she could say past her shock. "Please, Erik. I love you..."
"Oh no. Not you. Don't flash those innocent eyes at me. Don't you dare speak those words. I'm no longer fooled." He flung her backwards; she landed heavily on the sofa - unhurt, but terrified. "You've destroyed me. Everything." He gestured wildly.
"Erik, I don't know what..."
"Shut your lying, traitorous, mouth. Did they pay you to do it? Or was it spite? I don't care. I don't care. Keep the apartment. Keep all this crap. It's dirt to me now. Never come near me again." He turned, snatched up his parcelsand left, slamming the apartment door behind him.
Christine sat where she'd landed, her face white, her hands shaking uncontrollably. She felt as though she might throw up. Tears and screams haunted her throat, but could not come into reality past the enormous lump there.
Had she believed she'd seen his temper on the bus? That had been a Spring breeze compared to the cyclone she'd just witnessed. What had she just witnessed? When her legs would obey her again, she walked around the apartment, searching for anything that might serve as a clue.
The bathroom mirror was shattered. Shards of glass littered the floor. Here and there she saw smears and droplets of blood, indicating that he had done this with his bare hands. The bedroom was trashed. Both dressers were overturned, clothes thrown everywhere. In one corner, his TENS unit lay in pieces. Pills were scattered around the floor. He's gone without his medicine, she realized with a growing feeling of doom.
When she looked into the music room, she did vomit. Ripped and torn sheet music carpeted the floor. Instruments lay everywhere, like the broken bodies of war victims. Only the cellos and flute remained untouched. She leaned in the doorway, unthinking, too shocked to feel.
"What have you done, Erik?" she murmured. "Why?"
She dragged herself back to the kitchen and sat down at the table with a glass of water, trying to rid her mouth of the horrid taste and grasping desperately at the scattered threads of her thoughts. In the middle of this futile exercise, her eyes fell on something she'd ignored completely in its mundanity. The newspaper lay open on the tabletop.
The glass shattered into a million tiny glass splinters on the kitchen floor. Christine didn't notice. Her hand, shaking as with a palsy, came to rest on the top page. There, in full color, were reprints of Erik's mugshots - unmasked. They were the ones that had been missing when she'd Googled him so long ago. The accompanying story headline screamed: The Monster Behind the Music of Strange Noise. The article below labeled itself an exposť. It revealed Erik's name and his criminal history, along with a brief interview with the man he'd assaulted ten years before. The reporter (the esteemed Ms Bertrand) had painted Erik as a dangerous man, masquerading as a musician. And then she saw why he'd directed his anger at her. "A source very close to the masked man provided..." Teardrops obscured the rest of the sentence.
"Oh, Erik." She whispered it over and over like a mantra. His fury was no longer a mystery. She marveled that he had not hit her and that, of all the instruments in his collection, he'd spared hers. "Oh, Erik, my love. Where have you gone?"