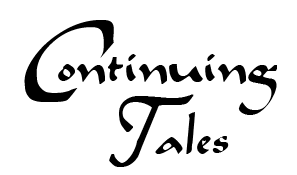 The house lights were low, permitting the performer to survey her audience. Christine looked out over the well-dressed gathering, thinking how exactly like that dreadful night everything looked. She fancied she could see the faces of her old tormentors among the strangers. Erik had kissed her cheek before leaving the stage. He imagined she could still feel his lips on her cheek and his strong arm around her. It was the only thing keeping her onstage. They've put stringent protections in place, she thought, It can never happen again.
The music swirled in her mind. She needed no sheet music; Erik had rehearsed her until her fingers moved along an imaginary fingerboard in her sleep. She lifted her bow and began. When she and Erik played together, they often fell inside the music. At school that had never happened because the external pressure to perform was too great. Now, though, she was older and wiser. There was no pressure in this situation if she compared it to the night on the ledge. For the woman who had dragged a man back from death's gaping maw, the stage no longer held any threat. The Gigue flowed from her like water.
Erik had slipped out into the audience. The ushers recognized him as the performer's assistant and allowed him to sit in an empty seat near the front. He'd wanted to watch her perform, to see if she truly would shine like an angel. His greatest expectations were surpassed. It was not only the glow of performance, but also the light of triumph that shone in her face, lending her an ethereal air.
This audience was more sensitive to music than the average park crowd. They knew every nuance of musicianship. They knew the value of passion and of technique -and the difference between the two. Erik tore his eyes away from Christine long enough to take in the crowd's response. He saw faces stilled in wonder and chests barely rising with the intake of breath. They could see her (in some part) as he saw her; the thought made him giddy. She deserved to be seen. When she finished, he found himself on his feet along with the rest of the audience applauding hard enough to sting his hands. He heard a voice - a chorus of voices, his among them - shouting for an encore.
Gradually, the audience quieted and sat down. Christine stood, using her chair for support and managed a bow.
"Thank you. You are all very kind. Dr. Corringer has informed me that I am permitted an encore, if the audience is willing." Here, she was interrupted by a polite round of applause; the audience was letting her know that they were, indeed, willing. "But I cannot give you an encore tonight without my accompanist. So please welcome Mr. Erik Valliere to the stage."
The audience rose again, applauding and looking to the stage expectantly. Erik choked. She can't do that! But then he remembered her private conversation with the Dean and his assenting nod. I haven't got my violin. Can't play without it... But now Sam was on the stage, holding his violin and bow reverently. How had she gotten it? He rose and walked up the stage steps, thoroughly roped.
Again, the audience burst into applause. Erik took his violin from Sam with a curt nod and a muttered, "Thanks." Once he stood beside Christine, though, he looked out over the audience and realized that he had no room to be upset over his beloved's little deception. All she had done was bring his dream into reality - the dream he had never shared with anyone, even her. How did she know? And then he heard his own words, "I know your hands as I know my own." Apparently she knew his dreams the same way - by heart.
This was not Carnegie Hall, but these were the same people who attended performances at Carnegie Hall. It was the same audience in miniature. He was not backed by a great Philharmonic Orchestra, but the woman sitting beside him was possibly the most talented cellist in the world. They were looking at him, not with disgust and not with pity, but with anticipation. Giving Christine a little nod, he put his violin to his chin and lifted his bow proudly.
Dr. Corringer, along with those responsible for grading the performers, listened in awe stricken silence. They recognized the tune well enough; after all, they had a recording in Christine Daae's portfolio. But this was far different in tone, quality, and texture. A recording, no matter the quality, could not capture the perfect synchronicity and power of these two artists.
Over the past two months, Erik and Christine's love for one another had grown and deepened. Their music reflected the harmony of this mutual bond. The professors looked at one another and then to the evaluation sheets in front of them. The attempt to 'grade' a virtuoso like Christine suddenly felt foolish. None of these people, accomplished musicians in their own right, felt qualified to pass judgment on the miracle they were hearing.
Too soon, the piece ended. The audience had given a standing ovation to Christine alone; now, after a prayerful moment of silence, they burst out in cheers and whistles as well as applause. It was not tradition, nor was it decorous, but it seemed the only fitting response. Erik helped Christine to her foot. They bowed together and left the stage.