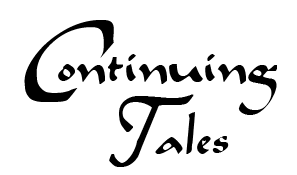 Kagome tripped over her own feet in her haste to get back to the cave. She hadn't meant to fall asleep; however, by the time she'd woken, the sun was well above the horizon, and Miroku was gone. Sobs and panting mingled, and tears blurred her eyes as she stumbled into the dim shrine. Too late. With a strangled cry, she threw herself at the jade statue, overcome with grief.
So noisy was her sorrow, she didn't at first register the softening of stone to cloth nor hear her name spoken. "K-kagome-sama," he tried again. "Has something unforeseen happened?"
She started and stared into the concerned gaze of a very worried tanuki. "Hachi?"
"Who else?" he replied, giving her back a soothing pat as he searched her face. Glancing towards the entrance, he mused, "The sun's up, then? Good, good... I was hoping he would outlast the dawn."
Kagome's knees were shaking so hard, she clung to Hachi to remain on her feet. "But if you're here... where's Miroku-sama?"
"A good question," the tanuki replied calmly. "Let's find out."
He led her back outside, supported her along the trail. Whether Hachi simply knew where his friend would go or he followed his nose, he soon pointed down the grassy slope below the temple, saying, "Don't be too hard on Miroku-sama. He seems a little overwhelmed... but happy." Planting a fuzzy kiss upon each of her cheeks before turning her loose, Hachi whispered, "Thank you, Kagome-sama."
She found the monk sitting on the edge of the pit where his father had died, staring into space. For several moments, she wanted to do nothing more than pummel him for making her worry, but then he glanced back, and his startled expression cooled her ire. Hurrying to his side, she muttered, "Here you are."
Reaching up to touch her blotchy face, he contritely murmured, "I made you cry, after all."
"Of course I cried. I thought I lost you," she grumbled, leaning her face into his cupped palm. "Why didn't you stay with me?"
He grimaced. "I could not bear for the curse to take me from your side, so I left on my own. I meant to go back before you woke... but I lost track of time." Gesturing vaguely towards the grassy bowl at his feet, he added, "It seems I am going to be a father."
"Congratulations," she whispered.
Turning to face her more fully, he begged, "Forgive me? Lost in thought, I managed to be thoughtless."
"I'm sure you'll find some way to make it up to me," she replied lightly, swiping a sleeve across her cheek.
He leaned close, bumping her nose with his own before tenderly saying, "You saved me, Kagome."
"Yes," Kagome murmured, her lips brushing lightly across his. "You're safe."
Miroku was only too happy to take a hint, and soon the couple were entirely caught up in one another, blending tears that had nothing to do with sorrow... promises that had something to do with tomorrow... and kisses that had everything to do with love.