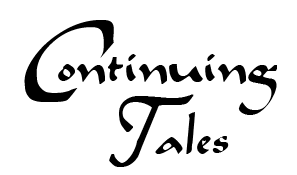 Christine figured that it must be some time around noon. Her vision was hazy and her body burning under the scourge of her pain, but she wasn't so delirious from her ride that she couldn't notice the sun's position high in the sky.
The all night ride had ravaged her, messing her hair, weakening her body, and most definitely draining her spirit. She was almost certain that her thighs were black and blue from riding bareback, and probably bloody as well from the knives held securely in her garters. She had felt them nick her skin on more than once occasion.
Gritting her teeth through the pain, Christine pushed her horse onward, toward a place to which she had never thought to return. Riding through the streets with her hood pulled over her head, she was sure that she looked like Death going to collect another soul. It was fitting, actually. To all of these people, she was a ghost anyway.
She tore down various lanes and avenues, past markets and churches, fine homes and various shops, through several parks and gardens until she was on a path that she had come to know very well in a very short period of time. By the time she reached her destination, Christine had to hold her breath to keep herself from wailing.
The Château de Chagny was a complete and utter mess.
It was easy to see where looters had broken into the abandoned home. The front gate was swinging open, the front door was wrenched off of its hinges, and windows were smashed in. With a small yelp of pain, Christine dismounted her horse, instantly falling as her knees gave out beneath her.
For a split second, she considered simply lying there on the ground, like a bride in wait for death to take her. Perhaps she would slit her wrists to expedite the process? How fitting, to come so far, only to die by her own hand...but how would she ever succeed in this? How would it even be possible? Perhaps she should just spare herself the pain of failure once more...
"Christine, I love you..."
Erik's voice echoed through her mind and Christine gave an agonized cry. Pain exploded through her body as she pulled herself to her feet, her fingernails breaking against the stone cold pavement, her teeth digging into the ruby red flesh of her bottom lip. She could not die, not now, not when Raoul might still be alive, not while Erik might be in danger.
She didn't have the luxury of death at the moment.
Steadying herself, Christine tethered Eros to a fence pole before gingerly making her way toward the entrance of her former home. Flowers and weeds had nearly obscured the path from sight, and she cringed at the memory of how lovingly they had once tended this garden. Stepping across the threshold, she almost fainted as an errant pigeon flew into her face.
The once magnificent foyer was in shambles. Dark and cold, furniture lay everywhere, broken and screaming of death. Walls that had once held priceless tapestries were now bare; corners that had held statues or clocks were empty.
The entire home was a bastion of neglect. Dust covered everything; cobwebs seemed to embrace every available service. Gas lights were smashed, darkness reigned, and a perpetual chill hung in the air. It was nothing more than a mausoleum, the final resting place for the rotting corpse of her former life.
Up the stairs she went, hell bent for her and Raoul's adjoining bedrooms. The Commune had been swift and efficient. Every single piece of her jewelry was gone, as were some of her more expensive gowns, the ones that had been heavily ornamented. Plainer ones, however, lay forgotten on the ground, ripped from her closet for a ruthless inspection of value.
This gave her some hope.
Bursting through the double doors, Christine stopped dead before entering Raoul's bedroom. Even in the darkness, his scent lingered. For an all too brief moment, she smiled as a blessed feeling of comfort overtook her. It was dashed however, when her eyes fell upon his bed. The imprint of where his body had once lain remained. The covers were still tossed to the side, waiting for a master that would never return.
Roman's words returned to her. "I believe that your husband is dead, Christine."
She cried then; cried for the little boy who had been her truest friend in childhood, cried for the gentle man who had been her greatest ally in adulthood. She cried for the man who had deserved so much more than what Fate had dealt him.
She didn't have time to cry. With a nerve that had been noticeably absent until this point in her life, Christine walled up her heart and walked over to Raoul's wardrobe, which, like her own, had been torn up looking for more expensive garments. Left behind however, were Raoul's plain shirts and trousers. Christine took off her makeshift holster and removed the knives from her garters. She had been cut, but the blood was dried and the wounds very small. If anything was gruesome it was the massive bruising. Gingerly, she took her shoes off, and then her stockings, until she stood in nothing but her corset and undergarments. Brushing the dust from Raoul's trousers and doing her best to ignore the smell of mildew, Christine drew them on, securing the loose garment around her waist with a leather belt that had been left among the pile. Next, came one of Raoul's white shirts, which she twisted several times until it was snug against her body and she could loop it under the belt. Back on went her shoes and the cape. It only took a little bit of digging to find an unadorned holster that the Commune had left. Raoul had had several magnificently appointed ones, all of which were gone. This one however, was plain leather that slid over her shoulders. Under her cloak, it was easy to conceal the two guns and two knives.
She knew what had to come next.
With a grimace, Christine held her breath and drew one of the blades. Grabbing a hold of her beautiful hair, she started hacking away at it, severing the curled, mahogany tresses, destroying what had been a hallmark of her beauty. Tears misted her eyes as she kept at it, not stopping until her waist length hair fell no longer than her shoulders. Replacing the knife, Christine then took a piece of string and tied her now shorter curls back. It felt strangely...pleasant. Her head felt much lighter and her body suddenly much cooler.
Glancing around the room one final time, she turned and ran.
Christine knew that she would never see it again.
---
Erik had spent the entire trip down to the fifth cellar contemplating whether or not he should just kill the man leading him with his bare hands. He alternated between thinking the idea absolutely brilliant and absolutely idiotic. After all, the man did have a gun to his head...
...That was the funny and terrible thing about being in love. Before he had met Christine, he would have snapped this man's neck and not thought twice about risking his life to a gunshot wound. Now, however, he had to live with the knowledge that if he died before Christine got safely to England, he could be killing her as well.
No...he had to be patient. He had to wait.
He was stunned when they reached the lake. At least seven small rowboats lined the shore. Had the Commune really been that active down here? The stench in the air answered "yes." Erik would have recognized it anywhere...
Death.
So it was true. They really had been executing people down here.
Edward dug the barrel of the gun deeper into Erik's scalp.
"Get in," he bit out. "And row." Erik paused for a moment. Edward just rolled his eyes and pressed harder still. "Just do it, and don't think that I have any qualms about shooting you, Von Alsing. You're not the one I'm interested it."
At that, Erik's blood froze. "I have no idea what you are talking about," he whispered, stepping into the boat.
Edward climbed in after him. "Where is the Viscountess?"
Erik did nothing but smile, which earned him a blow across the face with the gun. He lunged, rocking the boat, but Edward just shoved the gun in his face.
"Row, damn it. I'll let Laurent deal with you."
Erik rowed the boat in silence, his exercising every ounce of control that he had to keep his temper in check.
Shortly, they came upon the opposite bank. Erik cringed inwardly. His home was nothing but a destroyed ruin. Wood and stone lay in piles, their former beauty reduced to nothing but garbage. His sanctuary, the very place that had sustained him, was nothing but a death trap.
White-hot fury smoldered in his very core. He would make these bastards pay.
It was only a short walk until Erik and Edward reached an area that had been cleared away of all refuse. A long table with six or seven chairs around it stood before him, candelabras on either end. A young man, no older than thirty, Erik figured, sat in the center.
Laurent looked from Erik, then to Edward, and stood. "Where's the girl!"
Edward gave Erik a sideways glance and pressed the gun into his neck. "The bastard won't say."
Cocking his own pistol, Laurent strode up to Erik, matching him in height. "Where is the Viscountess de Chag"-and then it dawned on him... "Why the hell are you wearing a mask?"
Erik ignored the question and shrugged. "Where is the Viscount?"
At that, Laurent laughed. "Rotting somewhere in this fucking dungeon for all that I care. Really, Baron, were you so stupid as to believe that I kept Raoul de Chagny alive? He was useless to me. Only his wife has any purpose left to her life at this point." Curiosity marred his visage. "Why the mask?"
Erik shut his eyes against the brutal imagery of what would happen should Christine fall into this man's hands. "How do you know who I am?" He asked.
Laurent made a tsk-ing sound and shook his head. "Every Samson has his Delilah." His eyes moved toward the left and Erik's followed.
Ironically, he had never seen Amanda look better.
---
Christine had nearly sobbed when faced with riding her horse bareback again, but there was simply no other option. She had to get to the opera house as soon as possible. She had delayed long enough. At least with the freedom of a pair of trousers, it was easier to sit astride Eros. For the first few moments she had wondered whether the bruises on her thighs would burst, leaving her to bleed to death. Soon however, a delicious and much welcomed numbness had set in. She only prayed that it would spread upwards from her legs and into her heart...nothing on earth could prepare her for what she might face in those cellars...
Again...her mind quipped.
Paris passed by her in a blur of color and light, the happenings of her former home not even an afterthought in Christine's mind. Only one thing mattered now.
With a harsh kick, she slowed Eros, holding on tightly as the horse came to a quick stop in the middle of an abandoned street.
Before them loomed the old opera house.
Crossing herself, Christine whispered, "Dies Irae."
---
Erik's nostril's flared as Amanda approached him, noting the familiar sway in her hips and the mischievous light in her eyes. He tried to feel anger, but it was overcome by his shame. All that time, he had believed that he had been the one using her! But had he? It was true, he had never sought anything more from her than sex, but Amanda had been so very different from the other girls. She had been smart, witty, angry, and vengeful...not some vapid twenty something looking for a wealthy husband. Had he been wrong to hope that in their mutual loneliness and pain, they would develop a respect for each other? An unspoken camaraderie?
Of course! His mind raged. Who has ever done anything besides betray you? Really, I can't believe that you are all that surprised.
"Baron Von Alsing," she murmured.
"Lying bitch," he spat.
For a moment, Erik could have sworn that he saw pain dancing in Amanda's eyes, but she soon masked it with her own anger.
"You would do well to mind your manners," she said sharply. Her voice had always been cold, but now it was as if someone had poured ice down his throat and forced him to drown in the cold. He imagined it was what Christine had felt the first time that she had ever truly heard him speak-without the guise of "Angel of Music."
Perhaps, this was his penance.
The two just stared at each other for what seemed like an eternity, until Laurent interrupted.
"Amanda...why did you, uh, never mention the mask?"
"Say nothing of the mask," she growled low in her throat.
Laurent's eyes widened. "What the hell are you-"
"Say nothing of the mask!" She screamed, ripping her own gun from its holster and pointing it at Laurent's face.
Edward went white. "For God's sake, Amanda!"
"Shut up, father!"
Now it was Erik's turn to be surprised. "Father!"
Laurent fired his gun toward the cavern's ceiling, sending a booming noise echoing all about them. Each person fell silent. He turned his gaze and his gun back to Erik, grabbing him by the collar of his shirt. "Where is Christine de Chagny!"
Erik met his gaze and never faltered. "What do you want with her? Money? Leave her alone and I'll pay you off." I could always kill you after the fact, Erik finished in his mind.
Laurent just laughed.
"You arrogant son of a bitch. You're fortune is nothing compared to de Chagny's. I found her once, I can find her again." He cocked his gun and put it right between Erik's eyes.
Erik didn't blink.
Amanda's bottom lip started to quiver. "Laurent..."
Laurent started to squeeze the trigger. "Where is she, Von Alsing!"
Erik said nothing.
"Laurent!" Amanda's voice had grown frantic.
"Shut you mouth, Amanda!" He squeezed the trigger further. "I will ask you once more...where is the Viscountess!"
"Erik, for the love of God, just tell him!"
For a moment, both men where thrown off by the genuine plea in Amanda's voice, Erik even more so. He had never heard his first name on her lips. Still however, Erik said nothing. With Edward's gun to the back of his head, and Laurent's gun at the front, he truly had nowhere to run to.
He realized then that he would gladly die if it meant Christine had even half a day more to escape. Erik smiled. He had known death for so long...perhaps it was high time that he and his old master were acquainted face to face. "Go to hell."
Amanda's scream was drowned out by the sound of gunfire as it once again ricocheted off the cavern walls, a screaming chorus of echoes and a harsh symphony of pain. They were enveloped at first by the ugliness of its terrifying crescendo, only to be released by a quiet and peaceful diminuendo into silence...
In the basements of the Paris Opera House, even death sounded like music