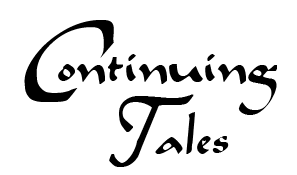 A final letter from Christine, Baroness Von Alsing, to her only child and son on the occasion of his wedding,
My Beloved Cyrus,
I have inherited your father's distaste for doctors. Idiots, the lot of them. For four years they have been telling me that I am dying, but I always knew they were wrong. I knew that I would live to see this day...to see my only child wed. Call it a mother's intuition, my love.
Twenty four years ago, a nurse put you into my arms and said simply, "Your son, Madame." Such trivial words. Your father wept, but I could only stare in wonder at your beauty. From your satiny skin to the blue of your eyes, you were an angel incarnate. We named you after the Persian word for "sun," for you were a ray of light in a world of darkness. I have tried, unsuccessfully, over the years to confess to you just how much you were our savior in the early days of your life, but every time I would try to revisit those endless first hours here in Rome, my heart would clench. Your father and I fled to Italy surrounded by the darkness and death of the Paris Commune...your birth saved us from a hell that I thank God you can only imagine.
You have become a man beyond my wildest dreams, Cyrus. Sometimes I find myself wishing that you weren't titled, so that the world might have known the architectural genius that lies within your heart. You are, however, a Baron that is fair, wise, and gracious. When I die, you will inherit the title of Viscount de Chagny as well, and I know that you will be just as wise and benevolent. You have your father's remarkable intelligence, and I look around in wonder at the prosperity you have brought to our estates. Of all things though, that matters least to me. You are a good man, Cyrus, and in simply being that one thing, you have given my life all the validation in the world.
I know how you hate to see me cry, but I cannot promise to keep calm as I watch you marry today. For no matter how old you become, you will always be the infant who fell asleep within my arms as your father sang to us both. Today you will begin a new life, and soon you will have your own infant to raise and love. In that endeavor, I wish you and Ihrin nothing but joy and love. My only regret is that your father did not live to see this day.
Here is where I must apologize, my darling. For the past four years I know that there have been times when I have been distant, melancholy...dark, even. Your father, my Erik, was the great love of my life, and since his death there have been hellish days where I wonder whether I still have a soul...or whether he took it with him. In the years of our marriage we knew such contentment and such happiness. You always recognized your father from the smile on his face, but I knew him well before those days of joy. I knew him at his darkest, and to me his smile was worth Heaven and beyond. I first met him when I was seventeen years old. Ah yes my dearest, I know you too well. You are trying to calculate dates in your head, and by now you must realize that I knew your father before I married Raoul de Chagny. Yes, this is true, and the pain that I caused your father then, even after all this time, will haunt me to my grave. I confess this to you now so that I might perhaps give you the greatest of all gifts before you marry. It is a lesson. Love, my son, is never ending, and forgiveness is more glorious than all the stars in God's Heaven. The world is full of shades of gray, and in such a place, love will be your greatest asset. For twenty years I was married to your father, twenty years of peace and beauty. Even in the times when we fought, and Lord knows we did, there was always beauty. It remained because no matter what, we always remembered our love for one another.
Love will be your greatest weapon against your demons, but do not be too quick to destroy them. Sometimes, even our greatest demons serve a purpose. They are the darkness sent to force us to remember the beauty of the light. They are the pain to make us stronger, the agony to make us wiser, and the fear to make us braver. Know your demons, Cyrus, and face them with a smile just as readily as you would destroy them with a battle cry. They can be our greatest adversaries, but they can also be our greatest teachers. For all the demons that I have known, I cannot, in good conscience, completely regret them. Within their darkness I found a truth more powerful, and more moving than any palace in Heaven, or circle in Hell. It is the very truth that created you, and you must never, above all things, forget that.
I have known love beyond sorrow, beyond darkness, beyond death. I have lived a Heaven that only angels know.
At first I hated death for what it took from me...but now I feel a strange sort of peace, for I know what it will return to me, for within the glory of Heaven lies the glory of my love.
Oh I am weeping! I am weeping now, my Cyrus, but do not mourn for me! I can still hear him singing, his voice is a constant melody in my mind. Listen with your heart, my son, can you not hear it? Your father is singing you your wedding mass!
Such beauty, Cyrus. Such beauty I have known...