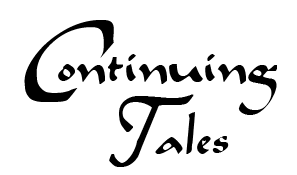 After their guests have left…
He had not thought he wanted their guests gone, as he had enjoyed the day most thoroughly, but as soon as the last few trickled through the door and could be heard no longer about the garden, Tarrant felt a rush of relief. To be alone with Alice in their house, it was a pleasure he had sometimes dreamt of but never actually experienced until this moment.
"Alone," he said, tugging off his gloves and setting aside his hat so that he could bury his face in her curly blonde locks. His hands eagerly wrapped around her waist. There was no corset cinching Alice's waist in beneath his grip, but she was still small in the pleasant way of females.
Alice chuckled under her breath, "Not entirely alone, Tarrant. There is me."
"I am rather fond of Me," he confessed, moving to speak into her neck. "I now count Me as being one with I, you know."
"I see," Alice said distractedly, as he applied a kiss below her ear. "So, we two shall never really be alone."
He hummed in agreement against her neck. It was so soft and smelled so of Alice. He was tempted to run his tongue down the length of skin currently exposed to him or to remove some of these clothes and access unexposed skin. "Clothes," he murmured, knitting his brows in slight frustration.
"Yes, your wedding clothes are quite handsome," Alice said.
He swallowed, pulling back from her neck. Alice wanted to talk, naughty man, he scolded himself, and he was thinking of pawing at her like the Bandersnatch. He belatedly let his hands fall from her waist and hang limp at his side—if he continued to hold her just so, he would not accomplish much in the way of speech.
"It is only my traditional dress, lass."
Alice laced her fingers with his. "I like it very much."
"You wear the tartan too now," he said, nodding towards the rosette he had pinned on her. The colors of his tartan—mulberry, brown, and blue, not Alice Blue, but cherished nonetheless—looked so right upon her breast, as if they were always meant to adorn her. "Ah think ye were born tae be a Hightopp," he confessed.
Alice's eyes smiled. "Made for each other, perhaps," she said, squeezing his fingers.
Beautiful, brainy, bold, bossy, brave, blonde Alice was His, and he had managed to make it through the day without once having to ask whether this was Real or Dream, whether he was truly being wed to the Loveliest of All Alices. There was no need, for this feeling was born of a happiness that could not be fabricated in any dreamscape.
"But, some of the ladies may have been jealous, my dear," Alice, said, smoothing her hands over the shoulders of his mulberry colored silk dress coat.
"Of you?" he asked, leaning in to nudge her nose with his own. "You do look lovely, Alice. Did I tell you that?"
"Mmm, several times, I think. But, I meant jealous of you," she explained, trailing her fingers down his arms to the lace cuffs of the white wing-collared shirt that peeked out of his coat sleeves. "I have never seen you look so well," Alice mused with an inquisitive tilt of the head.
Love was a wonderful curative, even better perhaps than the washing of hands and clothes and proper ventilation.
"It is the diced hose," he teased.
Alice stepped back, still gripping his fingers in hers, making an arch between them that would be most suitable for a game of London Bridge.[1]
She bit her lower lip as she contemplated his mulberry and black hose. "No. They are quite nice, but I think it stems from another cause," she decided with an authoritative nod.
"Hmm," Tarrant pondered. "I have worn my hair in a ribbon," he offered as an alternative explanation.
Alice released his hands and motioned for him to turn with a whirl of her index finger. Obeying her command, he spun on his heel, putting his back to her.
Alice tugged lightly on his black beribboned queue, announcing, "Not this either."
"Now, now!" he said in mock protest. "This is a very serious military style manner of dress, my dear. Not to be trifled with."
"Very serious, hmm? You have been at revel now for…" Alice began as he turned back around to face her.
He sucked in his breath as Alice brushed aside his coat and slid her hand into his blue waistcoat. Her fingers in his waistcoat made his mind drift back once more to thoughts of ridding Alice or himself or both of them of some of these restrictive layers.
Finding his pocket watch, she pulled it out in triumph. "Ah," she said, her victory turning to feigned disappointment with a pretty frown. "I was going to give you the exact amount of hours you have spent in merriment, but I see that you have not buttered the works." She turned the face so that he could see the stopped hands.
He took her wrist in hand and pressed a kiss to her pulse, "I did not think I would need to keep track of Time today, love." Her pulse thrummed pleasantly beneath his lips. Other points where he might taste Alice's pulse—the neck, the inside of elbows, the ankles, and the back of knees—flitted across his vision, and he wondered briefly if he should have perhaps been a Perfumer. There was no hope for it: he was certain that his eyes had switched from the happy green of the day to blue.
Alice smiled—with her eyes and her lips. "Was it your intention to lose track of Time altogether?" she asked sweetly.
Sweet Alice with no idea of what he would like to do with her. "Alice, Alice, Alice," he said, letting her wrist slip and moving to lift her. She squeaked in shock, griping about his neck as he scooped her up. He strode towards his—their—bedroom door, turning to the side to fit through with his Alice Blue bundle. "You have read my mind. Let us begin to work at forgetting him."
"Work?" Alice laughed, as he set her on the bed. "What kind of work? Making hats?" she asked, as he rested one knee on the bed and leaned over her.
"I had rather different modes of passing the Time in mind."
That was rhyme, he realized, but he could not be bothered to share the observation with Alice, for he was quite occupied. One hand steadied him against the shifting mattress tick; one hand behind Alice's neck steadied him against her lips. Kissing Alice on their bed—this was one for the Alice box in his mind, which was getting so pleasantly crowded. She tasted of whiskey, he thought with a smile. Alice made a faint sound as she sunk further back into the mattress, taking him with her until the leg still grounding him to the floor lost its purchase.
"I like the way you think, Hatter," she murmured.
He chuckled in appreciation.
Starting at the point behind her ear that made Alice shift slightly beneath him, he planted slow kisses along her jaw line until he reached her pulse, which was now noticeably quicker than it had been when he had pressed his lips to her wrist. Alice's hands came to his neck and threaded themselves in his hair. Those deft little hands had him in mind of wrists and arms and elbows, but he finished his trek around the rest of her jaw. As his lips broke contact with her skin, her fingers twined a little tightly in his hair, a little needily perhaps. The idea of Alice needing him—needing him!—caused him to harden against her.
Beautiful Alice, melting beneath him, he wanted to drink in the sight of her, but when he looked, he observed that she was holding her breath. "Remember to breathe, love," he urged her, pressing a kiss to the corner of her mouth. He would not want Alice to stop breathing altogether. He liked her much too much as Alive Alice to ponder anything contrariwise.
He felt a deep intake of breath that assured him that she had heard him and she turned her head to return his kiss more squarely.
"I forgot," she murmured against his lips with a half-smile.
He rolled to the side so as to explore her better, as he had wanted to do for some time now. It was finally permissible. Alice was His.
"Alice wrist," he said, circling her right wrist with his fingers and drawing it to his mouth. "Alice arm," he continued, as he traveled towards the indention of her elbow. "Alice elbow," he mouthed against the satisfying warmth.
"Lessons in body parts, Tarrant?" Alice mused. "In French next time?"
"Outlandish," he offered.
"Yes, please," she breathed, as he let loose of her arm and abruptly hitched her farther up the bed, so that he could access her legs.
Please: Alice had just asked so nicely for a lesson in forms. "Let's review," he said, as he began to work removing her slippers. "Shackle-bane, airm, and elbae," he pronounced clearly, having unlaced the long ribbons of one slipper and then the other.[2] He uncovered two stocking feet and took the arch of one in his hand, pausing to contemplate both the perfection of form and unexpected covering. "Stockings," he murmured.
Alice propped herself up on the bed presumably so as to see what he was staring at. "I wear them sometimes," she said a little softly.
"Black and white stripped stockings," he said, running his hand back from her heel to her ankle.[3] Alice's ankles were delicious both in and out of stockings, but at the moment these stockings seemed the greatest temptation in the world. He would not mind testing their strength with his teeth.
"Diced hose," she countered back with an arched brow.
He chuckled throatily. "Anklet," he continued his lesson in Outlandish, pressing his thumb into the indentation below her ankle bone. He slid his hand along the underside of her shapely calf, lingering for a moment at its greatest width before approaching the inside of her stocking covered knee. "Back o' th' knee, diddle dumplin'," he said, as his other hand pushed her skirts up past her knees so he could see what it was he was doing.[4]
He vaguely heard Alice's breath catch in her chest. For all he knew he was breathing loudly as well; he could not concentrate on anything other than Alice's bared knees. He had never dared given thought to what it would be like to lift Alice's skirts, but now he had boldly done it without a moment's pause. Grasping the back of her knee, he bent her one leg and then repeated the action with its twin.
All he would have to do is place himself between those knees now.
His hand left the valley of her knee to swirl around her stocking encased kneecap. "Knee-lid," he said, bending down to bestow a kiss upon her knee.
Place himself between those knickered thighs.
"Thee," he said aloud without meaning to, as he ran his hand over the inside of one her thighs.[5] He felt her shiver under his touch. "Alice, luvie, ye alright?"
"You will…shall have to tell me what to do," she said, her voice shaking.
He allowed himself a frown, since he could see that Alice's eyes were shut tight. Shamefacedly, he could understand why men Above might want their brides to be virgins, given as he was to murderously possessive thoughts about Alice that made him want to slice in half any man who would even think such things about His Alice. There was another disturbingly possessive Hatter that preened at the thought that he would be Alice's first and only and could appreciate her coming to his bed as such. But, he could notunderstand why they kept their lasses so helplessly, powerlessly, weakly, vulnerably ignorant. For even through his haze of arousal, he could see that Alice was as Anxious as she was Aroused, and Anxious did not make the long list of things he wanted to make her feel. Maids were skittish enough without being entirely devoid of information about the marriage bed. And no Mither to tell her the ins and outs, as it were.
Tarrant pulled her upright in a tangle until she sat atop his one knee. "I'm sorry," she said against his chest.
"Shh," he shushed her kindly. "There's nothing to be sorry for. It's the most natural thing in the world, laddie," he said, hoping she would understand. "I said I would take care of you and I will."
Alice fingered his waistcoat with questing fingers. "I want to…I just don't want to disappoint."
Tarrant could not help it, he groaned. Alice wanted. "Nae possible," he said firmly, taking her hand and guiding it to the buttons of his waistcoat.
Alice began to work at freeing him of his waistcoat, as he shrugged his coat off. Freed of the constricting item, he grabbed her still exposed thigh and moved his hand over her knickers, skating over her hip and finding where her chemise met her drawers. Wiggling the two items apart with insistent fingers, he was granted access to some of the Alice skin he had been thinking of in the next room. Alice truly had come back to Underland rounded in all the Right Places. Her skin was smooth beneath his touch; he imagined it was pale ivory as well.
Alice had completed her task and slid the waistcoat over his shoulders. Occupied as his one questing hand was, however, the waistcoat hung trapped about his one wrist. "Botheration," he groused, reluctantly removing his hand from her waist and shaking the waistcoat off.
Congratulating himself on his forethought, he divested himself of his sgian dubh, pulling it from his hose and chucking the stag antler handled knife onto the bedside table, where it could not accidentally impale him or her, which would be most inconvenient.[6] It landed with a clatter, which Alice weathered without as much as a flinch. He hoped very much that this meant he had calmed her somewhat with his inarticulate speechifying.
His hands worked preternaturally quickly to undo his flashes and to unlace his boots, as he suddenly felt that he needed quite desperately to be free of his clothes.[7] Alice stopped him, stilling his hand with her own, when he reached for the chain of his sporran.[8] "May I?" she asked quietly.
Did the lass think he would say, 'No'?
Her arms encircled him as she found the clasp. Sweeping her curly blonde locks to the side, he similarly reached around her to feel for the pearl buttons he had sewn down the back of her sleeveless Alice Blue gown. Would laces have not been more expedient, he wondered, as he worked blindly at the buttons? In his haste, he knew he was beginning to tear at them, desperate for His Alice NOW. He managed the last defiant button just as he heard his sporran hit the floor with a thud, and he pulled the dress forward and off her shoulders. The beautiful dress was now messily bunched about her thighs and waist: negligent treatment of a fine garment, but a casualty of a worthy cause.
"You're fine, wife," he assured her, carefully measuring his tone and accent as he took her by the shoulders and kissed her lightly.
"Say that again, please?" she spoke, her hands stealing from her lap to gain fistfuls of his shirt.
Alice was dreadfully polite even in the heat of the moment. But then, she had tried to teach him from the beginning of their acquaintance not to be Rude. Perhaps marriage bed requests should all be prefaced by a prettily said 'please.'
"What's that, love?"
"Wife," she said, hesitating as she tugged at his shirt.
His heart hammered unevenly in his chest. "Ye'r ma wife, Alice." He immediately regretted the slip of tongue. "I'm not mad. Well, yes, generally I am, which is why they call me the Mad Hatter, but I am in control this evening, meaning rather that I will not lose control with you, so you need not worry. For this is something I would rather remember than not, but it is just that when I am particularly…"
"Tarrant, I know, and I don't mind the accent. It doesn't frighten me," she said. "I rather like it, husband," she finished with a saucy smile, as his shirt came free of his kilt.
Oh! Alice loved all parts of him. Even the Outlandish part he had unsuccessfully tried to bury along with his family.
He pulled her fully against his chest and ran his hands down the length of her back, memorizing the feel of her in his arms. His Alice, His Forever. He could not wait through the interminable unbuttoning of more clothes, and she and he still had much too much clothes in the way.
"Tak' aff yer dress," he commanded, letting loose of her to yank his bow tie free and quickly undo the buttons at his neck in order to haul the shirt over his head in one swift motion. Tossing the shirt aside, he stood and pulled his hose from his legs.
Having heeded his directions, Alice was standing before him in her knickers and chemise, her dress pooled at her stocking feet, her cheeks, lips, and bosom awash in the blush of arousal.
"Lay back, lass," he said, taking her by the waist and guiding her back onto the bed.
"Are we going to…?" Alice asked, her fingers trailing in his ginger chest hair.
"Aye."
…
End of part 1. Part 2 (rated M+ for explicit sexual content) posted at my livejournal page, which can be accessed via my profile or by removing the spaces in this link: http : / / just-a-dram . livejournal . com / 9068 . html )
---
[1] "London Bridge Is Falling Down" is a rhyme that appears in the earliest print version of Tommy Thumb's Pretty Song Book (c. 1744):
"London Bridge
Is Broken down,
Dance over my Lady Lee.
London Bridge
Is Broken down
With a gay Lady."
It is also is a popular children's game dating at least as early as the nineteenth century, where two players make an arch while the others pass through in single file. The arch is then lowered at the song's end to "catch" a player.
[2] shackle-bane – wrist (Sc)
[3] John Tenniel depicted a contemporary fashion trend of fancifully stripped stockings by portraying Alice in black and white stripped stockings in his illustrations for Through the Looking Glass.
[4] "Diddle dumplin'" comes from the nursery rhyme, "Hey diddle dumpling, my son John," which would be recited by nurses as they undressed their charges for bedtime. Stockings are used in the second verse instead of trousers. The rhyme was first printed in The Newest Christmas Box published in London around 1797.
"Diddle, diddle dumpling, my son John
Went to his bed with his trousers on;
One shoe off, and the other shoe on,
Diddle, diddle dumpling, my son John."
[5] thee – thigh (Sc)
[6] sgian dubh – the Scotmans' dirk. This comes from the Gaelic "black knife" and is worn in the right sock.
[7] Flashes are the garters that hold up the kilt hose and are worn below the turn down of the sock. They have a piece of cloth sewn on them that protrudes, which can be of the same tartan as the kilt or complementary.
[8] sporran – purse. There are several types of sporran, dress, semi-dress and day/leather sporran. They are made from an animal skin front, which have ornamental tassels hanging from it. They have a metal top (cantle) designed to tie in with the belt. The sporran is hung around the natural waist by means of a metal chain and leather straps with the chain passing through the belt loops at the back of the kilt.