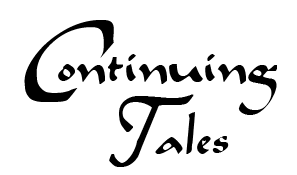 They had dispensed with the formalities of custom, the rigid roles of conqueror and conquest, but still faced one another with caution, not quite willing to allow the other a moment out of sight. It was better here; their mutual mistrust eased a little once they'd moved down into one of the recessed areas overflowing with dusty pillows and settled in to talk.
"Do you remember what happened here?" she asked suddenly.
A wave of his hand, and a row of tarnished sconces gleamed dimly against the mirrored walls. The effect was haunting; shadows flickered in every corner, throwing across her face in such a way that he could almost see again the child she had been. "I remember it was a wasted effort," he forced bitterly. "Wasted on a child."
"I'm not a child anymore," she reminded him, and stretched her long legs out across a rumpled pile of iridescent chintz pillows.
He closed his eyes and concentrated on the darkness. "No, you aren't."
"I have something to ask," she confessed, easing down further into the pillows, hiding her discomfiture with a forced air of casualness. "I want to know if it was all just a game to you."
She didn't need to say what 'it' was; he knew very well what she was talking about. "You don't really want to know that."
"I wouldn't be here if I didn't need to know the truth."
"The truth?" He regarded her with surprise. "The truth is not what you need, Sarah. If it were, none of this - not I, not the Labyrinth or its denizens - would be necessary. Look around you." He made a sweeping but half-hearted gesture. "I built this entire world upon the foundations of a dream. Your dream." He decided at last: "I don't believe you would find the truth at all palatable."
She pressed on, more determined than ever. "All the obstacles, all the illusions...and me. Didn't you feel anything at all?"
He kept his eyes on her hands, so slender and white. She'd bitten her nails to the quick, and recently. "Does it matter?"
"It didn't, then. But it does now."
He smiled, a flat and hollow thing. "What about you? You didn't spend thirteen hours in my labyrinth and come away unchanged," he challenged. "Surely *you* felt something. What was it? If you tell me, I may even answer your question with some small degree of truth."
She shifted around restlessly, suddenly unable to find any comfort at all. She had expected him to deflect the question, not turn it around on her. "Nothing," she admitted evenly. "I hated you at first, and then I felt absolutely nothing."
So there it was. She'd finally put all her cards on the table. What did she expect from him? The same candor here in this ridiculous excuse for a confessional? Not bloody likely. He opened his mouth and prepared a response so viciously indifferent as to rival her own -
"Until we danced," she whispered.
%~%~%~%~%~%~%~%~%~%~%~%~%~%~%~%~%~%~%
Outside in the garden, Hoggle stared into the scrying pool and hooted joyfully.
"What's goin' on?" Aggy bellowed down. "What're they doing?"
"I think Sarah just made a breakthrough!" he hollered, and Aggy cackled with glee.
"Let me know what happens!" she said, and set her eyes back on the loom.