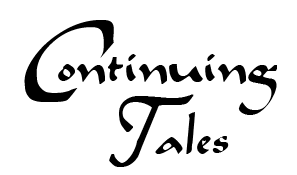 When Maurice took the Baroness and the girls to town the morning of the ball he went to see Gustave while they were shopping, "You must go to the Prince, tell him what's happened!"
"The Prince would never see me. How am I even supposed to get into the castle?" Gustave argued.
"You are her friend, Gustave! She needs your help! The Prince expects to see her!"
"How? Besides, my master has me working tonight. If I sneak off again he is going to be furious."
"Then go to da Vinci! Surely a painter can see another painter!"
"I am but an apprentice and he is the greatest painter in the world. I could no sooner talk to God!"
"For once in your life, man, be bold!" Maurice tried one last time before he hurried off to meet the ladies at the carriage.
Gustave knew he had to do anything he could to help Danielle. He knew she would do anything for him. He went to the castle to see if he could find a way in. Guards were checking invitations at the gate, so he needed to find another way in.
Then he spotted the page that was always talking to the Baroness, sneaking off into the shadows alone. Gustave had an idea. He followed the page. Spying a pot on the ground he cracked the page on the head, knocking him out. He quickly switched clothes with the page. Gustave couldn't get the page's red shoes on, but he hoped his disguise was good enough to get him into the castle.
He walked in unchallenged and started searching the crowd for da Vinci. Someone finally pointed out a man with a white beard to him. He approached the man, so overwhelmed that he only managed to get out "Sr. da Vinci!" before he fainted. The man he was speaking to wasn't the right bearded man, but Gustave landed at da Vinci's feet.
When Gustave woke up he explained who he was to da Vinci, and they headed to the manor to free Danielle.
The servants, heedless of the Baroness' threats, were trying to free Danielle when they arrived. Da Vinci pulled the hinge pins from the door, freeing Danielle.
She confessed to him, and he encouraged her to go face the prince, who loved her.
Danielle said to him, "A bird may love a fish, signore, but where would they live?"
"Then I shall have to make you wings," he countered with a smile.
She hugged him in thanks, and they got her ready for the ball as da Vinci crafted a fabulous set of wings from items he found in the sewing room.
Soon she was off to the ball, looking like an angel in da Vinci's wings and her mother's dress and slippers. She prayed that she would be able to find Henry and explain before the Baroness discovered she was there.
Henry was waiting to speak to his father about tonight's announcement. He still couldn't believe that Nicole had run away from him. He had found the love he dreamed of, but if he couldn't have her, then he didn't much care who he married.
"I understand you wanted to see me," the King said as he spied Henry waiting in the tunnel.
"Yes, Father, I did," Henry said.
The King dismissed his ministers and walked over to his son, sensing Henry's distress. "Listen, Henry. Perhaps it was unfair of me to put so much pressure on you as I did; about the marriage contract. I just thought it was time to make some changes in your life. You seemed to be a bit… floundering… and, um, well I just wanted to say that this university thing is a brilliant idea," Henry cringed, knowing he would think of Nicole, his inspiration, every time he thought of their university. The King continued, seeing Henry's pain, "We don't have to announce anything tonight."
"I've made my decision," Henry stated firmly.
"Oh," said his father sadly.