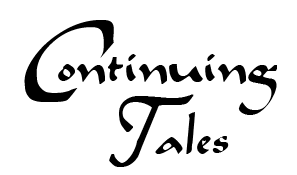 Danielle was determined to escape from Le Pieu. 'I would rather die trying to escape than to leave my fate in the hands of Le Pieu,' she thought to herself again. It had been nearly two weeks of Le Pieu trying to wear down her resistance. She was constantly either under guard or in her cell, but she knew her chance would come. Her daily routine had so far been pretty consistent; Jacques bringing her a meager breakfast in her cell, followed by Le Pieu supervising her chores. These consisted mostly of polishing armour and swords he was supplying to the palace. Danielle had considered trying to use one of the swords to effect her escape, but she knew that her lesser strength coupled with the larger size and battle experience of Le Pieu and his men made that unlikely. If only she could get her hands on one of the smaller daggers to keep with her, then maybe she could surprise one of them. After several hours of chores under Le Pieu's watch, she would be returned to her cell. In the evenings Le Pieu always came to take her on a tour of "Your new home." This was always the scariest part of the day for Danielle, who knew it was only a matter of time before Le Pieu decided to force himself upon her.
Tonight started out no different as he led Danielle up to his room, partly dragging her by the arm as she lagged behind. "Well, my dear, here we are again. Our room," he said with a villainous smile as he dragged her inside and closed and locked the door. This was the only warm and comfortable room that Danielle had seen in the drafty castle. Rich tapestries covered the stone walls, a roaring fire burned in the hearth. A large meal on a table set for two was near the fireplace. She didn't even want to look towards the large bed along one wall. Le Pieu sat in one of the dining chairs and eyed Danielle speculatively. "Won't you join me for dinner, Danielle?" The question was always the same. Danielle knew that accepting the tempting meal would lead to her being that much closer to being raped, so she declined.
"No, thank you M. Le Pieu,"
His eyes briefly narrowed to slits and Danielle swallowed. "Serve me then," he demanded.
Danielle breathed a small sigh of relief that apparently tonight was not going to be the night he forced the issue. She served him his meal while staying out of his reach as much as possible. As usual, though, he would touch her arms, back or hair casually throughout the long ordeal. Danielle's stomach was tortured by the enticing aromas from the table. She had been at Château Beynac for well over a week, she estimated, and she hadn't had a decent meal in that time. Only the breakfasts that usually consisted of bread and water. On a few days there had also been a slice of cheese. Danielle knew that this was all part of his plan to wear her down.
When Le Pieu was done eating, he usually escorted Danielle to her cold, dark cell and made her an offer of a warm place to sleep- in his bed. Tonight he changed tactics. He got up and walked over to the fireplace, staring into the flames for a minute. Danielle waited tensely for his next move while she looked around desperately for a weapon. He always carefully wrapped the cutlery and locked it up as soon as he finished eating. He was no fool.
"The Baroness told me that you know how to read," he surprised her by saying. He looked at her, clearly awaiting a response.
"Yes, I do."
"What do you read?" he wondered.
This seemingly normal conversation worried Danielle. What was he after? She decided not to provoke him and just answered his question. "Science, philosophy, many things," she said.
"Science? Philosophy?" He was clearly surprised. Few servants, she knew, could read at all. "Do you have a favourite book?"
Growing increasingly nervous Danielle answered him, "Utopia," she said.
"You read LATIN? What an unusual girl you are," he mused. He walked over to the door and unlocked it. Danielle was very relieved, assuming he was going to take her back to her cell. Instead, he called to one of his men and gave him some kind of instruction that Danielle couldn't make out. The servant left and returned moments later with several books. Le Pieu relocked the door and carried the books over to the fireplace. He sat in his chair and saw Danielle looking out of the window.
When Danielle had heard the door lock she had gone over to the window, trying to gauge the drop to the courtyard below. It was a very long way down. She needed either a low window where she might land uninjured and possibly escape or one where she would surely die. She didn't want to jump and survive but be too injured to get away.
Le Pieu startled her by reading her thoughts, "No need to jump, Danielle. Come over here. I want you to read to me before I take you back to your cell tonight."
Danielle turned and decided to look at his books. She cautiously approached him, being careful to stay out of his reach. She read the titles The Praise of Folly by Erasmus, The Passtyme of Pleasure and Philippe de Commines' Memoirs.
She chose The Praise of Folly, a book by Erasmus, a friend of Thomas More. Le Pieu indicated that she should sit on the bear skin in front of the fire. She sat; carefully arranging her skirts, and began reading from the Latin text. She became absorbed in the book and was able to forget for a short time the danger of her present circumstances. After about an hour Le Pieu stopped her. Danielle put aside the book and Le Pieu escorted her down to her cell. He didn't make his usual offer that night. He seemed distracted about something, she thought.
The next day Le Pieu had to go to Hautefort to deliver some armour. He was pleased to hear that the two week search for Danielle had finally been called off. She was presumed drowned. He was in an excellent mood when he returned to Château Beynac, until he found his men just returned from hunting down Danielle, who had escaped while doing her morning chores.
"Well Danielle, I see I shall have to keep a closer eye upon you from now on." To his guard he instructed, "Put her in irons, so she does not try running away again." Tears of frustration and exhaustion streaked down her face as she was led away. She had been so close to getting away, but Le Pieu's men had managed to track her down before she could reach the next town. She spent the next two days alone in the dungeon, except for her daily breakfast delivery and reading to M. Le Pieu in the evenings.