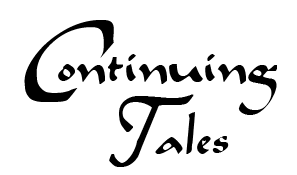 The fortress was called the Stronghold, built into the side of a Colorado mountain it was deemed impregnable to conventional or magical assault. It lacked the Citadel's mana fountain but it was the repository of the lifeforce taken by the youma. With that to power it the Stronghold could defend itself for decades, perhaps centuries.
Deep within the fortress Arimanus and Lord Pyrite's other deputies waited for their leader to emerge from the chamber they watched. Within he stood vigil over a stasis field as he had for hours.
He hadn't always been like this. He arrived home just before the sky changed issuing orders. Thanks to his foresight the human insurrections had been crushed and civil war within the dominion averted. After that he had briefed them on the abrupt changes, told them to maintain order and retreated within. Outside his deputies waited impatiently for him to emerge. Normally youma were eager to take charge. But normally the world hadn't turned upside down! The Overlord and most of the Circle dead! The sky that hideous blue! The glowing orb beaming down light followed by those twinkling lights burning in the once pristine darkness! It was all horrible. They couldn't deal with this, someone had to tell them what to do. So they waited and talked nervously.
"I'm telling you it's Kunzite and Zoisite all over again!"
"Azurite was a guy?"
There was a slap. "Fool! I meant this unnatural closeness! Kunzite got stupid after Zoisite died. If Lord Pyrite does the same ..."
"He won't!" Arimanus sounded utterly confident.
"We'll see ... what's he doing?"
Pyrite seemed to have made a decision. He reached out with gauntleted hands and the stasis field vanished. He stood like a statue watching his lover's body break down into dust and fade away. At length he lowered his hands and turned, his face terrible to behold. He strode towards his deputies but stopped just short. No one dared address him. Then he broke the silence showing his armour had audio pickups.
"There are two differences between this and Zoisite's death. First Zoisite wasn't worth mourning. Secondly Kunzite was a fool!" He smiled grimly, "... And I am not my father!" With that he pushed through the crowd. After a moment's hesitation Arimanus followed him. Behind them the crowd babbled.
"Did he say ...?"
"We must have misinterpreted him."
"Yeah, I mean Kunzite?"
"Not a chance."
"No way."
"Maybe he meant ..."
Oblivious to this Lord Pyrite walked his hate growing with every step. Silently he swore an oath. "I swear my love that I will make my hate a flame that will burn this world! No more mercy, no more doubts. Only vengeance. They will suffer! I swear to you that they will all suffer!"
Out loud he said, "Arimanus!"
She was startled, she hadn't thought he knew she was following him. "My Lord?"
"Tell those fools to stop discussing my parentage and meet me in the Observatory." His smile was grim. "We have much to do."
"At once, my Lord!" She turned back to the assembled deputies feeling better. Lord Pyrite was fired up and looking for blood. Everything would be all right now. Plus no more Azurite! Someday he'd forget her and when he did ... She felt her heart lighten. Things were looking up already. Her smile brightened as she returned to her fellows. It was all she could do not to whistle.
Dark Kingdom Renegades 9: Thy Kingdom Come
A Sailor Moon Story
by Mark Latus
Part 12 of 12
<< Previous
Home