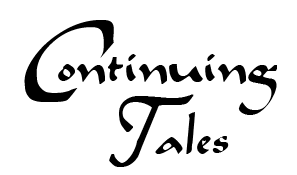 "You mean to tell me that this man, this duplicitous creature, had the means to save my labyrinth all along and kept silent?" Jareth asked sharply, his eyes flashing.
"It was all he had left, Jareth, and he didn't even know you," Sarah said with a quick shake of her head.
Jareth straightened and looked at her keenly.
"If it had been you, you would have sacrificed it," he said decisively.
"I did sacrifice it," Sarah said delicately, sadly. Jareth made an impatient, dismissive sound.
"It's only a seed, Sarah." Jareth frowned, the flickering shadows from the fire casting him in a devilish light. "Given the help he has provided I would be willing to allow him to enter my lands again, if he wishes to see his tree." Jareth hesitated when Sarah avoided looking at him. "Trees bloom. This cannot be the last one. Marcus seemed reasonable enough, I am certain he will forgive you, in time."
Sarah stared at the fire and smiled gently. This particular tree would never bloom, but she didn't have the emotional fortitude to explain the botanical reasons why.
"How old are you, Jareth?" she said instead. She waited patiently, and when he said nothing she looked over at him, her smile growing. Jareth did not exactly look caught out, but it was a near thing.
"You don't want to tell me, because you think it'll scare me." She gave him a knowing look, and he looked very briefly amused. "I'd bet real money Marcus is older than you are."
She looked out into the darkness, oddly at peace, as if she'd cried the hurt right out of herself.
"You stay the same, don't you? There are so many strange creatures in your labyrinth, all those busy things, living and dying every day, but not you. There's no one like you." She looked him dead in the eye, watching his face darken. "You're all alone here, aren't you."
"Enough," Jareth said roughly, eyes flashing.
"You feel it, how alone you are, you have to-"
"Enough!" Jareth snatched at her arms hard. Sarah leaned close to him, not backing off, pressing in within inches of his face. She watched him register her response to him, watched his eyes dilate wide and black.
"He's more alone than you are," Sarah said, making a point with her proximity to him. "Everyone he loved is dead. All he had, literally the only thing he had was that seed. Time moves so fast here. That tree will be dead in less than a hundred years in Above time." Sarah shrugged sadly. "Then he'll be the last. The last living thing from his world in all of creation." She bowed her head.
"He wanted so badly not to be the last," she murmured. "I took that from him."
Jareth tilted his head, his expression just slightly startled, as if he'd had a thought that surprised him.
"He was your friend, and you betrayed him," he said, a faint hint of reproach in his voice.
Sarah flinched back from him, giving him a pained, disbelieving look.
She'd done it for him...
But Jareth's face was blank, his eyes sharp and glittering in the firelight. He watched her reaction like he was taking notes inside his head. As if she was a puzzle and he was sitting there, shoving pieces together to see if they fit. Sarah shook her head and stood with a faint sound of hurt, turning and striding away from the fire. Away from him.
Unbelievable. Unbelievable, infuriating man.
She did not get very far. He came up behind her and grabbed hold of her, pinning her arms to her sides, and crossing his arms over her chest. He brought her up roughly against his body and the raw familiarity of the position froze her in her tracks.
"Why did you do that, Sarah?" he whispered in her ear, his breath warm against the side of her face. "He was your friend. Why?" There was a barely restrained urgency in his voice, as if he was more desperate to know the answer to that question than she could possibly know.
"For you," Sarah said quietly, shaken. Her heart was shocked terribly by the echo of the embrace he had given her when she was being taken over. He sagged a little, at her back, as if her words had struck him hard. He tightened his embrace of her, pressing his face against her shoulder, and Sarah relaxed against him with an icy shiver of memory.
She remembered being taken. She remembered very well. He hadn't hesitated for a moment, promising to free her. He'd offered up his own life on a platter for her. All she'd thrown at him was her friendship with Marcus. Looking at the two sacrifices, Sarah could not deny whose devotion looked more sincere. The thought left her heart rather warm and trembly. The sensation was akin to having a frightened rabbit sitting in her chest.
"Tell me why, Sarah. You betrayed him-" Jareth urged her, the restraint in his voice crumbling rapidly.
"I'd do it again," Sarah said quietly, her voice almost strangled by the strange, shivery warmth that was radiating from high in her chest. It felt like the rabbit in question was attempting to escape.
Jareth went still against her back, and his arms loosened from around her.
"Look at me," he said sharply, pulling at her shoulders, trying to turn her. "Look at me..." his voice went breathy on the last as she let him cup her face, lifting it to the light. His eyes searched her face franticly, as if searching for something in her face that she'd given away in her voice.
"You sang to me, when I was hurt," Sarah said softly, looking up at him. "I heard you." She had an idea of what he was searching for, in her voice and in her face. Reciprocation.
'The exchange of thy love's faithful vow for mine.'
"Yes," Jareth said, looking briefly bemused by her non sequitur.
Sarah's face crumpled, and she curled her hands into fists.
"Why did you do that?" she asked miserably. Jareth's eyes went wide. She tried to turn her face away but he stopped her, cupping her cheeks in his hands, forcing her to face the light so he could see her expression. Sarah blinked hot tears down her face, her throat constricting tightly. "I could've taken anything but that," she said faintly. She could have kept her heart safe from him, she was certain she could have, if only he hadn't sung to her.
What could she do after that? How could anyone stand resolute, after that? She was sunk. She was totally sunk...
Jareth inhaled deeply and seemed to gain about six inches of height. He looked electrified, as if at any moment he might arc raw voltage and soar off into the sky. He brushed at her face with his fingertips, almost as if reassuring himself that she was real, that the expression on her face was real.
"You..." he said faintly, disbelievingly. His voice trailed off as he traced the line of her jaw, tilting her head up just slightly to get a better look into her eyes. He laughed faintly, a single breath of laughter that might just as easily have been a sob. The sound burned with raw longing and hot joy.
He leaned in and for a moment she thought he was going to kiss her. She froze, choking as the little warm thing in her chest beat franticly against her ribcage in a bid for freedom. Instead, he tilted his head at the last instant, bringing his mouth close enough to her cheek that she could feel his lips brushing the downy hairs there. She felt a slight wet flick of warmth as he just barely pushed his tongue past his lips and touched her cheek with it.
He was tasting her tears, she realized with a jolt. He was tasting the evidence of her feelings for him. It was not a human gesture at all, but it was shockingly intimate. Sarah felt very bare all of a sudden, though she was still fully clothed. The furry little trembly thing in her chest went very still, as if it was being stroked in a fashion it liked. Sarah shut her eyes and shivered.
He trailed his mouth down, lingering at her jaw line. Without conscious thought, Sarah tilted her head, baring her throat. He made a soft, anxious sound and pressed his lips to her pulse, licking her there as if he could taste it.
Sarah sighed, pleased and aching softly. Jareth seemed to be unprepared for this reaction. He stiffened, his hands squeezing her shoulders once, hard. Then with a soft groan he pushed his face back into her hair, his arms twining around her, urging her closer to him. He pressed himself full length against her body, letting her feel in no uncertain terms exactly how pleased he was that she was there.
Sarah pressed herself against him in response, shifting her hips against his erection with a little thrill at the sensual contact between their bodies. He hissed a breath in between his teeth, a little shudder going through him from head to toe. Then he pulled back and kissed her with wild abandon, kisses that left Sarah feeling as though she was being devoured whole.
Sarah thought rather helplessly that she was about to go right out of her head. He slid one hand up to cup the back of her neck, his fingers tangling in her hair. Sarah threw both her arms around his neck and held on for dear life. She was getting deep jolts with each press of his lips against her. It felt like he was touching her in a place much more fundamental than her mouth, and she was growing more certain by the second that they were beginning something that would have devastating affects on her later.
He'd pulled her forward, step by step, distracting her with the hot possessiveness of his kisses, with the soft sounds of joy he made against her lips. When he started to tug her down to her knees she hesitated, but he continued down and carried on as if delighted by the opportunity. He pushed her shirt up with one hand as he knelt in front of her, his other arm snaking around and getting a pleasingly firm grip on her waist. She rested her hands on his shoulders, her fingers dipping below the collar of his shirt, spreading the material away from his skin, hungry for the heat of his flesh. Jareth darted forward and flicked his tongue over her stomach, making her jump. A sharp tingle shot from the skin that he'd touched to parts south. He started to nibble at her waistband, inhaling deeply the scent of her, and Sarah's knees got rather wobbly. He just didn't act quite human. His responses were a little...off. She supposed she should have suspected, but she had to admit, it was an decidedly pleasant surprise.
Jareth dipped his tongue just underneath the lip of her waistband, a wet line of heat, and Sarah's knees went out entirely. Jareth's arm tightened around her waist, and he slowly brought her down to his level using only the strength in the one arm.
God, he was strong. He was clever, too, and as Sarah slid down, her shirt was pushed up. He whipped it over her head in a flutter of white and looked down at her decidedly modern undergarments with hungry eyes.
There was something Sarah was supposed to tell him. There was something he needed to know not to do, but Jareth was standing there looking at her as if she were his only hope for salvation in all the world, and her heart and her body had ganged up together and were shouting at her with increasingly creative ideas on how best to ravish him.
Was he not supposed to ask her to leave? Not supposed to ask her...
"Jareth," she said, holding up a hand as if to tell him to wait. It was getting harder and harder to think.
"Yes," Jareth said, his voice raw. "Anything. Yes." His voice was shaking. He was shaking.
The bottom dropped out from under her thoughts. Sarah opened her mouth and forgot to shut it . Jareth's voice had been utterly sincere. Anything.
Sarah realized, belatedly, that she had reached out and grabbed two handfuls of Jareth's shirt, and pulled him into a rough, possessive kiss. He was making little sounds against the press of her mouth. Marvelous, needy, exciting sounds. She altered her grip a little and ripped the shirt right off his back. The buttons made satisfying popping noises as they went. Then they were both tearing desperately at confining cloth, twisting and squirming out of clothes and boots. Sarah pressed her mouth against the base of his neck, her lips caressing the hollow of his throat as she fumbled with the fastening of his pants, shoving them down savagely. Jareth's arms pulled around her tight, bringing her up roughly against his chest to better plunder her mouth.
The warm, bare heat of him brushed lightly against her inner thigh and she grabbed two handfuls of his hair, bringing him down, pulling him to her. Sarah reclined back against her cloak and Jareth followed, resting against her, a solid warmth against her chest that made her want to cry out in triumph. Her body was singing, wrapped up in a fine, burning physical joy that was tangling deliciously with a much more dangerous emotional one.
Jareth reached out, stroking his hands over her modern undergarments and Sarah twisted beneath him with a desperate, impatient sound, her hands going back to remove her bra, tugging at the cloth. Her fingers had just unhooked the clasp when Jareth leaned forward smoothly and licked the tip of her exposed nipple. A flick of his tongue, and then he looked up at her, his eyes dark with desire.
She would swear later that she could actually feel the hormones dump over her head by the bucketful. Both of her nipples tightened immediately and she gasped for air, lightheaded with pure gnawing lust.
Jareth smiled a dark, delighted smile at her reaction, and leaned over her with deliberate grace, bowing his head to her other nipple. He laved it with his tongue, pressing her back against the softness of her cloak. She twined her fingers through Jareth's hair as he lavished attention upon her, his lips trailing down from the peak of her nipple, pausing to linger above her beating heart. He rubbed his face there like a cat, his arms going tight around her, and the warm thing her heart had become leaped in her chest as if trying to go to him.
His erection brushed deliciously against her thigh and Sarah gasped, lifting her hips, lifting herself up against his body. He took a deep breath, his nostrils flaring at the scent of her, and Sarah watched something inside him break.
He rose up, his face one big terrible ache, and pressed himself against her solidly. Pressed up against her but not entering. A wonderful, unbearable friction of skin on skin. Her body lit up like a candle. The shock of them coming together was such a blinding, visceral delight that Sarah wondered if she would be able to handle having sex with him. She might drop dead of a stroke somewhere in the middle of it.
Jareth gave a low, hurt-sounding moan and moved his hips, rocking against her with a shudder at the deliciousness of the sensation. Sarah gave a soft cry, arching her back, pulling at him, trying to bring him closer. He was so close to her, but not close enough...
"I have wanted this," he sighed, bending to kiss her, breathing the words into her lips, "so long..."
Her heart fluttered once, like the beat of a butterfly's wings, reacting to the sincerity in his voice.
He shifted his hips, moving a little lower, nudging against her. Pushing in at just the right spot. He slid inside her as easily as if he'd always belonged there. Sarah could not even gasp. The pleasure was so sharp it almost felt like pain.
Jareth pushed on, not stopping until his hips were fitted tightly against hers. He growled softly and kissed her, biting gently at her lower lip. Claiming her.
"Oh," Sarah said faintly against his lips. It was a raw sound, hot with longing. Sarah wanted to speak, wanted to plead with him to keep on doing what he was doing, but some essential neurons shorted out on the way from her brain to her mouth and she could not manage to recall how to form the words.
Then he was fucking her, thoroughly and deeply, long strokes that made her want to cry out just from the sheer invasion of it, as if he was trying to mark her as his forever.
Sarah braced herself on his arms, lifting herself to meet him and he groaned at her response, changing the angle of his thrust, coming up against her with devastating determination. Sarah shut her eyes and her head went back, going limp for a moment in reaction.
Deep, god, he was so far into her...
Sarah drew her legs up around his waist and Jareth froze for an instant as the new position brought them even closer together. When Jareth moved again, he did not pull away from her, only pushed on, deep and deeper, not giving her a moment's relief in withdrawal, every motion of his body the distilled urge to get closer to her, to get more of her, to write his name in big burning letters on her soul and never, ever let her go.
It was not at all human, it did not feel remotely human, this mad raging need to possess completely, but Sarah loved it so well she could not force herself to care.
He leaned over her, his eyes wide and utterly black, wild and raw and loving her. He kissed her as he moved inside her, hot, breathless brushes of his lips. It was just that side of too much, and Sarah made a rough, sobbing sound as her heart contracted viciously, and a searing white flare of joy burned up from her abdomen.
"Yes," he urged her thickly, his motions rougher, more desperate. Sarah tensed underneath him, her hands clawing at him as the sensation sharpened, building higher. He stroked her inside and out, again and again, giving her no respite. Sarah mewled against the soft press of his lips as the sensation spiked, burning through her, lighting her up from the inside out. She choked out his name as she came, her heart squeezing unbearably against her chest, as if she'd been mortally wounded.
Jareth reacted similarly to the sound of his name on her lips, shuddering and gasping as if she'd hurt him too badly for him to survive it. Then he thrust into her again with a strangled moan, clutching her to him desperately as he poured himself out inside her.
Jareth panted above her for a moment, leaning heavily over his arms, shaking slightly in reaction. Sarah tried to get her breath and actually felt her heart skip a beat or two, as if this was all just too much for it to handle. Jareth lowered his head and rested it between her breasts, his hair trailing over her, golden in the firelight.
"Sarah," he sighed softly, joyously, and kissed the skin over her heart with gentle care, as if he recognized the reason for his happiness lay beneath. Sarah slid her hand up over his shoulder, trailing her fingers lightly down his back. It was a warm, affectionate gesture, and Jareth sighed, relaxing against her as if reassured.
"This all right?" he asked languidly as he rested his weight against her, turning his head and laying his cheek just over her heart. The top of his head came to just under her chin, and Sarah realized with mild surprise that she was quite comfortable.
"Mmm," she said faintly, spreading her hand over the warmth of his back. He moved his head slightly, nuzzling the swell of her breast with a faint sound of total masculine contentment. Sarah let out a breath of lazy laughter. He might be more human that she'd thought.
Sarah dozed for a while, warm and deeply satisfied. The air was cool but between the fire, her cloak, and the warm, heavy weight of the Goblin King covering her, she couldn't have been more comfortable. She did not sleep very long, even though it had been a trying day. They would still need to get to the gates somehow, and time lost to sleep was still time lost. Sarah traced idle patterns on the sharply defined muscles of Jareth's back, gazing placidly into the fire. She knew she would need to get up soon, to wake him soon. She lingered in the moment while she could, savoring it.
She would not have liked to give odds on their chances. She hovered in a kind of fatalistic optimism, looking toward success but not really expecting it to be there when she arrived. She probably ought to be depressed or worried, but the emotion wouldn't come. Jareth was warm and solid against her and as far as her heart was concerned, all was right with the world.
He sighed, moving his head slightly, and Sarah realized he was awake. She paused in her gentle stroking of his back and he turned his head to look up into her face.
"Sarah, where is your necklace?" he asked, stroking his cheek gently over the bare, un-necklaced skin between her breasts. Sarah ran her fingers lightly through the wild tangle of his hair and he shut his eyes, shivering against her.
Hmm, he liked that...
"You don't remember?" she asked, her fingernails scratching delicately across his scalp. Just looking at his spiky mop of hair, she would have guessed it to be rather coarse and stiff. Product-heavy. But his hair was actually quite soft, feather soft and fine like wisps of silk.
"No," he said softly, sounding thoroughly distracted.
"I gave it back to you," Sarah said with a slight smile. "It seemed like you needed the energy."
Jareth got an interesting expression on his face. He was obviously concerned that she had given up her protection, and also, quite obviously gratified that she'd been willing to do it for him. It was sort of concerned and smug, and Sarah smothered a smile.
"How long have you gone without it?" he asked, lifting himself up off her a little to look her in the eye.
"About a day," Sarah said. Considerably longer than thirteen hours. He leaned forward, examining her eyes, then glanced down at her body underneath him, as if he might suddenly spot something bizarre about her that he'd somehow missed while having intimate contact with her. Sarah grinned at him.
"I'm fine," she insisted. He lifted an eyebrow. "Really," Sarah insisted.
"I'll make you another," Jareth said firmly. Sarah hesitated, and gave him a sheepish smile.
"You shouldn't do magic so close to the Road," she reminded him. Jareth gave her an odd look.
"Sarah, I have a crystal for that," he paused at the look on her face. "Don't I?" Jareth got a pained look on his face.
Sarah squirmed a little, underneath him.
"You needed the energy," Sarah said apologetically. Jareth sighed, shaking his head. He looked up at her with a certain amount of fond exasperation.
"You went through some trouble on my account," he said, and it wasn't a question. Sarah tilted her head, dismissing the idea with her expression. He'd have done the same. He did do the same, as a matter of fact.
Jareth's face was serious.
"I appreciate it," he said soberly, the fire glittering in his eyes. Sarah gave him a rather flirtatious smile.
"I noticed that," she said lightly, reaching out to brush his hair back out of his eyes. He caught her hand, and pressed the inside of her wrist to his mouth. She might have expected a kiss. Instead his tongue just barely flicked out between his lips and brushed her skin, as if tasting her pulse. It was a surprisingly intimate gesture, strange but at the same time very touching.
Then Jareth tensed, pushing himself up, looking out at the darkness beyond the reach of the fire.
"I don't believe it," he said faintly, his eyes widening. Sarah propped herself up on her elbows, twisted around to look.
"No way," she sputtered.
There, striding into the circle of light and looking rather proud of himself, was Bim.