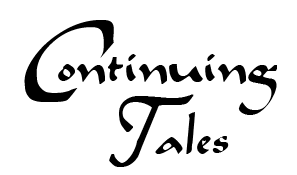 "The ship docked nearly two hours ago," Erik growled. "They should be here by now." He turned away from the customs building in disgust. His patience, never great, was exhausted by this final wait. "Something must have gone wrong."
"She wrote that she had the right papers, sir," said Squelch peaceably. "Customs always takes time."
Erik glanced at him, knew he was right but was unwilling to admit it. Christine and Gustave had valid visas, but it would still take longer than it would for a mere visit. There would be a great deal of luggage to unload as well – it was why he had brought Squelch, after all, to hire a cart, load the trunks and bring them to the house.
But oh, he was impatient. The past few days had seemed without end, and to be delayed now, when they were so close – were only a few hundred yards away from him at most – was impossible to bear.
"It shouldn't be much longer," Squelch added, and Erik sighed, turned back to watch the doorway.
"Not soon enough," he muttered, and Squelch laughed, a deep sound that made those nearby turn and glance at them. Few people were allowed to laugh at Erik, but Squelch was undoubtedly one of them – he'd been in the same freak show as Erik, all those years ago when he'd been forced to display himself once more for a few coins, shelter and scraps of food. He'd helped Erik build his new empire, become as trusted as Madame Giry – but less afraid of him, more able to see Erik as a human and not as…as a murderous Phantom.
Another group of people came through, a family, and Erik looked away again, unable to bear seeing their happiness when his own – his family– was so close and yet so far.
"Father!"
Erik whirled around; Gustave collided with him, wrapped his arms around Erik's waist and looked up at him, eyes shining. He was just as perfect as Erik remembered, had grown at least an inch, and Erik found he had to blink away tears.
His son, back with him at last.
"You've grown," he managed at last, and cupped Gustave's cheek, stroked his hair. "Gustave…" And then he looked up, looked for Christine, searched through the sea of faces – and found her, coming towards him slowly, her expression oddly nervous.
A moment later he realised why. His mouth worked but no words came; she reached them, stretched out a hand but let it drop, rested it on her stomach – on the bump that told of the life within her.
"Hello, Erik," she said softly, and Gustave let go of him, looked anxiously between them.
"I – Christine – you – " A thousand thoughts raced through his mind, almost too fast to catch. She looked up at him, and he could only stare back, absently cataloguing the changes that pregnancy had brought.
"I didn't want – I couldn't disappoint you, if anything happened," she said then, her words rushed. "I lost two children after Gustave, I couldn't –" She reached out to him again, her eyes wide and hopeful. "Erik?"
He took her hand – noted the ring on her finger, felt a frisson of pleasure at the sight of it – and lifted it to his mouth, pressed a kiss to her knuckles.
"Oh Christine," he said gently, "I am so glad to see you." And then he pulled her close, wrapped her in his arms and kissed her. She was crying, he tasted salt, and he lifted a hand to wipe the tears from her cheeks. "My Christine," he murmured. "But – you're healthy? And the child?"
"We're both quite well," she assured him, and she smiled at him through her tears. "Quite, quite well." He nodded, drank her in, the sight and the smell of her, the way tendrils of hair had escaped her pins and framed her face – the dark circles under her eyes that told of sleepless nights, despite her claim that she was quite well. She was beautiful, so beautiful, and she was his.
At last he tore his gaze away from her, glanced around for Squelch, but he had already disappeared to collect the luggage. The crowd had thinned a little, but the cab rank was still full and he offered Christine his arm, took Gustave's outstretched hand.
"You're tired," he said to her. "Squelch will bring your trunks after us. Shall – shall we go home?" He was rewarded with a soft smile as she nodded, and he led them carefully through the crowd to one of the waiting carriages, gave the address to the driver and then helped Christine up the step, settled her into the seat and let Gustave shut the door.
"You're not angry with me?" Christine asked then. She held his hand still, leaned back in her seat until he put his arm around her shoulders and guided her to rest against him.
"Not in the least," he assured her at once. He was curious to know why she hadn't shared the news – although if she had miscarried twice, he thought perhaps he understood – but he wasn't angry. He looked across at Gustave, who seemed hardly able to keep still, and smiled at his son. "You look as though you might fly off your seat," he observed, and Gustave laughed.
"He's been like this for weeks," said Christine fondly. "I don't think I've ever been so grateful to Heléne in my life."
"I haven't been too bad, have I, Mother?" Gustave asked, sitting on his hands. He looked up at Erik, his expression earnest. "I've been looking after her like you said." He seemed to wait for Erik's approval, and Erik freely gave it.
"You've done an excellent job," he praised. "Thank you, Gustave." Gustave's smile was wide, he shook his fringe out of his eyes and leaned back in his seat, still sitting on his hands. Erik found himself thinking that Gustave needed a haircut, and wondered at the thought.
"The doctor said she ought to rest more," Gustave said then, "but she said there was too much to do."
Erik's fingers tightened on Christine's shoulder for a moment, he glanced down and saw again the dark smudges beneath her eyes, the pallor of her skin.
"He was being over-cautious," she said, looking up at him. "But I…the two I lost, it was within the first few months, so he seemed confident that the most dangerous time has passed." Her hand was on her rounded stomach again, rubbing almost absently, and he watched the movement, fascinated. "I haven't been sleeping well," she admitted then. "I've missed you, Erik."
He pressed a kiss to her forehead, thought of long, lonely nights without her, thought of Christine doing too much in the preparations to join him. Thought of the questions she must have faced, from friends and in-laws in France.
"You'll rest now," he said, and it wasn't a request. And he was already thinking of finding a doctor here to examine her, to make sure she and the child were healthy. If she had miscarried twice, the risks to both her and the child would surely be greater. If rest would minimise those risks…
"You'll let Father look after you, won't you?" Gustave asked, leaning forwards. "You did promise you would, Mother."
"Of course I will," said Christine, and she took Erik's hand, entwined their fingers. The engagement ring on her finger glinted in the bright, cold February sunshine; he reflected idly that it was a good thing he hadn't ordered a wedding gown for her. She smiled up at him, and he couldn't resist the urge to kiss her, a chaste brush of lips.
"I love you," she whispered, and then she made a sound, pulled away from him a little. "She's kicking," she said, and Erik's gaze was drawn downwards again. She brought his hand to touch – he felt something, an arm or a leg pressing against the womb, perhaps, and his mouth was dry, he tried to speak but found himself wordless.
"Mother says she's dancing," said Gustave. Erik couldn't look away from Christine, couldn't tear himself away from the joy in her expression, the curve of her lips as she smiled. The feel of their child kicking in her womb.
"She?" he said at last, and Christine shrugged a little, leaned against him again and settled her head against his shoulder.
"I'd like a girl," she said. "But of course we can't know." His hand stayed on her stomach, fingers spread wide to feel any hint of movement. He didn't care whether the child was male or female – the very fact of it was so overwhelming that to begin contemplating its gender was, he felt, asking too much right now.
"I want a brother," said Gustave, swinging his legs a little. "But I suppose a girl wouldn't be too bad." He looked out of the window, turned back to Erik. "Is it far to the house?" he asked. "Mother said it's outside New York."
"It is," Erik confirmed. "We have another forty minutes or so, I'm afraid. But there should be a good supper waiting." Christine hummed an inquiring noise, and he held her a little closer. "I hired a maid," he told her. "Or rather Madame Giry did. She seemed competent enough." And she hadn't seemed deterred by his mask, which was always promising.
"And then to bed, Gustave," Christine said. Gustave's mouth twisted into a pout, so like Christine at the same age, and Erik had to bite his tongue from commenting on it.
"But I want to show Father my music," Gustave protested. "And explore the house – and –"
"Tomorrow, Gustave," said Erik, smiling faintly at Gustave's enthusiasm, his desire to plunge himself immediately into his new life, but although he didn't seem tired, Erik was sure he was wearing himself out with his excitement.
And once Gustave was asleep, he could ask the questions of Christine that he could not ask in front of their son, questions about her health, the child's health, the miscarriages she had never told him about. He could hold her too, kiss her as he longed to do.
Christine's eyes danced; she had guessed his thoughts, perhaps, for she leaned up, touched his cheek with her hand and kissed him.
The baby kicked again, just beneath his hand, and Christine pulled away from him with a laugh.
"She knows you," she said. "Oh, Erik, I…" She trailed off, smoothed her hand over his cheek and Erik leaned into it, revelling in her touch. He knew what she could not find the words for, felt it himself. Perfect happiness, absolute contentment. More than words could possibly hope to express.
"I know," he said, and pulled her close to him again. "I know." They were together, and they would not be parted again. And there was Gustave, and there was this new blessing, another child – to be born, he realised, in only a few months time. It must be due by the end of April, close to Gustave's birthday.
A sudden thought made him smile, shake his head slightly, and Christine looked at him, one eyebrow raised in curiosity.
"I wrote that the house would be too large," he said to her, "but I suspect Madame Giry saw the future more clearly than I did." He touched her stomach again, rubbed his hand across the swell, and thought of a house full of Christine's children.
"Is there room for a puppy?" Gustave asked eagerly. "For my birthday?"
"You'll have a brother or sister for your birthday," said Christine, and she was laughing, shared her laughter with Erik. "Isn't that enough, Gustave?"
"Oh, it'll be alright," said Gustave, "but I'd rather have a puppy."