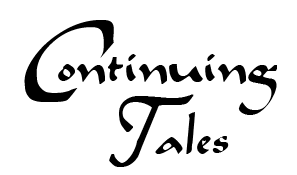 The Bifrost, or so Jane had thought, was safe. She could go there and sit quietly and still learn something, and nobody asked questions she desperately wanted to answer but couldn't. And she could think about something other than what to do about the spell, which was a disheartening effort when Malekith spent the whole time eavesdropping and laughing and making sure she knew he wouldn't let her do anything she thought of. She supposed he might be learning more than he should about the Bifrost, but the elves didn't need it, did they?
When Heimdall remarked, 'Loki comes across the bridge seeking you,' the effect was electrifying.
'He's coming here?' Her voice ended in a squeak. How could he be coming here? Yes, he'd made it to the end of the bridge before, yes, she'd assumed he would eventually be calmer about it, but - he'd had to fight so hard to get here, she hadn't thought -
He's that eager to see you? Are you sure he isn't in love with you? Malekith offered, amused.
You don't have any friends, do you? Jane lashed back at him, helpless and hating it, and all he did was laugh.
Did Loki miss her that much? Had he guessed something was wrong? It was... it was touching that he'd make this much of an effort, face his fears again to see her, although she supposed if she were really upset with him on her own she'd probably be terribly irritated. But why, why, why did he have to come here of all places when someone was trying to make her murder him?
Heimdall nodded, which was more of a response than the question really required. Jane peeked out of the control room and then ducked back in fast. Loki was not only out there, he was making faster progress than she'd have expected. Birla was leading his horse, but Jane somehow wasn't sure she was the one urging it to speed. His eyes were fixed ahead, so he'd quite probably seen her, no chance of hiding. There wasn't actually anywhere to hide in here anyway. 'Heimdall, I can't-'
Heimdall gave her a strange look. 'I know you quarreled, Dr Foster, but he cannot harm you.'
That's not what I'm worried about, she wailed inside her head. But there didn't seem to be any better option than to sit here and wait.
Loki walked into the control chamber looking pale and twitchy, probably from suppressing the adrenaline rush from crossing the Bifrost. He stopped in the doorway, one hand resting on the side of the frame, and Jane wondered whether he was trying to trap her or just struggling to regain equilibrium. 'Jane,' he said, seeming at a loss for a moment. 'Tell me what is wrong. I don't mean - I don't mean to upset you, if you don't want to see me. But I am worried.'
'Nothing's wrong,' Jane croaked. It was about the last thing she wanted to say, but she couldn't seem to stop herself. She'd managed to leave her knife behind, but Malekith kept trying to push her forward, suggesting Loki would step back and she could try to push him off the edge. She cleared her throat so her voice would sound more normal, feeling completely despairing, and managed to stop a couple of steps away from him and look up into his eyes. 'Loki, I'm absolutely fine, I really am. I just - realised I can't have anything more to do with you. I feel terrible about having wanted to. Please leave me alone from now on.'
Malekith started laughing inside her head. You are not skilled at this, little mortal. Do you really think that will convince him to stop investigating and stay safe?
Jane's jaw clenched. He's pretty smart. I'm not the one who should mind him being suspicious.
The growl gave her hope for the first time in days.
Loki looked into her eyes as if searching for something written on the back of them. 'Just because I pressed you too hard to stay?' he asked.
She took a step back, not at all sure whether she was trying to keep from shoving him or to look intimidated. 'N-no. Everything. There's too much-'
Loki looked aside, hand clenching on the doorframe. 'I know how much you've been overlooking to spend time with me. I even know that there are things you are overlooking that I don't fully understand, that you are overlooking them because I don't understand them. I am sorry, to have pushed you knowing all that. But - even so - you are not acting normally. Not for you.'
I know! It hurt to see him hurt. It was satisfying to see he understood even part of what upset her about him, and she wasn't sure how much of that was real and how much was Malekith's influence over the past several days. She swallowed hard. 'Sometimes you... you just have an epiphany. That's not exactly right, it's nothing new, but it just... hit me too hard to keep up. I'm going to see Erik again soon and-' Her vision went grey, her cheeks clammy and cold, as Malekith cheerfully noted that there was nothing special about making her attack Loki.
Loki stepped forward, reaching for her with evident concern. '...Jane?'
Jane caught her breath and ducked past him, under his arm and out the door, past the minders who hadn't followed him in - Birla raised a hand as if to stop her, but let it fall - and kept running.