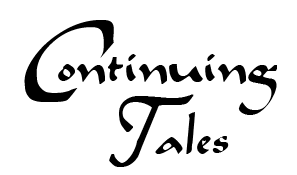 A short hour after the decision was made, Sarah hoisted her pack. Marek had pumped Sarah with as much information as he could on her destination and what she might face. Ack had excitedly wished her well, advising her as cryptically as he could which Sarah appreciated, that in and of itself a great sign of support despite his philosophic preferences was warming. Naturally, the hardest parting was her last as she stood on the edges of the lands of the Labyrinth alone with her husband, overlooking the canyons and the journey before her.
"Take these," Jareth instructed holding two crystals. He began strapping them to the outside of her pack, not making any eye contact as he focused on the task. "These will last regardless of the iron concentration. I've made sure of it. The first is to contact me when you have disabled Orion, have reached the veil or ideally both." He finished securing the crystals and stood in front of her again, rubbing her shoulders with his hands. "The other is to transport you home immediately, whether that is to avoid the shockwave or not, it's going to get you out of there and take you to wherever I am." He gritted his teeth. "As soon as it's done, Sarah."
A weighty, dull ache settled from her chest to the pit of her stomach. "I won't stay away a moment more than I have to, Jareth. I know this isn't easy for either of us, but I'll be back as soon as I can, with as few risks as I can manage."
"If it takes longer than two days, I'm coming after you."
"It won't take that long." She poked him in the chest. "Don't you dare get yourself killed."
Sarah found she didn't care if anyone was watching as Jareth's snatched her face to his, his lips crashing down on her own. Half-breathless, Sarah whispered into Jareth's ear, "I won't be gone long. This isn't goodbye. Remember I love you, Jareth."
"I love you, too, Sarah. I will be waiting."
"Please, have a bath ready for me when I get back. After all this, I'm going to need it."
"Which reminds me, Alain sent this." Jareth produced a vial.
"You'd better try this one. Before you give me a look, come on, I've already had one today, and if I were going to drug me, this would be the time."
Jareth smirked and tossed the vial aside. It disappeared. "That's my wife."
Sarah shook her head at his gall, grinning anyway. "Yep. You're stuck with me, remember?"
"Not such a terrible fate."
Sarah smiled at the ritual as he kissed the corners of her mouth. "We'll see what you say when LT and I are ganging up against you, surprising you with a wet willy from both sides when you least expect it."
Jareth frowned. "A what?"
Sarah held up a finger. "Observe," she directed. He watched with interest as she placed that finger in her mouth and sucked on it longer than was purely necessary. She smirked at him, her finger still between her teeth. Then she quickly put it in his ear. Jareth jerked away, taking a grip on her hand and looking both cross and confused.
Sarah giggled as Jareth rubbed his ear. "You did ask, Jareth. Show it to the goblins and that'll entertain them while I'm gone."
"Rest assured, precious one, LT will be brought up to take my side."
"Maybe he'll be a momma's boy."
"Perhaps he will idolize his father."
"Perhaps she'll want to be just like Mom."
"Or she could be daddy's girl." He had shifted from worried to playful to annoyed and came around once more to resigned. "I want to find out for sure, Sarah. Be careful." He wrapped his arms around her.
"I'd better get going. Otherwise we'll be sappy for our last few hours alive." She kissed him again.
"I'll be waiting."
Sarah reached into the pocket of her linen skirt, having opted for speed rather than bulking up (aside from the chain mail worked into portions of the smoothed leather of her long overcoat). She pulled out the handkerchief and held it in her hand as she picked up a rock and placed it in her other pocket. "I'm guessing it won't work quite as well, but anything that'll get this whole thing over with faster is worth a shot." She kissed him one more time, brushing hair away from his face as she ran a hand down his cheek. "Until later, Jareth."
Sarah took a hold of the stone, leaving the handkerchief to settle in the dust after she was already nearly a mile away. She knew better than to look back; otherwise there might be no leaving at all. Sure enough, the deeper she ran into the unexplored land, the more she slowed down. Still, Sarah was moving at a rate that would make any track star nod in wonderment. The world around her was the color of yellow curry, dark chasms breaking up the landscape, all with a grey, tinted partly blue, above. Sarah planned her stops with caution. Not only did she have to choose a direction, but she had to watch for other signs of movement that could mean any sort of trouble. If she heard roars, Sarah had been instructed to run since aiding this kind of monster would end in maiming rather than a furry orange companion. On one stop, she stood on the ledge and surveyed the path in front of her. Still no sign of Orion or life at all for that matter. Sarah had no desire to find out what sorts of nasties would appear once evening fell.
A small twitch caught Sarah's eye and she formed a crystal, chucking it immediately. The explosion was a small one, but it properly destroyed the stones and any living thing that could have existed in that space, leaving a black splotch on the ground. As she was uncertain if the minor blam brought any unwanted attention, Sarah ran again, spurred on by a strange twinge of where to go…well, that and the ethereal glow to the east.
She tossed another few crystals in front of her to see that her path would still be unimpeded by all sorts of whatevers, particularly as she was certain she saw a meaty fist make a slow reach for her ankle (made slow only relative to the speed she was moving). Even running at the speed she was, it took her a few hours to really understand what she was running to. When she stopped to rest and venture into her pack to see what resembling food she could find, the veil was still far enough away that she couldn't make out the details. What she could see was its movement as the odd material fluttered in a wind that didn't actually blow. She eyed her surroundings, making sure that nothing was moving around her as she chewed a mouthful of bread.
Mulling over the thoughts, Sarah refused to let her mind drift to anything that could tempt fate, such as "Well, this place doesn't seem so bad." A few rocks shifted behind her, even though her back was against a solid ledge. Standing instantly, Sarah seized her pack and watched the new opening with interest. A snout and two yellow eyes emerged. What was unnerving though was not how those eyes and teeth followed her, but that the entire surface of the creature rippled and squirmed. Instead of fur, it was covered in some amorphous ooze. It didn't so much as walk as project a piece of itself forward in an odd paw at a time.
Sarah decided to take her meal on the run.
There were other monsters along the way, some Sarah passed while running and could get a cautious but interested look over, and the others she saw when she stopped were either blown out of her path with a well-aimed crystal or otherwise quickly detoured. She walked for some time, still clutching the stone. There was little else to this part of the Underground, that she could see, though Sarah decided she would much rather remain ignorant to much else. There were certainly more creatures to avoid as she ventured further, and there was still the terrible thought of what might come out at night.
And then Sarah stood in front of the veil. It fluttered again in a nonexistent breeze, floating like drifting snow tendrils along a plowed road. Water and fabric, movement and order, and all so much larger than she thought it was going to be. The veil was at least twice her height, likely three or four times, though it was difficult to measure from her angle. The width was impressive, too, taking her about a minute to run the length of even with the stone. Despite the odd nature of the veil, she could see where it was fraying. Ack was right; she knew how it should be altered and could see how to do it. Sometimes, when the veil fluttered forward, Sarah swore she could see small pieces of the world she grew up in. She was staring at what she swore was a park she had seen in London when she was twelve when she recalled that she needed to be on her guard rather than allow herself to be entranced. Taking a quick survey of the land around her, Sarah saw a few things lurking but nothing immediately pressing. She tossed a few crystals to create a wider radius anyway as she pulled out one of the specific crystals Jareth had given her. She had to detach both, setting the poofing one next to her pack as she stood again.
She peered into it. "Jareth? I made it to the veil."
His face swam in the crystal until it fixed on an expression that almost appeared neutral…almost. Relief with a strong showing of concern somehow managed together. "Sarah, are you alright?"
"I'm fine. No sign of Orion. How're things there?"
"We're tying off ends and picking off stragglers. The goblins have enjoyed it. The rest of us have been waiting to hear from you. Jan and Elizabeth send their regards."
"They're there?"
"They could help with the clean up if not the war. As both ladies are greatly displeased with me at the moment, perhaps when you return you will explain that this was your idea in the first place?"
Sarah grinned. "What fun would that be?"
Jareth favored her with a half-smirk and a raised eyebrow. "Why thank you, Sarah."
"You're welcome. Looks like I'm just cooling my heels now. Maybe I'll fix the veil while I'm waiting and let the shockwave take out Orion."
"Sarah," Jareth warned, taking on that particular tone that made Sarah feel like she had at the beginning of his re-entrance into her life—totally patronized. Good thing, for his sake, she knew when to let it slide, tense life or death situations being one of them. "Don't take any unnecessary risks." He grimaced for a moment. "It's probably best, too, if you use magic sparingly. Our store is still very low."
"I probably shouldn't even let you distract me. I'm going to keep my eyes open and wait for Orion."
"Don't close the connection," Jareth ordered quickly. "This spell will only work once and I'd rather have prolonged proof that you're unharmed instead of intermittent relief."
Sarah wore a rueful smile. "Alright, but I'm setting you down while I hunt through my pack. I'm bored and famished, which means I'm going to have to eat something."
Jareth gave a short chuckle but did not object to being "set down" in the clumps of yellow-brown dirt and stone. After taking a quick glance around, Sarah dug once more into her pack, resigning to a long sit. The water came first, but Sarah grumbled when she could only find healthy sorts of food, eliciting another chuckle from Jareth. She glanced around one more time, then dug head first into the pack.
A hand seized her throat and threw her down. She yelped as Orion pinned her, but thought enough to use the heel of her hand against his sternum to keep him as far from her as possible.
"Hello, Sarah," he sung, eyes oddly wide and grinning snarkily. "Good to see you."
How, she berated herself, had she forgotten to check the sky, too? Glancing to her left, she saw Jareth's face still in the crystal. His helpless shock was quickly outweighed by a snarl of anger. Nodding, Sarah turned back to Orion and punched him with her other hand, along the cheekbone she had broken once some time ago. She rolled out from under him, closer to the veil than she felt comfortable, but far enough to find her footing and collect herself. She held a crystal in either hand.
"Sorry if I'm not as excited to see you," Sarah replied as nonchalantly as possible.
Orion, on all fours, shook his body and chuckled. Sarah watched him carefully as he mumbled to himself, coming to his feet. He recovered his grin, and Sarah fought the urge to shiver. The crystals in her hands sparked. Sarah glanced down for a brief moment, noting that Jareth was still watching, wisely saying nothing considering neither of them had any idea what would trigger Orion further. Orion was looking past her, if he was focusing on anything real at all.
"Orion, why do you want to mess with the veil anyway? You've lost. Just go home."
Orion looked genuinely perplexed. "I don't mean to mess with the veil. I mean to mess with you. It's much more fun." His grin was back. "Now if one means the other, then all the better."
Sarah threw a crystal at him. It hit him square in the chest and he fell backward, sprawled out on the ground. "Oh, I am so sick about all this Prophesy and let's-pick-on-Sarah-Williams crap! Unless you have a better reason, I'm blowing your head off."
Orion sprang up, eyes clear. "Alright, I will control the entire Underground holding this place for ransom. It's been the plan for years though now suddenly seemed as good a time as any. Mental breaks can be very liberating."
Sarah frowned. "But you just said—"
"Sarah, I'm insane. Can you take anything I say seriously?"
She chucked the other crystal at him, zapping his arm this time, before forming two more. "Okay, you've got a point there."
His face faded to a blank expression again. "Besides, the stream and cacophony."
"The stream?"
Orion nodded, as though this explained everything. Sarah threw another crystal for good measure.
Sarah attempted to appeal back to Orion's momentarily rational side. "How do you expect to survive out here? You had to borrow magic to get this far."
"Cross into the other world, feed and recuperate where and when necessary," he retorted with momentary clarity. Evidently he had considered all this before.
"There's a lot of iron in the Aboveground," Sarah shot back, throwing yet another crystal and blasting one of his feet out from under him. He didn't take another step forward after that.
He folded his arms, tilting his head to the side. "Hmm. Perhaps you could show me."
"You know I won't go anywhere with you."
Orion looked perplexed again. "Why? Who is suggesting you would? Where are we going?"
Officially confused as Orion started babbling and otherwise utterly frustrated, Sarah went back to her default: she aimed another crystal at him, one with more pep.
That got his attention again. Of course, now he was incensed. With a shriek, he lunged at her. Sarah managed to dart out of the way, mostly. She ducked down, one of Orion's arms connecting with her shoulder, his other hand tearing against the veil with its jagged fingernails. It sounded like ripping tissue paper.
Sarah was momentarily more concerned with the scratch on her neck as it tingled and stung, until she realized what had just happened. She was crouched, ready to fling whatever else at Orion she could. Orion however was preoccupied, staring in wonderment at the tattered, flowing fabric. Still in awe, Orion detangled his fingers from the shredded piece. Sarah fought the urge to scream. Not only would she now be required to fix the damage he'd done, but it was effectively a ticking bomb. What's worse, it was a ticking bomb without a visible timer; Sarah had no idea when it was going to explode.
She whipped up the nastiest crystal she could manage and smashed it into Orion's chest as soon as he was far enough away from the veil not to accidentally fall on it. She ground the spell and its shards as deep with all her stored agitation and a releasing a furious yell. He hissed, and that soon dissolved into wordless roar. Orion shoved her away with both palms and a foot.
Sarah landed some nine feet away with a hard thud. By reflex, she clutched her stomach where she had been kicked, praying as fast and fervently as she could think and speak while still trying to find her breath. She lay curled around herself, Orion temporarily forgotten for this new panic. LT, their first child that yet unborn Sarah was already irrevocably attached to, might suffer the worst for that attack. That kind of trauma on top of every other stressor Sarah was experiencing—emotional stress to iron deposits to latent dark taint—could mean the loss of her child. Thankfully, Orion wasn't in a hurry to get to his feet, distracted enough by murmuring to the sky in multiple languages, including Prophesy-speak and the dark tongue. Using what time she had, Sarah ran as thorough of a quick physical inventory as she could manage without drawing any further attention to herself. If she was lucky, Orion might temporarily forget about her. She could quell her panic and form a plan.
However, a quick glance to the south revealed some new creatures daring to get a closer look. As Orion was still distracted (now with his knees halfway curled up), Sarah gingerly rose to a sitting position (grateful that she felt no spasms or any pains other than expected soreness from the landing, though this was still not a sure indication) and formed another crystal. Sarah stared at her sphere, noting its discoloration and sections where the surface indented and stretched. That wasn't a good sign. She was running out of magic. Blowing on the misshapen orb, she let it drift toward its target, rather than wasting energy throwing it.
That bought her some time, but a ghostly pulse from the veil caught Sarah's attention. One of Ack's obscure pieces of advice had involved something with a pulse, but Sarah couldn't pull it out of her mind and didn't have the time to dwell on it. She didn't have the luxury of screwing this up. Sarah's mind raced through whatever objectives she had to cover, still keeping an eye on Orion as he rocked back and forth on the ground, a dead circle in the middle of his chest: clearly she had to get herself back to Alain to make sure LT was alright as soon as possible, she had to completely disable Orion so he couldn't inflict any more damage to the veil, she had to fix the veil because though it could be left frayed it could not be left shredded and it was going to blow anyway. All this to be accomplished with minimal magic usage. Peachy. Time to use her head.
The veil pulsed again, and Orion sat up with a dazed but oddly cheery grin. He turned to Sarah slowly. "I had a plan at first, you know." He was looking in her direction but past her. "The dark goblins were going to help me take the Labyrinth, and I was going to have my own kingdom, out from Mother and Father. The Labyrinth would have been restored to its original darkness, and the veil between the worlds would become weaker than before, meaning all the more sport was to be had. Amassing that kind of magic and belief enables anyone to control the entire Underground if manipulated correctly. Jareth made it all too..." he contorted his mouth as he searched for a word.
"PG? Cartoony?" Sarah supplied before she could stop herself.
"Safe," Orion concluded, giving no sign that he had heard her. Sarah shuddered to think what the Labyrinth must have been to make the Cleaners something "safe." "It was all too safe. Pity Jareth read the Prophesy incorrectly. Sure, everyone says that there are many interpretations, but he wasn't reading into it right."
Sarah was torn between fascination and trying to force her mind to come up with a feasible solution. Orion continued to talk to himself, often disagreeing and clarifying and otherwise growing more and more muddled, though his glazed eyes continued to follow Sarah as she returned to her pack. If she could just render Orion unconscious, then she could fix the veil and use the crystal to take them both home. Orion made no movement as Sarah moved closer, still rambling about something now involving books.
Sarah swung her bag at Orion's head. He ducked. She overbalanced and dropped her pack. He caught her wrist, saving her from a fall but holding her out a few inches from the dirt, still unable to catch her feet for a moment. Orion was all attention again. Sarah didn't even wait for a response, grabbing the first thing she could wrap her fingers around and smashing it against Orion's skull.
To Sarah's utter surprise, he disappeared. With nothing left holding her up, she fell those few inches, knocking the wind out of her. She rolled over, coughing and taking a few deep breaths.
She had used her transportation spell, the crystal Jareth had given her specifically. Another swell of panic overwhelmed her. She couldn't outrun the shockwave this thing was going to have, especially with how sluggish her stone had become. There wasn't enough magic to poof her home given the malformation of the last spell. Flying had been vetoed for sheer targetability and the whole tumbling out of the sky bit. Orion had taken her escape route because she had hit him with her transportation crystal instead of a rock.
"This," Sarah said aloud, "is not fair."
"Sarah!" Jareth's voice rang from the other crystal.
Sarah searched for the communication crystal frantically, eventually lifting up her pack from where it had fallen. "I'm still here."
"And Orion is not," he nearly accused. "He's in custody now until we can take care of him later. You need to get out of there."
"I didn't mean to send him back yet. I just had to hit him with something and…" Sarah sighed, tapering off. "There's still time to figure something out."
Jareth's impressive brows closed together. "Are you sure you're unharmed?"
"No," Sarah admitted. "So that's why we're going to figure out something quickly. I'd say I should just take off running for home now if it weren't for the giant hole Orion tore in the veil. If you and the gang over there can come up with something or get a magic infusion somehow, I'll see to the veil in the meanwhile. It won't blast immediately, apparently."
"Sarah, leave it alone."
"I get the feeling if I leave it alone for too long it's going to make it blow sooner, like touching the mouse occasionally to keep the computer from hibernating now that Orion's let it go into screen saver."
In fact, the area Orion had torn had its own black light emitting from the veil.
Sarah tore her gaze away. "Sorry, all the Aboveground phrases haven't left me yet, but just trust me. We don't have a ton of time to deal with at any rate. I'll stay on the line, ready to click my heels and do the 'there's no place like home' as soon as you guys have that figured out."
Jareth only nodded, though Sarah could sense his worry rise with her own. Unless her husband could suddenly restock his magic for a costly spell or her speed stone could be totally amped up, she was stranded. With a bomb no less. Flying would get her knocked out of the sky when a wave came. No shield would be strong enough on its own. None of it sounded like a good option.
Sarah set the crystal in her dress pocket…next to the rock she had forgotten was there, the one that countered the speed stone enough to keep her from floating away. Sarah really wanted to scream. Knowing that she'd have to waste time explaining her scream to a concerned husband demanding an explanation, led her to instead fuel that frustration to a forced sense of calm. She ran her hands over her abdomen once more, trying to silently assure LT that everything would be okay.
Sarah turned her attention to the veil as it grew brighter once more, holding its radiance for longer than it had for the other previous pulses. Ack had mentioned something along the lines of gentleness. He'd also given a number when he referred to the pulses. She still couldn't force her mind to remember it. Taking one last check to make sure no other mishap was closing in on her position, Sarah knelt and examined the frayed ends of the veil first. After a few experimental touches, Sarah ran her finger along the edge, easing the cool threads of the fabric back into place. The broken pieces needed reorganization. The veil which had set the boundary between worlds only needed an update. Where did this piece belong, in the Underground or elsewhere? Each gap in the fabric meant something that Sarah could pick up on by feeling the frayed ends. The higher she touched on the veil, the further back in time it represented so thankfully all of her work would be allocated to portions she could reach.
It was a slow but necessary process, new fantasies by mankind mixing with new policies from the elves and dictating what should cross. The sky was beginning to darken when Sarah again reached the splotch where Orion had torn through. This would be fixed last as it would require the most help from her resources on the other side of the crystal and would otherwise break the momentum she had started. She paused to pull out her amulets, using what protective measure she could. Occasionally, the veil would pulse half-heartedly, though these still were prolonging in length. After the one lasted for a full two minutes, Sarah pulled out her crystal again.
"Tell me you've thought of something. I think it's going to go soon, no matter what I do."
Jareth looked woefully chagrined.
"I'll take that as a no," she mumbled, her hopes dissipating.
"We have a few solutions, Sarah. I like none of them."
"You didn't like them last time either, Jareth, but we have to go with something," she snapped.
A few streaks of black sheen appeared in Jareth's hair. "I know that, Sarah."
Sarah sighed and took a slow breath. "I'm sorry, Jareth. I'm all on edge, too. We both need to be calm to get through to any feasible solution."
Jareth nodded, though not all of the black disappeared (most faded to a deep orange, as though still to highlight the urgency of the situation). "First, take those amulets around your neck. All of them hold some residual magic. We can consolidate that to give us more to work with."
She held up the small mass, loathe to see any of them go considering the well-meaning of all these gifts. "I'm going to save the light Sir Didymus gave me as it could come in handy." Sarah hesitated. "Dear, is this really a good idea? With LT and all I really want to keep as many safety nets as we can or—"
"Please do not outline any of the possibilities for disaster, precious one. I'm fully aware of the likelihoods of everything falling to pieces and would prefer not to be reminded." He sounded so despondent that Sarah said nothing more. She spared only the light and the necklace with a picture of the Labyrinth he had given her to call on him (the scene of the Labyrinth depicted did include the dark clouds over the horizon she had seen before she left, the pink and blue dots that were the worms huddled together). She kept all the pieces in her pack as she absorbed their magics; perhaps they could be recharged later.
"Okay, that's done. Where does that put us?"
Jareth's stare went vacant as he evaluated the magic. He said nothing, but Sarah witnessed a few portions of his hair shift to a soft cerulean along with a shock or two of yellow. Despair and the closest the Goblin King came to panic: this did not bode well. Since Sarah had no visible markers like her husband, she instead said as little as possible to better keep it out of her voice.
"Right. I'm working on the veil for now." She set the crystal on the ground without another word.
The black light from Orion's tear gave her skin an eerie cast as she shed her overcoat. There was no way Sarah was going to risk dragging her sleeves against the veil and tear it any further. To her surprise, she did not have to enlist help from the other Undergroundians as she had once thought. This part of the veil made an odd sort of sense to Sarah, pertaining to what creatures belonged in the Aboveground or the Underground. There were pieces that could be rewritten here, casting away the vampires or the dark goblins or returning all humans to the Aboveground. …But none of that decision, Sarah resolved, should be made now. She could give herself the title "Lady of the Veil" and come back to change it when everything wasn't quite so pressing and their magic wasn't depleted and they had argued the ethics through the floor or decided to play a joke anyway.
Sarah allowed herself to smile as she close up the final gap.
The veil began to hum.
Sarah scrambled for the crystal. "Jareth! Do you hear this?"
Jareth's brows furrowed. "What is that?"
"Ask Ack what it means if the veil starts to make noises."
Ack's snout appeared over Sarah's shoulder. "Sarah, by any possible means, leave now."
"Sarah," Jareth ordered, "Run as far as you can until you find a cave in the canyons. Blast whatever is living there out, but make some sort of shelter, the deeper the better. We'll combine that with whatever kind of spell we can muster. It's all we can do."
Sarah nodded, fumbling to gather her coat and pack, sure that the other supplies (a knife and other camping utensils) might come in handy somehow.
"I think I remember one a ways back. I'll call you when I find some place."
Before she could close her hand over the speed stone, the earth shook. Sarah began to lose her balance. She gasped as she tumbled into the veil, the communication crystal slipping from her fingertips. Sarah cried out as she fell, softly, softly tumbling and finding no sudden end to her fall. A blue light enveloped her.
Miles away, Jareth shouted her name into a crystal where all he could see was an innocently shimmering portion of the odd cloth.
Ack leaned away from his shoulder. "That," he commented quietly, "Was not one of the conclusions I would have guessed."
Everyone's attention was quickly diverted to the massive blast that erupted in the distance. The crystal in Jareth's hand shattered. Whether this was due to the blast so close to the other crystal or the force of his grip, no one was immediately certain. The wind began to pick up; despite how far away the explosion of light had been, the shockwave was already on its way. Though he swayed for a moment as though his knees were buckling beneath him and caught his forehead in his hand for a few still seconds, Jareth soon boomed orders for all his charges and the Labyrinth itself to prepare for the full force of the veil's affect. All that could be done was to bunker down and wait.
Another world away, Sarah tumbled onto an odd surface, her head landing on something soft if her lower back was not so lucky. She glanced around dazedly. It was a place she recognized. Her eyes widened. She had landed with her back against her old bed, the cold frame against her spine but her head cushioned by her comforter. All of her gear was sprawled next to her, yanked through the veil, excluding the communication crystal. Sarah took several deep breaths, trying to calm herself down. This was not as bad as it could have been. This situation could be dealt with. She was away from the blast zone. Heck, the shockwave was probably done with, considering how long she had floated in the odd limbo of light, though likely that was all relative anyway. Surely Jareth would be trying to locate her soon enough.
It was then Sarah realized that she could not feel him in the back of her mind any longer. She probed and searched but that link that allowed her to sense him was muted at best, shattered at worst.
Sarah wrapped her hands around her necklace and said his name aloud. There was a small twinge in the back of her mind, as though he were trying to answer, then nothing. She tried again, focusing all of her energy and calling again with more force. Again, the twinge happened, no stronger than last time. When he didn't appear, Sarah stood up. There were other ways.
"I wish the goblins would take me away right now," Sarah stated confidently.
Sarah waited for ten minutes, watching her alarm clock tick by at a ridiculously slow pace from six forty three to six fifty four, the sun still not to rise for a little while longer. Nothing happened.
She tried again: "I wish the goblins would come and take me away right now."
Once more, she was met with no response. Sarah began to pace.
"I wish the goblins would come and take me away RIGHT NOW," she yelled. She switched tacks, her panic rising.
"I wish the King of the Goblins would come and take me away right now! I wish that Jareth, King of the Goblins, would come and take me away right now! Goblin King, Goblin King, wherever you may be…get me the hell back there with thee? I wish the Goblin King and the goblins would come and take me away right now! I wish the ruler of the Labyrinth would come and take me away right now!" Sarah slumped to her knees, her voice quavering. "I wish that Jareth would come take me away right now!"
Just as her stepmother entered the room with a surprised "Sarah!" and immediately went to consol her (quickly followed by her father and Toby), Sarah whispered, "I wish my husband would come and take me away right now."