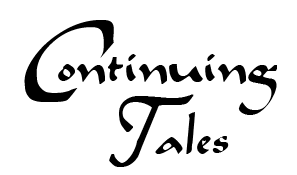 Sarah crossed her arms over her chest as she suddenly became aware of her lack of appropriate attire. She was still dressed in her scant makeshift pajamas. This place gave her the creeps and she wanted this over with as quickly as possible, "Fine...just tell me, what must I do?"
Jareth pursed his lips as he absently tapped his crop against his thigh and began, "The way I see it is...Your friend belongs to me. You want her released. If I am to release what's rightfully mine, I must be offered something in return."
The whole situation was already making Sarah very uncomfortable and very nervous. What does he want? She really had no idea, and the endless possibilities left her blood running cold. She swallowed, her throat felt terribly dry. There was only one way to find out. Apprehensively she asked, "Well, what could I offer you, that you would want?"
He turned his attention away from the crop that he was tapping against his leg as his eyes locked with hers. She felt his gaze take in her form, seemingly scrutinizing her body. Sarah's mind reeled under the implications. She dared not even think about the endless possibilities of what he might request. When he looked back up his eyes were dark with some unspoken emotion. Against her will, she felt herself start to tremble.
He thought a moment before he began, "You realize that upon my whim, countless horrors await you friend...and this time no magic words are going to save her. I will have possession over her for eternity."
Sarah knees nearly buckled at this and she cried rather desperately, "What must I do?" Jareth appraised her state of distress.
Her fear was real enough. His usual haughty yet amused mask gave way to an expression that was very serious and very cold as he suggested, "You could take her place. If you were to give yourself over to me, I could send Kayla home." Sarah struggled to not faint or bolt, for at that moment she wasn't sure which she was more likely to do.
He stood up as she sunk to her knees in despair, standing was now too great an effort. He gazed down upon her as he continued, "I might even make it rather easy on you."
Sarah looked up at the Goblin King standing before her and was truly afraid as she realized that no matter what he demanded of her, she would have to agree. She had to because she cared for Kayla with all her heart. Kayla had done what her father, her mother, her step mother, even Toby never could...she had understood Sarah completely, and loved her unconditionally as only a best friend could.
Sarah swallowed her tears and looked up at Jareth. Fate could certainly be cruel. Jareth saw that he had her attention and he elaborated, "If you agree to pledge your life to me for one year, I will release her. But you will be held to your promise...and you'd belong to me completely during your stay. This means that you'll be bound to obey me and you must accept me as your sovereign and remain here, under my rule."
Sarah's mind seemed to being going in a billion directions at once. One year, versus eternity, that part didn't sound too unfair, but it was the belonging to and obeying Jareth part that scared her out of her wits, but still what could she do? She decided she had to at least milk as much information out of him as she could before she agreed to any of his terms. She had to at least be sure what she was getting herself into.
She swallowed and asked in a wavering voice, "What exactly do you mean I'll be bound to obey you?" Jareth smirked and raised his brow, he knew she'd demand more of an explanation, "What I mean is that the powers of the underground will bind you to me, so it will be impossible for you leave or escape and if you refuse to obey my command, our agreement is null and void...The powers of the labyrinth will reverse our deal...you go back home and Kayla stays under my control forever."
Sarah visibly paled at the news, Jareth couldn't help but smile as he added, "It's only one year Sarah. If you simply remain here with me, and do as you are told, you will be free to return home after the year is up, and as I am feeling particularly generous, I give you my word that I shall reorder time, so it would be as if no time had passed at all aboveground while you were here."
Sarah considered his proposal and quickly countered, "How do I know that you'll hold up your end of the bargain? What guarantee do I have that you'd send me home at all?"
Jareth pursed his lips for a moment before he replied, "A deal is a deal Sarah. If we agree, then the conditions are set and the rules must be obeyed...that is how things work here...I expect you should understand that as well as anyone." Sarah eyed him suspiciously and he added, "Think Sarah. Can you honestly say that I ever went back on my word?" Sarah thought for a moment and found to her dismay that he was right. He may have been a crafty opponent, but he had never actually lied to her.
Sarah lowered her head, what could she do? It was only one year of her life and no matter how miserable Jareth made her life while she was here, she'd still be free to leave in the end. In truth it was a small price to pay to save her best friend from an eternity of imprisionment. Sarah clenched her jaw in defeat.
Jareth saw her internal struggle and smiled, knowing that he had already won. Sarah looked up into his face, she could find no evidence that he wasn't being truthful, but this was the Goblin king, and she trusted him about as far as she could throw him, which wasn't very far. Still what choice did she have? Sarah shuddered at the thought of allowing him control over her, but she was trapped. There was no other way.
She met his eyes and replied so that he could just barely hear her, "Fine. Done." The rich sound of his laughter was more than she could stomach. She closed her eyes and silently prayed that he wouldn't prove to be villain that she dreaded he could be. After he'd had a good laugh, he drawled, "Ah Sarah, I always knew you could be reasonable."
Jareth then produced a crystal and held it out to show her. Kayla was sleeping peacefully in her own bed. Sarah eyed him suspiciously and said, "How do I know that's not just some illusion?" The crystal burst and Jareth held out a gloved hand, "If you insist on being such a skeptic, then here, see with your own eyes."
Sarah tentatively placed her hand in his. He pulled her to her feet and wrapped his other hand about her waist pulling her against him as they disappeared. She barely had time to let out a startled cry before they reappeared in her dorm room. Just as he promised, Kayla was there sleeping peacefully on her bed. Jareth still held Sarah about the waist as he whispered, "Satisfied?"
Sarah nodded, afraid to speak for fear that she'd break down again. It broke her heart to know that this was the last time she'd see Kayla for a whole year, not to mention her family. Jareth was almost moved by the misery that was reflected in her pretty face...almost.
He lowered his mouth closer to Sarah's ear and softly whispered, "Then it's back to my kingdom we go then." Sarah took one last longing look at her friend as she and Jareth started to fade. She clung to the Goblin King out of fear and weakness as she breathed, "Goodbye Kayla, I'll see you in a year." With that Sarah's world dissolved into darkness.