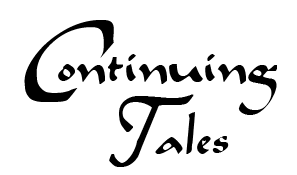 Sarah sat up with a jolt, the screams of terror dying in her throat. Strong sunlight filtered down through the dense and lush foliage. Sarah's mouth hung open in confusion as she stared at the magnificence of life that surrounded her. Myriads of fairies hung in vines, branches and leaves, tittering at her shock.
"But…" Sarah gawked, realizing that she was back in the fairy thicket. "I don't understand. I was there. I was with him!" Sarah's head pounded and she was dizzy with questions. She grabbed the sides of her head and groaned unhappily, pressing her palms tightly against her temples.
The fairies giggled at her frustration and buzzed annoyingly around her.
"Don't you have anything better to do?" Sarah spat, weary of their oppressive presence. As if in response to her complaint, a fairy pulled lightly at her hair.
"Hey!" Sarah growled, jumping to her feet in anger. Sarah's leg complained stiffly under her weight and she inhaled sharply through her teeth, having forgotten once again about the wound on her leg. She waited for the pain to come, but as before, it never did.
"What in the world?" Hesitantly, Sarah stooped down, rolling up her pant leg to see her wound had been bandaged with lime green leaves. It no longer radiated pain and the swelling had subsided. Sarah touched her forehead. Her fever was gone, but the hellish headache remained.
Sarah shook her head, unable to grasp what had happened. "But it was… it was so real," she murmured. "It can't have been a dream."
It occurred to Sarah that someone had tended to her wounds in her delirious state. She searched the dense, green clearing for Hoggle and Sir Didymus, but they were nowhere in sight. The only thing around Sarah, other than the jungle of the thicket, were hordes of amused fairies.
Sarah studied the new life of the thicket that seemed to radiate and pulse with life all around her. She reached out and touched the tree she stood near. The bark felt moist and healthy under her fingers. She slid her hand up the tree and to a plump green leaf. A curious fairy occupied the leaf and refused to leave as Sarah's fingers trailed over the soft, green texture of the plant. The small fairy bared her teeth and hissed, warning Sarah not to draw any closer. Sarah slowly withdrew her exploring hand.
"Everything was dead last night," Sarah muttered to herself. "What's going on here?" She sifted through her memories, recalling how she and Hoggle had stumbled into the fairy thicket. She remembered how she'd grown feverish and incoherent as Hoggle set off to find help. She also remembered staring up at the sky and thinking of Jareth just before she the fever overtook her. Then she'd woken up in Jareth's castle. She recalled seeing him, touching him, tasting him! Sarah pressed two fingers to her lips. They tingled at the memory of his kiss. It had been so real, how could she have possibly imagined it?
"It couldn't have been a dream, could it?" She wondered aloud as her fingers absentmindedly played over her lips. Fear began to blossom deep within her mind as she worried that the event truly was a dream conjured by her delusional state. She closed her eyes, close to tears, her hands frantically massaging her temples once again as doubt overshadowed her certainty. "Oh, no. Please tell me it wasn't just a dream."
"It wasn't," a soft, melodic voice answered. Sarah dropped her hands and quickly surveyed the area.
"What? Who said that?" She inquired. "Please, show yourself!"
A rustling to her right drew Sarah's attention. She turned in time to see a delicate woman emerge from the foliage. Sarah gawked at the magnificent creature that appeared to almost materialize in front of her. To Sarah, she appeared as a woman, but none like she had ever beheld before. She was very much a Fei creature, a fairy at that, her hair so brilliantly blonde that it nearly appeared white. Her eyes were a crystalline blue and almost appeared as large as her face. Even though she had the body of a young woman, her face retained the innocence and aspect of a mere child. She was dressed in a soft blue gown that hung in light layers against her body. Sarah admired in awe and wonder the beautiful, clear wings that rose from the fairy's back. They fluttered gently, catching stray rays of sunlight, and as they did, a rainbow prism rippled through them. Sarah had never imagined something so beautiful could exist in the entire world.
"Oh!" Sarah choked out unceremoniously. She was at a total loss for words. The lovely fairy before her had stolen them away.
The fairy woman smiled, her childlike face lighting up happily. "Hello, Sarah," she greeted in the same soft melodic tone.
Sarah blinked several times, feeling as if the spell that had been placed on her had dissipated. "I… I'm sorry. Do you know me?"
The fairy nodded. "I know many things about you, Sarah." She said softly. "Things you do not even know of yourself."
"Wha-what do you mean?" Sarah stuttered. "Who are you?"
"Forgive me," the fairy said. "You are in pain and I have not properly introduced myself. I am Titania, Queen of the fairies."
"Titania?" Sarah echoed, a distant memory surfacing through the haze that had settled on her brain. "Shakespeare," Sarah muttered. "A Midsummer Night's Dream."
"Ah, yes, William," Titania sighed happily, lost in reverie. "He was part Fae. I knew him before he decided to embrace a mortal life and live among humans."
Sarah gawked at Titania. "You're joking!" She exclaimed.
"I assure you, I do not jest," Titania answered seriously. "There are many out there who are part Fae living amidst the mortals in your world. Some of them are products of generations upon generations past, but Fae blood still runs dormant within their veins. Only when there is an awakening of that blood do they have a decision whether to come and live in Underground as long lived Fae creatures or remain with the humans as mortal beings."
Sarah listened to Titania, fascinated by her story. It thrilled Sarah to think that some of the greatest minds in her world were part Fae.
"That's incredible!" Sarah mused loudly, only to hiss in pain as her head pounded in retaliation at the excited outburst. She pressed her hand firmly against her forehead, hoping to alleviate the throbbing.
Titania held out her hand and almost instantly, three fairies came hauling a large, brilliant orange flower and set it gently in her grasp. Titania brought the flower close to her face and inhaled deeply. An appreciative smile rose to her lips.
"Nectar of the Dyesia blossom," Titania explained, offering the flower to Sarah. "Drink it. It will soothe the pain."
Sarah furrowed her brow, warily taking the flower from Titania's hand. She gazed down into the flower, seeing the thick, amber nectar floating inside the cupped petals. She inhaled as Titania did. The scent reminded Sarah of peaches. Sarah bit her lip, indecisiveness overtaking her. She remembered what had happened last time she'd eaten a peach in the Labyrinth.
Titania sensed Sarah's reservations. "I assure you, this is not a trick. It is merely to aid in your recovery. The venom of a Chimera bite is almost always fatal. Though, your ailments from that have been cured. What you experience now is something completely different."
"I don't understand," Sarah said, shaking her head.
"Drink," Titania encouraged. "You will feel better, I promise."
Sarah couldn't explain it, but for some reason, she trusted Titania. After a final hesitation, Sarah swallowed the nectar of the flower. Almost instantly, Sarah's headache began to subside and her thoughts cleared. Relief washed throughout her body and her muscles relaxed. Sarah felt as if she'd just had a long massage.
"Thank you," Sarah said genuinely.
Titania smiled. "My pleasure, but it is you I have to thank."
"For what?" Sarah asked, confused.
"For this," Titania announced, gesturing to the lush green foliage encompassing them. "For bringing my garden back to life."
Sarah shook her head. "But I didn't do this."
Titania tilted her head slightly, appraising Sarah. "Hm, you have yet to discover your true potential. Do not fret, that knowledge will come in due time."
"Wha- I- You-" Sarah stammered incoherently, unable to properly form a question from the thousands that stormed rampantly throughout her mind.
"How does your leg fair?" Titania interrupted before Sarah could vocalize a rational question.
"Oh!" Sarah quipped, realizing that Titania was dodging her unspoken questions. "It feels much better. Was it you who helped me?"
Titania nodded. "Yes, it was. The venom of a Chimera cannot harm myself or my fairies. We are immune to such insidious creatures and in fact, life threatening to them. Our blood is their poison and therefore, the cure to theirs."
Sarah blinked several times before noticing that Titania's left hand was also bandaged with lime green leaves. Sarah realized she must have used her own blood to cure Sarah's affliction.
"I don't know how to thank you," Sarah started. "I appreciate your help very much."
"Do not be deceived," Titania started. "It was not out of the kindness of my Fae heart that I came to cure you."
"Really?" Sarah replied. "So, that means you want something from me?"
Titania smirked. "Indeed. You are quite perceptive."
Sarah nodded, getting down to business. "What is it that you require of me?"
"It is true that this is no easy task I ask of you," Titania stated. "But it is also true that you are the only one who can complete such a task, regardless of the arduous journey and the peril it brings."
Sarah's arms pricked anxiously and she cringed at the implication of Titania's words.
"I implore you," Titania continued. "Not just for the sake of my people, but for the sake of the Labyrinth and all life within its walls, to seek out the evil Queen Euryale and strike her down. Return power to the Goblin King so that he may once again rule over the Labyrinth."
Sarah scoffed, unable to keep her composure. "Oh, really? Is that all? Oh, well, no problem. I mean, she only commands legions of venomous, fire breathing creatures. How how hard could it be?!"
"I know this request seems to be an impossible task, but I assure you that you have the power to defeat the Gorgon Queen," Titania argued.
"What power?" Sarah asked shrilly. "I have no power here!"
"Oh, but you do, child," Titania soothed. "You have more power than you realize."
"I don't understand!" Sarah whined. "Please, tell me something! Stop speaking in half truths and riddles."
Titania sighed heavily, a look of uncertainty crossing her features. "The Goblin King, you saw him last night?"
"I...I dreamed I saw him," Sarah confessed.
"That was no dream," Titania revealed. "You transported your ethereal self to him, leaving your physical body behind while I tended your wounds."
"How did I do that?" Sarah asked, bemused. "I didn't even know I could."
"You think too much," Titania answered matter of factly. "In your weakened state, you merely thought of him, desired him, and therefore were with him. Your thoughts hinder your abilities. Your humanity stifles your magic."
"The magic Jareth gave me?" Sarah asked.
Titania pursed her lips. "Jareth's powers had all but abandoned him as time passed. He has very little power left, only enough to sustain his immortal status. Once his powers are broken, Euryale can cast him to stone."
"That's why she hasn't done it yet?" Sarah exclaimed. "Because she can't?"
"As long as he has some magic remaining, he is protected from her stone gaze," Titania explained. "But he grows weaker every day. However, when you are near, he draws strength from you. It is you, Sarah, the product of his damnation that will serve as his salvation."
"He said he was too weak to keep this magic," Sarah muttered, guilt rippling through her in relentless waves. "What does that mean?"
Titania's blue eyes burned. "It means you must free him from his confinement and banish this wickedness that has infected the Labyrinth before his time is up."
"But how?" Sarah asked, desperation laden in her tone. "I'm powerless to stop such evil!"
Titania chuckled lightly. "Your power is greater than you could ever imagine. Do you not see what your presence has done already? Just yesterday, these vines were shriveled and dead." She gestured with her open hand to the vibrant green vines and leaves. The lively lichen followed her gestures as she pointed to flowers and tree blossoms. "You are bringing life back to the Labyrinth. It is you who is delivering the Labyrinth from death and chaos. Do you not understand what this means?"
Sarah shook her head, unsure of what Titania expected her to say.
"You are healing the Labyrinth!" Titania announced triumphantly. "You are the Keeper."
"The Keeper?" Sarah asked, astonished. "What do you mean?"
Titania drifted closer to Sarah, threading her hand and fingers into Sarah's. Unnerved, Sarah watched Titania cautiously. "Jareth would like the inhabitants of Underground to believe that he created the Labyrinth himself. This is not true. I, like my fairies, were born of the Labyrinth at its creation countless millennia ago. The Keepers were the ones who tended the Labyrinth, watching it grow, keeping it strong and alive." Titania squeezed Sarah's hand gently. "The Keepers became part of the Labyrinth over time, disappearing one by one until none remained. Many Fae tried to tame the wild nature of the Labyrinth, but all failed. The Labyrinth fell into decay and destruction until Jareth came. Only the Goblin King had the power to control the expanse of the Labyrinth," Titania explained. "However, this took a great deal of his power, but it was a sacrifice he was willing to make. No one ever found their way through the Labyrinth without his guidance. That is, until you came along." Titania said, looking proudly into Sarah's eyes. "You, my dear, entered the Labyrinth and navigated through its hardships with relative ease and found your way to the Goblin City at the center."
"I just got lucky!" Sarah contended. "There were so many times when I ended up in trouble and needed rescuing."
"That was only because of Jareth's interference. He could not concede that you were navigating his Labyrinth and winning his game," Titania retorted. "As you may have guessed, the Labyrinth itself is alive. It is home to many creatures, including myself and my fairies and even though we are part of the Labyrinth and the life it exudes, we are not the masters of it." Her gaze set pointedly on Sarah. "Only you can control the Labyrinth and save it from utter destruction. Only you can drive out the evil that threatens us all."
Sarah swallowed hard. "I don't understand. Why me? Why do you think I'm the Keeper?"
Titania smiled. "Some answers can be given while others must be sought."
Before Sarah could comment on the riddle, she heard the grunts and growls of her very angry dwarven friend.
"Doh-ow! Blasted fairy!" He grumbled bitterly.
"Now, see here, my friend. If you merely given them room, the fairies will not harm-OW!" Sir Didymus screeched. "Why, you tricky little sneak!"
"Humph, you were saying?" Hoggle asked snidely.
"It matters not," Sir Didymus replied. "What matters is that we get to the fair maiden before the poison renders her lifeless!"
Sarah turned to the sound of their approach, Titania still grasping her hand firmly. Moments later, Hoggle and Sir Didymus, who was literally dragging an uncooperative Ambrosius, emerged through the thick foliage.
"Hoggle!" Sarah cried out happily. "Sir Didymus!"
"Sarah!" Hoggle shouted, tripping as he lunged forward, unaware a vine had snagged his leg. He fell to the ground hard, swearing and kicking at the vine that entangled him.
"Milady!" Sir Didymus exclaimed, hopping over a downed Hoggle and running towards Sarah. He stopped short, gasping at the sight of Titania.
"Blessed Queen!" Sir Didymus gasped, bowing deeply.
"What're you goin' on about?" Hoggle griped as he caught up to Sir Didymus. You don't gotta...Whoa…" Hoggle muttered, shocked as his eyes focused on Titania.
"Honorable Sir Didymus, arise," Titania said sweetly. She turned to Hoggle, a sneer of disgust crossing her childlike features. "Hogface," she added coldly.
"Ho-Ho-ggle…" Hoggle replied, slack jawed. Suddenly, Hoggle threw himself down on the ground at Titania's feet, impressively displaying his groveling skills. "Oh, your majesty! Please forgive a lame, lowly dwarf. I'm but a simple fool begging for your undeserved mercy."
Titania gazed contemptuously at Hoggle. "Yes, you are a fool. If it were up to me, you would pay dearly for every fairy life you so callously ended. However, there are more pressing matters to attend to than your conduct towards my children." She pulled Sarah forward, finally releasing her hand. "Your friend has been awaiting your return."
Hoggle chanced a look up at Titania and then glanced at Sarah.
"I got back as quick as I could!" Hoggle explained. "But you don't look like you need help no more."
"Titania was kind enough to heal me," Sarah told him. "She saved my life."
"And you look quite well and might I add quite lovely, milady," Sir Didymus chimed in. "It's been an awfully long time."
Sarah smiled, bending down and embracing the brave old fox. "Yes, too long."
"Welcome back," Sir Didymus said softly, squeezing Sarah tightly.
"It's nice to be back," Sarah said genuinely.
She looked over to see Hoggle kicking uncomfortably at the dirt.
"I, uh, um, well, just wanna say thank you for saving Sarah," Hoggle said to Titania. "It was awful kind of you. You have my gratitude."
Titania sneered at Hoggle and Sarah shot her a pleading look, trying to convey leniency. Titania sighed, turning to Hoggle.
"She is important to us all," Titania stated stiffly. "She is the only hope we have of returning the Labyrinth to the way it was."
"How's she gonna do that?" Hoggle inquired. "Jareth's gone."
"No, he's not!" Sarah declared happily. "I saw him."
Hoggle and Sir Didymus both gazed incredulously at Sarah.
"How did you manage that, milady?" Sir Didymus asked.
"I...I can't really explain it," Sarah started. "It was like a dream, but it felt real. It was like…" The masquerade ball, her mind finished. "It was like we were sharing the same dream, but I was in his nightmare."
Hoggle stared open mouthed at Sarah. "So, he's not turned to stone?"
Sarah shook her head. "According to Titania, as long as he has magic left, Euryale cannot turn him to stone."
Hoggle eyed Titania. "How do you know this?"
"I have eyes and ears all over the Labyrinth," Titania answered brusquely. "The lichen report to me and so do my fairies. You cannot turn to stone those who command it."
Once again, Sarah found herself wrapped up in another of Titania's riddles.
"Did you bear witness to the foul witch, milady?" Sir Didymus inquired.
Sarah nodded, shuddering at the memory of Euryale. "Yes, I saw her. She's the very thing from which nightmares are forged."
"I couldn't agree more," Sir Didymus replied.
"We have to stop her," Sarah announced, looking between her companions. "I have to rescue Jareth, but it won't be easy and the journey ahead is wrought with unfathomable horrors and unimaginable danger. I won't ask you to risk your lives for me, so if you want to stay behind, I'll understand."
"Perish the thought!" Sir Didymus scoffed. "Fear not, fair maiden, for I am with thee. Right, Ambrosius? Ambrosius? Get back here, you cowardly steed!" Sir Didymus cried, grabbing Ambrosius' tail as he tried to dive back into the thick foliage.
Sarah suppressed a smile, gazing at Hoggle. "What about you, Hoggle?"
"Cor! You're crazy, it's suicide!" Hoggle huffed. "Dumbest damned thing I ever heard." Hoggle sighed deeply. "But I'm with ya, Sarah. All the way."
Sarah bent down, hugging her reluctant friend. "Thank you, Hoggle."
"Yeah, yeah," Hoggle grumbled. "Just how're we supposed to take down Euryale anyway?"
"Jareth told me to find his pendant," Sarah said. "He said it was the key."
"The key?" Hoggle asked. "The key to what?"
"I don't know," Sarah confessed. "But it seemed important."
"His crescent pendant?" Titania inquired. "He was not wearing it?"
"No," Sarah said. "In my… vision… he didn't have it on. He must've hidden it somewhere within the Labyrinth."
Titania tilted her head. "Hm, clever. There may be hope after all."
"What do you mean?" Sarah asked, fearing the answer would only be mired in another riddle.
"Like all Fae, Jareth was born with powers he called his own," Titania explained. "However, his powers alone were not enough to control the Labyrinth. It is rumored that Jareth acquired the pendant which amplified his power, granting him additional magic so that he could maintain control over the Labyrinth."
Sarah appraised Titania. She looked as if she was withholding something. "There's more to it than that," Sarah remarked.
Titania smirked. "You have a keen eye. There are others who believe the pendant is not a mere amplifier of magic, but embodies a different kind of power."
"What power would that be?" Sarah asked.
Titania held Sarah's gaze. "The kind of power that can be dangerous. It is only speculation and hearsay, of course, but it was rumored that Jareth sought out the power of the pendant after he left the lovers embrace of a powerful Sorceress."
"Mizumi," Sarah grumbled spitefully. Titania shot Sarah an undiluted look of sheer surprise.
"Yes, Mizumi," she acknowledged. "It has been whispered that their union was doomed because the Goblin King felt the Sorceress to be far too narcissistic."
Hoggle laughed out loud and Titania glared wickedly at him. Hoggle cleared his throat and shifted his gaze to the ground.
Titania continued. "Rumor speculates that Mizumi vowed to win his love again by any means necessary, despite what Jareth wanted. It was a threat not to be taken lightly by such a powerful Sorceress. After this, it is said that Jareth sought out the ancient pendant and performed a ritual which shielded his heart from love."
"Thus shielding him from the wiles of Mizumi," Sarah surmised.
Titania nodded. "Correct. This also strengthened his inherent powers." Her expression darkened and she shook her head. "But it was folly on his part. It is well known that magic of this kind never comes without a dire price. It is said that if Jareth were to ever fall in love again and that love was not returned, his powers would fail him. Then, little by little, they would disappear until he became nothing more than mortal flesh and blood."
Sarah closed her eyes, once again painfully aware that she was to blame for the state of entropy the Labyrinth found itself. She was the reason for all the hardships that had come to pass.
"So, you think he hid the pendant because if Gorgon Queen found it, she could quite possibly perform the same kind of ritual he had and become even more powerful than she is now?" Sarah speculated.
Titania shrugged. "It is only a conjecture on my part, but yes, I believe that is her intent. That is why you must find the pendant first."
"Okay, say I find the pendant and through some kind of miracle, return it to Jareth, do you think he will have enough power to banish Euryale?" Sarah asked hopefully.
Titania's wide blue eyes met Sarah's. "No." She said resolutely. "His connection to the pendant has been severed. It has been ever since you rejected his love."
"Then what good is it to us?" Sarah asked shrilly. "If he can't use it to banish Euryale, then why should we even search for it? Won't we just end up leading Euryale to it instead?"
"Because, my dear mortal one, he never intended to use the pendant for himself. He intended it to be for you." Titania countered.
"You've gotta be joking!" Sarah shouted, throwing her hands up in the air. "What am I supposed to do with it?"
"Simple," Titania answered. "You return power to the pendant and restore order to the Labyrinth."
"Oh, yeah, real simple!" Sarah derided. "I don't even know what these powers you keep telling me I have are yet and now I'm supposed to return magic to some ancient pendant that curses you when things don't go as planned?" Sarah ranted. She groaned, dropping her face into hands, feeling defeated. "This… this is all too much. Just tell me, do you know how I'm supposed to return power to the pendant?"
"As I said before," Titania chastised. "Some answers can be given, others…"
"Must be sought," Sarah grumbled. "Yeah, yeah, I remember." She sighed heavily. "Can you at least tell me where to go next? I don't even know where to begin searching."
"That I can most definitely tell you," Titania said gleefully, a wicked smile spreading across her child-like face. "But you won't like it."
"I don't like the sound of that," Hoggle muttered.
Sarah agreed wholeheartedly with Hoggle, but had no other recourse. "Where?" Sarah asked reluctantly.
Titania's eyes twinkled with merriment. "The Fireys."