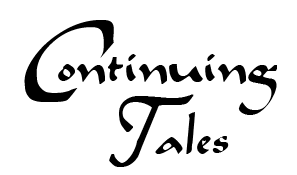 Gabriel Agreste paced his office. Why wouldn't this person give in?! All he wanted to do was achieve his ultimate goal! He sat down at his desk and put his head in his hands. Remembering something, he picked up the phone in front of him and dialed.
"Yes sir?" Natalie asked from the other end of the line.
"Have they found anything on my son, Natalie?" he asked lowly. Fear was starting to creep in. He hadn't received a ransom note or anything! What if Adrien was hurt! He couldn't imagine that the boy would have run away. He could be troublesome at times, especially when he insisted on going to that foul public school, but Adrien had everything he ever wanted here. Why would he run? No, there must be another explanation.
"Well sir, I just received an update from the head of the police department and I was about to call you," Natalie explained. "Apparently, one of Adrien's classmates found a note that was supposed to go to Paris' heroine, Ladybug."
"DON'T CALL HER THAT!" Gabriel roared, fists slamming onto the desk. Natalie was startled, but chose not to say anything.
"Yes, of course sir. Whatever you ask. Anyway, the ransom note was vague but it basically said for Ladybug to meet someone at a specific location. The head of police wouldn't tell me where because no one was supposed to interfere."
Gabriel felt his blood run cold. A ransom note for Ladybug? And one of Adrien's classmates found it? Shakily, he asked, "Do they know who it was from?"
"You'll never believe this, but it was signed with Chat Noir's signature paw print!" Natalie exclaimed. Then she gulped, took in a shallow breath, and continued, "And the paw print wasn't made signed with ink..."
"WHAT CONCERN IS IT TO ME THAT IT WASN'T SIGNED IN INK?" Gabriel roared, absolutely furious. That meddlesome sidekick had kidnapped his precious son! But wait, he had the meddlesome sidekick! He had captured him before his son's disappearance! Unless...
"Actually, what was it signed with, Natalie?" he asked in a calmer voice. Natalie was beyond confused at her boss' sudden switch in tone. But she didn't want to set him off again. He would be so angry when he heard that Adrien was hurt.
"Adrien's blood," she whispered. She hung up quickly, knowing he would be angry at her for doing so, but she was unwilling to listen to the explosion on the other end. Surely Mr. Agreste would be furious.
What she didn't know was that there was no explosion. No yelling, no shattering vases, no curses filling the air. Gabriel had dropped the phone as soon as Natalie had disconnected. It had clattered to the floor. That was the only sound that filled the room, and then silence. He stood there, shocked and unwilling to believe what all of the evidence was screaming in his face.
No. No no no no no no no no NO!
He sucked in a deep breath. This couldn't be true. It simply couldn't be! There was no way! He couldn't believe it. He wouldn't believe it! It simply wasn't possible. And yet it was...
All the puzzle pieces fit together and the puzzle had turned out to be one of the most hideous and grotesque pictures every. He wanted to undo the puzzle, rip the pieces apart and scatter them on the floor. He wanted to return life back to the way it was before he had started building the damn thing...
But he had started years ago. It had been too long. Now the puzzle was stuck together. There was no way to take it back. It had all started back when...she had died. She had died, and he was heartbroken, And then he had found Nooroo. And he had found the way to bring her back. The puzzle picture had looked different on the cover of the box containing the pieces.
He had loved his son... He was all he had left of her until he could bring her back. Then he had thought that they could happily be together. He could have created the perfect world for the three of them to live in. Sure, he had to ignore Adrien for a few years in order to be alone enough to have time to obtain the two things he needed to build paradise for them. After all this time...
Could he really have been hunting his own son?
######################################################################################################################################################################
"MARINETTE!"
The loud shriek jerked Marinette out of her uneasy slumber. She fell out of bed in surprise. What the heck? Was there an fire? And akuma? She could hear the pounding of the footsteps below her. What was going on? Was there something wrong with her parents?
"MAAAAARIIIIIIINEEEEEETTE!" the unbelievably loud voice called again.
"Alya, be quiet!" Marinette heard two voices yell at the intruder simultaneously. Her parents. She grinned slightly, unable to make a real smile appear on her face. She was so tired and heartbroken and sad. But she should have known Alya would have run over here to make her ears bleed after last night.
"Up here!" she called while yawning. She turned and started to dig through her dresser for some clothes. The door burst open and Alya was standing there.
"YOU WON'T BELIEVE WHAT JUST HAPPENED! But you can't tell anyone! Anyone at all! I mean it this time, my life could be in danger if you do!" Alya said, nearly bouncing off the walls.
"Drink too much coffee or something?" Marinette asked, pulling a pair of pants and a shirt out of her dresser.
"No, okay so you know that ransom note you found? You read it, right?"
"Kinda hard not to when I was the one who found it and the fact that you were waving it in my face all day yesterday."
"Well, I went to the location to see if I could film the meeting!"
"ARE YOU CRAZY? YOU COULD HAVE GOTTEN ADRIEN KILLED FOR THAT! THE NOTE SAID 'COME ALONE'!"
"Calm down girl, it told Ladybug to come alone. It wouldn't have been her fault if I had showed up. She didn't know I was following her," Alya said, shrugging. Marinette sighed.
"I doubt Chat would have agreed."
"Whatever, anyway, I came late! And guess what, Ladybug accidentally slept too long or something, do superheroes take naps? Never mind, basically, she missed the meeting. And guess who she said could help her track down Cat Noir and save Adrien?"
"Volpina," Marinette suggested sarcastically, before biting her tongue. Honestly, she wasn't herself today. She could practically feel Tikki's glare of disdain from where the kwami was hiding.
"Nope! Only yours truly, moi!" Alya said, sweeping her arm in a grand gesture. Marinette put on a huge fake smile and tried her best to fangirl.
"Omigosh Alya, really? YOU helping LADYBUG! I'm soooo jealous!" she squealed. Alya was grinning like mad.
"I KNOW RIGHT! But you can't tell anyone! Ladybug said that Chat Noir might target me if he knew I was helping!"
"Of course I'll keep it a secret Alya," Marinette promised. "I'm actually really good at keeping secrets."
"You don't have any!" Alya laughed.
"If only you knew..." Marinette thought.
"Anway, I'm going to go downstairs and make some breakfast for us. Then we can walk to school together," Alya said. She walked away humming.
Marinette flopped down on her bed, groaning. "I forgot it's only Thursday. Three days since Adrien disappeared." She glanced at a poster and sighed longingly.
"I know, Marinette. But we'll get through this together! We always have!" Tikki said, her bright little eyes filled with kindness. Marinette smiled despite of herself.
"Why can't I do it, Tikki?" she asked.
"Do what?" Tikki questioned. Marinette sighed.
"Why can't I hate him?"
Tikki knew who the 'him' was. Chat. She knew Marinette was better than that. After the rage from their argument had worn off, it was Marinette's stubborn prideful streak that had allowed her to hold a grudge. Then it was her undying love for her classmate. Now she was running out of reasons to hate her partner.
"I mean, I have every reason to hate him, simply because he kidnapped and hurt someone. But deep down, I have this... feeling. This feeling that maybe things aren't what they cracked up to be," Marinette said, her voice cracking. She buried her hands in her face, letting a few tears slip from her eyes.
"What was it I said about a year and a half ago? 'Chat Noir may annoy me to pieces, but he's no thief!' I don't think he would go so far as to kidnap someone. Unless..." Marinette's voice trailed off.
"Unless what?" Tikki asked.
"Do you think he really loved me?" Marinette asked in a shaky whisper. Tikki facepalmed.
"Oh Marinette, I love you, but you are so ridiculously blind! Chat loved you more than anything!" Tikki said, slightly annoyed.
"Loved," Marinette said, looking down. "I broke his heart. What if it was too much for him? What if he went crazy? I can't hate him for that..."
"Why do you want to hate him so badly?" Tikki asked, still annoyed.
"What if I have to take him out?" Marinette asked. The she broke down and sobbed. Tikki didn't know how to respond. She just went over and nuzzled Marinette's cheek while the girl cried.
######################################################################################################################################################################
He wanted to die. He was lying on this hard floor, not even tied up and yet too weak to move or escape anyway. Slowly bleeding to death. Why couldn't it be over already? Why couldn't he just die!
Chat Noir now thought of his family and friends. Would his father be worried? He had hugged Adrien a few weeks back after the incident with Jackady. It was proof that he actually cared. Did he care now?
He thought about Nino. Nino was his best friend. The only person who Adrien had let his Chat personality bleed through with. Nino accepted him as he was. He fought for him, to make him feel better. Heck, he was akumatized just because he wanted to throw Adrien a birthday party. And now he would never see that red baseball cap and orange headphones again. He could never thank Nino for being the best friend he had ever had.
Alya and Marinette would probably miss him too. Alya was fun to talk to. She was excitable and blatantly honest. He also admired her courage and perseverance. Marinette stuttered around him a lot. He wasn't sure why. He hoped it wasn't because he intimidated her or anything. Marinette was really nice. She was so sweet to everyone, and and was a truly talented fashion designer. And baker. And video game player. Oh, the bittersweet memories.
He avoided thinking of Ladybug. He had suffered enough already. Might as well hope this was all over quickly. Hawkmoth, apparently, had other ideas. His cat ear's picked up the sound of footsteps heading towards the room he was lying in.
This was so cruelly unfair! His lady (he must stop calling her that, even in his mind) had refused to tell him her secret identity. She had never trusted him. And now he was paying for it. He didn't know her identity! He wouldn't tell Hawkmoth if he did know... But something just felt wrong about the fact that he was getting tortured to find an answer he didn't have.
Hawkmoth burst into the room. Chat didn't even bother to look up. He wanted to curl up to protect himself, but he was sure that if he moved his the pain in his side, which already felt like hell, would hurt even more. So he just lay there, his breathing uneven. Waiting.
Hawkmoth seemed to freeze as he came into the room. He stared at Chat, looking at him. Same height. Same blonde hair, if only slightly messier and longer. Same piercing green eyes. Hawkmoth felt the panic arise in his throat.
He wanted to be wrong. He so desperately wanted to be wrong. He had noticed the ring that Adrien was wearing a few weeks ago. Looking back at photoshoot pictures, he realized that Adrien had that ring on his finger 24/7 for two years now. Ladybug and Chat Noir had showed up and defeated his first akuma two years ago.
It was too crazy to be a coincidence. But maybe, just maybe, he would pull off the ring and as the transformation was released he might see someone other than his son. There was only one way to find out for sure.
But what if it was? He felt the bile rise in his throat and he now blanched as he observed the wounds he had been so satisfied seeing just last night. What if he had done this to his son? His precious baby boy?
"Why are you just standing there?" the leather clad boy questioned. His breathing sounded very uneven, as if he had to fight for breath. His words were slightly slurred as well. It didn't sound like Adrien. But then again, he supposed it was part of the magic. His voice didn't sound like Gabriel Agreste when he was Hawkmoth. He took a few shaky steps forward.
Hawkmoth reached down and gently reached for Chat Noir's right arm. Chat pulled it backwards slightly, and Hawkmoth noticed the sharp hiss of pain that escaped the cat boy through clenched teeth. He gently took hold of Chat's wrist, and ever so slowly, slid the ring from his finger.
"No," Chat Noir gasped, but it was too late. A flash of green light made Hawkmoth squeeze his eyes shut. Shaking slightly, he opened them.
Same height. Same blonde hair, except tidier and slightly shorter. Same piercing green eyes. The black leather suit had been replaced by jeans, a black t-shirt with three stripes running across it, and a white jacket. Agreste designer clothes.
"No," Hawkmoth said, staring at his son's bloody face. "NOOOOOOOO!"
He turned, backing out of the room. He nearly tripped over his own feet as he stumbled outside. And then he ran. He bolted out the door, running and running and running. He dashed to his office, where he immediately released his transformation.
"Nooroo, wings in!" he whispered. A flash of purple light left Gabriel Agreste standing in his office, staring at the picture of his wife. His world was spinning. What had he done? He broke down and sobbed. He needed her back! That was all he ever wanted! To bring her back and live happily with her and his son! His son... who was slowly dying from wounds that Gabriel himself had inflicted upon him.
He was such a mess that he didn't notice Plagg pick up the ring from where Gabriel had dropped it upon the floor. Nooroo saw the cat kwami, but said nothing. The little purple kwami longed to follow Plagg, but he was bound to the miraculous of his master. He hoped that Plagg could somehow summon Ladybug or maybe even save Chat Noir. Then he could be free of his bonds, and this master who used him for such evil purposes.
Plagg grabbed the ring and flew determinedly from the room. He had to get back to Adrien! And then they had to figure out how to get out of here. If Adrien could just re-transform, his suit would stop the bleeding and give extra support to his wrist, and it would help him heal faster.
Plagg didn't even notice the little kwami tears running down his face. He couldn't lose another Chat Noir. Not like he had lost the others. And Adrien was the best one yet. Plagg had tried to remain indifferent. Had tried not to grow close to the boy, to only focus on cheese. But Adrien had managed to overcome those walls. There was no way Plagg was going to let him die now.