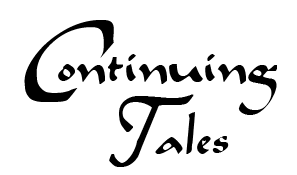 "Kittsu, tail out!" Nathaneal called. The orange flash made him squeeze his eyes shut tightly. His breath hitched, and he forced himself to carefully open them. When he turned to look in the mirror, he was almost shocked at how different he looked. "Not bad," he thought.
His hair was styled as it had been when he was the Evillustrater. His costume was almost the same as well. He had an orange suit with brown boots that came up to his ankle and brown gloves that stopped at his wrist. Along his chest and down the insides of his pants was white. He had fox ears sticking out of his spiky hair-do, and a bushy fox tail behind him. Of course, he wore an orange mask to hide his identity. His necklace almost morphed with the neckline of the suit (so it wouldn't look obvious). Nathan smiled. The necklace was being very illusive.
He already knew from Volpina that the fox miraculous' main power was creating incredibly realistic illusions. Nathan headed out his window and stopped on the top Marinette's bakery, careful not to disturb the cuddle fest that was probably happening inside (despite where everyone said they were going to sleep).
"So, what now?" he spoke the words aloud.
"Well, what do you think?" Kittsu responded. Nathan groaned. So Kittsu was going to be that kind of person *cough* kwami... The kind that made you think and figure things out for yourself. He stood there before pulling his flute off of his belt.
"I'm not very musical..." he admitted.
"That's okay," Kittsu reassured him. "Music is a fine art, and drawing is a fine art. Your mind and fingers were destined for this! Just image you drawing whatever you want to create, and then blow on the flute. Your fingers will find their way."
Nathan sighed and brought the flute up to his lips. He was sure that this was going to sound horrible. Closing his eyes, he imagined an apple tree. The brush of the leaves, the curve of the branches, solid but coarse wood making up the trunk. Delicate, juicy red apples hanging off of it in clumps.
His fingers began to move as he blew into the flute. His fingers found their own way, moving quickly along the holes as the flute released a beautiful, nearly haunting, melody. When Nathan opened his eyes, a tall apple tree greeted him. It looked so real, considering the fact that it was on concrete. Nathaneal could not stop himself from reaching out for an apple. The second his hand touched the red fruit, the entire tree dissolved into orange dust.
"It looked so real!" he murmered.
"That's the point," Kitsu said flatly. "Anyway, your flute can also be used to defend yourself, but only in desperate measure. It's nearly indestrucable, meaning almost everything can't break it. But magic can affect it. For instance, if Cataclysm was used on it, the flute would crumble."
"Cool!" Nathan said. "So that's all I do? Create illusions?"
"Well, yes. But it's extrememly helpful. The fox kwami is usually paired with the b-another miraculous. You lure the enemy in close and then Qu-the other miraculous wielder, takes whatever you need. Akumatized object, gun, stolen stuff, etc. Depends on the situation."
"Okay. And if I happen to have to be in combat, the flute will help?"
"Exactly, you've got it!"
"What am I called, anyway? Lila was Volpina..."
"Well, in special cases the name has to be altered according to the gender of the wielder. Your name is Volpino," Kittsu explained.
"Hmm," Nathan responded. He was silent for a few more minutes, staring up at the sky. The stars were espescially bright tonight. The universe was so big, and he was so small. It gave him a lot of persepctive.
A thump on the rooftop next to his made Nathan's head snap up. He glanced over his shoulder to see a skinny, curvy figure walking over to him. He furrowed his eyes. To his delight, his vision switched to night-vision (not nearly as good as Chat's, but it would do). It was a girl dressed in a bee costume. She stopped a few feet away from him.
Nathan's instinct told him to flee, but instead he held his ground. His ears flattened against his head and his tail was waving back and forth defensively. He hissed as she took another step closer. "Who are you?"
######################################################################################################################################################################
After Alya finished doctoring Adrien, the boy clambered into Marinette's bed and immediately fell asleep. Nino followed soon after. Alya and Marinette stayed up talking for a bit, about what to do with Nathaneal. They were also worried that Chloe would tell somebody about Adrien. Although they figured she hadn't, or else someone would have shown up at the the house right now.
"We should go to bed," Alya said, looking at the clock. Marinette shook her head.
"I know we should, but I don't know if I can fall asleep tonight. Or if I even want to. Last night the nightmares were horrible." She shuddered a bit. "Besides, we're clearly not disturbing the boys." She gestured to Adrien and Nino, who were on separate sides of her bed. Nino immediately opened his eyes.
"Not true," he yawned. "I've been awake listening to you guys for forever." Marinette winced.
"Sorry, she said. "Let's go to bed then..." She had already changed into pajamas, and Alya had borrowed some of hers. The two girls (with a lot of squeezing and shoving) managed to get comfortable on the chaise longue. And then Alya flipped the lights off.
A second after it got dark in the room, the girls heard rustled movement from the bed on the other side of the room, along with a thump. Alya flipped the lights back on, incredibly confused. Adrien was sitting up, his eyes wild with fear. When the light came back on, he calmed down and rubbed his head.
"Oh.. did you turn the light off?" he asked lamely. Alya stared at him.
"How could you even tell? You were sound asleep!"
"I don't know," Adrien said. "I just... I can't handle the dark right now. I know it's really stupid and I'm sorry, I-"
"It's not stupid, Adrien," Alya cut him off firmly. Clearly, you're traumatized by the dark. Probably a side affect of whatever Ga-I mean Hawkmoth, did to you." She rose and eyebrow hopefully, but Adrien didn't comment or tell her what happened. "Anyway, it's completely normal. I don't really know how to get over it... I can research it in the morning."
"I don't want to make you sleep with the lights on all night," Adrien muttered. Nino rolled over.
"It's s'okay, dude. We don'mind," he slurred. Adrien looked down.
"Still... I don't want you to lose more sleep because of me..."
Marinette got up and walked over. "Hey Nino," she began. Apparently, he knew exactly what she was asking because he grabbed a blanket and hopped off of the bed, sleepily walking over to a bean bag chair on the floor and curling up to sleep. Marinette sat down next to Adrien.
"When I was little and I had nightmare, my mom was the one who helped me through it," she explained. "A lot of them were really bad. I was scared to sleep. So she didn't try to help me sleep. We would just sit there, and she ran her fingers through my hair until I eventually calmed down. Then I would fall asleep."
She ran her fingers through Adrien's hair, and he leaned into her touch, scooting a little closer. Alya rolled over on the chaise and put a pillow over her head. Nino was already snoring on the floor.
"Why?" Adrien attempted to keep the tears at bay, but his voice came out as a whimper. "Why am I so afraid? There's nothing here..." Marinette kept running her fingers through his hair, saddened that until they rescued Plagg, there would be no soft cat ears to scratch behind.
"I don't know... Do you want to talk about it?" she suggested. He tensed against her.
"I don't... I don't know..." he said nervously.
"My mom always said that bottling things inside of you, like emotions or secrets, can affect you mentally and physically. That's why I was always late and stressed and confused. Being Ladybug and also being unable to tell anybody was slowly killing me."
"I guess."
"Adrien?"
"Hm?"
"Look at me." She put her hand under his chin and tilted his head upwards. She leaned in and kissed him sweetly. When she pulled back, her eyes narrowed. "I'm always here for you and I always will be. What did Hawkmoth do to you?"
Adrien still had a dazed expression on his face, and while his brain was slowly processing the kiss, his mouth readily gave information. "Well, The Trapper knocked me out, and when I woke up, I was in a dark room. But it didn't make sense, because I was Chat at the time and I should have been able to see. But I couldn't."
Marinette nodded. "That's really creepy. What can override magic?" Adrien shuddered and she pulled him a little closer, resting her head on his neck. "Then what happened?"
"Well, I was panicked because I didn't know where I was or what happened, and we had that huge argument so I thought you wouldn't come for me."
"You thought I wouldn't come for you?"
"Well, did you?"
There was a very long period of silence after that. Finally, Adrien spoke again.
"Anyway, Hawkmoth came. He... talked to me. Something about 'there could be any number of things in here with any reason to hurt you'. The way he said it kinda implied that there was something in there. He ended up twisting my arm really badly. And then he left me there..."
Marinette gasped. "He just left you there? For how long?"
"I don't know. I had lost track of time and my mind was busy coming up with the worst possible scenarios. Then he came back with The Trapper, and.. well, you got the note, didn't you?" Marinette's eyes widened again.
"Yeah, was that your side?"
"No. My leg," he said simply. "And then they left me alone again, bleeding. At least the pain distracted me for awhile," Adrien said through gritted teeth.
"When did your side get hurt?" Marinette asked. Adrien just kinda looked at her.
"After you didn't come to his 'meeting', Hawkmoth tortured me to get your secret identity."
"I tried to come, Adrien! I really did! But I was late and I couldn't find you and then Alya was there and- Wait a second, you didn't even know my secret identity!"
"Yeah..." he said. "I don't really want to talk about it anymore..."
They sat in silence for another few minutes. Adrien eventually relaxed again and wrapped his arms tightly around Marinette, who gladly returned the embrace. "I keep having to... remind myself," Adrien whispered. "That you're real. That all of this is real. That I'm not going to wake up in blackness again. I think that's why I can't sleep with the lights on. It's like I've woken up from a good dream and gone back to... that."
"I'm here now," Marinette responded. "I wasn't earlier. Because I was selfish. I was such a jerk to you, as Chat Noir. I only looked out for myself and the one person I thought I wanted. But I'm here right now. And if you think I'm ever going to leave you alone again, you thought wrong."
"But how can I know for sure?" Adrien asked. "How do I know you're not just saying that?"
"I don't know," Marinette admitted. "This is crazy and messed up and stupid. We're teenagers. We shouldn't have to deal with death and destruction and problems like this."
"Life's not fair.." Adrien said. He paused for a minute and then said, "Anyone who says otherwise is selling something."
"Really, movie references? Now?" Marinette wanted to laugh.
Adrien shrugged. "What else do you want me to say? We can't solve this gap in our relationship here and now. We can't magically beat Hawkmoth. It'll take time."
"My mom always used to say that time heals all wounds..."
"Yeah, but why wait?"
"What? I-mph"
He was kissing her again. Kissing her desperately, feeling every inch of her lips to make sure she was there. Tongues made contact. His arm was wrapped around her tightly and she leaned into his chest. They stayed like that for another minute before they had to break apart to breathe.
"What...?" Marinette said feebly, touching her lips. Adrien just shook his head.
"Don't say anything. I don't want to ruin the moment."
"What moment?"
He sighed dramatically. "The moment I kissed my lady properly for the first time." He paused. "You know, I told you we might know each other in real life."
"So, we can just keep living like this? Go back to what we used to do? Fight together, the friendly banter, your stupid cat puns?"
"Well, we can try. And I think you meant 'excellent' cat puns. Besides, you already admitted you like them."
"A mistake, I assure you."
"A paw-sitively terrible one," he agreed softly.
They laid there for another few minutes before she realized that he was asleep. She reached over and gently switched off the light. No reaction. Absolutely none. She snuggled down next to him and finally let the exhaustion claim her and drag her into the depths of sleep, far too deep for nightmares to occur.
######################################################################################################################################################################
Meanwhile, Queen Bee and Volpino were staring each other down. Each held their ground. Neither of them moved. "Who are you?" Volpino asked.
"Who are you?" Queen Bee immediately responded.
"I asked you first!" Volpino stuttered a bit, unsure of what to do.
"I am Queen Bee. I'm a new miraculous holder. My kwami sent me to Ladybug. Ladybug's kwami knows I'm coming," Queen Bee told him, placing a hand on her hip. Who was this new person and what was he doing here? Had he already been approved by Ladybug?
"Who gave you your miraculous?" he asked suspiciously. If she was a fake, she'd probably make up some story.
"No one. I found it sitting on my vanity," Queen Bee answered, much to his annoyance.
"And what do you do?" he asked.
"What do you do?" she asked.
"Oh we are not doing this again," he sighed. "I'm Volpino. I'm also a new miraculous wielder.
"Okay," she said. Her narrowed his eyes.
"'Okay'? Just 'Okay'?"
"Yeah. Can you take me to Ladybug? Have you already met her? Did you reveal your identity? Was she nice?" Chloe nervously began asking the questions. She was terrified. What if Marinette wanted to know her identity? She would never forgive her...
"Um, I've met Ladybug. She doesn't know my identity yet, but she's about to. She knows me though. And I know her identity," he said, shrugging.
"I know her identity too," Queen Bee admitted. Volpino's eyes widened.
"Really? What is it?" he asked suspiciously.
"Marinette Dupain-Cheng," Queen Bee answered. "Why else would I come to this spot? Can you take me to her?"
"Um, sure. I'll actually go get her for you," Volpino offered. Queen Bee nodded and he disappeared down the fire escape. Chloe sat down on one of the terrace chairs and waited.