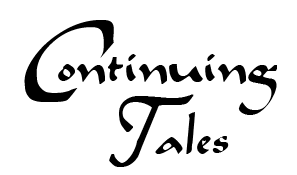 Ladybug tossed her yoyo in the air as she flew from structure to structure. She flipped over the edge of a balcony, landing on her feet and sliding to a stop. She gracefully leapt off of the roof and landed on the ground. She ignored the excited citizens that immediately pulled out their cameras.
"Let's see, this is where he had me pinned," she mumbled to herself, kneeling by the place where the Trapper had pinned her down less than 24 hours ago. "Nothing unusual. There was no reason for him not to take my miraculous."
She stood and looked left, her eyes landing on the rooftop that the Trapper had glanced at before he disappeared. There was nothing particularly eye catching about the cream colored building with a burgundy roof. The rooftop had an air vent, two chimneys, and a satellite dish on top of it.
She used her yoyo to swing up onto the building. She glanced around. Nothing caught her eye at first, no obvious signs that there had been a person up here or a fight or something. She was about to leave when she noticed some strange looking dents in the air vent. She bent down and took a closer look.
There were five strange looking marks, four closer together and one further down. Ladybug hesitated and then stretched her hand out, placing it in a position on the air vent so that the marks were slightly above her fingertips. It matched up perfectly.
"Strange," she thought. "Maybe it was the animal that the Trapper was after? But these marks…they were clearly made by something with five fingers. Maybe a gorilla?" She immediately dismissed the thought because gorillas don't have claws or anything.
Suddenly, her phone beeped. She put her yoyo on her hip and pulled her phone out of her secret in-suit pocket.
Alya: Marinette. MARINETTE WAKE UP because I know you are asleep, girl. And you don't want to be late again!
Marinette: I'm awake, I'm awake. I'll be there on time, I swear.
She texted Alya back and then put her phone away. She headed for home. She'd have to study that rooftop more later on. But for now, she just had to make sure she got to school on time. She jumped onto her balcony and de-transformed. Then she grabbed her schoolbag and her purse and headed downstairs.
She ate breakfast, accepted the brown paper lunch sack from her mother, gave her a kiss, and then climbed into her father's car. The two made small talk as he drove her to school, mostly about having a video game marathon sometime soon. She waved goodbye as she climbed out of the car.
She glanced around, looking for the familiar shiny limo that brought Adrien to school. It was nowhere to be found. Strange, Adrien was normally here by now. She only had three minutes to get to class as it was. She shrugged. Maybe the Gorilla had left instead of staying parked outside the school all day as usual.
Marinette slipped into the classroom and took her seat. Her smile vanished as she noticed the absence of her blonde haired crush. Where could Adrien be? Maybe he was sick or something. Yeah, that was probably it. He didn't look all that well on Monday. She pulled out her schoolbooks, ready to focus in her class.
#######################################################################################################
"Adrien?" Natalie, Adrien's caretaker, called through the bedroom door. "Adrien, you need to get up now. You'll be late! And you know how your father feels about tardiness." She waited for the normal cheery response and the sound of panicked bustling. But she heard nothing.
She sighed, putting her hand on the door handle. She hated to invade his privacy, something she rarely did and never did without his permission, but if he was sick or simply in too deep of a sleep to hear her, she needed to wake him up. The door was locked. She pulled a silver key out of her pocket, slid it into the lock, and twisted it.
She pushed open the door cautiously. "Adrien?" she called again. She stepped inside and surveyed the room. The bed was made tidily and looked like it hadn't even been slept in last night. There was no sign of Adrien in his room, and his bathroom door was wide open, with the light off. So he wasn't anywhere in here.
She panicked slightly. Mr. Agreste would kill her if she had lost track of Adrien. His son's safety meant everything to him. She hurried out the way she had come. She hurried to the dining room. No Adrien. She headed out the front door. The Gorilla was sitting in his car, waiting to drive Adrien to school.
"No no no!" she muttered as she dashed back to her office. She picked up the phone and typed in the number of Francois-Dupaint Middle School. "Yes, this is Natalie, Mr. Agreste's personal assistant. I'm calling about his son, Adrien Agreste. Could you please check and see if he is in school?"
"Of course, ma'am," the principal said. He reached for his speaker. "Would Mr. Adrien Agreste please report to the principal's office? Mr. Adrien Agreste, please report to the principal's office!" he said through the speaker.
He and Natalie waited for several minutes, but Adrien didn't come.
"Well, can you check with his teacher and see if he is in class?" Natalie begged, now frantic. "Ask his classmates, anything! I just need to know where he is!" The principal, well aware of how rich and powerful Gabriel Agreste was, sighed and gave in reluctantly. He hated to interrupt his teachers' curriculum like this.
"Could the teacher who is currently supposed to be teaching Adrien Agreste report to my office?" He called through the microphone.
##############################################################################################################
"Would Mr. Adrien Agreste please report to the principal's office? Mr. Adrien Agreste, please report to the principal's office!" the principal's voice came over the speakers. The entire classroom looked at Adrien's empty seat in confusion.
"Is Mr. Agreste absent? Strange, his father normally sends in a notice if he has a photo shoot," Mrs. Bustier commented. "Anyway, if you multiply the co-efficient by the-"
But Marinette wasn't paying attention. Why would the principal be calling Adrien to his office anyway? Especially if he wasn't supposed to be in school? Unless he was supposed to be in school and something is wrong…
Suddenly, the loudspeaker came on again. The principal, sounding slightly flustered and annoyed, said, "Could the teacher who is currently supposed to be teaching Adrien Agreste report to my office?" Mrs. Bustier set her chalk down next to the chalkboard. She glanced at her class.
"It's no use telling you not to talk once I leave, so please just keep the noise to a minimum and don't hurt each other," she sighed as she walked to the door. She exited and headed down to the principal's office. The second she was gone, the whole class immediately started talking among themselves.
"Where do you think Adrien could be?" Alya asked. She glanced at her phone, like that would magically tell her where her classmate was.
"I don't know, I just hope he's okay!" Marinette exclaimed nervously. "What if something happened to him? What if he got in a car wreck and he gets amnesia and wanders off and when he comes back and he doesn't remember me and we never get married and have kids and then-"
"Calm down girl, before you hyperventilate!" Alya said, chuckling slightly.
"This is NOT a laughing matter!" Marinette insisted. She frowned and tapped her pencil against her cheek. Suddenly, the door opened and Mrs. Bustier walked inside.
"Class, this is extremely important. I need each of you to tell me when you saw or heard from Adrien Agreste last," Mrs. Bustier said, sounding upset.
"I'm his best friend, and the last time I saw him was Monday afternoon when he left class because you sent him home when he was yawning," Nino volunteered. The other students nodded in agreement.
"So none of you have seen or heard from him at all since then? Not even a text?" Mrs. Bustier asked. The class nodded. Marinette's heart tightened painfully. She just thought of something. That night, when she had her huge fight with Chat Noir, what were her exact words?"
"I happen to have someone I like in real life. His name is Adrien, and he's twice the guy you could ever be!"
What if Chat had guessed who she was talking about? There must be plenty of guys named Adrien in Paris, but it made sense that she would be in love with the one whose handsome face was plastered all over Paris. She may not love him only because of looks, but she knew that plenty of girls did. What if Chat had done something to Adrien out of spite?
She put her head in her hands. Chat was annoying and prideful, but would he really do something like that? She was shaking now. She couldn't tell if it was out of fear for what he could do to Adrien, or anger.
"Marinette?" Alya said, snapping Marinette out of her thoughts. She looked up. "The bell rang," Alya said, pointing at the clock. Class was over. Marinette stuffed her books and pencils into her bag and stood up, heading out of the classroom. "Marinette, are you okay?" Alya asked.
"Yeah I'm fine. I have to go home and, uh, help my parents over the lunch break," Marinette lied. She dashed out of the school and around the corner, leaving Alya standing inside the school. She rushed home and ran up to her room as fast as she could. As soon as she got into her room, she shut the door, collapsed on her bed, and let Tikki out of her purse.
"What's wrong, Marinette? I'm sure Adrien is okay," Tikki comforted. Marinette sighed.
"I said Adrien's name to Chat Noir," she groaned. "He looked so mad too! He got that look in his eye that he always gets right before he does something stupid and dangerous!"
"He looked surprised and troubled, that's all. Marinette, I can't believe how stubborn you can be sometimes! I don't want to hurt you, but this is getting old! I'm sure Adrien is fine! And I'm sure Chat Noir has nothing to do with Adrien at all!"
"I hope you're right," Marinette mumbled. "I really, really hope you're right."
#####################################################################################################################
Chat Noir got no sleep the previous night. His racing mind and his fear of the dark had left him terrified. This was so dumb! It had occurred to him halfway through the night that he had night vision! He should have been able to see whoever was talking to him just fine! The fact that this dark room had some sort of magical dark quality to it scared him even more.
He tried to think of Ladybug. Would she be scared of the dark? Scared of the dark, it sounded so stupid! A mere child phobia! Although Chat knew it wasn't the dark he was afraid of, it was whatever could be lurking within its cover.
Dark thoughts came to his mind. Unpleasant imaginings that terrified him. The worst case scenarios played through his mind. He tried to block it all out, but the fear of the unknown crept into even the darkest and safest parts of his brain. Occasionally he would convince himself that there was nothing to be afraid of, only to have something brush past him or hear a soft fluttering sound that re-awoke his nightmares.
So here he was, lying on the floor, curled up and shaking from both fear and cold. He had no idea what time it was or how long he had been here. His whole right arm throbbed from pain, and his wrist was swollen. He was hungry and tired, and still groggy from whatever the Trapper had used to knock him out.
He heard footsteps and shrunk back. They came closer. His ears flickered, but he was so disoriented, he didn't know which direction they were coming from.
"I hope you slept well," the mysterious man said mockingly, as if he knew that Chat had not even gotten five minutes of sleep.
"Paw-retty well, thanks," Chat replied cheekily. If there was one thing he would never lose, it was his sense of humor. The man chuckled softly.
"You are in no position to make jokes, Chat Noir. I shall be brief. I needn't waste my time with you." Chat was confused, but suddenly something grabbed his hurt wrist. He yelped in pain. He didn't dare resist the pressure. Whoever was holding him placed his knee into Chat's back, pressing him against the ground and leaving him utterly defenseless.
Suddenly and with no warning, he felt something sharp slice all down his left leg, from his knee to his ankle. He screamed in pain and agony as the blade was dragged across his flesh, cutting through his black suit. His screams grew louder as someone placed something against the flowing blood and pressed down hard.
He was in so much pain he instinctively writhed around, which jerked his wrist even more, sending electric shocks up and down his arm. Oh god, his leg hurt so badly. It felt like it was on fire. He stayed in this position, writhing around in pain and groaning, trapped under the weight of the person on top of him as the other person continued to press something against his leg.
Finally, they peeled it back, and he screamed again as it ripped at the wound. The person on top of him lifted Chat's wrist up and then placed it into a bucket of some kind of liquid. After his gloved hand was soaked with the liquid, they pulled it out and immediately pressed it against a thick piece of paper on the ground.
Suddenly, the person released Chat's wrist and clambered off of him. Two sets of footsteps grew more and more faded as they left him alone, with tears of pain running down his face, groaning and panting.
Chat Noir brought his hurt wrist up to his face, smelling whatever they had dipped his hand into. He blanched and fought the urge to throw up. It was blood. Undoubtedly his own blood. They had taken his own blood and used it to make his signature paw print on a piece of paper, no doubt a ransom note for Ladybug.
"No!" he thought desperately. He could feel Plagg trying to calm him down in the back of his mind. "No, don't come Ladybug. Hate me forever! Feel the anger from our argument! Ignore the note, you hate me! That's okay! Just don't come for me! I love you!"
He felt weak and exhausted, and he welcomed the possibility of passing out from blood loss. It was an escape from the pain. And escape from the darkness. An escape from the man whose chuckle sent shivers up and down his spine. An escape from the painful thoughts about Ladybug. He didn't care how long he had to suffer. As long as she stayed safe, nothing else mattered.