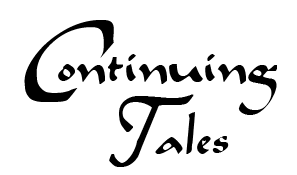 "The only cure for grief is action." - George Henry Lewes
Sesshoumaru hung in the giddy space between denial and grief and watched his hair swirl in the salt water that cradled him. It was almost hypnotic, and it distracted him from the fact that his clothes would be ruined as soon as he washed up on shore. It also distracted him from the fact that Rin was dead, but Sesshoumaru decided he didn't really mind that. Somehow his thoughts kept sliding away from the knowledge, not allowing him to pick it up and study it, to turn it over and digest it.
Well, that was just fine with him. If he dwelled on it, he would just end up sinking to the bottom of the water, and then no one would feel his wrath. That simply wouldn't do. So, Sesshoumaru thought to himself, the detached feeling still wrapped around his mind, what is step one for getting out of the ocean?
In his daze, he'd already drifted farther out to sea than he'd ever thought possible – the land wasn't even visible, and only his strength kept him above the waves. Everything conspired to weigh him down: his armor, his hair, his thick clothing, the chains... If he'd been a human being, or even a lesser youkai, he would have been meat for the fishes hours ago.
...like Rin is food for worms...
The traitorous thought crept across his mind, slinking through dark shadows into which he did not want to gaze. As though he were standing atop a high tower, Sesshoumaru felt his happy detachment shudder beneath a blow of horrifying emotion that he didn't want to endure.
Shut up, he told himself. He didn't have time to think about that. He had to think about getting out of these damn chains with which his former allies had bound him. They said the chains were forged by a black miko, but Sesshoumaru had a hard time believing that. The purity in them was nothing like the purity that had surrounded him at Mount Hakurei, and if he could move around in that horrible atmosphere these chains, though they seared his skin, were no match for him. If he tried hard enough, they'd probably break.
Step two was to get rid of his pelt. It was so heavy and waterlogged that he was wondering how he'd stayed afloat so far, and there was a twinge in his chest when he thought of letting it go once the chains were broken, but Sesshoumaru shoved that aside. No time to be sentimental about it, even if it was his only reminder of his father that he had left to him.
They'd taken his swords. Toukijin and Tenseiga were now in the hands of Hatore, who had apparently been powerful enough, despite his aversion to needless violence, to wrest the reigns of leadership from all the other scum-eating traitors with which he had apparently surrounded himself.
Sesshoumaru didn't know what was worse – that he had been betrayed so easily, or that he had been blind enough to let such base and corrupt beings into his confidence. Not that he had held much choice in the matter; his father had been allies with them, and so it seemed only wise to continue alliances that were to his benefit. It was almost inconceivable to him that anyone would consider him weak, but apparently he was. If he were not weak, he would not have allowed himself and his household to be treated this way. If he were strong, he would have fought. If he were strong, Rin's death would have not bothered him. If he were strong, she would have remained dead, he would never have given in to that horrible weakness which tugged his heart, would never have thought of a human girl as anything other than another obstacle, would have never grown accustomed to her, would never have been so stupid, would have could have should have...
In the distant tower of his mind, Sesshoumaru shuddered.
If he were strong, he would have killed her himself.
A tendril of anger and hatred curled up and around him, and suddenly he was closer than ever, emotion threatening to strangle him in the water.
He should have been strong. Instead, he was weak. Weaker than Inuyasha. Weaker than any human. He was nothing, nothing at all, all his power gone, like blood washed away on a river, like so much smoke on the wind, like the fading scent of a dead girl –
Without warning, a particularly large wave interrupted this line of thought and Sesshoumaru felt himself tipping over and under. For a brief moment, all he could see was the cold blackness beneath him, and the long, grasping strands of his shining silver hair glowing against the inky depths. The darkness in front of him looked so inviting, so cool and calm that he almost sank further, but a thoughtless inhalation quickly reasserted his instincts and he righted himself again. No, he thought. He couldn't allow himself to think like this, and he was suddenly far away again, inside his tower, away from the beating of his heart.
Now was the time for rational thought, not indulgent trips of self-pity. Coughing up salt water, Sesshoumaru determined that a reassessment of the situation was in order.
Swords: none, he thought. Nothing but his claws. That was probably all right; there had been a time when he had no swords at all and he'd seemed to fare quite well. Allies: none. Also fine. With allies like his old ones, he didn't need enemies. Power: none. That would have to be rectified. Even though he was now apparently in exile in the middle of the open sea, eventually he'd hit land again where he was still a force to be reckoned with. Servants: none. Fine. He'd done just fine without servants for years. The fact that he had none to make demands or annoy him should be a bonus, but unfortunately it didn't feel like one. Just another thing he'd have to avoid thinking about, he supposed.
Rins: none.
Another lash of horror whipped around him, but Sesshoumaru shook it off. Shaking it off seemed to be getting easier with practice, he reflected. Soon he wouldn't have to think about her at all. Now, what else?
Annoying chains: one. The salt water was starting to really sting where the cold, pure metal burned at his skin, and Sesshoumaru found he liked the physical pain. It took his mind off other things that seemed too pressing or too weighty for him to consider, such as his situation.
There was no time like the present to free himself, so Sesshoumaru closed his eyes and concentrated his considerable power in his limbs. Beneath his skin and over his bones he could feel his muscles slide and tense, moving over one another with silky fluidity as he prepared for the outburst of strength that would – hopefully – break the shackles that burned and weighed him down.
Tense, and then, quickly – he thought half-coherently. A short, sharp cry – his – reached his ears as he let himself release his power in one swift movement, and then the chains, broken, were sinking to floor of the silent sea and he could move freely again.
Sesshoumaru marveled with a cold indifference that it had been quite easy to break free, but if he concentrated he could still detect his body flowing with an almost inexhaustible supply of adrenaline. Even enchanted bindings couldn't hold him. The adrenaline was a nice touch though; he wouldn't tire for a while yet, even though he had been floating for half a day and the sun was setting again. Funny, but he couldn't remember it shining.
The next thing to slowly drift to the depths was the pelt. It was just a burden. Next was his armor. He could always get more of that. His clothes were heavy and wet but he could endure them now that all the weighty metal was sinking ponderously beneath the hungry waves.
With care, Sesshoumaru turned in the water, letting his unerring instincts guide him. He'd been drifting southwest for a while now, but he was probably not so far south that he wouldn't hit land if he went east. He didn't stop to think what waited him on land. Ignominy and defeat were abstract things, whereas the fear that he would fall forever into the bottomless sea was very real. Whatever was on land could wait.
Slowly but deliberately, the exiled demon prince of the Moonlit Country leveled himself in the water and began to swim for land.
He'd swam for hours through the black waters of the sea, and even when land was in sight he found that he was unable to feel anything but exhaustion. Even when he dragged himself onto the beach beneath the mocking light of the moon, he felt nothing but a hollow ache inside. He felt so weightless beneath his heavy skin it was a wonder he had to work to stay afloat, but that thought was only a passing wisp of contemplation; any thoughts were merely things to pass the time as he crawled up the beach – one hand, one stump of a wrist, over and over – and into the forest, ignoring his screaming muscles and burning lungs.
There was a village nearby, but it was a trivial matter to the overwhelming need for sleep. Every nerve in his body clamored for respite, but Sesshoumaru refused to give in until he was well inside the forest and the tickling scent of cooking fires –
– fire, burning, falling timbers, blood, blood, blood –
– was as hidden by the lush scent of the forest as it was going to be for the time being.
Carefully, without bothering to strip himself of his waterlogged clothing, he propped his battered body against a tree and let his eyes slide closed, and sleep came up to claim him.
It seemed only moments later he awoke with a start, but the sun was high in the sky indicating that he had been sleeping for twelve hours or more. Parts of his clothing were dry but scratchy, though where they touched the trunk of the tree or the ground they were still damp. Puzzled, the demon cast about for what had awoken him from such badly needed sleep when he heard it.
In the bushes there was a rustle. On the breeze, his sharp nose picked up the scent of a human being. A small one.
Dimly, he wondered what he had done to deserve this cruel, ironic turn of the wheel as a small, girlish face slowly inched over the leaves of the bush in which she was hiding.
Don't look at me, he thought. Don't look at me.
She didn't stop until her eyes peeked over the edge. It was almost too much to bear. In the infinite moment as her wide brown eyes locked on his golden ones, Sesshoumaru felt a strange sensation that he had not known since he was very small.
He wanted to cry.
He was falling down a long tunnel and there was no end in sight. She would walk toward him, try to save him, need his protection, and he would never be free ever again, she was dead already, even as he watched her, she was small and human and weak and she was going to die –
And then she shrieked, a sound of pure fear, and then the sound of pounding feet met his ears as the little girl ran as fast as she could toward her village.
Apparently the tunnel was a deep well, and Sesshoumaru suddenly felt as though he had landed, very hard, at the bottom of it. Curiously, though the breath was knocked out of him, he felt both spared and deprived at the same time. Angrily he pushed those feelings away and slowly rose. He wasn't entirely rested yet, but he had to leave. The girl would bring trouble in the form of more humans and for once he didn't feel like killing them. Or perhaps he felt too much like killing them. Either way, he didn't have the energy to deal with it.
And it didn't matter where he went, anyway. It didn't matter if he killed them or if he didn't. It didn't matter at all.
Resolutely, the demon turned and made his way north and to the east, away from his ancestral lands and all the crowded memories and all of the nothingness that waited for him there.
When Kagome felt the magic catch, she laughed with fear and joy at the familiar sensation. It felt like a hand had grabbed her by the stomach and pulled her downward, into the shining depths of the streams of time that expanded all around her. It was exhilarating and seemed to go on forever, though in reality it was only a brief moment until she felt the familiar thump as she landed at the bottom of the well.
The scent of the city was gone – the ones she was never aware of even existing until the sudden and abrupt change of venue to another time – and the air inside the well was newer somehow. It was dank and filled with the bouquet of the dark and damp, but it was alive, and above her the gauze of stars that stretched over the canopy of the night shone serenely like they never did in her time.
For nearly a minute, Kagome, aspiring archaeologist, college student, and one-time adventurer, knelt, stupefied, at the bottom of a rank old well in the Sengoku Jidai until she slashed through the fear that had suddenly settled in her stomach. She was going to see her friends again, and that was enough, wasn't it? Her dear friends, who had traveled with her through fire and brimstone, and her first love, Inuyasha – well, Inuyasha and Kikyou would be married, but they might have children, and she would be... would be... aunt Kagome...
Kagome nearly gagged before getting a grip on herself. No! she told herself fiercely in the fearful silence of her mind, Kaede told me to accept my fate, or I would never be happy. If the well has welcomed me back, I must have a purpose here. Resolved, she stood and began the irritating climb up the vines to the outside world.
It was dark, but it didn't feel late. That was the first thought that hit her mind as she steadied herself on her feet. The second was that she could smell cooking fires on the soft breeze from Edo, as though it were only an hour past sunset.
Well, that wasn't really too different from the way things seemed to work when she was going in and out of the well for months at a time when she was still in junior high and high school. It didn't seem terribly amiss that the seasons would be slightly different in the Sengoku Jidai than in her own time. Kagome slowly began the short walk to Edo beneath the stars.
The walk was shorter than she remembered, partly because the village had grown so much. At the outskirts were well built houses and inside each, in the flickering yellow light of the cooking fire, there was talk and laughter. So different from when she had last been there, when starvation constantly threatened, and when demon attacks kept the village quiet.
Could I really have only been gone for a few years? she wondered fondly.
Kaede's hut was no longer on the edge of the village. It seemed to be well into it now, but Kagome would have recognized it anywhere; the pockmarked old timbers and the straw door were the same. It had a new roof, but that wasn't anything special. Cautiously, Kagome stepped up to the entrance and paused, uncertain how to proceed.
What would Kaede say? Would she be happy or surprised? Maybe she would be angry with her for coming back to a time that so clearly wasn't hers...
No, Kaede would never be angry with me for that. Kagome reached up and knocked on the wooden door frame.
Inside there was a rustling, and a voice she didn't know called out, "Enter!"
Kagome hesitated for only a moment before pushing aside the straw flap and stepping inside, but what she saw caused her to stop in confusion.
In front of her was a woman of middle age, wearing traditional miko garb, but it was definitely not Kaede. There was a pot of stew bubbling over a fire, and the woman was looking at her with suspicion as she opened her mouth to speak.
"I am Sinayo, this village's priestess," she said slowly. "Who are you?"
Kagome stared at her. She was probably in her forties or maybe early fifties, hair streaked with grey, and beside her was a bow and a discarded quiver. Her hands were resting in her lap but Kagome had the distinct impression that she could have that bow up and ready before Kagome could even turn to run. Somehow, Kagome couldn't even get her mouth to work to tell her who she was.
The hands in Sinayo's lap tensed. "I'll ask you again, stranger, who are you?"
Confusion reigned. Kagome licked her lips. "Where's Kaede?" she asked dumbly.
The miko in front of her narrowed her eyes and grasped the bow next to her, using as a crutch to stand. "How do you know that name?" she demanded. "Who sent you?"
"No one! Where – what happened to Kaede?" Please don't let her be dead! I was only gone six years!
The miko gave her an appraising look. "You're dressed strangely, but I don't detect any youki around you. You're not a demon?"
Mutely, Kagome shook her head.
"Then how do you know Kaede's name?"
Relief flooded her and Kagome sagged against the doorframe, her gaze dropping to the floor as her breath came easier. "Then you do know Kaede?" Kagome asked eagerly between cleansing draughts of air. "We were friends a few years ago, and if you could just tell me where she is I'll go away and leave you – "
The sound of scraping caused her to look up into the sights of an arrow.
"You can't have known her," Sinayo said levelly, her face hard and determined. "You are too young."
Small alarm bells were suddenly ringing in Kagome's head, echoing through her mind. "What – what do you mean?" she asked hesitantly.
"Kaede died years ago. You could not have known her if you are not a demon."
Years...?
There was no strength in her legs. The wood of the doorframe caught her sleeve as she slid toward the smooth, sanded floorboards. "No..." she breathed. "No, that's not possible."
"I assure you it is," said the miko as she lowered her bow, obviously determining that a fainting young woman was probably no threat. She took several steps before stopping a few feet away.
Kagome's stomach was curling around in knots, sliding in slippery, acid waves, and her vision was blurring in a funny way.
"What about – what about Inuyasha?" she finally asked. "Where is he?"
The dizzying, dancing vision of the miko before her looked even more annoyed, if that was possible. "Who are you?" she demanded a third time.
Kagome's mouth was dry. She ran her tongue around the inside, over the roof and the teeth, tasting only cotton and bile. "Kagome," she finally whispered. "I'm Kagome."
The bow slipped from Sinayo's fingers. When it hit the floor, it clattered loudly in the silence of the hut. "The miko?" she said distantly.
Kagome nodded.
"Kagome-sama, is it really you?"
Her vision was going crazy – everything was blurring and weaving in front of her. Sinayo suddenly looked concerned and awed as she closed the gap between them and knelt in front of her. She stretched out a hand, as though to touch her, but Kagome shied away and tried to nod, though the movement only caused nausea. At the cold and distant edges of her mind there was a chilly knowledge, but she didn't want to touch it. "Please," she said again. "Where is Inuyasha?"
Sinayo looked stricken. "Kagome-sama..." she said again, and, ridiculously, Kagome was reminded of her little brother. Blindly she reached out and grabbed the sleeve of the older woman, every line of her body begging, seeking.
"Where is he?"
The miko would not meet her eyes. "I'm sorry, Kagome-sama. You've been gone for over forty years. Inuyasha... he died. He and Kikyou. Two years after you left. I'm sorry."
I'm sorry... I'm sorry... I'm sorry... dead, died, for years, dead sorry gone sorry...
The world splashed around her, and Kagome leapt up in a daze and fled, not stopping when she heard her name called, not stopping until she was at the edge of the forest – Inuyasha's forest, dead, sorry, dead Inuyasha's forest – where she threw herself to her hands and knees, eyes streaming with tears, and vomited.
Even as she heaved into the lush leaves, she could hear voices behind her. Her backpack felt so heavy and she was hot and cold all over.
I can't stay here. I can't be here any longer. This can't be possible. I'll go back to my own time and when I come back, it'll all be okay.
Wiping her mouth, she stumbled to her feet and ran toward the well, trees ripping her clothes and the tears still blinding her. Her lungs and throat burned, but the pain was nothing to what was in her heart, and she ran and ran and ran.
When they found her, she was sobbing at the bottom of the well, trying to dig her way to the future, to the past where none of this had happened, to the time when she had been happy.
But the well was silent and impassive, and refused to let her return.