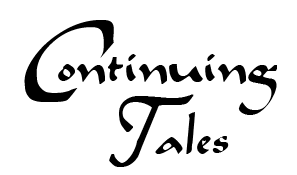 Avyar
Over the next few days, Jareth was careful while within Sarah's presence. He didn't spend too much time with her, but he didn't ignore her either. He didn't want to push her and ruin his chances. A week passed by quickly and Jareth noticed that Sarah was becoming more and more comfortable in his presence. She was looking into his eyes more, not shying from small advances that he carefully and skillfully disguised from her.
Sarah wiped her mouth with her napkin and gave a sigh.
"Full?" Jareth asked her with a smile as he settled his wineglass upon the table.
"Very. My compliments to the chief." She said referring to their dinner.
"I hope you are not too full to ride?"
"Ride? As in ride on horses?"
Jareth gave a throaty chuckle, his eyes shining with amusement. "What else would you ride?"
Sarah blushed fiercely and forced her mind out of the gutter. "Velvet will be too tired. I rode her all afternoon while you and Aiden were in the library."
"You will not be riding Velvet."
"Then who? I have never ridden any other horse in the stable. Riley told me that they would be too much for me to handle. Many of them are only green broke."
'You needn't worry. You don't even have to change."
"Jareth I can't possibly ride in this dress." She glanced down at the simple, yet still elegant pale blue dress she wore.
Jareth's response was a smile as he stood from the table. He walked to her side and offered a leather encased hand to her. She cocked her head, regarding his hand and wondering if she should take it. Finally she decided it was ok and slowly slide her hand into his. The leather was soft upon her skin. He helped her stand and pulling a crystal from the air, they left the room.
Sarah felt something shift beneath her and looked down to see that she was on a horse. She was on jareth's horse. He sat in front of her snuggly in his saddle. And she was sitting behind him, both her legs on the left side of the horse. The horse pranced in place, eager to run. She quickly grabbed a hold of Jareth. He was dressed in black leggings, with his black knee high boots. He wore a white poets shirt and a soft long navy blue coat. She wrapped her arms around his waist, afraid that she would fall from the horse. He smiled looking down to see her hands around him. She drew herself closer to him, her head almost resting on his shoulder.
'Hold on tight." He dug his heels into the horses side and the horse did a half rear. Sarah gripped Jareth even tighter and soon they were off. Jareth's white steed ran like the wind. His hooves thundered over the forest floor as they raced onward into the night. At first Sarah was uncomfortable. She was used to sitting astride her own horse, but soon she began to enjoy to the feel of the wind rushing through her hair and Jareth's presence. She felt safe and warm holding onto him as they rode as if nothing could happen to her. She laughed and Jareth's horse picked up more speed. This made her laugh wildly. She looked to see Jareth glancing back at her, he rarely smiled with his teeth, but she caught a glance of his pointed teeth, sparkling in the moonlight. His smile was genuine and it made her laugh more.
As they rode deeper into the night Sarah noticed fires burning in the woods, people singing and dancing. Jareth pulled his horse to sharp halt, causing Sarah to bump against him. She laughed and he jumped quickly from the saddle pulling her down from the horse. He grabbed her hand and dragged her into the woods. She noticed he was bringing her towards the sound of the music. The music was haunting. Some sort of string and wind instruments. It sounded like Celtic music. People were dancing by a large fire that seemed to almost touch the heavens. Sarah was shocked and mesmerized by the people. They were commoners, dressed in simple clothing. Men and women, human, goblins, was that a centaur playing a panflute? Jareth wasn't walking any more, he was running and she grabbed her skirt trying to keep up with him. He pulled her into the clearing where everyone was dancing.
"Dance with me." He pleaded, out of breath. She laughed and nodded out of breath herself from their run through the woods. He didn't pull her to him but began to dance in rhythm with the others who danced in a circle around the flames that burned. Sarah found herself dancing with other men and women, spinning wildly with them. Jareth, in the chaos had been pushed back to the other side and she watched him. He was dancing as well, and was he laughing? Everyone started taking partners and he twirled a young girl around wildly. Sarah found herself being pulled and looked up to see a young man who began to twirl her. Everyone traded partners and she felt a familiar gloved hand close upon her own. She looked up to see Jareth. He had shed his coat and the top two buttons of his poet's shirt had come unbuttoned allowing the pale flesh of his chest to be exposed as his shirt moved back and forth from his movements. A woman with long wavy blond hair began to sing a haunting melody and soon she and Jareth were following the dance that others had begun. Side stepping across the dirt forest floor and doing a dance with their feet as they moved. Their hands raised they would spin and side step the opposite direction.
Oooh Ride on, Through the Night. Ride on Oooh Ride on, Through the Night, Ride on.
There are visions, there are memories. There are echoes of thundering hooves There are fires, there is laughter There's the sound of a thousand doves
Oooh Ride on, Through the Night. Ride on Oooh Ride on, Through the Night, Ride on.
In the velvet of the darkness By the silhouette of silent trees They are watching, they are waiting They are witnessing life's mysteries
Oooh Ride on, Through the Night. Ride on Oooh Ride on, Through the Night, Ride on.
Cascading stars on the slumbering hills They are dancing as far as the sea Riding o'er land, you can feel its gentle hand Leading on to it's destiny
Oooh Ride on, Through the Night. Ride on Oooh Ride on, Through the Night, Ride on.
Take me with you on this journey Where the boundaries of time are now tossed In cathedrals of the forest In the words of tongues now lost
Find the answers, ask the questions Find the roots of an ancient tree Take me dancing, take me singing I'll ride on til the moon meets the sea.
Soon after the song ended another began, this one much faster and lively. Sarah could hardly believe what she and Jareth were doing. Was this the same man who had stolen her baby brother 10 years ago? Was this the man who had been nothing but bitter, cruel and relentless in his determination to see her fail his Labyrinth? He looked younger as he laughed, his sharp teeth showing as his lips curled up into a real smile. His blond hair danced wildly around his pale face. His mismatched eyes sparkled with joy and life.
Another song started, this one contained drums, and a stringed instrument that reminded her of a violin. She noticed the men step away from the 'dance floor' leaving only the women. Sarah began to make up her own dance steps, using something she had leaned in dance lessons as a child. The other women began to follow her lead and soon 20 or so women followed her every move. All the men were standing in a circle, clapping their hands with the beat of the drums. Jareth joined them, clapping his black gloved hands together to the rhythm. Another woman stepped forward and began to dance beside Sarah. She changed the steps, adding her own and everyone began to follow her lead. Sarah stepped back and every so often another woman would step forward adding her own steps. Sarah laughed wildly trying to remember all these new moves.
The dance finally ended and Sarah left the floor, her legs beginning to tire. She found Jareth leaning against a tree and he offered her a glass of some sort of fruit juice. She eagerly accepted it and drained it quickly. It was some sort of punch and it was sweet. She glanced around, fully taking in their surroundings. There were tents, and little wooden houses, a small stable, far off with horses who swished their tales and didn't seemed bothered by the noise. A group of men were playing some kind of game in a circle. They sat on wooden stools and on tree stumps tossing sticks at an object rolling around in the center. She watched people laugh and eat food. Sarah was surprised that no one really noticed she and Jareth. Did they know that he was the Goblin King? Gazing down at herself she realized she had worn a very plain dress tonight and Jareth's outfit was not much different from many other men. They wore high necked poet's shirts and leather vests, with brown, tan or black pants and knee high boots. They both fit right in.
She turned to look up Jareth but he was no longer by her side. He was talking to a gentleman not far off. They were laughing about something and Sarah took the time to stare at him. He had buttoned up his shirt and made himself a little more presentable after their dancing. He was incredibly handsome as he stood smiling and laughing. After a short while he returned to her side with another glass of juice for her. He offered her his hand and she didn't hesitate to take it within her own. He led her to a fallen tree log still within the camp but slightly more secluded. She sat down and he sat beside her. They sat on the ground with their backs leaning against the log. Sarah couldn't stop smiling. "Enjoying yourself?" he asked with a grin.
"Yes!" she shouted. "What is this place?"
"Avyar. A place to escape reality's cold touch upon us."
"It's wonderful."
"I'm glad you like it." He smiled and took a sip of his own juice. He continued to smile at her, gazing intently at her. She smiled in return. They finally looked away from each other and looked around the camp watching the others continue to dance. Without even realizing it, Sarah leaned against Jareth. He wasn't bothered by this in the least and slowly let his hand slide across the log until it fell onto her shoulder. She didn't seem to notice. Time passed quickly and soon the music was dying and people were beginning to call it a night. Jareth stood and pulled Sarah to her feet. He led her back to his horse.
He gently put his hands under her arms to lift her onto the horse. He leaned close to her to lift her, but didn't finish the intended motion. Instead he bent forward and let his lips touch hers softly. He expected her to pull away and he would have obliged her request had she not wanted this. He certainly didn't expect her to lean into the kiss and deepen it. She wrapped her arms around his neck and he put one hand behind her head and another on the back of her waist to pull her closer to him. She smelled like freshly blooming flowers and tasted like sweet fruit juice. He nearly jumped when he felt her tongue probe his lips. He granted her access. She pushed her body against him and he let her guide him backwards. His back touched a tree and she groaned as his lips left her mouth and he began to trail hot open mouthed kisses along her neck. He felt something tug at his shirt and looked down to see her trembling hands trying to undo the buttons. He jerked away from her suddenly. This was very unlike her. And it was too sudden. He waved a hand over her and her eyes closed as she slumped against him. He sighed, breathing heavily. The sleep spell had worked. He lifted her into her arms and brought forth a crystal, which brought them and the horse back to his castle. He put her down on her bed and placed a soft kiss on her forehead. "This will be done the right way or not at all." He whispered to her. With regret burning brightly in his eyes he left the room for his own chambers.