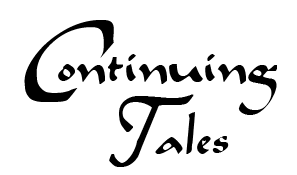 Unexpected
He watched the fire roar up the stone chimney. Orange, red, yellow, gold, blue and white swirling as one to reach upward to the air that fueled them. "Moth to a flame." He whispered to himself. He forced himself to look elsewhere. To anything that took his mind off of the mortal girl he had taken into his home. A mortal girl who drew him to her, despite her lack of knowledge, despite her attitude and despite the fact that she was so very young. She was an adult by mortal standards but then again so was he. He looked to be between 30 and 35 years of age. She looked only 10 years younger. But looks can be deceiving. He turned in his chair and a movement caught his eyes. Someone was lurking in the shadows of the doorway. Probably one of his stupid goblins.
"If I find out that someone has peed near the doorway to my dining hall again there will be a price to pay!" He roared. He didn't intend to ruin another pair of good boots.
A surprised feminine chuckle was his reply. His eyes widened and he nearly shot out of his seat when he heard the sound.
"Can't keep your goblins out of mischief can you, oh Goblin King?" His eyes squinted with anger at her tone and he was about to shoot a smart comment back at her but when she stepped into the light, his anger nearly dissolved. She was wearing a simple blue dress, her hair down with a small barrette holding up the right side. The sight of her nearly took his breath away. How could a mortal woman, so young be so beautiful. There was a sparkle in her blue eyes and he had to stop himself from gawking at her.
He was standing now beside the dining table. "You tell them something and it's as good as forgotten the very next moment." He stood taller in his usual attire, black knee high riding boots, gray pants, white poet shirt with a low neckline but no leather jacket this time. To her eyes he looked strange without it as if he were dressed down. He watched as she walked into the room. "I must say, I'm a little surprised to see you Sarah." He gave her a chuckle and she couldn't decide if it was friendly or not.
"Wow you mean you have other emotions beside anger and arrogance? That's a surprise indeed." She braved. He ignored the comment and walked to a chair that he proceeded to pull out for her. "I can seat myself, thanks." *Fine seat yourself. I hope the chair falls apart the minute your bottom touches it. * He thought bitterly. He moved away from the chair and took a seat in his own. " So, uh where is the food?" She asked sitting and gesturing with her eyes at the empty table.
"The chefs have not brought it out yet." He snapped his fingers and Metta along with 3 other elves began to bring out dishes. The first elf, a young girl with red hair set plates, glasses and silverware in front of Jareth while Metta did the same for Sarah. Then two young elfin men brought out trays. They opened the covered trays to present steaks as well as a variety of vegetables. Sarah could feel the drool gathering in her mouth. She was so hungry and the food looked so good. "Serve the Lady first." Jareth ordered and one of the young elves filled her plate with steak and vegetables while the other put buttered bread in front of her along with a glass of some sort of wine. They did the same for Jareth , bowed to them both and left the room. Jareth watched with amusement as Sarah stared at the plate with wide eyes. He gave another chuckle. "Well do eat. You've had nothing in your stomach for 3 days."
She cut her steak and slowly began eating. Everything tasted so good. For a while she forgot about Jareth and that he was sitting at the opposite end of the table. He merely watched her with a look of amusement on her face as he ate his own meal. "Dinner isn't such a terrible thing, is it?" he asked when they were both nearly finished.
"Dinner wasn't the problem. It was delicious, it was the company that went with dinner that I didn't find to my taste."
"You aren't happy unless you find a way to insult me are you?"
She didn't answer but instead changed the subject. "Why do you have elves serving you?"
He raised a brow. "Do you really believe that goblins would be able to handle such tasks? You've seen them for yourself dear Sarah."
"Yes I have. Maybe the fault does not lie with the goblins but a King who is incapable of ruling them. Where did you steal the elves from?"
"I didn't steal them from anywhere. They came to me, looking for work. They were scrawny, pathetic creatures and I dare admit I felt pity for them."
"Ooh two new emotions in one sitting. I think I'm going to faint."
"Did you say that you were 25? Because you don't act your age." He shot back. She opened her mouth to say something but snapped it shut. "What is your problem?"
"Right now my problem is you."
'Why? Because I have been so cruel and ruthless with you." They were both standing now, staring at each other with anger in their eyes. "You are an ungrateful, selfish, spoiled little girl."
"Then why on earth do you want me here?!" She wouldn't back down and Jareth knew this. Maybe Aiden had been right. Maybe it was better if he sent her home. But first he needed time to think and the way they were both going about things was not going to work. He was going to end up burnt by the flame again while she went home and tried to live her life. He couldn't live through it again. He stared her down, almost unsure of how to proceed. His eyes traveled down the length of her body, studying everything about her. Surely it was more then beauty that attracted him to her. He knew part of the attraction was her looks, but then again there were many beautiful women and he could have any of them if he wished it. He could even have her against her will, but that was not how he wished for things to be so. She would love him, on her own accord and only then would he finally be complete.
So they stood silently looking at each other. Sarah was very aware that Jareth was letting his eyes roam over her and despite herself she allowed herself to look at him. This was the first time that the two of them were not screaming at each other. He was standing close to her. She could hear the sound of his breathing, watched the rise and fall of his chest. The skin of his chest was as pale as the skin on his face. The neckline was very low and she could see his pectoral muscles. He wasn't heavily built but he was not without muscle either. He had very little hair on his chest but the little he did have was blond and barely noticeable. She dared to let her eyes fall farther. Who in their right mind would wear such pants? Anyone caught above ground in those pants would be ridiculed. But on him they seemed right somehow. They rose well above his waist and his white shirt was tucked into them. They were skin-tight and she could make out every muscle in his legs, not to mention the bulge between them. She forced her eyes lower, feeling the skin on her cheeks warm. His legs were long and slender, and slightly muscled.
The same time that she was thoroughly checking him out, he was doing the very same thing to her. Following the curve of her breasts just below the low cut dress. Her skin had a slight tan to it. Her tiny waist, her slender arms. And he wished he could see her legs. She was tall, but shorter then him and not by much. He suddenly wanted to see her face and as he looked into her eyes, their eyes locked onto each other. It felt as if they were staring at each other for minutes but in reality it was mere seconds. His mismatched eyes searched her blue ones. She realized that there was no anger or arrogance in his eyes. There was something else and she turned her head quickly. To her horror she let out a shuddering breath, she hadn't realized she'd been holding.
"Thank you for dinner." She said quickly, her voice shaking. She turned and fled the room. She raced to her room and fell on the bed. She felt like a coward but she couldn't stay in that room another minute with him. Not after realizing how handsome he really was and certainly not after seeing that look in his eyes. She trembled with fear.
Jareth watched her flee and he willed to call out to her but decided against it. This was an unexpected stand still, best to leave it as such. It was obvious by her reaction and her examination of him that she was aware that there was some sort of attraction between them. Right now it might just be a physical attraction noticed. That alone was not enough. For he knew it wasn't physical attraction alone that willed him to love her. There was something else about her that made her different from anyone he had ever courted or ever come into contact with. It was something he couldn't put his finger on this moment, but he believed that in time he would discover it just as she would discover things about him.