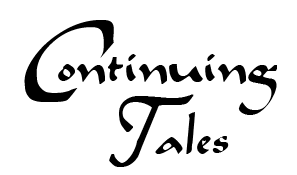 I've Brought You a Gift
Jareth catapulted awake, mismatched eyes flying open, welcoming the familiar darkness of his own chamber. He could no longer remember the dream, the existence of which was extremely disconcerting, for it had been decades since he had had one. However, the despairing echo of someone screaming his own name refused to be forgotten. It was so rare that he dreamed, that it took him a moment to remember the last time. Not decades, just one. He had dreamed of Sarah in the ballroom only a day before she had played the game, and won.
He swiftly stood and walked to the small balcony off his chamber, looking over his century-old domain. He tried to think of something else, thoughts of Sarah would lead him down a dangerous path. He could not afford to allow her to discover the full extent of Sarah's victory. He had been careful, would be careful. If the Queen ever found out of the power he had lost her in that poorly planned gamble, "Stop thinking," he muttered. Not even he knew of all the spies she kept on him or all of the ways she could find out. He gritted his teeth as he looked at her tool, of which he was just a tenant, a caretaker. It gave her too much power, no one should have so much control over her subjects.
It was still dark, the middle of the night, but he was no longer tired. Jareth turned his mind to search out the Labyrinth. There was no other way to describe it, the consciousness that was the Labyrinth, its soul. He had never bothered to name the thing, he didn't really think it wanted one anyway. But through the years, as strange as it seemed he had developed a grudging respect and then friendship with his fellow prisoner.
Some may have thought it was unfair of the Goblin King to think of himself as a prisoner, he was the First Lord of the court of Shadows, the second most powerful being in the realm, with a ruthless reputation throughout both sides of the Underground. But he had come to his Queen, to the Labyrinth, with no other choices left. She was the one who had needed him and she had made the offer very attractive to an outcast whose only other option was death.
Centuries later, as he tried to find the consciousness of his power-channeling domain, Jareth was developing a headache. He had not had one of those since shortly after he had dreamed last.
It should not have taken him this long, something was wrong. He sighed and rubbed his throbbing temples, the immense maze was always extremely hard to deal with when it was upset. Jareth finally made contact with the Labyrinth and could tell it was worried and panicked. He tried to ask it why, cursing that he could not actually have a conversation with the thing. The experience was much like getting information from an enormous, highly intelligent dog. It could tell him something was wrong, but not what.
Frustrated, Jareth walked back into his chamber, dropped a crystal, and was dressed in his usual white shirt and grey breeches before he opened the door and quit the room, white-blonde hair swirling with the force of his stride. He could have transported to the throne room, but he wanted to expend his physical energy as his thoughts raced. What could be wrong? He searched though the Labyrinth again, casting his mind across its vastness. Suddenly, he felt it. A presence, familiar but somehow strange, and unrecognizable had come into his realm. The spirit of the Labyrinth obviously knew it, but Jareth could not tell if that was good or bad.
Deciding what he really needed was to sit down, he dropped another crystal and transported directly to his throne. He sat, and prepared for some serious brooding. There was nothing he could do until the Labyrinth calmed down. The realm was far too large to search physically, and Jareth would not expend the force or the willpower to round up enough goblins and get them to follow orders. Cradling his throbbing head in his hands, Jareth did not notice his subject approach the throne until the dwarf coughed politely.
Looking up, the Goblin King groaned, not caring enough to put on any kind of public face, "Whatever it is Hedgewart, I'm sure it can wait. It's the middle of the bloody night and I have, of all things, a headache. Come back in the morning." The dwarf did not move. Jareth rolled his eyes in disgust at himself, he could not have sounded more pathetic. "Alright, what do you want?" Jareth straightened slightly and gave the dwarf a look of daggers.
"Um, well your majesty...there's a...a disturbance in the hedge maze," Hoggle kept his eyes respectfully on the floor. He had been taught a lesson after his last defiance and was now very careful around the King. "I thinks you should come and see," he finished quickly.
"A disturbance?" Jareth sat up, leaning towards the dwarf, "What kind of disturbance?" This could be what had the Labyrinth so worked up. Hoggle opened his mouth, obviously unsure of how to put his answer, "No, don't bother. We'll just be wasting time," Jareth cut him off and dropped a crystal, making them appear at the entrance to the rows of hedges, past the paths of stone. He turned to the dwarf, "Lead me there."
Five minutes of walking brought them to a gap in the maze where a lamp had been left unattended. Hoggle bent to pick it up, "I hopes she hasn't moved," he muttered.
Jareth wasted no more time on the stupid dwarf, swiftly and quietly walking the path, that he knew was a dead end. He stopped abruptly when he saw, his eyes widening with shock and confusion. It was a girl, no a woman, but grossly emaciated. She was clad in nothing but a paper thin single piece of fabric, it looked to be the remains of a long T-shirt from the Aboveground. It was wrapped and tied about her form as one would wear a towel, leaving her too skinny, dirt and blood encrusted arms and legs exposed. Her dark hair hung limply to her waist, matted and filthy, Jareth guessed that, if it was clean, it would be a dark brown. She had backed herself into the far corner of the hedge, hazel eyes wide in terror, taught hands clawing at the green walls.
It was her eyes that first struck Jareth as familiar. They were red-rimmed from what looked like lack of sleep, dark blue shadows hung under them, making her look half dead. But they were the exact same color and her face, if she were properly fed, would have been nearly the same. Jareth peered at the frightened creature, he could not tell. Taking a tentative step forward, he formed the name into a question, "Sarah?"
She reacted at once, thrusting herself desperately further into the corner, turning her battered body protectively into it, while keeping her eyes on him. Tears made from fear trickled silently down her hollow cheeks. He did not take another step, mind racing to discern what was happening here.
Jareth was almost certain it was Sarah cowering before him, a fact that he found most disconcerting, it being so outside her nature. But she had reacted to her name, it must be Sarah. Something had happened to her, someone had done this to her. He could tell she did not recognize him, he had never struck such terror in her before. How could he approach her without her panicking, causing even more harm to herself?
The Goblin King sighed inwardly, deciding on his usual course of action, but not having much faith in its success. Why should he, it had never worked on Sarah before. During their first meeting, Jareth had been impressed with Sarah's ability to resist his illusion and mind tricks, but as the game wore on it became increasingly annoying. If his personal talents could not do anything in this situation he would have to draw on the power of the Labyrinth and that would only draw her attention. He tried to do that as little as possible, especially where Sarah was concerned. Jareth was not sure how much his Queen knew about that journey through the Labyrinth.
Sarah was now crouched and had shifted, if it was possible, even further into the hedge. She had wrapped her arms around her thin shoulders and pressed her face to her knees. Jareth moved slowly closer and she whimpered. He felt his heart tear in his chest, he had never thought to hear that sound from the beautiful, ever defiant Sarah Williams. It was the first sound she had made since he arrived. Jareth smoothly dropped to a half - kneeling position and pulled a crystal from the air, "Sarah," he softly intoned, "I've brought you a gift." The words had tumbled out of his mouth before he could stop them. The game was ingrained in his tongue, his very muscles. He could never escape it, and apparently neither could Sarah.
Jareth spoke her name again and she finally looked up into his face, the fear in her eyes still evident. He moved the crystal across his knuckles in a familiar gesture, catching her eye. His heart sunk lower as he saw she was immediately lost to it. Who could have broken such an indomitable spirit? Sarah's terror vanished in an instant, replaced by the faraway gaze that played over every young wisher's face when he offered them their dreams, every one except her own, once. She had possessed the wit and determination to play the game, to finish it, and someone had robbed her of that.
Sarah had uncurled herself from the corner, reaching a trembling hand towards the crystal. Jareth noticed the old scars and new bruised and infected wounds encircling her wrist. They had chained her, tortured her. He was beginning to grow angry. Her hand had almost touched the orb before he tenderly clasped her forearm, below the wounds. "Ah, ah, ah," Jareth nearly whispered, "I didn't offer you your dreams yet, my dear." He dropped the crystal and a shimmering powder filled the air between them. "Sleep, Sarah," Jareth commanded, catching her before she hit the ground.
The Goblin King easily lifted the underfed woman into his arms and began walking back to the dwarf, still waiting at the gap. To his utter surprise, Sarah immediately curled sleepily against his chest, clutched at his shirt with one hand and sighed heavily but contentedly. Jareth could not help smiling and with an uncharacteristically awkward gesture, for he had no free hands, he dropped another crystal and returned with her and the dwarf to the castle beyond the Goblin City.