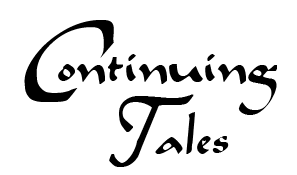 There was a hardness in Ladybug's voice that Chat hadn't heard there before, and all her fatigue and weakness seemed to have evaporated. A steely glint flashed in her eyes as she spun her yo-yo, ready to attack and Chat prepared himself beside her. He was upset about Alya, of course he was, but why was Ladybug? Did she know Alya as a civilian? Or was her upset simply a result of an underlying fondness for her biggest fan?
Chat thought it was most likely to be the latter, but didn't have much time to ponder, as Ladybug sprang towards the Scholar's face. She vaulted over his head, and the Scholar turned his head and eyes to follow her, making great, sweeping grabs for her body as she flew past him. Chat used their enemy's distraction to extend his staff and dash to the side of the Scholar. He pulled back, then swept his staff along the ground in a huge arc, wiping the Scholar's legs out from under him. He landed on his back, and Chat ran up to him, trying to see a way to keep him down. Ladybug ran up behind her superhero counterpart, slightly out of breath. This unusual occurrence reminded Chat of how sick she was, and the fact that this akuma fight needed to be resolved as soon as possible.
Apparently, though, Ladybug didn't have any ideas either as they feebly watched their foe get to his feet.
"Any ideas, Chat? He just keeps getting up again!" Ladybug let out a yelp as she barely dodged another swipe, and Chat, angered, tried to jab his baton into the Scholar's face. But the Scholar had been a victim of that particular attack before, and was ready for it. He pulled the baton out of Chat's hands, and sent it flying across the square.
Chat backed away, Ladybug stepping protectively in front of his with her spinning yo-yo forming a shield over them. Chat felt awful- Ladybug was sick and tired, and she was here protecting him. He was useless without his baton, and they were running out of ideas.
"Sorry, M'Lady. I'm fresh out." The two were basically trapped now, backs up against one of the buildings surrounding the square.
"The longer we fight him, the stronger he gets. He's memorising our fighting patterns, anticipating our attacks. We need to get this done- quickly!" Ladybug shoved Chat sideways as a gigantic fist came down on them, the two diving out of the way miliseconds before it hit the wall behind them. The rubble cleared and the two coughed the dust out of their lungs.
"Well, we'll have to use new moves!" Chat told her as he dashed through the dust to clamber up the leg of the Scholar, who roared and swatted at the black shape that was too quick for even him. "Lucky I've got such smooth moves, then, m'Lady."
Ladybug threw her yo-yo, the bulk of the compact hitting the Scholar directly in one of his little red eyes. With a very unmanly squeal, the Scholar recoiled, rubbing it pitifully.
Chat took the opportunity to sink his claws into their enemy's lower back, then leaped off as the Scholar staggered around, one hand at his eye, the other at his newest wound.
"Where's the akuma?" Ladybug coughed, the dust from the ruined wall making her voice hoarse as she re-joined her partner. Chat studied their enemy as he wandered around semi-blindly. He thought about Xavier.
"His glasses!" Chat cried suddenly. His yell seemed to catch the attention of their enemy, who let out a roar and bulldozed towards them. "Look- there's a pair of glasses in his shirt pocket. I bet they're in there."
"Nice one, Chat!" Ladybug called as the ducked under the grabbing hands once more. Throwing her yo-yo, she caught a chimney on one of the nearby buildings and zipped upwards. Chat pounced up to meet her. "Chat, what are you doing?" She cried as he landed in front of her on the building. They were spurred into action by the Scholar, and ran from rooftop to rooftop around the square as he continued trying to smash them "You need to go get your baton, it's still over across the square!"
Chat shook his head.
"No, you need me to cover you while you get your Lucky Charm, Ladybug. I'll distract him."
"Chat Noir, no!" He heard Ladybug yell after him as he ran and leapt off the building, soaring through the air towards the Scholar. Unfortunately, one of the Scholar's hands hit him mid-air, and he folded around it. The wind was knocked out of him as he tumbled gracelessly to the ground. The landing was shook his every bone, and he lay flat on his back, winded for a moment. Spots danced across his vision. He could hear Ladybug screaming at the akuma, and sprang up again, the world only spinning slightly.
The Scholar was making swipes at Ladybug, getting more frustrated by the second. Unfortunately, his swipes were getting stronger and closer to the spotted heroine, who was dancing around on the rooftops, having been too concerned for Chat to have had a chance to get her Lucky Charm. Chat cursed himself for a moment and looked around wildly for anything to help.
He spotted his baton lying not four feet away from him, and scooped it up thankfully. He turned to see Ladybug diving off the side of a building to land on the ground furthest away from Chat, way across the square. The Scholar pounded after her, and even from this distance, Chat could see how her body sagged with tiredness and aches, her face pale. She held herself oddly stiffly, and Chat could also see the look of fear that crossed her face as she realised how much trouble she was in.
Chat was too far away to be of any immediate help, and Ladybug was panicking. Backing away from the akuma as he advanced with evil cackles, she made a last, desperate move.
"Lucky Charm!" She cried despairingly, and the light that exploded above her head cast the world into a pink glow. She caught the item as the akuma reached her, and she barely had time to register that it was an enormous magnet before she was once more fleeing the monster. She saw Chat sprinting over the square towards her with his baton in hand, and got an idea. She raised her arm.
"Chat Noir! Catch!" She yelled, launching the Lucky Charm over to him. The Scholar turned to look as it passed his head, his feet slowing in his distraction. As Chat dived to catch it, Ladybug suddenly changed her path and ran towards the monster, her legs bunching up beneath her to propel herself upwards towards the monster's chest.
Chat saw all this happening as the magnet landed in his grasp, and was watching as he saw the Scholar's head turn away from him, and back to Ladybug. Realising what was about to happen, Chat screamed, "Ladybug! Look out!" As Ladybug's leap levelled her with the akuma's shirt pocket where the glasses lay, a great hand came arching through the sky towards her.
Had she been in good health, had she been well-rested and fully prepared for the fight, Ladybug would have had the chance to change her angle and press her feet against the monster's chest to push herself away, consequently dodging the hand that came towards her. As it happened, she wasn't any of those things. As it happened, that's not what she did.
Time slowed as Chat ran desperately towards the monster, knowing it would be too late but unable to stop himself. The Scholar's hand connected with Ladybug's suspended body, and Chat distinctly heard something crack. Her body folded in on itself mid-air, and she was sent sailing straight backwards, away from the monster. A scream of agony wrenched itself out of her mouth as she was thrown towards the buildings at the other side of the square, and Chat heard yet more awful noises as she connected with the wall, then dropped the ten metres to the ground. There she lay, face down and un-moving and Chat was fairly certain his heart stopped.
No no no no no no no no no
"Ladybug!" He screamed her name, his voice cracking as he stared over at the little red and black heap. A huge shudder of relief fell out of him as he saw it stir slightly.
The Scholar turned his head to the terrified superhero with an evil grin plastered on his face. Incensed, and more scared than he'd ever been in his life, Chat raised his paw and called his power to him.
"Cataclysm!"
The dark energy surrounded his hand as he slammed it down into the pavestones below. Amplified by his fear and anger, the light crackled its way across to where the monster stood, and broke the ground underneath to topple him over. The stones roiled and moved over each other, trapping the Scholar's legs so he could move nothing but his arms. He made desperate grabs as Chat darted past him.
"La-Ladybug, Ladybug!" Chat cried as he neared his partner, who lay on the ground below. She moved her head as he neared, choked breaths wheezing out of her lungs.
"Ch-Chat, I-I'm okay." She coughed as he knelt down next to her. Chat stared at her- the way she cradled her too-limp right arm in her left, and the way her legs were pointed outwards, in directions they shouldn't have. He knew that she definitely was not okay.
"No, you're bloody not! Look at you!"
Ladybug grimaced, struggling to support her upper body against Chat's heaving chest.
"Don't worry about me, kitty, I will be fine. But you need to sort out that akuma, okay?"
Chat blanched. Ladybug's body was trembling in his grasp, pain lashing through her broken body. She was clearly trying to hide it, but her knew her too well for that to work.
"M-me? How can I-"
Ladybug (with obvious effort) placed a red and black finger on his lips.
"Look at me, Chat. I can't even stand, let alone get those glasses off of him. So I need you, okay? You're as much a part of this team as I am, and I need you. It's your turn to get the glory, it's your turn to defeat the akuma. Use my Lucky Charm- I know you'll figure something out." Her speech was punctuated by little sighs and gasps of pain, and Chat's heart fluttered more and more with every one. He knew, deep down, that she wouldn't be able to do anything in this condition, but he also knew that he had no idea what to do.
"Wh-what do I do? And who's going to look after you while I'm off being heroic?"
Ladybug chuckled, then winced.
"I'm not about to die, Chat, don't worry. And I trust you. You'll think of something." Chat saw her vision haze over from the pain. "I'm fairly certain I'm about to black out, though, so you'd better get on with it, kitty."
Chat swallowed nervously as her eyes fluttered shut. He gently set her head down, and stared at the magnet in his lap. He didn't know what to do with it, but Ladybug was right- in her state, she probably couldn't even lift the damn thing. The longer he waited, the worse she was going to get, so it was up to him to figure out a way to purify the akuma and set everything back to normal. He could tend to Ladybug afterwards.
Chat stood up slowly, analysing the Scholar as he neared the imprisoned monster. How could he use the magnet?
Suddenly, Chat's vision zeroed in on the wire-rimmed glasses that nestled in the Scholar's shirt pocket. He almost laughed, it was so simple. But before he raised the magnet, Chat ran towards the wreckage of a nearby building and scooped up the remains of a glass jar that was still intact enough to provide sufficient confinement. Then, the metal on the rims of the glasses were pulled towards him too quickly for the Scholar to grab them. Chat caught them as they zoomed towards the magnet, and broke them over his knee. A black butterfly fluttered out, and Chat caught it in the jar, which he then placed carefully upside-down on the ground so the akuma was ready for them to purify it once Ladybug could move.
Nervously, Chat threw the magnet high up into the air, and with an experimental cry of "Miraculous Ladybug!", the swarms of red beetles exploded outwards, mending buildings and turning the enraged monster back into the quiet, nondescript boy Chat knew to be Xavier. The people he'd absorbed were popping back into existence all over the city, but he didn't have time for any of them. He ran back to where the ladybugs seemed to be taking an awfully long time to repair their mistress. He skidded to a halt, and knelt down next to Ladybug as the last of the magic disappeared.
Her eyes opened as he held her, and she seemed to be breathing easier. Her arm was back in its socket, and her left leg was pointing the right way.
"Chat, you did it." She croaked, her body relaxing as the pain left and the tiredness set back in.
"I- I did. A-and are you all better, my Lady?" He asked, pulling her closer to him. A yelp left her mouth as he moved her and he pulled back, aghast. "Oh my god, I'm so sorry! Are you still in pain? But I-I thought the magic would heal you! What's wrong?"
Ladybug grimaced and panted slightly, her face haggard. They both looked down her body to where her right leg was still twisted, clearly badly broken.
"I guess there's only so much magic can fix. The akuma caused a lot of damage, and I guess the city and civilians have to be put first." She sighed and Chat frowned.
"Ladybug, I- I'm so sorry. I should have been there, and I should have helped you, I-" he was cut off when Ladybug, again, softly placed a finger over his remorseful lips, ignoring the first beeps of their rings or earrings.
"I don't care. You stopped the Scholar, you saved Paris. You freed the akuma- oh god, I still have to purify that thing- and you saved me. All in all… I think you were quite miraculous."