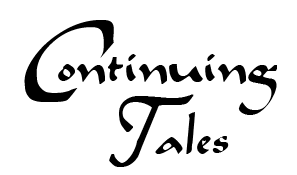 Two laughing girls ran through the rainy afternoon, arms linked, almost identical blonde hair swishing behind them. The dark and clouded sky above them didn't matter, and neither did their wet feet, their rain-soaked clothes or the boring lecture they had snuck out of thirty minutes early.
They were headed to Makoto's shop, a celebratory dinner awaiting them. Stumbling over their feet, stepping into puddles, chattering merrily away; careless girls for once.
Once the brightly lit destination was in sight, Minako's blue eyes turned earnest, but her voice and her mouth did not.
The nearly indiscernible change went by unnoticed by her companion, due to the very lewd joke that had sent Usagi into fits of laughter. Pushing her now panting friend through the white doors, Minako spoke in the same cheerful voice that had delivered the punchline two minutes ago. "By the way, Makoto has a new boyfriend. But he' s not that new, really. Anyway, you'll meet him today and then you can hold Mamoru's hand when he meets him later."
Her words had obviously fallen on deaf ears, because Usagi bend over, clenched her quivering stomach, not managing any coherent sentence, only the words "cat","sex shop" and "diary". Behind the counter, Makoto was holding a white-faced Hiromasa's hand, waiting for the leader of their group to regain control and to actually look up, damn it! Minako had sent her a text message, saying that it might be better to have Usagi already informed when Mamoru stepped into the shop. Thinking of flying roses with tips of steel, she agreed. So Minako had lured Usagi out of the lecture, not that it had required much luring. It had been a matter of the scribbled words "Let's leave, this is boring. Cake at Mako's before the rest arrives?" and the two had been off.
Hiromasa tried to control his breathing, but standing still in the face of impending doom had never been his strong side. Actually, he had a problem standing still in any given situation. Fiddling with this watch, and hurriedly stroking his girlfriend's surprisingly steady hand, he waited and waited and waited, thinking that this was so much more effective than any medieval torture device he had seen in the Tower's museum in London when he had visited it three years ago. More effective than the rack, hell, the intestinal crank even.
Finally catching her breath, Usagi looked up. Why wasn't Minako speaking? Why hadn't Makoto hugged her in greeting? Her eyes searched and met those of Makoto and immediately took in the miserable tall man beside her. Recognition struck her like lightning, and before the others had any chance to jump into action, she had bounded up to the man that had once been Nephrite, almost shouting and had taken his free hand in hers.
"I am so happy that you're here! Mamoru has been so upset by the stones just being stones and not you anymore, I think he must have missed you awfully. I assume that you're not in the stones anymore, right? Well, you have to not be, seeing how you're standing here and all. He'll be so glad, so relieved to see you again! Where are the others? Will they be here soon? You know, he's a doctor now, and having you around will be so good for him." Her rushed words and wondrous reaction left all of them dumbfounded and silent.
The sound of the bell and a dropped book drew all eyes to the entrance, where a dripping Ami's mouth formed the incredulous words: "Another one?"