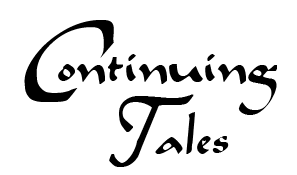 The ice-hockey stadium was packed with a lot of very exited men and few equally exited women. On the upper ranks, the air had already a thinning feel to it and the smell of sweat filled the cheering crowd's nostrils. But they didn't mind, they were here for the game that was about to begin. A lanky youth tried to take a seat next to a reading blond man with a ponytail, who seemed strikingly out of place in this world of easy friendships, spilt beer and violence. An icy glare caused the teenager to turn on the spot and to continue his search of a free seat at the other end of the arena. Apparently, intimidation and the avid reader did go well together.
The game begun and mere seconds passed before one of the players was smashed into the board, prompting a deafening cheer from one side of the stadium and roar of communal protest from the other one. In the midst of all this ruckus, the seat next to Umi had been taken by a man a few years his senior. It wasn't the age difference that kept him from trying to discourage the unwelcome neighbour from sitting down, it was a grudging acknowledgement.
Thus the two blond men sat next to each other on the uncomfortable bench, one of them watching the game that was unfolding in front on them intently, the other one hidden behind his book.
Several minutes later, a drawled comment doubtlessly directed at him caught Umino's attention.
"Strange choice of place for reading, isn't it?" He looked up, shrugged, and fastened his eyes on the page again.
"Don't you care for the game?"
"It's barbaric.", he voiced and closed his book, knowing from experiences millenia old that the bothersome man wouldn't let him read anyway. The older one raised his eyebrows, indicating to Umi that his statement needed elaboration. Sighing, he followed the unspoken request.
"They are bashing their heads in. Without any reason whatsoever. They should enlist for the military if they want some violence in their lives, but this is just pointless."
Pulling a pack of cigarettes out of his pockets, the elder one began to toy with it. His brows knitted in something akin to comical despair, and he leaned back in his seat, closing his eyes.
"We need to find them. We must find them, if only so that Kunzite keeps me from stomping you in the ground. It was your idea to come here in the first place! So could stop whining and reading, once we're at it, and let me think of a way to get out of this fucked-up situation or can we at least pretend to enjoy the game? Look at the ice and think of your frosty princess, that should occupy your great mind for a little while, but keep the bloody book in your pockets."
Throwing his companion an angry look, Umino got up and walked away, only to return after a few minutes bearing one (and only one) cup of hot coffee.
They had run across each other by accident. Both had visited Tokyo as tourists, normal men busy with their normal lives and enjoying their normal holidays. Well, at least one of them was enjoying his holiday. Umino had been visiting shrine upon shrine, all the big museums and some small ones, the university, the libraries, in short everything that had anything to do with culture. He didn't miss Kyoto at all, and was already dreading to go back to what now felt like nothing more than a village. Ando was fed up with this strange place after a few days already. Girls didn't flirt, they only giggled; smoking was prohibited almost everywhere and the hotel he was staying in was dodgy at best. He might have grown-up in Japan, but his family had moved to the States when he was still green behind the ears and he had taken to living in New York like a duck to water.
They met at the airport on the day of their departure and even though only one look passed between them, it explained everything. Memories resurfaced, a bond formed and they were doomed to stay. That had been two weeks ago and they had spent almost every waking minute with each other, and it was beginning to take its toll, for neither of them was an easy person to be around for that intensely spent amount of time. How they had done it while serving Endymion, they didn't know.
Umino had then mentioned the ice-hockey game as a possible distraction from looking for the others, and there they were, although no more at ease with one another than they had been staring at each other at the airport, comprehension dawning on their shocked faces. Ando's revelation of meeting Mercury prior to regaining his memories had further soured the mood between the two of them, for Umino took it as a personal offence that his princess had encountered Ando or Jadeite or whichever name was appropriate these days before him.
"I have an idea."
"Please don't."
"If we find the senshi, we're bound to find Endymion. We find Endymion, we find Nephrite and Kunzite."
"Do we now." Pushing the cigarettes back into his pockets, yearning to actually light one, he sighed. "And how do we find them, you mastermind?"
"We stage a robbery in a jewellery store?"
The cursing that Umino's words gathered in return was thankfully drowned by the cheering crowd.