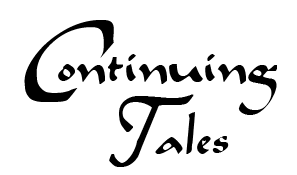 Oh my God...
Minako had spotted the two blond men a second before she felt her friend freeze beside her. Decidedly, she moved forwards, thus breaking the link Ami's and her arm had formed. The taller of the two, whom she immediately identified as Jadeite despite the two-hundred meters that lay between them, strode towards her as well. Their feet made crunchy sounds on the fresh snow, but the silence was nevertheless overwhelming and booming in her head.
If both of them are here, they remember. They must remember.
Stopping once they faced each other, she allowed herself to smile. This man wasn't a threat to her.
"I take it you remember now?"
"I do." He bowed his head in acknowledgement. "And so does Umino." He gestured to the man who was rooted to the spot behind him, still positioned close to the weeping willow as if the old tree could offer him support. She didn't need to turn her head to know that Ami had not moved an inch.
Oh Ami, how well I understand you.
She extended her gloved hand, mirroring the welcome she had given Hiromasa. There was only one shitennou who she would have trouble facing, and he wasn't here.
Yet.
"I go by Minako here." As an afterthought, she added: "But you may call me Venus, if you wish."
Ando's face remained solemn, as he took her hand and shook it reverently.
"Minako, my name is Ando. I am very happy to meet you in these times and days." His eyes had scanned their surroundings while he had walked towards her, so he knew that there were no other senshi around. Mars was either unaware of his existence, or she chose not welcome him. Neither would be a surprise to him, for he knew that the princess of fire and revenge had been lost to him as soon as he lifted his sword against the Moon Kingdom in that thrice-damned war.
Finally turning around to face her friend, Minako made a decision. Her eyes flitted from Ami to Zoisite and back again.
"How about we take a walk and I fill you in? A lot has happened since you met Ami two weeks ago." Jadeite responded with a nod. Mercury and Umino stared at each other from a distance and he felt certain that he was imposing on a moment so private that it belonged in rooms with heavy doors that could keep the world at bay and stop time itself.
She led Jadeite past Ami, whose eyes left the man in the distance hesitantly. Minako raised her hand and stroked her friend's frighteningly pale cheek in a most tender caress. There wasn't much she could do for her now, other than leaving her alone to find a way to deal with this undoubtedly monumental change in her very being.
"We'll leave you alone for a while. Please call if you need me."
And with that, they strode away, leaving the former lovers in a park in today's Tokyo, unsure of how to move again when the whole world was shaking and spinning beneath them.