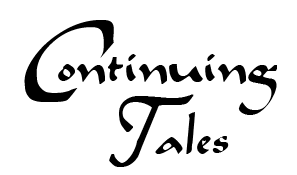 Makoto's shop remained closed that day, which was a minor sacrifice considering what was gained during these few hours. She had kept herself occupied by trying out a new recipe for a wedding cake, anticipating that she would actually earn a large part of her living with orders for such happy occasions as weddings. At times Hiromasa's shouting voice would reach her ears, and Kunzite's quiet, but firm response would follow shortly thereafter.
Hating to eavesdrop, she turned on the small radio that Minako had given her as a present for opening the shop, joking that Makoto might find a name for the still unchristened business while listening to some music.
Pursing her lips in concentration, the chef prepared some icing, but found the recipe wanting in precision. 'Add lemon juice', it read. How many drops of lemon juice? One? Five? A million? Her partner's voice interrupted her musings.
"Mako? Would you like to join us?"
A visible delighted Hiromasa leaned in the door frame, drumming his fingers against the white-painted wood. Putting the beater into the silvery sink, and then washing the sticky icing sugar of her hands, she answered: "Of course I would." Grabbing a plate filled with chocolate-chip muffins and macadamia cookies, she followed him back into the main room.
The silver-haired man at the table looked infinitely better than he had several hours ago. Colour had returned to his face, banishing the sickly paleness that had dominated it earlier. He was leaning almost casually in his chair, but got up as soon as he heard herself and Hiro approach. He inclined his head in a shortened bow, and waited until she had put the plate down on the table before extending his hand to her.
"When we met earlier, I neglected to properly introduce myself. Please accept my apologies." Laughing, Hiromasa took a seat. "Takeshi, I sincerely doubt that Mako is going to hold that against you." A quick smile on the chef's face supported this sentiment, but she took his hand and shook it, knowing and remembering that the general valued manners above many other things. He had always been unfailingly polite, which was why he and Venus had been such an unlikely couple. She wondered how long it would be before the man would enquire after his former love.
The next hour was spent in deep conversation, and the young women marvelled at how at ease the two men were. They had some trouble with the modern names, but there was obviously an unspoken agreement to leave Kunzite and Nephrite in the past, so they were trying their best to become used to Hiromasa and Takeshi instead.
Around noon, their moved their small group into the kitchen, where Makoto scoffed and laughed at the chaos Hiromasa produced as the cooked them his special version of Chilli Con Carne. Even Takeshi's guarded face lit up in a grin that still managed to remain dignified when his talking friend proceeded to throw more and more spices into the boiling food without even looking at what it was that he was so generously adding to the already manifold mix.
While Hiromasa put the finishing touches to their lunch, Takeshi and Makoto laid out the table. They had talked about Mamoru, Usagi, when they should meet, briefly touched the topic of living-arrangements and what sort of job he had, but two important matters had not been addressed yet.
"Takeshi?" He looked in her eyes, and sighed inwardly. He knew what was about to come, and he had been surprised that it had taken her so long.
"I will not ask you how you knew where to find us, but I need you to know, to understand that I will not lie to her. She is my friend, in more ways than one, and in every way that counts, so I will tell her about your return and sincerely hope that this is a decision that will not stand between us, and more importantly, not between you and Hiro." She had grasped from the few hours in his company that he would avoid Minako as long as he possibly could, for reasons that he would never elaborate on.
A sad smile touched the corners of his mouth.
"Tell her."