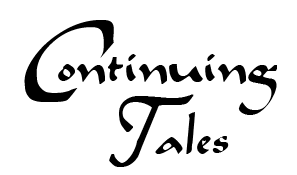 He had always admired Kunzite's steely resolve, envied Jadeite's ability to make himself heard and adored Nephrite's easy-going nature. They were as much friends as they were brothers-in-arms, but when they turned on Endymion, they turned on each other and thus on themselves. Zoisite had been the first to go, so much more susceptible to Beryl's delusions of grandeur than his seemingly stronger friends. He was the weakest link, and he had known it all along.
The world around him was filled with a white-hot rage, and he ran screaming into the battle, blood pounding his ears and dripping from his hands.
Don't know if our fate's already sealed
This day's spinning surface on a wheel
He never knew why he fell for Mercury the way that he did. But he found himself seeking her company whenever he was sent to the Moon Kingdom for some diplomatic mission or as the guard of the visiting prince. They would share a glass of wine in the spacious library, the ashes from the fireplace dancing through the air like dark fireflies. Their conversation never strayed to matters of the heart, and until the day he died in a blizzard of irate ice, his feelings for her had remained unspoken.
The cold seeped into his bones, ripping his soul apart in ways not even Beryl could have imagined it her cruellest moments. He could have easily killed the senshi, but his re-emerging heart wanted her to live the happily ever after she deserved. Mercury belonged in a realm of knowledge and books, not on a battle-field. He turned his powers on himself, not willing to take this beautiful being out of this world- it was his last and only act of defiance against Metallia. When Kunzite's heavy blade struck the crying girl, Zoisite had already left this world behind.
A fragment of light at the end of the tunnel?
A reason to fight?
As a child, Umino had often dreamed to stand in a snow covered landscape, devoid of the sound of his own thoughts. It had been a pleasant dream, one that soothed him above anything else, for he had a restless mind that was constantly spinning with thoughts as sharp as broken glass, never giving him a minute of peace. Only when he met Mercury's reincarnation in the park years later did he know that it wasn't a dream, but a prophesy that waited to be fulfilled.
An hour passed before he finally trusted his feet to carry him to her. It took him another year to tell her that he had loved her long ago, and still did. It would take the rest of their lives to make up for the opportunities missed by in the Silver Millenium, but they had finally arrived where they were destined to be.
Airmail
A Sailor Moon Story
by LovelyLytton
Part 21 of 42
<< Previous
Home
Next >>