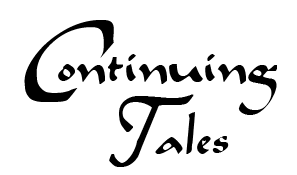 Ami sat at the small table close to shop window that had quickly become her second home. The past week had been spend studying in a way that was obsessive even for her. But she felt that with all the time she gladly spend with and on Umino, her studies had been scandalously neglected and she was very intend on not falling behind. This was her last semester before she would start working at a hospital as a proper doctor and knowing that people would trust her with their lives made her feel dizzy with fear and happily purposeful at the same time. Ami Mizuno needed to be prepared for the days that were to come and what better way was there than to bury herself in books and notes?
So every day, after locking herself away in the library for hours, she came to the café, took up residence at her designated table and revised what she had learned already. Umino was respectful and understanding, and more than once she had been privately thankful for him pursuing an academic career. He knew how important her studies were to her, because so were his to him. Only that if he made a mistake, no one would die. Naturally, this was a thought she would never ever voice.
He had joined her yesterday, quietly working on his thesis, only occasionally sneaking her a glance that send the butterflies in her stomach flying. Once Makoto closed the shop, he had walked her home and his hand had brushed against hers several times on the way, and she was sure that none of them were accidental. Minako had teased her about their prolonged courtship, and even Usagi had begun to ask about their still non-existing first kiss, when they hadn't so much as purposefully touched one another. The only one who might have understood their need and their desire to take it slow and to connect on a spiritual level first was Rei, but Ami didn't dare to mention the shitennou to her. Not because she was afraid, but because she knew how raw and open the wounds Jadeite had left in her friend's heart when he wasn't even himself still were. Rei was bleeding, leaving one drop of her blood behind every time the memories and the man resurfaced. Not even the soon-to-be doctor could do anything do alleviate her pain.
But despite the long hours, and the knowledge of her friend's turmoil, life had never been so good to her. Ever since her father had disappeared all those years ago, Ami had surrounded herself with women only. Having Umino in her life was a change of biggest (and best) calibre.
Searching for something in her notes, she didn't notice Hiromasa approaching her. He spend almost as much time in the café as Makoto. Only when he knocked on the table and took a seat in the chair opposite her did she look up.
"Makoto sends you this from the kitchens. And she made a point of telling me to make sure that you eat it all up. And between you and me, I'd rather not make her angry."
With that, he pushed the books out of the way and a plate over to her. On it was a rather generous portion of blueberry cake. A small note was propped up next to it, reading Blueberries for the vitamins in Mako's loopy , he produced a small cup containing an almost black liquid.
"And this is my addition. Espresso, very strong. I think you'll like it."
"That is so nice of you, both of you, but I really need to study. I will begin my first year as a surgical intern come August and there is so much I still need to learn and-"
Hiromasa leaned over the table, concern and mild amusement playing out on his features. He interrupted her flow of words and cut in smoothly.
"If you want to be a doctor, and I am sure you will be a great one, you need to take good care of yourself. Or let Makoto do it, she has a knack for watching over people, especially those who forget to eat when they're busy." He grinned, got up and returned with a small pink bowl filled with whipped cream and began to generously pile it on top of her cake. He didn't stop until she finally laughed and waved him off, accepting both the cake and the espresso with a smile. Ami didn't know whether Makoto's baking skills had gotten better yet again, but something about this cake tasted even better than usual.
Suddenly realising that while she knew a lot about how to fix a broken bone, she knew next to nothing about the man opposite her. She knew who he used to be, that he loved her friend more than his life, that he had family that he cared deeply for, that most of his furniture was excruciatingly heavy, that he owned next to no books and that he preferred muffins to cookies. Oh, and that he knew how to make worried people laugh. But that was it. And it was decidedly not enough.
"Hiromasa, what is that you do for a living?", she asked between bites, ever too polite to speak while actually chewing. The tall man leaned back in his chair and even before he had uttered one word, she knew that he was just as passionate about his job as Makoto was about the café. His brown eyes had lit up and his face was full of movement when he spoke.
"I design and make furniture. Lots of heavy wooden things, so nothing Takeshi would ever consider buying, but he's not exactly my target group. Most of the stuff you and Umino carried out of my old bachelor pad and into our home was made by me. Good, hu?"
Makoto had come over and joined them at the small table, making sure that all other customers were happy before she sat down on his lap in a movement so natural it made Ami yearn for something similar in her own life. Maybe it was time to move a teeny tiny step forward, she wondered and thought of the lanky blond philosopher who had died for her once and who was just as shy and careful as she was.
One arm of Hiromasa's arms encircled the brunette's waist, while the other described some of the pieces he had designed by drawing them in the air in the most animated way.
"And did you know that I recently made some bookshelves out of cherry wood? They are quite strong, can carry up to 350 books, I think you should look at them, what with your studying and all. They are about two and a half metres tall, aren't they, Mako?"
His hand occasionally bumped into the window while he described the bookshelves in more detail, as the space available was obviously to small to do his work justice.
Makoto grinned, Ami giggled and Hiromasa beamed.
The chef suddenly spotted something or someone through the glass, and waved enthusiastically.
Ando and Minako, ever inseparable these days, tumbled in the café with a delighted Usagi in tow. More chairs were pulled over to Ami's small makeshift desk, and all thoughts of studying were forgotten as the newcomers began to excitedly tell them all about a new story Ando was working on and how he had employed both Minako and Usagi as secret undercover spies. Not that they had been particularly successful, but all of them felt that this was slightly beyond the point any way.
Books lay forgotten as Ami enjoyed her friends' company, and sipping her espresso, she decided that since a huge part of being a good doctor consisted of talking to people, doing just that was excellent preparation indeed.
Many years in the future, when all of them spend more time behind the walls of a crystal palace than in the café that was still open and running, Sailor Mercury gave an overworked General Nephrite a top of the line espresso-machine for his birthday and a piece of blueberry cake that was completely covered in whipped cream to boot.