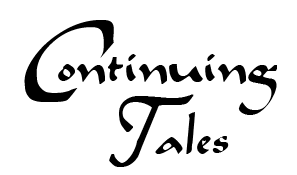 Putting the pink bowl filled to the rim with toffee popcorn on the table, Minako Aino smiled and looked around her cluttered living-room. There was the huge red couch with pillows in every imaginable size and colour (perfect for sleeping, kissing and entertaining friends), stacks of magazines on the windowsill (necessary to know what today's women wear tomorrow), candles on every available surface (artificial light doesn't work for serious laziness) and some books hidden underneath her ancient armchair (so, she has an obsession for cheap historical romances, eat it).
Happily plunging on the couch, she grabbed for the remote and started the film. What was it that she rented again? Ah yes, Stardust. Fair maidens, humour, some mystery and - of course - evil witches. She snorted. I might as well take a camera to the next Sailor outing and tape a film of my own. Now, don't be a cynic, Minako, this is your quiet, relaxing evening at home, God knows you need it after yesterday's party.
Leaning back and hugging a fluffy pillow to her chest, she tried her hardest to let herself be immersed in the elaborate tale of love and adventure that was spun in front of her. But the popcorn suddenly tasted stale, just as the boy's kisses had the night before. Don't you remember his name? But all she remembered, all she strangely cared about was that rapid rhythm her heart had taken on and its mysterious cause. For there was no action without cause, years of youma hunting had taught her that. So what the hell happened there? The pillow found itself flung in a faraway corner, the popcorn ended up in the bin, the candles were deftly blown out and the books were pushed farther under the armchair by a not so subtle nudge of her left foot.
Stomping through her living-room, she picked up the phone from its hiding place underneath her favourite blue jumper on the floor and dialed a familiar number.
"Hey, it's me. I need to talk, can you please come over?" Twenty minutes later, the sound of footsteps echoed down the hall and a soft knock on her door announced her friend's arrival.
She practically ran to the door, all restless energy, tore it open, and looked into a concerned pair of green eyes.
Without welcome or further introduction, she hastily blurted out : "I am the senshi of love and I don't remember the name of the boy I kissed on New Year's Eve.", and promptly burst into tears.
Makoto blinked in a confused manner and then hugged the crying girl and manoeuvred them to the couch. After trying to calm her upset friend for the better part of an hour, she decided that distraction was the best course of action.
"You were right about the Internet. It is a good means to finding out stuff, especially about people." Sniffling, Minako lifted her head and observed her friend, curiosity getting the better of her. I didn't know she had a boy in sight. Boy... Nameless boy... Thus remembering her predicament, she suddenly wailed: "But you can't find out a name that you weren't supposed to forget in the first place!"
Before Minako could get into full-blown misery mode again, Makoto hastily continued.
"I tried to find Nephrite."
Minako Aino was rarely ever speechless. When a talking cat told her that she was destined to be a fuku wearing crime-fighter, she had launched a ten minute monologue of how silly that was and how the cat should rather go and find Spiderman, Batman or some other kind of man for the job. When Rei snapped at every single living and breathing thing in a radius of 200 metres, she had a flippant comment at hand in order to lighten the mood. When Usagi suggested that they should all dress up in cheap Senshi costumes for Halloween, she immediately raised her hand and stated enthusiastically that she wanted to go as Mercury.
But in that very minute in her apartment, Minako was stunned into silence, as comprehension slowly dawned on her face. It didn't matter what the boy's name was. She didn't find it in herself to care anymore. His name was not Kunzite.