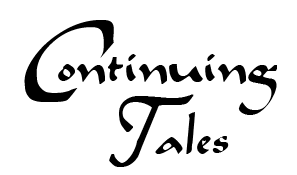 Elizabeth helped Ashwini settle the hunting party, serving them food and wine, and treating any wounds they'd acquired during their journey. Darcy joined in the efforts to oversee and clear away the rubble as Captain Danbury consulted with Mr. Gardiner regarding the best methods to set about rebuilding the house. Both men agreed that the residence was inhabitable, and so the visitors would be transported up to the hill country for the remainder of their stay so they could rest and recuperate.
A modest service was held for the dead, including Caroline, at sunset that day. Both Darcy and Elizabeth had immersed themselves in the unending work the disaster had yielded. Having a moment of quiet to commemorate Caroline Bingley was rather surreal in this paradoxical landscape of Eden mingled with devastation. Caroline's body was laid to rest in the local churchyard, and the Captain commissioned a large stone carving of a weeping angel to be placed on her grave. At the end of the gathering, the company of masters, mistresses, servants and villagers dispersed to find a spot on the property to lay their weary heads.
Dawn came clear and bright. Elizabeth had slept in the same stained day dress she'd put on the morning Caroline was in hard labor. The baby – Elizabeth remembered the infant for the first time since the previous morning. In the pandemonium of the day, she'd forgotten the baby. Had Darcy met his daughter, she wondered? Where was he, she thought, looking out across the courtyard where many of the men had bunked down.
Instinctively, she stepped quietly across the paving into the fields beyond the main house, and looked across the fields. There he was, dressed in his snug breeches and boots, shirt tails tucked in, but with his collar open to welcome any stray breeze in the unseasonably hot weather. He was walking toward the jungle, and Elizabeth knew where he was bound.
Without a hesitation, she hitched up her skirts and ran through the tea crop and coriander, running to catch up with his long strides. He was well on the jungle path to their secret pool when she finally could summon him. "Mr. Darcy – William!" she called breathlessly. Startled, he whirled around to her, and in two short strides, he pulled her to him and embraced her. Neither said anything, they just stood together, grasping each other, barely breathing.
Finally, Darcy broke the silence. He said her name over and over again, and spoke to her about his worries, how he was terrified when the tiger attacked, and how he wasn't even aware that he had shot the beast until it collapsed at his feet. He wept when he told her about seeing his cousin covered in blood, and then again when the colonel began fading from losing so much blood. And then he told her that he never imagined anything so tragic would happen while he was away at the hunt – he never dreamed that Caroline would have progressed so that the baby would come while he was away. He had been so preoccupied with getting the colonel to safety, he could not imagine the impact the quake would have on the captain's house.
"There's nothing to be done about it, William. You could not have stopped the earth from shaking, for from the babe from birthing," she assured him. By now, they had reached the pool and sat side by side on a fallen log. She hesitated, and then went on. "Have you seen the child yet?" she asked quietly.
He looked away, with a slight frown. "No, I – I have not yet." He turned his head skyward, hoping to hold back the tears forming in his eyes. "This baby. This baby was not meant to be."
"Hush," she pled, "Do not say such a thing. She is a beautiful babe. I've held her in my arms – she is perfect in every way." She placed her hand upon his arm. "Do not judge her so harshly – she is an innocent, after all is said and done."
"Elizabeth, I would not have married Caroline if it were not – I had to think of Georgiana, and her reputation; and, I sought to make amends for interfering with Bingley and Jane." His voice choked in pain. "You had no love for me, or at least I believed you did not. All the while, you had refused me, despite your feelings…despite our…connection…I believed you would never consent after all that had transpired."
"It is true – I would not marry you then. Our marriage would have been so unbalanced, so against the order set by society…I would always doubt your true feelings for me, as I would always be blight on your family name."
"Society!" Darcy snorted. "What good is society and civilized manners and custom when it imprisons people?"
Elizabeth's head dipped down. "I thought you abhorred me after I acted so – wantonly. When we kissed – that Christmas in Pemberley - in the study, when I kissed you – and you left. I acted so lasciviously, I thought you were repelled. I was so perplexed."
He turned intently towards her. "I will not leave you again, Elizabeth. Ever. You must marry me, we must be wed – soon."
"But – Caroline is dead now – you must mourn – "
He quieted her with a finger on her lips. He looked around and gathered his thoughts. "Living here in this wild country has taught me much. Here, in this paradise, there is great splendor - and horrific danger, and there is little to be done about either. Life is all around, birthing and growing and dying uncontrolled, despite all of the careful plans and structures we place upon it. I shall grieve for Caroline, in my own way. But I will not delay our marriage on the behalf of her memory. I shall consult with your uncle, but no matter what he concludes, I will marry you, and soon, if you will have me." After this outburst, he turned to her. "You will have me, will you not?"
She leaned forward, staring deep into his eyes, and kissed him tentatively on the lips.
"My darling Elizabeth," he responded with another slow, lingering kiss. "Tell me you will marry me." He kissed her again, caressing her hand lightly. "Tell me you will be my wife."
"I will be your wife, William. I will be Mrs. Darcy."