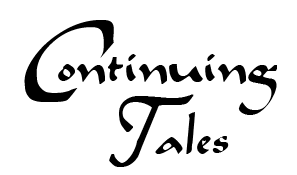 Sarah sighed deeply, her head resting on the Goblin King's chest. The ornate leather doublet was cool against her cheek, a small blessing, considering how hot and exhausted she felt. To move was the last thing she wanted to do, but her overheated state demanded it.
Carefully she shifted, as kneeling on the hard seat of the throne had become uncomfortable. Her knees were smarting, but she smiled in spite of the pain...it was well worth it. Leaning back slightly, she regarded him.
His eyes were still closed and his chest rose and fell rapidly, as he attempted to catch his breath. A fine sheen of perspiration had broken out on his cheeks and brow, giving his face a shimmering, ethereal look. Despite the signs that he too was overheated, his face remained pale instead of flushed.
He sighed deeply, his head resting against the curved crescent shaped seat back of the throne. Through heavy lidded eyes he watched her, finding the scarlet flush of her chest and face rather charming. Slowly she moved, beginning to withdraw from his lap.
Without warning he pitched forward, his arms suddenly tightening about her waist. He brought his mouth swiftly to her ear, purring huskily, "Just where do you think you are going...you wicked girl?" She couldn't help but smile at his playful admonition as she gently pushed him back.
Her emerald eyes sparkled with mirth as she coyly protested, "I am not wicked."
His chuckle was full of heat as he insisted, "Oh yes you are."
Her voice was low as she ventured, "Oh really? Would you mind telling why?"
He leaned forward, his smug smirk telling her that she could count on it. His grin broadened before his lips grazed her jaw, and his breath came hot against her ear as he breathed silkily, "You seduced me...on my very throne of all places."
She drew back, her engaging jade eyes locking with his. One dark brow rose as she snickered in a wholly flirtatious manner, "Oh...sorry. Would you have preferred the floor?"
He smiled, showing the fine points of his teeth, "No, but I admit, the idea had crossed my mind."
She shrugged and smoothly replied, "Maybe next time." Pursing her lips in contemplation, she admitted, "Alright...maybe I did seduce you..." Licking her lips she added, "But...It's only fair. After all, it was you who seduced me in your bath last night."
He retorted smugly, "Indeed, and I would do so again in a heartbeat."
Her eyes widened at the notion and she quipped, "Are you offering?"
He pressed his lips together in thought before he drawled, "Tempting as the idea may be, I actually had something else in mind." She regarded him with genuine curiosity and demanded, "Like what?"
"There's something I'd like to show you." His mouth twisted into a teasing smirk and he added, "That is...if you are up for a bit of walking."
Artfully, she slipped off his lap, the hem of her full skirt falling to her ankles as she pulled the peasant blouse back up to cover her breasts. She promptly adjusted the neckline over her shoulders and tossed her hair away from her face. Her sparkling eyes locking with his, as her mouth curved into a sultry smile, "I'm up for anything."
He arched an eyebrow at her comment before he completely vanished from the throne. Sarah looked about, startled by his sudden disappearance. Suddenly he rematerialized directly behind her. She felt the air shift and she spun to find him standing directly before her, fully dressed, down to his signature black leather gloves. He grinned wickedly at her squeak of surprise as he pulled her roughly to him. His voice caressed her ears and it was smoother than silk, "Off we go then."
She was overwhelmed by the strange sensation of being pulled in many directions at once as they vanished. In the blink of an eye they were standing in a tunnel that somehow seemed eerily familiar.
Jareth let go of her waist as she glanced about their new surroundings. The dark brick walls formed an arched tunnel that seemed to stretch endlessly before them. The worn flagstones of the tunnel floor were littered with sand and dirt. There were torches along the walls throwing some light, but it was dim at best. Her eyes scanned the curved ceiling of the tunnel, lingering on the remnants of cobwebs that wafted with the slightest movement of air.
Her voice sounded hollow as she pressed, "Where are we?" Jareth glanced down the tunnel and replied evenly, "In the labyrinth. Beneath it actually."
Sarah hesitantly remarked, "This place looks familiar."
He nodded in the direction they were to go as he replied matter-of-factly, "It should. Do you remember when Hogwart led you out of the oubliette and the two of you ran into me?"
Absently she answered, "You mean Hoggle...Yes, I remember, that was right before you sent the cleaners after us."
Undeterred by her correction he went on, "Yes well, this is the same tunnel, well part of it anyway. There is an entire network of them running beneath the labyrinth." She furrowed her brow and mused, "It all looks the same, how do you avoid getting lost?"
He smirked, "Simple. I know my way around."
He turned and started walking and she hurried to keep up with his brisk pace, "So, where are we going?"
He cast a sidelong glance at her, "There is a place I want to show you, just beyond the labyrinth."
"We're going all the way out of the labyrinth? Won't that take hours?"
He chuckled, clearly amused, "Of course not, that's why we are going this way. You might call it a short cut."
Her brow furrowed as she asked, "But wouldn't it be faster to just like zap us there or something?"
Smugly he answered, "Certainly, but then you would never learn the way." Suddenly he turned, making a quick right down another identical looking tunnel. She rolled her eyes and snickered, "Well, I've got news for you Jareth, I'm not learning it now, these tunnels all look the same."
He pursed his lips in mock concentration, "That's not entirely true. Look closer. Notice anything particular about this tunnel and the one we came from that is different from say...that one?" He pointed to yet another tunnel branching out to their left.
Her eyes darted over the tunnel, "No. Nothing...wait." She glanced back at the tunnel they'd just come from, "The torches!"
He beamed at her, "Precisely." Pointing ahead he explained, "All you need do to find your way to our destination is to simply take the tunnels with the torches hanging on only the right side."
"Oh, I see. But...how do you get into the tunnels from the castle? I mean if you were to walk?"
"Easy, just within the gates to the goblin city there is a fountain. I believe you've seen it. At the top there are stone figures of dwarves seemingly emptying pitchers into the base."
She nodded, "Yes, I've seen it." He went on, "Well, if you brush aside the straw that litters the ground at its base, there is a secret door that leads down to where we just started from."
Less than an hour had passed when the tunnel abruptly ended at worn looking wooden door. Jareth opened the door, leading her up a very narrow winding staircase, seemingly cut from the very earth. At the top of the stairs they emerged from a giant hollowed out tree.
Jareth took a few steps and pulled back the dense branches of the giant willow that obscured the path before them. "This is what I wanted to show you."
Sarah looked out at the landscape before her and gasped.
In a word, it was awe-inspiring.
Below them were gently rolling hills, covered in lush green grass that seemed impossibly soft. The hills were dotted with every imaginable type of wildflower, some even beyond imagination.
At the bottom of the hill was the jagged edge of a rocky cliff that had to be at least thirty feet high. From the top of the cliff, a pristine cascade of water tumbled over incredible jagged rock formations, landing in a perfect rock basin before flowing out in clear winding stream that cut through the lush hills.
As if all this beauty wasn't enough, the full moon served as a backdrop for the setting. Unnaturally huge in luminous blue and silver tones, it's magical glow bathing everything in surreal silvery light. And in the black sky a million stars glittered like a King's ransom in precious jewels. As they stood there looking out over the hill, a fresh spring wind smelling sweetly of flowers gently rustled the fine grass in a silent invitation for them to explore the valley.
At the same time a small black bird who happened to be nesting in the very willow they had emerged from woke to the sound of voices below him. His small glittering black eyes followed the couple as they made their way to the valley.
Sarah and Jareth spent the rest of the night there, splashing about in the basin, lounging in the soft grass admiring the stars, and intermittently making love. It was as if their past had entirely melted away for these few hours. They passed the time like two lovers content to simply be in each other's company. They talked and joked, laughing freely as if they had never been adversaries at all.
Sarah was almost sad to see the sun rise over the green hills, as it meant their wonderful night was over. Reluctantly Jareth informed her that they had to return to the castle, for he had to attend his duties and hear the morning reports by the guard. Sarah accompanied him and decided she could use some sleep while he was busy, she had stayed up with him the entire night afterall.
Later in the castle...
It was quickly approaching midday and the rain beat down mercilessly, the large drops spattering on the stone ledge of the small window in Sarah's chamber. The dark haired girl was lying listlessly atop her quilted bed. She was dressed comfortably in her own clothing, which consisted of a pair of worn blue jeans and a charcoal colored turtleneck.
She sighed deeply, her hazel green eyes drifting along the rafters of the high ceiling as she laid her open book face down on her stomach. The morning had started out overcast, but the lazy drizzle had eventually turned into a persistent downpour. Since she had finally roused herself from bed after her nap, time seemed to crawl by slowly, and the dour weather only managed to aggravate her restlessness.
Where was he?
Her mind buzzed with a whirlwind of turbulent thoughts, a veritable storm that rivaled the tempestuous weather outside the castle. Her impetuous actions over the past few days had landed her smack in the middle of very foreign territory. She had fallen in love.
Once again the Underground had taught her the valuable lesson that nothing should be taken for granted, and things are indeed often not what they first seem. In the last two days the Goblin King had gone from a rather infuriating adversary, straight to lover.
In a short period of time he had managed to break through her defenses, shaking her very beliefs, to the point where she could no longer trust her instincts. Until recently, his presence had produced a healthy amount of fear in her, which usually led her to regard anything he said or did with a fair amount of suspicion. Now when he was near only one thing seemed brilliantly clear...that she had fallen hard for him, in spite of all his infuriating flaws.
It was as though she had ignored all the warnings and leapt with both feet from a dizzying cliff, and now she was afraid to look down for fear of what she might see. Would there be something to break her fall at the bottom or would she simply smash into a billion pieces? Regardless of the answer only one thing was certain. There was no going back. God, he had just left her only a few hours before, and already she missed him.
She had fallen hard for Jareth, king of the Goblins and ruler over a land that she once thought only existed in her imagination. What's more...he's not even human, she thought to herself and mused, What will happen now?
She pressed a shaky hand to her forehead as the details of the night before came back to her in a warm rush. She had been intimate with him, many times over. How had she let things get so out of hand? When did things get so complicated?
In love with the Goblin King.
How could the world ever go back to normal?
Deep down she knew the answer. It couldn't. So many questions burned within her though she dreaded to know all the answers. What would happen when the year was up? Could she bring herself to actually go home? Would he let her? And if he did, could he remain in her life, could she see him again...was that even possible? What kind of relationship could they possibly have...if they could even have one at all? Would he only see her in private...like a secret lover, or did he want more? Sooner or later she'd have to confront Jareth with these questions, no matter how much anxiety they caused her.
Sarah was suddenly shaken from her thoughts by an insistent knock on her door. Knowing full well that Jareth would never knock before entering her room, she had to assume it was some goblin with a message for her. Tossing her book aside she called, "It's open."
The door opened slowly and sure enough a goblin peeked inside, "Visitor to see you Sarah." Relieved by the distraction she leapt off the bed and threw the door open wide to see a very wet Hoggle standing in the hall.
Politely she informed the goblin, "Thank you, you may go." Before she welcomed her friend, "Hi Hoggle, come on in."
The dwarf's eyes brightened as he limped into her room brushing the excess water from his leather cap, "Hiya Sarah."
Sarah dragged a wooden backed chair over before she settled on the edge of the bed, "How's everything Hoggle? How are Didymus and Ludo?"
Hoggle clamored up onto the chair, his short legs not quite reaching the floor as he gruffly replied, "Same as always I s'pose. Didymus still patrols the bog, still swears he don't smell nuthin' and Ludo, well he's happy livin' in his rock gorge."
She nodded at the news and further probed, "And you?"
Hoggle brushed the comment aside, "Aww I'm all right..." His voice dropped considerably as he added, "It's you I worry about missy."
Sarah smiled wistfully, "Don't worry...I'm not a kid anymore, I can take care of myself."
Hoggle scoffed incredulously, "Like you took care of yourself when that wraith nearly ripped you to pieces? "
Frowning she countered, "I told you already, nothing happened. Jareth was there in time."
Hoggle rolled his eyes and added under his breath, "Barely..." Suddenly he glanced about suspiciously and remarked in a hushed voice, "Speaking of his Highness, Prince Charming...where is he?"
Sarah shrugged, "I don't know. I haven't seen him since we..." Pausing, she added, "Errr...since early this morning."
Meanwhile...
The Goblin King was presently perched atop the stone ledge of the highest window of the tower of the goblin castle. From such a high vantage point he could survey his vast kingdom. The immense labyrinth spread out before him, disappearing into the gray horizon, where lightening flashed from forbidding dark thunderclouds.
Neither the ominous skies nor the persistent rain drove him indoors. He merely watched as the thunder rolled closer and the rain began to furiously pound the stone ledge of the window. The wind whipped, touseling his already wild mane of platinum hair, but he ignored it. He came here to think, and think he would, more deeply perhaps than he ever had, and not even the elements would stop him.
His black poets shirt, open nearly to his waist, flapped in the chilly wind, seemingly reflecting the somber mood of the dark skies above. His legs were propped up upon the ledge, his elbow resting lightly on his knee as he contemplated the sinister landscape before him. In one elegantly black-gloved hand he absently twirled two perfect crystal orbs in a dazzling display of deftness, but his thoughts were undoubtedly elsewhere.
He sighed heavily, but despite his pensive expression and the dour weather, he was not unhappy. And that was precisely what troubled him.
Throughout his long life he had become accustomed to many emotions and feelings; pride, envy, desire, boredom, despair, hatred, and even passionate love, but contentment...
Happiness was a state of bliss that until presently had remained totally alien to him. The feeling was so strange and confusing that he was at an impass as to how to deal with it. The only thing that was clear to him regarding this new sensation was that Sarah was somehow responsible.
He had wanted her for so long now, and his scheming had been flawless. The execution of his plans could not have been any more precise. He had at long last attained her, and she had returned his love. There was only thing he hadn't counted on, and that was how her love would affect him.
He had just assumed that his infatuation with her and the passion he felt for her would be satisfied once he had attained her. Now he realized it had been naïve to assume that making love to her would quell his need of her, that his weakness would abandon him, like the lifting of a fog, once he possessed her. It now seemed evident that his assumption had been a grievous error. His passion for her had only intensified, making him love her even more. It was alarming to him that even just being with her initiated such a sense of euphoria that it rivaled even the strongest Fae magic.
How had it come to this? That in addition to being afflicted with a startling passion for his greatest adversary, and by trying to settle the score between them, he had inadvertently come to truly care for her. Once upon a time he found her to be an irritating brat...even an attractive and engaging brat...but an irksome brat all the same.
But now...
The tempest of emotions he felt for her were so complex he could not even tease them out to make even a bit of sense. How could he, the Goblin King, feel this way about the only one who had bested him. She, the one who had smashed his pride and thrown his world into disarray. By the fates she had practically immasculated him, him a powerful Fae King and she, a mere girl. How was it possible that he harbored tender feelings for the very creature that by all rights he should loathe above all others. She deserved his revenge and now that she could so easily be at his mercy...
He was supposed to inflict his wrath, not offer his love freely. But that was exactly what he wanted to do.
All along it had been his intention to earn her trust, win her love, and then he would settle the score. She was supposed to suffer as he had. That had been his plan, but now it was all so confusing. Now getting his revenge didn't seem so important. In fact the idea of causing her any sort of grief or pain no longer excited him, the idea of hurting her now seemed repugnant. The more he thought about it, the more he realized retribution was unlikely to solve anything. Now he was doubtful that revenge was ever what he'd really wanted. Now the only thing he truly wanted was Sarah's love. He wanted her to remain at his side.
Abruptly he stopped twirling the transparent crystal spheres. He got to his feet, his face set in a determined expression as the crystals fell forgotten from his hand and shattered like delicate glass upon the stone floor. He had made up his mind, though he could scarcely believe what he was about to do. Sarah had said earlier that she would retire to her room for some rest. He hoped she was still there.
Meanwhile...
"Sarah?" the dwarf seemed to study the girl carefully with his bright blue eyes, "You look sorta down. Somethin' on yer mind?"
Expelling a deep breath she admitted in a rush, "Well...yeah. A few things."
Hoggle studied his shoes and tried to sound reassuring as he replied, "Do...do you wanna talk about it? I...I am yer friend afterall."
She smiled wistfully at the dwarf before she answered delicately, "I would...but I'm not so sure you'd want to hear what's on my mind."
His bushy brows drew together as he replied curiously, "Oh? Why not?"
Their eyes met for a moment before she slowly looked away and admitted, "Well, because it has to do with Jareth."
Hoggle frowned as his brow creased and he replied with alarm, "Jareth! Wha...what about him?"
She ducked her head and sighed under her breath, "What isn't about him?"
Hoggle seemed to collect himself, squinting his eyes as though he were struggling to work things out. Finally he gruffly remarked, "This wouldn't be 'bout you two bein' together would it?"
Sarah buried her face in her hands and moaned, "Oh Hoggle...I'm in way over my head."
In a flash he was out of the chair and hurrying towards her. He patted her knee sympathetically and soothed, "There, There missy. Somehow it'll be alright." Suddenly he straightened and softly added, "I thought things 'tween you would be okay now...now that you are sweet on each other."
Sarah sighed heavily before she began, "Well, things between us are okay...for now. You see that's what worries me. Right now things are fine...but I don't see how it can stay that way." Letting her hands fall into her lap she cried in frustration, "Arghhhh, it's so complicated. This is Jareth we are talking about...Jareth and me. How can everything really work out? Things can never just be easy ...I wish it would just somehow work out, but I don't see how it could." She looked thoroughly miserable, "I...I love him...but this is Jareth, and this is not a fairy tale...how can there be a happily ever after? What am I supposed to do?"
The dwarf quickly tried to compose himself from her outburst. He was quick to close his gaping mouth and cover his surprise. It would do Sarah absolutely no good for him to stand there gawking at her like a big mouth fish out of water. He didn't have an answer for her, though he wished with all his heart that he did. It bothered him to see his friend so rattled. Well, he'd simply have to just do his best, and take things one step at a time.
Wringing his gnarled hands he began, "I don't really know. It ain't no surprise that I ain't very good at this stuff...but you're my friend, so I'll try." He plunked onto the bed beside her wracking his brain for any advice that might be of some help.
Jareth hurried down the castle hall towards Sarah's chamber, when he heard voices. Recognizing the male voice of the dwarf, the Goblin King stopped by the door, which was open but a crack, and overheard part of their conversation.
Slowly the dwarf prompted, "I'm not sure I really get it Sarah, now slowly, one thing at a time...what's really bothering you? Start at the beginning."
Sarah cast him a sidelong glance and sighed, "Well, what'll happen when my time here is up, for one?"
"You mean when the year is over?"
"Right. When Jareth releases me...IF Jareth releases me, how can my life ever go back to normal?"
Hoggle thought for a moment before he shrugged and carefully ventured, "Maybe you could you know...stay here."
Sarah quickly turned to him and asked in surprise, "What, you mean like forever?"
Noting the high-pitched edge of panic in her voice he gently elaborated, "Well...maybe now that you and Jareth are getting on better, maybe you could convince him to let you stay in the underground after he releases you. Maybe he'd let you live freely here if you agreed to stay here permanently."
"Are you crazy?! I...I can't stay here."
"Why not? You and Jareth could be together..."
"No...even if I thought everything else would work out between us, I can't just stay here. I have to go home. I still want to go home...even if..."
"No...I have a life back there, people I care about. There are still so many things I have to do. Not going home isn't an option. If he doesn't send me back...I...I don't know what I'll do."
"But you said Jareth admitted he loved you..."
"That doesn't matter..."
Silently Jareth backed away from the door, his expression icier than usual as his mouth set into a grim frown. He had heard enough. Her blunt admission was like having frigid water poured over his head. She still wants to go home.
His love didn't matter to her.
How foolish he had been to think things would be different this time around. He had made the same mistake yet again. He had let her get to him. To think, what he had been about to do...
The hurt and rage boiled up within him searing his very blood. To his horror he found the hurt to be much worse than the first time, when she had solved the labyrinth and defeated him. In a fury he spun away, his clothing silently changing to feathers. The only sound was the beating of his wings as he flew down the hall and out the nearest narrow window. Through the storm of fury and anguish that muddled his mind only one simple thought rose above the din and it was loud and clear. Sarah would pay.
Meanwhile, oblivious to the eavesdropper's swift intrusion and departure, Sarah continued, "I mean it doesn't change anything, I'd still have to return home. I have to finish school, and my family and friends...I can't just leave them, especially without even saying goodbye, that would be horrible. I'm not saying I'm against coming back here, but I can't just vanish from my own life. At the very least I'd have to tie up all the loose ends."
"So you're not against the idea of returning?"
"Of course not. I just don't know if it's possible...I mean could Jareth do that? Bring me back?"
Hoggle shrugged, "Dunno for sure, but I'd wager he could. He is King, afterall, and his power is nothing to trifle with."
Sarah seemed somewhat heartened by this and added, "What about Aboveground? Do you think Jareth would be able to venture there?"
Hoggle nodded, "He already does...you know that. He came to you the night he took your brother."
"Yeah I know, but can he only go when summoned or do you think he can visit whenever he chooses."
"I don't really know about that, but my guess is that Jareth can do pretty much whatever he wants."
Sarah seemed lost in her thoughts for a moment as she imagined how difficult it would be trying to explain a sudden intrusion by his highness to her friends, or even worse, her Dad.
"Sarah..." Hoggle thoughtfully began, "Maybe you should just ask Jareth. Couldn't hurt to ask right?
Sarah shrugged and nodded, "I suppose you're right. I should just stop being such a baby about this and just talk to him. Obsessing over a hypothetical answer won't do me any good. I'll talk to him about all of this today...no point in delaying the inevitable right?"
Hoggle smiled and nodded, "Right."