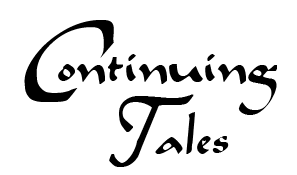 "Do you think it was a mistake to send those two off on their own?" Ladybug asked Peacock nervously as she swung across the rooftops. He made a muffled thinking noise. When he responded, his words nearly got blown away by the wind.
"I guess we'll find out. I know Chloe was a good person once. Although honestly, I'm having trouble forgiving her for everything she's done. So will everyone else. And she won't forgive herself easily, I know that. This isn't going to be some super speedy 'I'm a good guy now' moment. Old habits are hard to break," Peacock said wisely, before sneezing for the sixth hundredth time.
Ladybug didn't respond. She was focusing too much on the fact that her city was being completely destroyed and burned to the ground. The sound of warning bells and fire alarms, along with emergency response vehicles, filled the normally quiet night. How would she ever be able to fix all of this? How could she have let it get so out of hand?
"Where are we going?" Peacock asked suddenly, realizing that she wasn't stopping by civilians or heading the way that was originally agreed upon. He winced as her arm tightened a little too much around the lower section of his stomach, putting pressure on his biggest injury.
"Sorry," Ladybug murmered. "We're going to the source of the problem!"
"My father?" Peacock asked, cringing and fighting back the urge to either scream or cry. Ladybug nodded mutely. "But why? You can't face him alone! I'm in no shape to fight! He has the cat miraculous, your other half! He can balance you out!" Peacock again wanted to wince as he thought of his father using Plagg. "What about the others?"
"They're all new to this. I've been a superhero for years. I know all of the rules, I know my limits, and I know how to work my powers. Remember how clumsy we were at the beginning? That's what they're going to be like. All four of them! I can't babysit them and fight at the same time!" Ladybug said. She was afraid for her friends' lives. It was much safer this way. Peacock disagreed.
"That may be true, but you can't fight him alone! It's impossible! He isn't just another akuma!" he argued. She kept going resolutely, ignoring the sneezing blonde boy. He frowned. "I don't want to see you get hurt, my lady."
That was what did it. The nickname. Recently used (about a week and a half ago) in the midst of friendly banter and the daily akuma attack. He said it lovingly. She thought he said it jokingly. That was before. Before all of this happened. Before Adrien got hurt, before their identities were revealed. Ladybug faltered.
"I don't want to see the rest of them get hurt," she answered. "You're right, this isn't just another akuma. It is one of the two most powerful miraculous. We had a hard enough time with the akuma, can you imagine new super heroes fighting... him? If anyone goes down, it should be me. I know what I got myself into when I accepted this miraculous."
"So did they, Ladybug. So did they," Peacock said simply. "I know I can't stop you. I know I can't help you. But remember, you're all I have left now. You can't die on me. Please. I'm begging you!" He sounded so heartbroken that Ladybug considered turning around, maybe calling Alya and asking the team to regroup. But another scream echoed across the streets of Paris and she continued on.
"I know, chaton. I won't leave you. I could never leave you. But I have to try. I won't do it if it looks too risky, and I'll back out if it gets too rough."
"Oh look, a few dozen undead minions. Looks too risky already," Peacock deadpanned, pointing at the swarm. Ladybug huffed.
"I know," she admitted. For once, you're absolutely right."
"You mean paw-sitively right."
For once, Ladybug bit her tongue before she joked about dropping him. Because she couldn't even joke about something anymore, especially something like that. Peacock seemed uncomfortable too, because he shifted against her side. Maybe he was just trying to find the least painful way to travel. "We're getting close," she muttered, observing how more and more undead seemed to be clustered around the area, watching and waiting. Peacock bristled beside her.
Using all of the stealth and the Ladybug luck she could muster, Ladybug crept along in the shadows. Her red suit wasn't the best camouflage, but she had long since learned to work with it. Finally she stopped and peered into the park. She gasped in absolute horror to see her beloved bakery home. Now, it was just a pile of rubble and some jagged pieces of wood. Paris looked like it had been bombed.
The park had been stripped of trees, but the fence around it was still standing. Hundreds of undead people stood inside of the park, silent. Standing in the center of the park, on top of the podium that used to bear the Ladybug and Chat Noir statue, stood a larger, and admittedly more fearsome, version of Chat Noir.
Ladybug found a building along the edge of the park that was only half demolished, and had somewhat stable places to hide on the roof. She immediately set Peacock down. The boy curled up against a broken chimney missing half of its bricks, clutching both hands to his sides.
"AH-AH-AH..." Ladybug quickly shoved a finger under Peacock's nose to silence the sneeze.
"I'm going to go in there," she told him. He nearly fell off of the roof.
"What?" he hissed. "Are you crazy? That park is full to the brim of indestructible soldiers. You would be outnumbered like 453 to 1!"
"If I can use the element of surprise and attack him directly instead of having to stroll through his little army, then I won't have to deal with it."
"And after he notices you?"
"I'll wing it from there."
There was a moment of silence.
"Ladybug, Marinette, please don't!" He looked up at her with big, pleading green eyes. They were slowly filling with tears. "I get that you feel like this is your fault, and I know that you feel like you have to fix it immediately. But you have no plan, no backup, no partner, and no hope. If you have to die to fix this..." Adrien took in a deep, shuddering breath and let it out again. "Then die a hero, not a martyr."
"I'm sorry, Adrien. I have to try." She leaned down and kissed him softly, ruffling his hair. "I'll be right back."
She looked back at him one last time before pulling her yoyo off of her hip and swinging down to attack Gabriel. She left a weary, tear-soaked, and terrified boy in her wake. "Please Ladybug, please come back safely," he whispered into the night air. "What would Paris do without you? What would the rest of the team do without you?" He paused for a minute, staring at the moon through the thick smoke. "What would I do without you?"
############################################################################################################################################################
"Everybody, does the subway still work?" Queen Bee asked, diving down into the station. Many gasps rose from the crowd. Queen Bee introduced herself and Volpino briefly. Thankfully, the subway system had not been shut down for hope that Paris could be evacuated more easily.
Suddenly, someone in the back of the crown let out a blood-curdling scream. Down from the other entrance marched nearly a dozen undead. "Everybody, out this way, go!" Queen Bee ordered, shouting over the crowd. "Find any operative vehicle! Make sure the owners are with you or already got out safely! Drive as far away as you can! Hurry!"
Volpino, thinking that this was either the bravest or the stupidest thing he had ever done, leapt over the heads of many people in the crowd and landed firmly in between them and the undead. He blew into his flute. Suddenly, several more generic people appeared. They were just visions, but they ran at the very back of the crowd so that every time one of the undead reached for someone, they would dissolve into orange dust.
Finally, the undead got frustrated and turned to the source of the problem, ignoring Queen Bee, who was directing the flow of traffic and checking up on everybody, and surrounding Volpino. He squealed as he realized he was boxed in, desperately swinging his flute around and getting in a few hits. He jumped backwards, and nearly screamed as it launched him into a full back flip, sending him over and outside of the undead.
Volpino grinned, feeling slightly more confident. He whipped out his flute and played several notes. More undead soldiers burst into existence, blocking the way of the real ones. Of course, whenever they were punched hard enough, they instantly dissolved. But it distracted the others as they fought their way through. Real undead ended up repeatedly punching other real undead, nearly taking their own army out.
Eventually, they got through. One grabbed Volpino's arm, while another snatched his flute out of his hand. Two more tackled him to the ground, pinning him down. The first one raised a fist to punch him and knock him out, but before he could, a flash of yellow zipped by and all five of them froze. Queen Bee didn't hesitate to yank Volpino up. He noticed that she had a scratch on her cheek, and blood was running down it.
"Thanks," he said gratefully. She nodded. "What happened to you?" Queen Bee motioned to the other seven undead, who were busy putting themselves back together and dragging each other to their feet.
"We bought the civilians a lot of time. Let's get out of here before they fully reassemble," she said. She and Volpino dashed out the exit that the undead had come in from, heading deeper into the heart of Paris.
############################################################################################################################################################
Papillon and Jade Turtle had their hands full. After finally convincing all of the mostly drunk people at a bar that they really did need to flee before the destruction reached them, they had to deal with a hysterical mother, and an ex-marine who insisted he could fight with them. Now they were running from door to door, waking everybody up, helping people off of the streets, and sending them away in buses and cars.
Papillon slumped against a wall. "Got to keep going," she said, gasping for breath. Jade crouched with his hands on his knees, panting.
"How do you think the others are holding up?" he asked, gasping. Papillon shrugged.
"They all went into the more dangerous parts of the city. Even Queen Bee and Volpino. Unless that was just to throw us off."
"I'm worried about Adrien," Jade admitted, standing back up. Papillon nodded in agreement.
"He can't fight. He can barely walk. He's a sitting duck. I'm just scared for Mar-Ladybug. She feels really guilty, and she's horrified at all of what's happened. She'll do something reckless if she can get away with it..."
"Adrien can stop her, right?" Jade Turtle asked hopefully. Papillon shook her head.
"I sure hope so. I don't think anything could stop her though, and Adrien can only use words, he couldn't physically restrain her." Papillon paused. "We should call them and make sure they're okay."
"Well, if there's one thing Adrien did get from the Agreste family tree, it was stubborness," Jade reassured her. He whipped his shell shield (which doubled as a communication device) off of his back. Before he could dial though, somebody stepped out of the shadows.
"Excuse me, but did you say Agreste? As in, Adrien Agreste?" a soft, feminine voice asked. Papillon whirled around.
"You need to evacuate, lady!" she cried exasperatingly. "Come on, we were just about to go finish this county. We'll find you a car or something."
The woman held out her hand to stop them, and stepped partially out of the shadows. "Is he in any danger? Oh my god..." The woman suddenly covered her mouth. "Please tell me he's not a miraculous wielder."
"How do you know what miraculous are, dude?"
The lady stepped fully out of the shadows so that they could see her appearance. She had long, honey blonde hair that was braided over her shoulder. Her vibrant green eyes looked far too familiar. Other than that, she had a very nice figure, and was wearing jeans and a nice blouse.
"Because I used to wield one," she answered. "Does he wield one? Is he okay? Has he ever been hurt?"
"Uh, can't tell you that," Jade stuttered. "Who are you, and why do you look familiar?"
"My name is Emily Dausi, formally Emily Agreste. Adrien is my son."
############################################################################################################################################################
Ladybug threw herself at Chat Noir. He didn't notice her until it was too late. Her yoyo slammed against his head, making him lose his balance and topple into the crowd of undead soldiers. Ladybug jumped down on top of him, batting a few of them away.
Chat Noir quickly recovered and spun to his feet, whipping out his baton and extending it towards Ladybug. She jumped over it, and then ducked as he swung it at her and rolled, returning to her feet. She lifted her yoyo, but an undead soldier grabbed her arm, yanking her backwards. She scrambled away from it, only to be closed in on all sides. She growled as she spun her yoyo around, using it as a shield.
When Chat leapt, she barely managed to dodge. His baton briefly hit her shoulder, leaving what she knew would be a nasty bruise. She backflipped over some undead and through a few punches at him, one of which hit his jawline. While he was momentarily distracted, she reached for the cat miraculous...
Only to be tripped and pinned down by several undead soldiers. Squirming furiously, she flipped about and kicked. Nothing helped, there were way too many, coming in from all sides. It was impossible to get free. Her yoyo was torn out of her hand and Chat walked over triumphantly.
"Looks like I finally win, Ladybug," he cackled. He reached down, fingering her earlobe for a second before pulling the back off of her left earring.