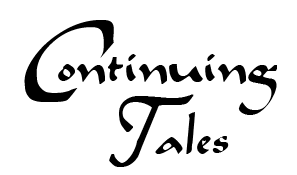 "W-What?" Jade asked again, feeling weak. Papillon's jaw dropped and she took a defensive stance.
"You can't be! You're dead! Everybody knows that! And you didn't mysteriously 'die' either. There are pictures from the funeral! Mrs. Agreste's body is in the coffin! Who are you really?" Papillon growled. Emily 'Agreste' held her hands up in a gesture of surrender.
"There are ways to make yourself appear... dead," Emily told them. There were tears in her eyes. "I didn't want to leave them. I really didn't. I loved Gabe, and leaving my baby boy broke my heart..."
"Then why did you?" Jade asked, confused. "And why did you have to fake your own death? Adrien was never the same after you died! I didn't even know him them! His father never paid him any attention! He was shunned and hurt repeatedly! And it's all your fault!"
Nino had been planning this lecture for years. After befriending Adrien, it made him angrier and angrier every single day that Adrien came into class with a frown on his face, or couldn't hang out because he had to go learn another useless skill that he didn't want to. Heck, Nino got angry whenever Adrien did have rare free time to do something fun, because he got so over-excited about something that was perfectly normal for everyone else on the planet.
The Bubbler was just the beginning. Nino kept his cool, comforted Adrien when he needed it, hung out with him when he could, ranted to Alya, and had currently written an extensive list of curse words in his head for the next time that he saw Gabriel. Yelling at Gabriel for all of this, however, was no longer the best option. Nino had to take his frustration out on someone!
"I did it to protect them!" Emily sniffled. "Somebody from my past was... threatening me. With their safety. I couldn't let him hurt them... I had to die. I had to get out of their way. I just wanted Adrien to be safe..."
"Well news flash, he wasn't very 'safe'! And he was the loneliest, most miserable kid on the planet! He lived in an emotional void, trapped inside of his mansion 24/7 unless he had a rare outdoors photo shoot, and he had no friends, and no one who loved him! He nearly broke himself before he convinced his father to let him go to public school!" Jade yelled at her angrily.
"Well, at least you can't blame yourself for all of the danger he got into as Chat Noir," Papillon offered, resting a hand on Jade Turtle's shoulder to calm him down. Emily covered her eyes.
"Chat Noir? Why would Fu pick my baby, of all people, to be Chat Noir?"
"Because he freakin' deserved it, that's why!" Jade answered sharply. Emily sucked in a deep breath.
"Please," she begged. "Please tell me he's not somewhere in the midst of this chaos trying to fight." Papillon and Jade nodded. She took in a deep, shuddering breath and then released it. "What's going on here? Why do you have my miraculous, why do you have Fu's miraculous, and where are Chat Noir and Ladybug?"
"Funny story," Papillon answered nervously. "After you 'died', your husband practically went crazy. He traded part of his soul for evil so that he could take advantage of Nooroo and capture the cat and ladybug miraculous. He had been trying to capture them, while unknowingly fighting his own son and Ladybug, for two years."
"And then?" Emily asked fearfully, not wanting to know the rest. As Papillon explained the events of the past week, Emily's face grew paler and paler until she looked like she was about to faint.
"And then we met you," Papillon finished. Emily shot to her feet.
"Where's Adrien?" she demanded. "We need to go find him. I don't care if my old threat realizes I'm still alive. I've got to get to my baby boy. He has to be okay! And... I need to be the one to stop Gabriel. He's my husband. I never imagined he could have... Or he would... This is all my fault!"
"Please don't blame yourself," Papillon said gently.
"Well, it is kind of her fault," Jade said, still very angry. Papillon elbowed him quite forcefully, which shut him up.
"That attitude is what's been driving Marinette insane! She wants to give up her miraculous when all of this is over because of it!" Papillon reminded him. She lifted the top of her cane and dialed Peacock (because all of the active miraculous numbers were somehow pre-programmed into it). The call connected and Adrien's pale and very anxious face appeared.
"Alya, you need to get over here! Marinette went to face my fa-Gabriel by herself! I couldn't stop her, you have to come over here and help! She can't win this fight, I know she can't!"
Emily blanched at her son's panicked voice. "We're coming, Adrien," Papillon reassured the boy. We'll be over there ASAP. Where are you?"
"The park," he replied. "Call the others, you'll need them. And please hurry," he glanced over his shoulder at Ladybug, who had just launched herself at Chat Noir. "The sooner the better!"
The call disconnected. Papillon looked up. "Jade, take Emily and use your super speed to get her over there right now!" She cried. "I'll call Volpino and Queen Bee and we'll be right behind you!" Jade Turtle nodded and grabbed Emily's hand, almost dragging her along as he burst into his super speed mode. Papillon immedietaly dialed Volpino, not really sure if she wanted to talk to Queen Bee.
############################################################################################################################################################
Flashback:
"You're expendable, you know that Em. We don't need you. But others need that information you got up here," the crudely dressed man with the gruff voice tapped her head. Emily Agreste bravely stood her ground, not daring to show the fear that she felt.
"They'll never get it," she reassured him. "There's nothing they can offer me. I have all I could be bribed with. Money, power... You have no need to worry."
The man snorted and elbowed his buddy. "Oh, but you're a loose thread, Miss Peacock. I don't like leaving loose threads hanging. Easier to cut 'em off and be done with 'em."
"Please," Emily resorted to begging. "I have a husband and a child! I won't tell on you, if not for my sake but theirs!"
The man seemed to think that over. He turned to his buddy, who shrugged. "Alright," he relented, facing back to Emily. "I'll let you go, but only because I had a kid of my own once. But rest assured, one word of this operation to anybody, and you'll be dead before you know what happened."
He cut the ropes and handed Emily back her brooch. "Wait," his buddy said. The first guy turned around.
"Yeah?"
"I say we let her go on one condition. She uses them fancy Peacock powers of hers to help run our operation. She got too much spare time anyways," he said. He grinned evilly. "And she got far too much to lose."
"Good idea, mate. You hear that, Em? That's our deal. You help up out, and we leave you and your precious family alone." Emily visibly paled, clutching the Peacock miraculous in her hand.
"D-Deal," she stuttered. The men laughed.
"Great. We'll have someone contact you soon. But now, you better scamper on home before someone notices you were missin'!"
Emily Agreste dashed out of the warehouse, not daring to transform until she got far, far away. Pavvo flew out of her pocket. "You just agreed to help the largest drug smuggling operation in the country!" The littlebird squeaked. "What were you thinking?"
"I had to keep them safe!" Emily insisted. "Gabriel... Adrien... They're everything to me!"
"You do realize that by helping those guys, you will be endangering many other families, right?" Pavvo asked. "You're Peacock! Your husband is Papillon! You could just take them out!"
"It isn't that simple, Pavvo!" Emily replied desperately. "They have ties in every country in the world! We take out the leaders, or even one or two of the main bases of the operation, and we'll have millions of other thugs and employees trying to kill us! I'd be killed before I even took out the ringleaders! And Gabriel and Adrien would be the next targets!"
Pavvo hung her little head, desperately trying to think of a solution. "You need to tell Gabriel," she advised. Emily shook her head.
"You know he'd drive himself insane with worry! He wouldn't let me go anywhere or do anything, and then I wouldn't be able to uphold my end of the bargain. Plus, Gabriel hasn't transformed in years! And now he has his huge fashion industry to take of and we have Adrien to raise..."
"You should talk to Ladybug and Chat Noir," Pavvo suggested. "They're the ones fighting this major corporation!"
Emily shook her head. "That was years ago, Pav. Now they're married and they have a daughter of their own, and their own bakery business! Their miraculous have probably already been de-activated! Papi and I were given miraculous to pick up their slack since the corporation got less dangerous!"
"Then I don't know what to do..." Pavvo whispered.
"We'll figure something out," Emily sighed. "Right now, we should get home before Gabe realizes I'm gone. Pavvo, feathers on!"
End Flashback.
############################################################################################################################################################
"Looks like I finally win, Ladybug," Chat Noir cackled. He reached down, fingering her earlobe for a second before pulling the back off of her left earring.
That's when Adrien snapped.
He threw himself onto his father's back, effectively knocking him off of her. Ladybug grabbed the earring back and shoved it onto the earring post, so that her miraculous couldn't fall out. Peacock and Chat rolled a few times, nearly crushing each other, before Chat shoved Peacock aside and jumped backwards.
"Emily?" he whispered.
"Not quite," the familiar voice answered him. Gabriel looked down in horror as his son struggled to stand. The mask did nothing to hide his identity at this point. Ladybug bolted forward, but undead soldiers grabbed her and yanked her backwards. More undead went to grab Peacock, but Chat held up his hand and they halted.
"Adrien? You're wielding..."
"My mother's miraculous? Yeah! Let Ladybug go," he growled, narrowing his eyes.
"You shouldn't be fighting... You were so badly hurt..."
"Yeah, by you. And every second I stand here it gets worse. So I'm going to say this one last time. Let. Ladybug. Go."
"Adrien, son, you don't understand! We could bring your mother back! We could bring her back and we could all be happy again! I'd give you back your miraculous, I'd give Ladybug back her miraculous! All will be as it was, except you could have a mother again!"
Ladybug was nervous. It was such a tempting offer. It was such a tempting offer, she didn't know if she'd be able to refuse if she was Adrien. Except she knew that Gabriel was lying. If he took her miraculous, he would have power over everything. Over life and death, good and evil, creation and destruction. Such power would get to a man's head, and he'd never be able to give it up.
Peacock ripped off his mask so that his father could see his face clearly. The magic let him remove it at his own will. He squeezed his eyes shut, torn between the false promise of what he had always wanted, and the greater good. Finally, his eyes snapped back open.
"No," he said quietly.
"What?" Gabriel was shocked. How could the boy refuse? His mother was all he had ever wanted!
"I said, NO!" Adrien yelled again. He put his mask back on. "Now LET HER GO!" Peacock launched himself at Chat Noir, knocking him over and shoving his elbow into the man's throat. Gabriel regretdley grabbed Peacock's injured hand and twisted, wincing as he heard the boy howl in his ear.
He felt Peacock's knee connect with his spleen, so Chat Noir instinctively bucked, knocking Peacock off of him. He spun around, his leg making serious contact with Peacock's side. The boy yelled and then curled up into a ball, gasping. Tears from the pain were streaming down his face.
Gabriel looked down at his son, huddled up into a ball and softly crying. He felt the pain of his decision stab him in the gut, but he shoved it down. He could heal Adrien. He could fix all of this. The boy would forgive him when he realized how much better it would be.
His undead soldiers had been screaming and chanting, stomping their feet and shouting battle cries. He raised a hand and silenced them, walking slowly over to Ladybug and grabbing her chin, tilting her head up to look at her face more clearly. He wanted to remember this day.
"Please... don't..." Adrien gasped, unable to move but still protesting in his weakened state. Gabriel swallowed and ignored him.
"I'm sorry for the inconvenience," he casually apologized to Ladybug, who squirmed and wriggled but could do nothing to free herself from the hands holding her still. She glared at him.
"Gabriel Agreste, you think you'll be able to do this safely and return everything the way it was, but you can't!" she yelled at him. "The power will consume you!" His gaze softened.
"Ladybug, have you ever lost someone you loved?" he asked her.
"N-no," she stuttered. "But I will if you don't let me fix this and then take care of your son!"
They both glanced over at Adrien, whose eyes were now closed. His breathing was unsteady, and his face was far paler than normal. Ladybug bit her lip in anger that the man before her seemed so regretful yet so nonchalant about it.
"I can fix it too, Ladybug. The power won't consume me. I'm a lot stronger than you think!" Gabriel told her. "It'll be fine, you'll see! I just hope you will forgive me, and I think you will. The world can be so much better this way!"
He reached out and wasted no time in pulling off Ladybug's earrings. A flash of pink light, and she was Marinette again. He smiled a bit. "Of course the Dupain-Cheng's daughter would be Ladybug. It all makes too much sense. You have superhero running through your blood."
Tikki angrily launched herself at him, but he grabbed her out of the air and held her close. He nodded at his undead soldiers, who released Marinette and shoved her towards Adrien. She tripped and sprawled out on the smoking ground, before pulling herself to her feet and spinning back around. But it was too late. And there was no way she could fight him as Marinette. He was about to become the most powerful force in the universe...
"Don't you dare, Gabriel Agreste!" a female voice shouted. Everyone spun around and stared at the blonde woman, standing determinedly on top of a building, her hands on her hips.