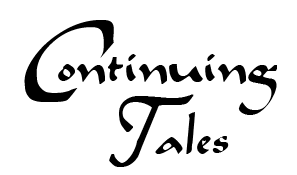 Marinette and Alya whirled around, panic on their faces.
"Uh oh," Alya said, voicing the first thought that came to her mind. Marinette very much agreed.
"W-What?" Nathaneal stuttered, grasping the door for support. Marinette took a step forward.
"Nathan! Please, you can't tell anybody! I'm begging you!" she pleaded. Nathaneal lost himself in her eyes for a few moments. She looked close to tears. He felt horrible for making her almost cry. How could he ever betray her?
"I...I won't..." he stammered, blushing and wishing he could disappear. He brushed his bangs in front of his face a little more. "So... you're Ladybug?" It all made sense. Marinette had betrayed him when he was Evillustrater because she was secretly Ladybug and she had to do her job! He didn't remember being an akuma, but Alya had gotten exclusive footage (of course). So... he might actually have a chance with Marinette? And speaking of Alya...
"What are you?" he asked shyly.
"Oh, I'm a new super heroine. Name's Papillon. Now shh," she waved her hand at him while scrolling down her phone. "Nino's phone says that he's at home, but he can't be because I called his mother! He must have left it there!"
"Papillon...as in, butterfly?" Nathan asked, looking again at Alya and wishing he could sketch her as a butterfly. That would be fun... More fun than this awkward situation, anyway.
"Yeah. You know Hawkmoth, the guy who makes akuma? Well, long story short Mari here stole his miraculous and now I have it! Isn't that AWESOME?"
"Cool," Nathaneal said weakly, smiling a tiny bit. "What's a miraculous?"
"You ask too many questions!" Alya said, shaking her head and reverting her attention to her cell phone.
"Sorry," Nathan apologized quietly, feeling embarrassed.
"Not a problem. I just need a few minutes to figure everything out and see what we should do!" Alya said.
"Isn't that Ladybug's job?" Nathaneal asked the question before he could stop himself. He nearly melted under Alya's withering glare. "Right.. no questions." Despite preferring to stay out of social interactions and awkward situations (painting and drawing was much better) Nathan couldn't help being naturally inquisitive.
"Argh! You know what? Marinette, why don't you and Nathaneal go into another room and get me some food, and then Mari will explain everything that's going on!"
"What?" Marinette gasped. They couldn't tell him what was going on! How could they trust him?
"What?" Nathan gasped at the same time. He couldn't be left alone with Marinette Dupain-Cheng! He'd never be able to hold himself together!
Alya shooed them out of the kitchen. "If we tell Nathan here to go home and not to tell anybody, he'd do it. But the curiosity would grow and grow and grow to the point where he couldn't stand it anymore and he just had to know! And it'll affect his behavior and everything he does! And suddenly the questions will become like a disease that slowly infects his mind as it-"
"Do you take all of this from personal experience?" Marinette interrupted her. Admittedly, that was what secrets did to her too. And they were little secrets, like what her parents got her for Christmas. "Fine.." she gave in.
"Oh good, that means we don't have to hide anymore!" a small voice said. "I need some lettuce, please!"
Nathan nearly fainted.
"Lettuce is in the fridge. Unless you want some cookies," Tikki told Nooroo cheerfully, popping out of her hiding spot as well.
"Lettuce is far better than cookies!" Nooroo announced proudly. Tikki gasped.
"That gross healthy stuff? Better than cookies? The outrage! I'm offended by the very idea!"
"Um..." Nathaneal said quietly, "What are those things."
"This is a magical unicorn from the land of Rispa, and that's a Keebler Elf," Alya said sarcastically, gesturing to Nooroo and then Tikki. "Now go away! I need peace and quiet to put all of these clues together!"
Marinette grasped a stuttering and red faced Nathaneal by the wrist and led him into the living room.
############################################################################################################################################################
Twenty-five minutes later, they came back into the kitchen. Nathaneal's face was still impossibly red and Marinette's red puffy eyes showed that she had been crying again. Alya was glaring at her phone. "This dumb thing can't help us!" she said angrily, slamming it on the counter and sighing .
"What are you trying to do again?" Nooroo asked. Except he had his mouth stuffed with lettuce so it sounded more like, "War you tyng do 'gain?"
"Find a boy named Nino! He's Adrien's best friend."
"Want me to help?" Nooroo offered. Alya sighed again while Marinette blew her nose in the background and Nathaneal stood there awkwardly.
"Not much you can do," she replied. Nooroo looked offended.
"I'm a thousand year old god like creature! Of course there's something I can do! Transform, please!"
"Nooroo, wings out!" Alya called, secretly glad that she got to transform again so soon. Nathaneal stood in shock and awe, watching a girl turn into a super hero. Yet another thing his fingers were itching to draw. "Okay, Noo, now what?"
"Put your hands together and summon a papillon!" Nooroo instructed.
"An akuma?" Alya literally freaked out about the thought.
"No," Nooroo corrected. "An akuma is a papillon that has been infused with evil. The only way for you to do that would be to trade a bit of your soul in exchange for evil, like Gabriel did."
"So, I can't hurt people?" Alya asked tentatively.
"Correct. Also unlike Hawkmoth, when you use the butterfly on someone you give them the choiceto become a champion. They can turn down the offer and walk away if they want to."
"Okay then, let's give this a try." Alya cupped her hands together. "Papillon, rise to your challenge!" A small, glowing butterfly appeared in her hands.
Nathan desperately wished he had his sketchbook. This was so cool! The butterfly was such a lovely creature. To be able to draw it... Made out of delicate whispy whiteness, floating there gently... To draw such a creature would be a challenge, one that Nathneal would happily attack.
"Now what?" Alya asked.
"Think of the boy. Find his life force among the many people in Paris," Nooroo instructed. Alya closed her eyes and had no problem picturing the boy with his orange headphone and red baseball cap.
Suddenly, her vision began whirring, racing through the streets of Paris. Everything went past too fast to see, but somehow she knew where she was in her mind. Racing closer and closer until...
Suddenly, there was a loud crash on the front of the bakery. Alya gritted her teeth, determined not to lose her concentration. "What the heck was that?" Marinette asked.
Finally, Alya found Nino. Well, she found a life force that she was certain to be Nino. But he looked very different. He was wearing all green, and had on a mask/goggles. He also had a large green shell on his back. The boy was rubbing his head.
"What the...?" Alya thought to herself. Nevertheless, she urged the butterfly to go to him. If it wasn't Nino, she could still find out who he really was. She watched her as her little papillon left her hand and headed out the door.
Surprisingly, she could watch the papillon with her eyes open, seeing everything it saw. She laughed as she watched the turtle boy look at the butterfly and then screech like a girl. He scooted away, pulling his shield off of his back and shoving it in front if him. It didn't help, the papillon dove into his shield. Suddenly, Alya could see everything that Nino could.
"Nino, I am Alya..."
############################################################################################################################################################
Nino, or Jade Turtle (as Wayzz had told him his name was) rubbed his head. Man, that glass was not soft. He glanced around, hoping nobody had seen him (or his embarrassing halt). Thankfully, the street was deserted.
Then Jade Turtle heard the flapping noise. He tilted his head up... and saw a butterfly heading straight for him! "No!" he screeched as he scooted backwards. He was not going to get akumatized again! He was not going to be akumatized as a super hero!
He whipped out his shield and put it on front of him, forgetting in his blind panic that the akuma would just go inside of it. Suddenly, he remembered something! Marinette and Alya had taken Hawkmoth/Gabriel's miraculous! So what in the world...
"Hello, Nino. I am Alya, the most amazing and fantastic person in the world. I'm offering you the power to come inside the bakery and get me a glass of milk because I'm too lazy to walk all the way across the kitchen. Do you accept my offer?"
"Alya?" Nino gasped.
"Yes, who else would it be? Jake from State Farm..." he could hear Alya laughing inside of his head, which was admittedly a little creepy.
"But how...?"
"I'll explain in a minute. And you'd better explain the turtle suit! Accept my offer and come get me milk!" Alya said.
"No. No way am I getting you milk when you are standing five feet away from the refrigerator in Mari's house," Nino dead-panned.
"Fine. Come back to me, my papillon!" she called. The butterfly left Jade Turtle's shield and fluttered away. Jade stood up and brushed himself off, following the butterfly inside.
############################################################################################################################################################
"And then I kinda crashed into the bakery... Stop laughing Alya! It's really hard to stop running once you start! And now I'm here..." Nino concluded. Wayzz nodded.
"So you're a super hero too! This is like the best day!" Alya screeched.
Marinette just looked at her. Her eyes were puffy red from crying all day.
"Well, it had it's ups and downs..." Alya corrected herself.
"So, Adrien is missing?" Nino asked, panic etched on his face.
"Yes he is. And we have to get him back! What if Gabriel has him?"
"Wait a second, Gabe can't have him, dudes. I went straight over to his house and Adrien was still in the bakery when I left. He was in his office a lot of the time that I was there, too. There's no way that dude has Adrien," Nino said.
"Then where is he?" Marinette asked.
"Right here," a quiet voice said. Marinette whirled around.
"ADRIEN!" she nearly knocked him over as she threw her arms around him. She was sobbing into his shoulder. "Why would you do that to me? Are you okay?" she whimpered. Despite being hurt, Adrien didn't shrug her off. He clung to her as well.
"I'm sorry Marinette..."
"But what if you were hurt! Or-"
"But I'm not hurt, princess. I'm right here." He had said the old nickname, hoping it would bring her comfort. What it brought was more tears.
"I can't do this without you, you stupid cat..." Marinette was shaking in his arms. Adrien immediately felt horribly guilty as he tried to calm the girl.
"I know Marinette, and I promise I won't do it again. But I'm right here now. It'll be okay. I'm fine."
"But-"
"I'm okay Marinette," Adrien said again.
"But what if-"
Suddenly, her rambling was cut off by a pair of lips on her own. And suddenly, all she was aware of was the fact that Adrien was kissing her and she was kissing back and Oh My God Is This Actually Happening... And it was warm and sweet and she never wanted it to end, but before her brain had time to fully process what was going on, Adrien pulled away.
Marinette stared at him.
"I'm okay, m'lady," he said, smiling a bit.
She nodded. "You're okay."
Alya coughed in the background, drawing both of their attention over to her. "Well, don't mind us or anything, just keep doing what you're doing." She and Nino looked ridiculously happy, and Nathaneal stood in the background, red cheeks blazing with anger.
Nobody noticed Wayzz whisper into Nino's ear that he had something important to do. Nino nodded, and nobody but Nino noticed as Wayzz slipped away.